February 28, 2014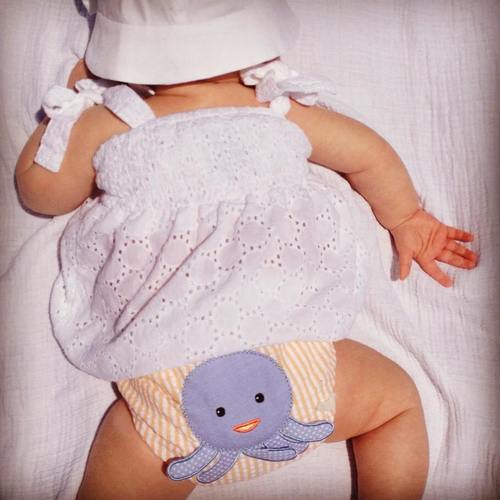 Beach Edition
Flashback Friday on this cold day…
To our little girl's first big beach outing.
I'm crazy about white eyelet for summer. It's so fresh, clean and classic. And I love a baby in a bubble. Busy Bees combines these two perfectly in their Smocked Eyelet Playsuit. You can find a similar one here.
Lilly paired it with some charming bloomers by Baby Aspen. Seersucker is another summer staple for us. I saw them at Giggle, one of my go-to's, but they were out of her size so I tracked them down. It took about two weeks and calling and frequenting numerous locations but they were well worth the wait and work! They're technically boys bloomers but who cares? I think they look adorable on any baby butt. They come in a pack of three (Orange seersucker with a blue octopus shown here, blue seersucker with an orange crab and green seersucker with a blue whale.) I can't tell you how many compliments we received on this set.
She finished the look with a sweet sun hat from French designer Lili Gaufrette. 
If we can't go to the beach today, at least we can dream about it!
July 27, 2020

Our Escape to The Outer Banks

I wasn't planing on doing a post on the Outer Banks because most of my travel posts consist of recommendations […]

READ MORE

March 3, 2020

A Winter Weekend at Woodloch

We're not a skiing family. Zach is from Texas and I grew up in Florida so you can't really blame […]

READ MORE

January 24, 2019

Our 2019 Travel (and a brief reflection on 2018)

Lots of bloggers are doing their year in review and 2019 goal posts. I thought about doing one too. But […]

READ MORE