December 31, 2017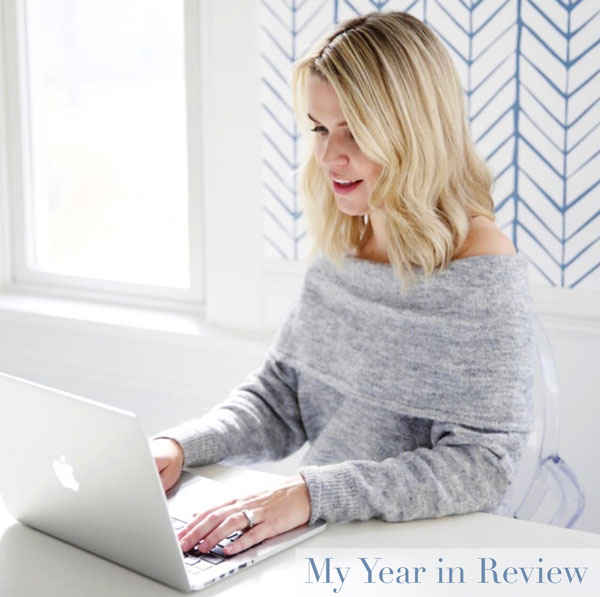 My Year in Review, 2017
2017 was a tough year for many of us. There was so much divisiveness, so much hate, senseless loss. (So much so that it compelled me to start a little Insta tribe of passionate women determined to rally together, share information, ask questions, band together and become more involved. Would love for you to be a part of it.) Regardless of your politics, I think we can all agree this is not the way in which we want our country to be. We're better than this. And I truly believe that 2018 will prove that.
But, on a personal note, 2017 was one of my best/favorite. We welcomed our son Oliver, bought, moved into and decorated our home, celebrated Lilly's 4th birthday, got our girl settled into a great new school, made many new friends and began to set up a life here. That doesn't mean it was without its challenges. One month after birth, I had an appendicitis and needed emergency stomach surgery, a month later, while recovering, I threw out my back, both kids (and mama!) were very sick over Christmas and there's been several other setbacks that we're not ready to talk about just yet. But, overall, we grew stronger together and made some amazing memories.
From a business standpoint, it was prosperous too. I started a consulting side hustle, taking all I've learned from the last three years of blogging and social and my love for helping others grow and took on clients, big and small, advising on everything from branding and Instagram to events.
Speaking of events, I moderated a panel on breast cancer awareness with WeWork, something I hope to do more of in 2018, collaborated with more- and some of my favorite- companies (How to Take Your Backyard from Blah to Beautiful, Our Father's Day Gifts for Zach, Beautiful Baby Books, Chewbeads Eats, Pehr Designs, SNOO, Diaper Bag Backpack, mamaRoo, Upping our Holiday Storage Game, Garnet Hill Stockings, Artifact Uprising Holiday Cards).
I also did several Instagram Takeovers both on the main feeds and in Stories and wrote more articles (6 Things You Should Never Say to a Mom Who's Miscarried, Pregnant After Miscarriage, Things No One Told Me About Being Pregnant, Why I think "Breast is Best" Should be Banned, Let's End Sexual Harassment in the Workplace Now, Why I Lied to my Pilates Instructor About My Baby's Age, 14 Things That Are Totally Different Now That You're a Mom, Why I Refused to Room-In with Baby in the Hospital, The Struggles of Being a Work From Home Mom).
And I shared other's stories (Catering Christmas, Reflections from a Camp Mom, Amy's One Year Anniversary in Scottsdale, Dealing with a Decade of Anxiety, In-Depth with Becky Fawcett, Nantucket Girls Trip, Art Basel, Gray's Baseball Bash, Romantic Rendezvous in DC).
I also launched a new platform for moms, Momecdotes, which has only just begun and I have great hopes and visions for (would love for you to be a part of that as well!).
Believe it or not, much to my surprise, I actually slowed down significantly, which has been the greatest gift. It's allowed me to be more present with my family, more at peace with my life and more productive on and passionate about the posts I do create.
Here are some of my favorites from 2017:
How One Blogger's Post Made Me Realize I Was Lying to Myself
To Blog or Not to Blog, That is the Question
The Big Meeting: Lilly and Her Baby Brother Oliver
What a Difference a Year Makes
It's Beginning to Look a Lot Like Christmas
Holiday Cocoa & Crafting Party
What was your favorite post? Would love to hear! Also, let me know what you'd like to see more of (or less of!) in 2018! Thanks, as always, from being part of the adventure- I appreciate it more than you know!
January 16, 2018

My Brave Little Boy's Big Surgery

I'm pretty sure on the list of every parent's nightmares is having their child put under. It certainly was on […]

READ MORE

January 7, 2018

#MeToo: My Experience with Sexual Harassment in the Workplace

Harvey Weistein was my first boss. It was 2001. My first job out of college and I landed a coveted […]

READ MORE

January 1, 2018

40 Years of Zach

My husband, Lilly and Oliver's father, the one and only Zach Friedman, turns 40 today. Since we met at 25 […]

READ MORE
'