April 11, 2016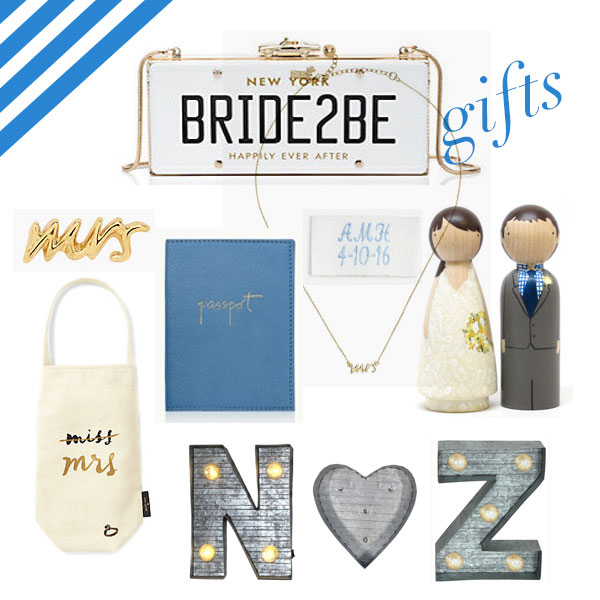 13 Thoughtful (and Affordable!) Wedding Gifts
Spring is here, summer is looming, which means one thing… It's wedding season! And lots of parties means lots of gifts. If your calendar is filled with nuptials and you're a bit overwhelmed and over budget, allow me to help with unique, stand-out, non-registry gifts that you can buy in bulk and (some) at bargain prices (special doesn't have to mean spendy), leaving you focused on the most important question, what to wear? (Check tomorrow, I've got you covered there too!)
Bridal Ribbon $10
This is my favorite go-to gift and for $10, I can afford to buy it for everyone. It's such a special touch that she may not have thought of. It doesn't have to be sewn into her dress, it could be in a clutch, attached to a bouquet ribbon, in her shoes…
Speaking of shoes, I love these little details from celebrity wedding planner Mindy Weiss so much, I wore them at my wedding. They made for great photographs! And, let's be honest, isn't that what it's all about? Oh yeah, and the marriage, of course. 😉
Mrs. Necklace and Earrings $78 and $48
Sweet and stylish, these accessories celebrate her new title- and your great taste!
Bride2Be Clutch $398
Forget the sash, tiara and those tacky straws, let her handbag do the talking! This fun Kate Spade clutch is the perfect group gift (cuts down on the cost!) from her girlfriends to help celebrate her last single weekend.
LED Metal Marquis Letters $23.45 (33% off!)
These light-up letters are on-trend and whether she places them at her wedding or in her home, they make such a statement. Do the first letter of her new last name, their monogram as a couple or something sweet like, "LOVE".
Wine Tote $20
Fill this with her favorite bottle and show up at the bachelorette party or bridal shower in style. Bonus points if you get the glasses to go with it.
I have a cake topper obsession. If I were getting married again, there might have to be multiple cakes to feed it. This one is perfect for a natural, rustic wedding.
DIY Cake Topper $150
Quirky couple alert! Your artistic friends will love these custom cake toppers and they're sure to be the talk of the reception. (Go in with a friend or two to split the bill.)
Send them off in style with this cool (and 'gramable!) cling.
Passport Cover $67
Honeymoon chic! Make that something blue something special with this pretty passport cover personalized with her new initials.
Custom Stamp Set $39.95
There will be lots of letters and thank you's to send after their special day. Help them speed- and class- it up with this custom stamp.
Custom Stationary $65 and up
But what to write those notes on? Everyone loves custom paper but never wants to spend the money on it themselves. Up the ante and get a custom caricature of the bride's lovely likeness.
March 30, 2020

Easter Gifts

I know this is a crazy time and everyone's budgets are, understandably, tighter. But, Easter is two weeks away and […]

READ MORE

December 12, 2019

The MomVENT Calendar

Behold: The MomVENT Calendar. It's all about the kids this time of year. As if they don't have enough stuff. […]

READ MORE

December 10, 2019

The Best Hanukkah Gifts, Decor & Kids Activities

With all this Christmas talk, I don't want to forget my Jewish friends! Below some of my favorite items, this […]

READ MORE