December 5, 2016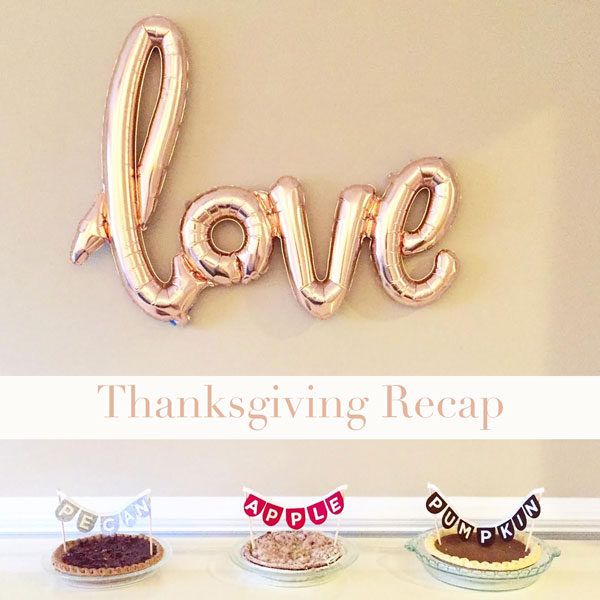 Thanksgiving Recap
We are in the throes of holiday activities (tree decorating, advent calendars, Santa visits, ice skating…) and it's only December 5th! But, before we get too carried away with Christmas, let's take a look back at Thanksgiving now that I've finally edited the photos- story of my life. Is anyone else's phone about to crash? I think Santa needs to bring Mama an iPhone 7!
We switch off holidays  with our families every year. This year, we were in Philadelphia with my family and for Christmas, we'll be in Texas with Zach's. Next year, we'll do the opposite. Either way, it means cousins, food and fun! And what better way to arrive than in reindeer PJ's?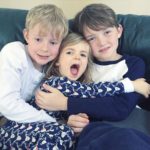 She immediately regressed with her baby cousin.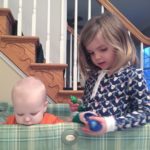 With a full house, you need lots of activities. First up, early morning mural making.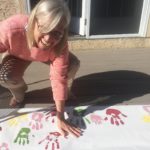 We used Tempaper By You, temporary wall paper (which I love and have used here and here), that you can paint, write and draw on and then adhere to your wall (or put it on the wall first and have at it! Since it was going in my mother's dining room and we had some messy muralists, we choose to paint on the deck, let it dry and then put it up.). When you're done with it, simply peel off and your walls are still perfectly in tact. No tape, nails or anything else needed. The kids thought it was so cool and, truth be told, the adults really got into it too. We had the whole family make handprints to symbolize our crew of turkeys. My mom loved it so much, she kept it up!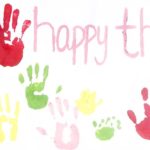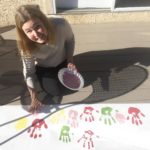 Then it was time to celebrate two special ladies' birthdays. Emmy, my niece, turned one and my mom turned sixty-something. 😉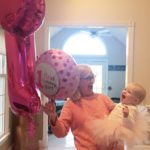 Smash cake success!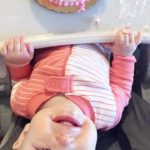 Thursday morning we were up bright and early and off to the bakery… in our PJ's (are you noticing a theme?). Cupcakes and donuts at 8am. You know it's a holiday when.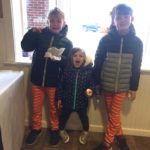 It might've been the (big) boys favorite holiday yet because my mom finally granted them permission to fry a turkey. They finally wore her down.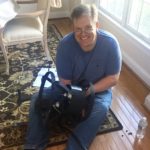 And, shockingly, didn't manage to burn the house down!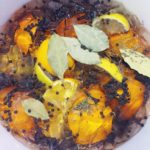 Zach was very proud of his brine.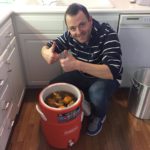 No pictures of them actually frying it cause I was napping with my girl, which was glorious. My dad in heaven with two of his grandkids.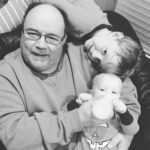 Time to run off some energy before the big meal.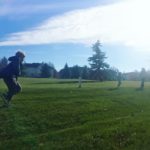 Do you always have to add extra chairs to your table too?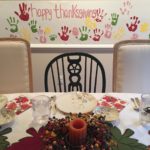 Perhaps their favorite part? Nonna and Pa's big bathtub with jets that make millions of bubbles.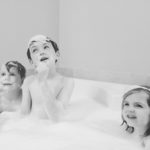 Time for dessert! I decorated with the rose gold love balloon we sell in our shop. It makes for the perfect buffet or bar focal point.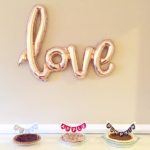 And these adorable banners from MaypoleNYC.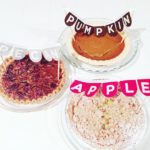 And then everyone's favorite part: Family photos! My mom gets them matching holiday PJ's each year. Lilly's face in this one kills me.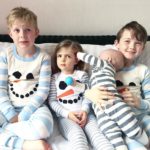 Love these four so much. Even when we've spent as many days under one roof together and they're driving me- and each other- nuts. Ah, family.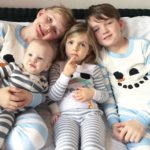 Hope your Thanksgiving was wonderful and you're having a happy holiday season!
August 10, 2020

Oh! Canary x Nat's Next Adventure Birthday Kits

I love a good party. And it appears that you do too! Whenever I feature a celebration I've planned, I […]

READ MORE

December 12, 2019

The MomVENT Calendar

Behold: The MomVENT Calendar. It's all about the kids this time of year. As if they don't have enough stuff. […]

READ MORE

December 10, 2019

The Best Hanukkah Gifts, Decor & Kids Activities

With all this Christmas talk, I don't want to forget my Jewish friends! Below some of my favorite items, this […]

READ MORE