April 8, 2016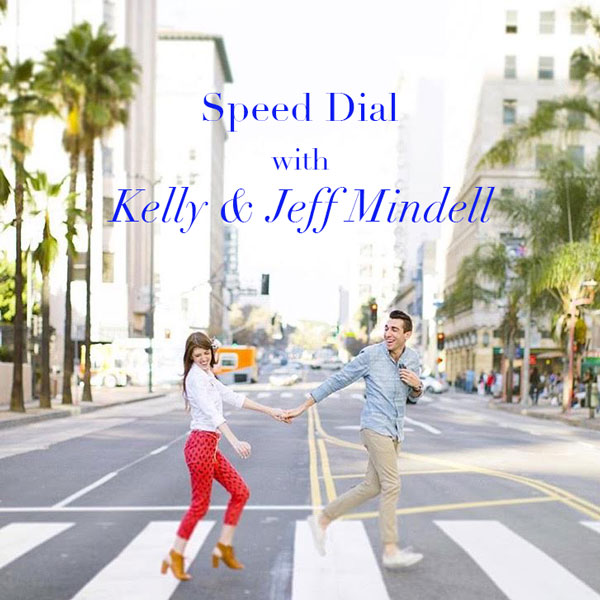 Speed Dial with Jeff & Kelly Mindell
If you're on Instagram, you know these faces. They're legends in their respective fields and, together, taking the world one giant balloon and colorful wall at a time. Kelly, founder of Studio DIY, and, her husband and photographer, Jeff Mindell are sought after visionaries being hired by companies like Coca-Cola, Tic Tac and Fox for Grease Live. Kelly's quirky costumes (pizza sweaters, floral jackets, disco balls and cereal bowls) and Jeff's exquisite imagery are a staple of their collective brands, making their signature snaps stand out in an oversaturated and competitive crowd. But it's their personalities that shine brightest. They're some of the nicest, most supportive people in this business, often championing (How cute would Kelly look in a cheerleading costume? Can you imagine HER pom-poms?) and promoting others in the game. Speaking of games, it's no wonder that's Kelly's favorite girls night. I loved learning more about this infectiously fun couple and you will too!
Nat: Let's take it way back to Jersey (I'm a native, as well). You're high school sweethearts. What was it about the other that you fell for? How was each different than the others?
Jeff: We officially 'met' towards the end of senior year. We always knew of each other, but had never actually talked to one another before then. I appreciated her confidence and she had a pretty amazing sense of style to boot!
Kelly: He was the most fun person I ever met but also mature enough to already be thinking about careers and being a dad some day! That was high priority for me!
Nat: What about you was different with Kelly/Jeff?
Kelly: He made me more spontaneous and forced me to have more fun! Ever since middle school, I was pretty focused on my "next move" and always working my butt off to make it happen, but Jeff taught me how to relax and have fun, too!
Jeff: She was and still is the most driven person I've ever met in my life.
Nat: What's the most Jersey thing about you both still?
Jeff: Kel would probably say my accent, although I don't really hear it. I really miss the food, the people and the culture.
Kelly: My attitude and my pizza snob tendencies. Ha! Not in the "give me fancy pizza" way but in the "why can nobody out here make a good slice of NJ pizza!?
Nat: Why California?
Jeff: Everything we ever knew was based in the tri-state area. All of our family and friends were there and although we both still consider NYC the greatest city in the world, we just wanted to try something really different. So we moved across the country!
Kelly: Also… the weather!
Nat: What would east coasters/friends say is "so LA" about you now?
Jeff: I definitely am WAY more casual now than I ever was. I bought my first pair of Toms when we got settled and I've never looked back.
Kelly: How much color I wear! Funny since colorful defines my brand, but I really feel like that's because of LA. I didn't wear nearly as much color when we lived back east!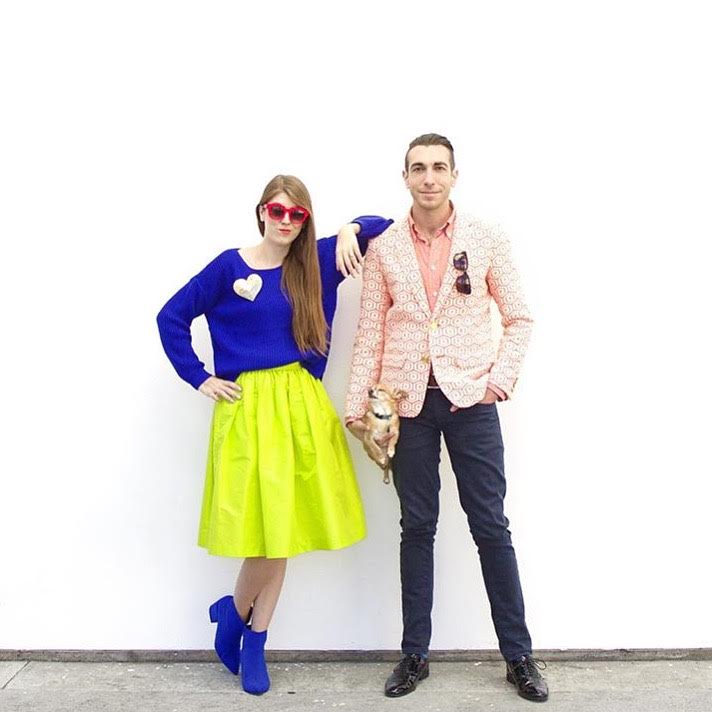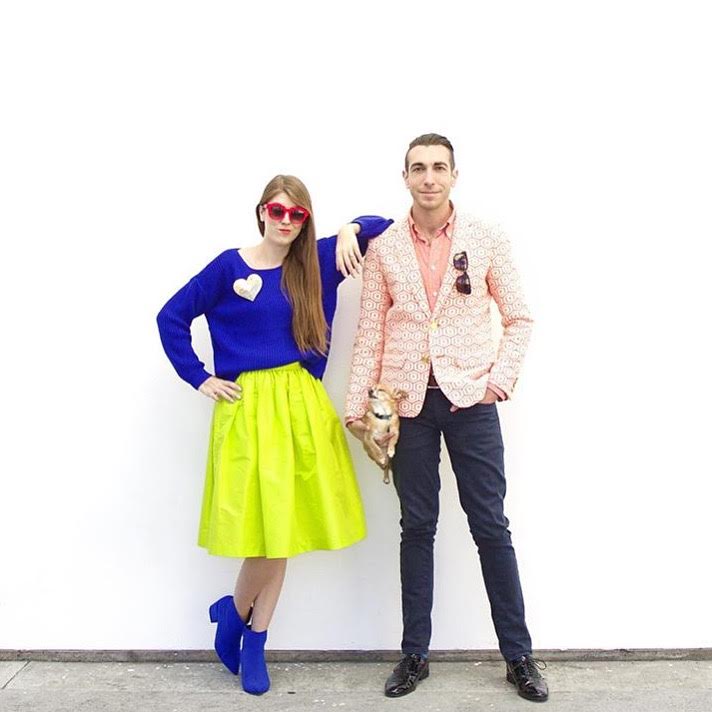 Nat: Tell us about making the leap and starting Studio DIY.
Kelly: I always new I wanted to work for myself and once I set my mind to something, I do anything I can to make it happen! I started developing the concept during an independent study in college, then hired my web professor to build out the site. I launched it six months after graduation and I never looked back!
Nat: When did you notice a shift in your business? Feel like you'd "made it"?
Kelly: I'm so future focused, that it's hard for me to say I've "made it". Ha! I'm always thinking about what's next! But I would say around Valentine's Day in 2013 is when I started seeing things escalate more quickly. My audience was growing, some of my projects went "viral" and sponsors started coming in much more regularly.
Nat: First time you were recognized?
Jeff: We were out to brunch one Sunday with friends and a few people came up and told us they were fans and how much they loved our Can't Crop This Class. That was pretty weird, but super humbling.
Kelly: Outside of events and conferences, I think one of the first was when I was visiting my Grandma in Ohio. I popped into a Kate Spade to look at shoes and came back a few hours later to try them on again and the girls that worked there were like "You're Studio DIY, right!?" It's my Mom's favorite story, to this day.
Nat: Kelly, you've been candid about your health struggles, how are you doing?
Kelly: I'm doing ok! We're currently trying to start a family and my health history has made that journey tricky to navigate but we're trying to stay positive and are looking into all of our options. Since the cancer I had was so rare in children, every new stage and step in life is kind of a mystery, but I've got a great team of doctors (and a kind and patient husband!) looking after me!
Nat: What did you learn from the body-shaming ordeal?
Kelly: You know, it's a tricky subject. In some ways, I can't blame the people who are pointing out how skinny I am because it's not like I have "I'm a cancer survivor and can't gain weight" tattooed on me, and with all the body-image issues and pressure facing young girls these days, it is understandable to be concerned. I would never want one of my young readers to look at me and feel bad about themselves. That said, the Internet is getting increasingly negative and sometimes people are making those comments without others' best interest in mind. I've learned to make sure I continue to be transparent about my weight and my health and if people question me or point it out, I try to be honest and understanding!
Nat: Jeff, how hard was/is it to watch your wife go through that?
Jeff: Honestly, she really dealt with it like a champ. She has much thicker skin than I do and I think it bothered me way more than her. I've never been prouder of her than when she published her follow-up blog post addressing everything. We both really value transparency in this line of work and I think informing our audience about her medical struggles was not only brave of her, but the right thing to do.
Nat: Jeff, you're surrounded by women (my husband can relate- family full of them!), how do you do it? Do you need man breaks? What's the best perk of that environment?
Jeff: Ha! When I'm in the studio with all of them, I kind of keep to myself in my little photo-editing bay situation I have in the corner of the room. But yeah, I go on a few walks to get some air (or coffee) during the day. There's only so much Beyonce I can take at a time.
Nat: We have to ask, your bio says "weird talent where he associates names with objects". Please share!
Jeff: Oh geez. I think this just relates back to the fact that I'm a deeply visual person. For me, someone's names evokes a very vivid (and oftentimes, extremely random) mental image. None of it makes any sense, but I must have had an association to a person with that name in my past or something. The team always likes to throw names at me and I'll let them know what I see or what that name reminds me of. Weeks later, they will test me on the same name and my image doesn't change. I don't know, I'm probably just super gifted.
Nat: You created #thatpinkdoor, how did that come about?
Jeff: Oh that was because Kel and I often shoot in front of the pink Paul Smith wall in LA and someone (not me) aptly created #thatpinkwall hashtag for the wall. When we were in Palm Springs one day, I remember wondering why no one created a hashtag for the door yet, so I just did it myself. It's so cool to see all the photos added to the hashtag now, years later. It's really become quite a 'grammable' door!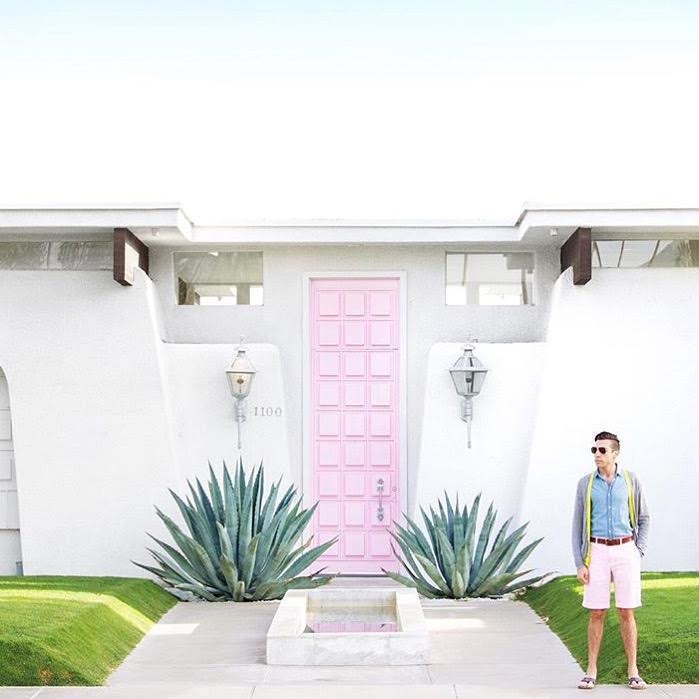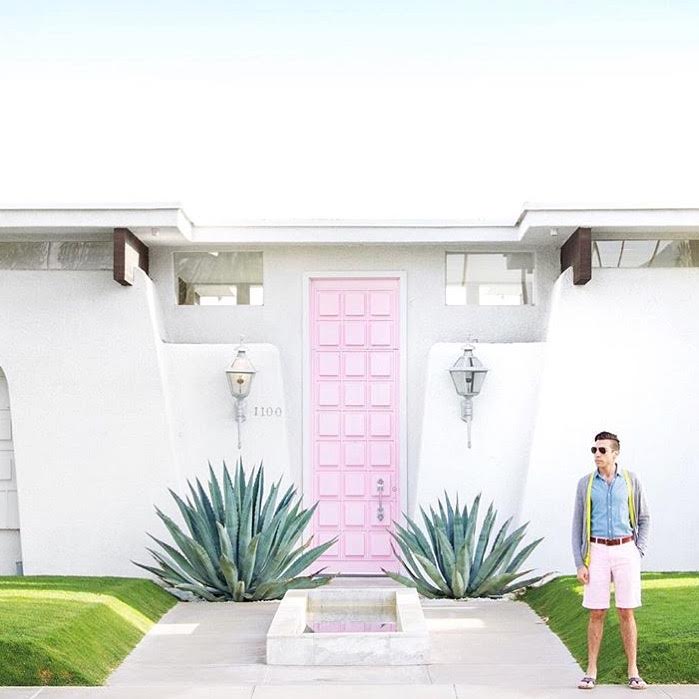 Nat: Best part about working together?
Jeff: Although we aren't together 100% of the time, when I am working with her and the Studio DIY team, it's nice that I get to spend so much time with her.
Kelly: Getting to make awesome things together! It's fun to team up and produce photos and projects we both love and are proud of.
Nat: Most challenging part of working together?
Jeff: Like every other couple, we can get annoyed with each other over the dumbest things. In our case, it may be over how the other styled a photo, but at the end of the day we're married so we work through all it.
Kelly: Trying to not talk about work! When you work together, it's always on your minds so it's hard to shut that off and just be a married couple.
Nat: What's your advice for beginning bloggers/content creators?
Kelly: Just get started! Start posting content and start being an active part of the community. And always ALWAYS be genuine and true to yourself.
Nat: Beginning photographers?
Jeff: Get out and just shoot. I remember in the beginning making it a point to take at least one photo I was proud of every day for a year. Just to get myself in the habit of always keeping my eyes open to interesting compositions and moments.
June 27, 2019

Oliver's Puppy Party

My boy is dog obsessed. Everywhere we go, he spots them from afar and must go up and greet each […]

READ MORE

May 23, 2019

Lilly's 6th Birthday Party

I often find one thing that strikes inspiration and I form the entire party around it. It was true with […]

READ MORE

March 31, 2019

Oliver's First Art Class

Between New York and New Jersey, I've done a lot of things with Lilly and Oliver over the last six […]

READ MORE