July 26, 2018
Sea Island Summers
As I write this, we're preparing to head on our next family vacation to Florida. (Editor's note: I didn't get around to finalizing the post until after we got back!) I realize and appreciate how fortunate we are. There were plenty of years where circumstances didn't allow for one vacation, let alone two. Whether it was do to finances, or lack thereof, planning, pregnancies, surgery or loss, there have been many times where it just wasn't an option or, even when it was, had to be scrapped due to unforeseen circumstances.
Last month, we traveled to Georgia to be with Zach's side of the family. We usually vacation with them in the 30a area of Florida (particularly Watercolor) but since it requires two flights for our family and we have a one-year-old, they were very sweet to amend the usual plan and decided to revisit an old favorite of theirs, Sea Island. Zach grew up going there each summer but hadn't been in over twenty-five years and I'd never been so I was excited to check it out.
It reminds me a lot of places I vacationed at as a kid like Amelia Island and Hilton Head with its sweeping trees, slow southern pace and Victorian vibe but it, in particular, has a lot of history with The Cloister hotel being built in 1928. The service was impeccable, everyone was so sweet and polite and it was really nice to change it up this year.
We rented a house with a pool, which, if you can swing it on any vacation with kids this age, I highly recommend it. Although they have an amazing pool club with food, a bar and plenty of activities, being able to be at our own home, with our own bathroom and fridge a few feet away was really nice. When Oliver was sleeping, Zach and I could still both be with Lilly outside swimming. And, when we didn't feel like getting in, we could stay right on the lounge chairs and watch her in a small, contained pool without plenty of other people. Also, our property was so well landscaped and the gorgeous trees provided so much shade that it helped with the heat and we felt like we weren't getting too much sun. The girls (Lilly and her cousins) were able to swim first thing in the morning and later in the evening at our home, which they wouldn't have been able to do if we needed to pack up, get to the club, wait for opening hours and abide by closing ones too. We could also use floats, didn't have to worry about splashing or noise. I've truly never appreciated a personal pool more.
The other really special thing was my in-laws treated us- and themselves (let's face it, my mother-in-law is the one who does all the cooking!)- to a personal chef for a few nights. It sounds super fancy pants but, if you consider how much you'd spend on a meal out at a resort for ten people, it's actually fairly affordable, says the girl who didn't pay for it! What a luxury it was though to be able to be at the pool or beach all day, doing activities, resting, whatever it was and not have to worry about either getting cleaned up for dinner and making a reservation time or grocery shopping, cooking and cleaning. It was such a nice treat for all involved to take all of that off the agenda. We could roll up in our bathing suits and cover ups, in our home away from home and have an intimate, cozy and causal dinner. And, then the nights we did cook ourselves or go out to eat, it made it all the more special and less like a chore or a hot mess outing.
The third thing that really stood out was the amount and variety of activities for the kids. We've done our fair share of these kinds of things and I was seriously impressed. My niece was able to do things that interest her like fishing, board skimming and skeet shooting while Lilly and her cousin Caroline participated in cookie baking class, a workshop like Build-a-Bear, where they made their own stuffed animal and all three took advantage of the tie dye t-shirt making. And, much to my surprise, Lilly went to her first full day of (anything, really!) camp! Camp Cloister staffs the cutest counselors that take such good care of the little ones. Seriously, Lilly was so tentative about doing it and within seconds of meeting the counselors, who doted on her, she was in! If any of you saw my Stories from that day, she was all amped up when she returned, talking about the shells she collected, food she ate, games she played, crafts she did… Can't say enough good stuff about the program or employees. They also give all the kids, campers or not, when they check in a passport filled with many of the different activities available at the resort like movie night, Wonderland, the ice cream place, turtle watching, etc. that you can get stamped. Much like the autograph book at Disney World, Lilly was very into it. Such a cute idea! Clever too. Makes you want to sign up for- and spend- more! 😉
The other two stand-outs for me/us were the two nights we did go out, which, of course, my mother-in-law had known about from previously going and doing her research so it wasn't exactly accidental that they were so special. Still, nonetheless, they didn't disappoint. The first was an amazing dinner at The Lodge, followed by a performance by a bagpiper and s'mores by bonfire. The bagpiper plays at dusk every day after golf has commenced; it was so nice to witness that tradition and the girls loved running around the course.
Side note: Get the steak caesar. I was last to order my meal and, after everyone requested southern staples like shrimp and grits and seafood, I was feeling rather lame about my craving for caesar salad but the server told me that the steak caesar was her favorite thing on the menu, a regular's request and people came from far and wide to order it. Really? A caesar salad? She sold it so hard, I thought for sure I'd be disappointed. Nope. It  was worthy. The meat was perfectly cooked, the presentation was impressive and the amount and variety was more than satisfying. It comes with fries, egg, tomato… and is served like some cobbs are with each topping in its own section. I'm still dreaming of it.
Bingo was a trip (and life?) highlight. I love a good game. When there's an entire event around it, everyone gets into it and there's cocktails, I am in my element. I love that Zach and his family used to go and it was tradition for them. I also used to go with my family at Amelia Island, so it was special for me too. I love that Lilly will, hopefully, also grow up going. Oliver as well once he's old enough. Still, the Sea Island version was unlike any other. Ringo Bingo, the emcee, was on fire. A true original. He kept it lively and fun. Oh, the laughs we had. We were losers… but we laughed. It was a great bonding activity for the whole family.
Oh and the spa… I'd be remiss if I didn't mention the spa. Heavenly. Truly one of the best massages I've had, an amazing atrium where you wait with running water and little pods and the fitness center is top notch too.
So that's it. My highlights of a fantastic time in Sea Island, Georgia. Hope you enjoy it as much as we did!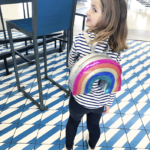 Lilly woke to this surprise- a new bag to carry her toys. She's obsessed with rainbows right now and anything colorful, shiny and glittery so I knew this Cat & Jack backpack would be well received. It's a bit of an odd shape but perfectly holds all of her LOL Dolls, Bunny and markers- basically her life essentials. Plus, it's small and light enough for her to wear the whole time without complaints- score!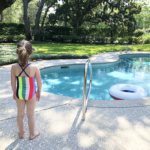 We wasted no time and changed right into our suits as soon as we arrived to capitalize on pool time.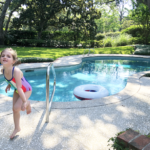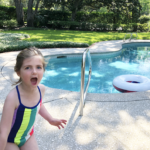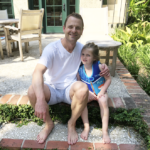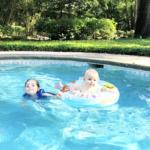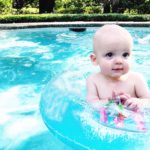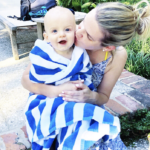 Then it was off to check out the beach!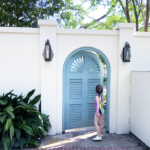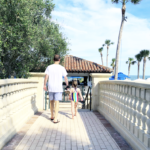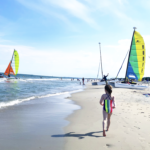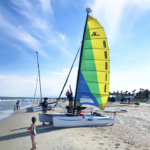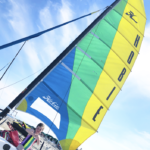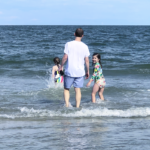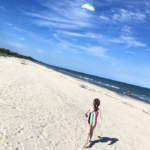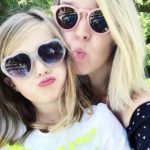 The grounds at The Cloister are gorgeous.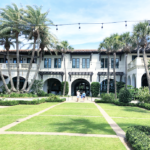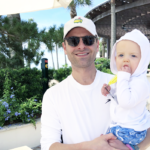 When your dad dresses you like The Flying Nun.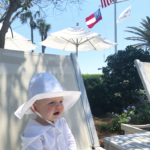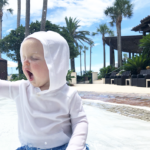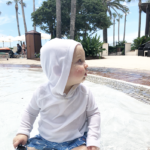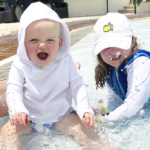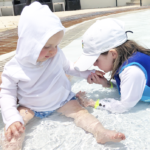 We're pretty in love with our little guy.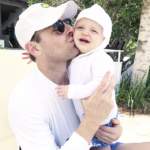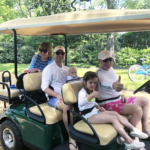 From the beach club, home for Oliver's nap, to her own personal pool.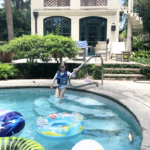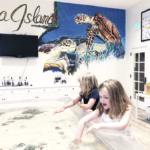 Cookie baking class…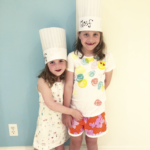 Always posing.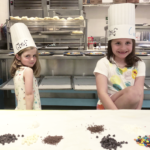 Dinner (steak caesar!), the bagpiper and s'mores at…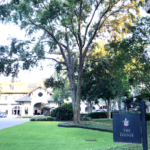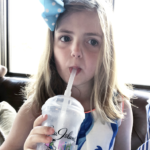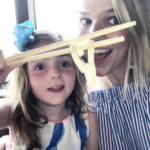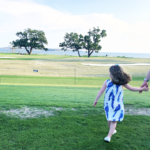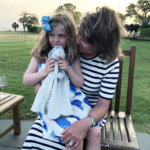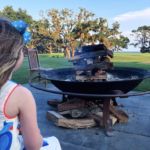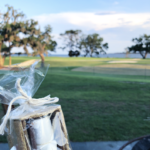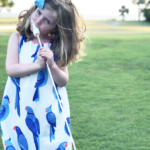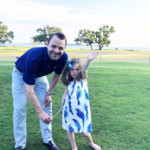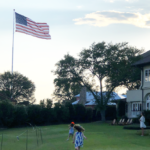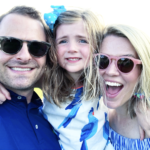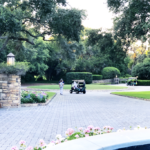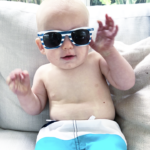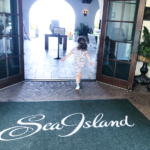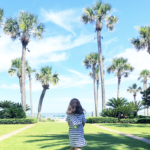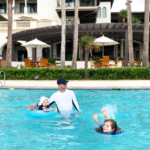 Tie Dye time…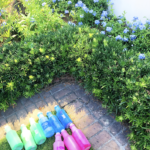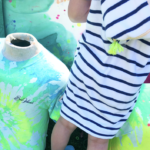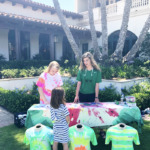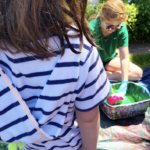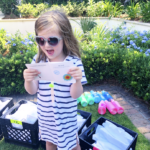 Another stamp on her passport…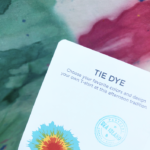 Right next to the pool is Wonderland, an ice cream and candy shop of every kid's dreams. There's also an arcade, several movie screenings a day… it really is the perfect family place.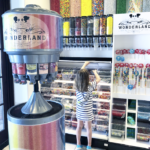 Naturally, Lilly's marine life animal of choice was… a bunny. As if she doesn't have enough of those.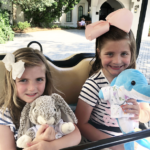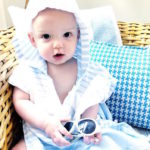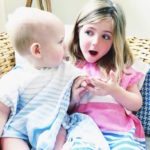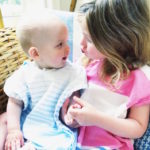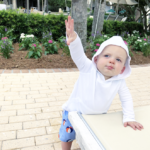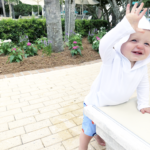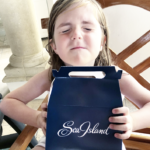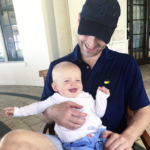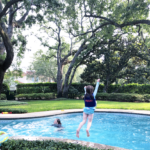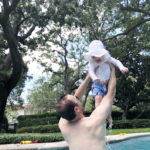 Bingo Night!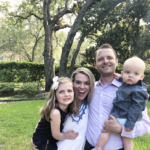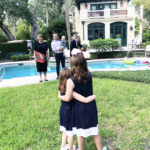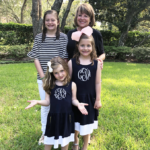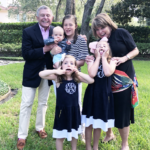 We got a local babysitter for Ollie, through Sitters by the Shore, so he could stay happy at home, in his routine and not be subject to all the noise. His sister felt extra special that she got to go out.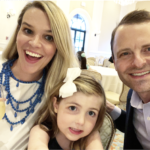 Golf cart rides are always a vacation favorite. When we were getting a little stir crazy at home or Oliver was getting fussy, we'd go for a cart ride- worked every time. Maybe I should look into getting one at home?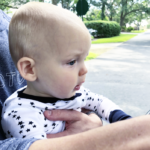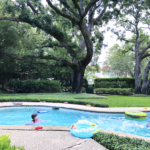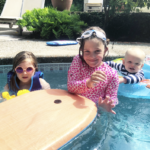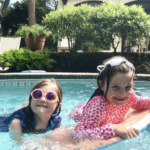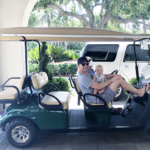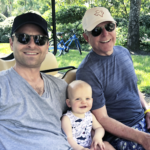 Since Oliver's birthday was the day after we returned home, we started celebrating early with family.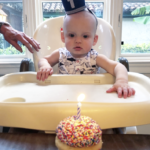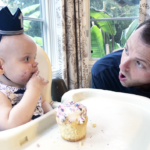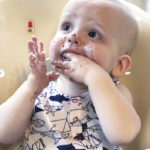 Then it was time to head home for more birthday fun…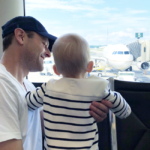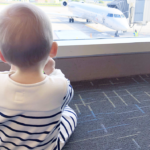 SaveSave
SaveSave
SaveSave
SaveSave
SaveSave
SaveSave
SaveSave
SaveSave
SaveSave
SaveSave
SaveSave
SaveSave
SaveSave
SaveSave
SaveSave
SaveSave
SaveSave
SaveSave
SaveSave
SaveSave
SaveSave
SaveSave
SaveSave
SaveSave
SaveSave
SaveSave
SaveSave
SaveSave
SaveSave
Comments Off

on Sea Island Summers
March 3, 2020

A Winter Weekend at Woodloch

We're not a skiing family. Zach is from Texas and I grew up in Florida so you can't really blame […]

READ MORE

June 24, 2019

Are you doing Camp Mom or Grandma this summer? Of course, there's plenty of actual items that would be fun […]

READ MORE

January 24, 2019

Our 2019 Travel (and a brief reflection on 2018)

Lots of bloggers are doing their year in review and 2019 goal posts. I thought about doing one too. But […]

READ MORE