July 7, 2016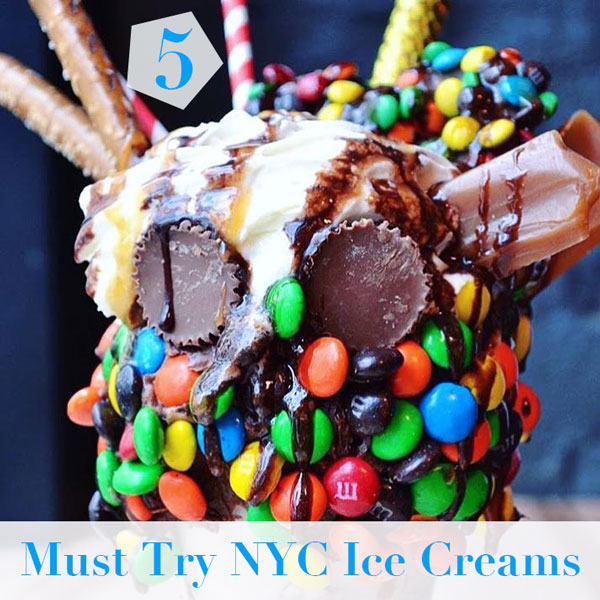 5 New York Ice Cream Shops You MUST Try!
How lucky are we to have not one but two fabulous interns this summer? Carly's been with us since the spring (she did this fun post!) and was having so much fun she decided to stay on! Betsy joined us this June and the two together have been taking over New York the Nat's Next Adventure way (contortionist and extreme stretching classes, chocolate factory visits, lobster roll lunches, Brooklyn Bridge walks…) but none was perhaps more fun than the ice cream tour I sent them on. Today, #WorldChocolateDay, seems like the perfect occasion to exhibit their fine work. (At one point, they even matched their cones to their outfits, I mean, how cute are they?)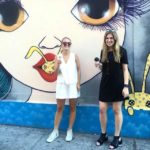 Our favorite ice cream shop was Morganstern's (above). It's located on the Lower East Side and is a relatively new shop owned by Nicholas Morganstern, who rose to success with an ice cream cart in Brooklyn. They specialize in unique flavors such as Peppermint Vanilla, Salt & Pepper Pinenut, Banana Curry, and Coconut Ash.
Morganstern's also celebrates Kanye West ice cream week annually with flavors inspired by the pop star, such as "Paparazzi Pineapple", the "Bound 2 Banana Split", and the "I Am God" ice cream croissantwich.
SUPERLATIVE: Best Tasting
RATING: 🍒🍒🍒🍒🍒
Eggloo, located in Chinatown, reimagines a traditional Hong Kong dessert by adding ice cream and toppings. The waffles are called egg waffles for both their appearance and the use of eggs in the batter. We tried their two seasonal flavors: Cherry Blossom and Maine Lobster Tracks (think seasonal Moose Tracks). Cherry Blossom we paired with a plain waffle and Fruity Pebbles. Maine Lobster Track with a green tea waffle and chocolate sauce. It was an experience. There were a lot of options of toppings too which was great, but it was a lot to eat and we couldn't finish ours.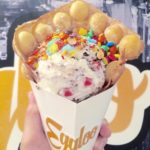 SUPERLATIVE: Most Unique
RATING: 🍒🍒🍒
A youthful and bustling restaurant with pop and rap music that set a vibe as fun as the milkshake was to drink. Going in with an appetite and large sweet tooth was important to fully enjoy the shake and all the candy and treats that come along with it. The Cookie Shake was decorated with crumbs, cookies, and a "cookiewich" on the side, while the Sweet and Salty came with pretzels, M&Ms, and a Sugar Daddy sticking out of the top.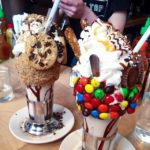 It's a dessert to share with friends. Bonus? The sweet potato fries and truffle aioli satisfy a savory craving too. Milkshakes include the Sweet n' Salty, Cotton Candy, The Cookie Shake, and the Sour Power.
SUPERLATIVE: Most Likely to Fulfill a Childhood Fantasy
RATING: 🍒🍒🍒
Brian and Jackie opened this creamery when they were inspired by the cows that used to graze on the Brooklyn ample hills. Nostalgia and small-town spirit memories of Brooklyn inspire the playful and creative flavors. Some classics include- Ooey Gooey Butter Cake, Salted Crack Caramel, Chocolate Milk n' Cookies with the option of M&M, Pretzel, and Chocolate Chip cones.
I got the Munchies flavor, which is pretzel-infused ice-cream with pieces of ritz crackers, potato chips, pretzels, and mini M&Ms on an M&M cone!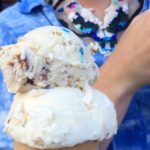 There's a location in the Meatpacking District, which is perfect to enjoy on the Highline located right across the street.
SUPERLATIVE: Most Likely to Satisfy a Craving
RATING: 🍒🍒🍒🍒🍒
Childhood friends Cristiano Sereni and Paolo Benassi founded Amorino in Paris in 2002.  Since then, their iconic gelato shops have opened in various cities across the world including Florence, Milan, Prague, Barcelona, Abu Dhabi, and, of course, New York.  Amorino is best known for its picturesque rose design and unique flavors. Our favorite flavor was the Lime-Basil- yum!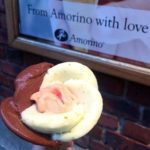 SUPERLATIVE: Best Insta
RATING: 🍒🍒🍒🍒
December 18, 2017

Our First Time at a Tree Farm

Growing up, we had a fake tree. We lived in Florida and that's just what you do. And, while I […]

READ MORE

December 7, 2017

Catering Christmas: One Daughter's Story of How She Lost Her Mother While Becoming One Herself

Life works in interesting ways. Years ago (many more than I'd like to admit), I went to college with a […]

READ MORE

September 5, 2017

Nantucket Girls' Trip

If you read my Insta account, you know I've been housebound (and hectic!) all summer so when I put out […]

READ MORE