February 5, 2019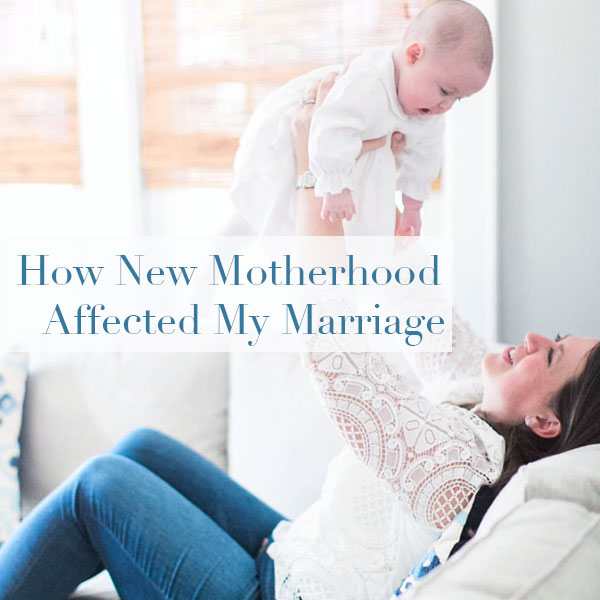 Guest Blog: How New Motherhood Affected My Marriage
One of the elements of my job that I find most fulfilling is connecting with other women, particularly mothers, hearing their stories and sharing them for the benefit of us all. Emily of Mamacoaster reached out to me several years ago and has been such a supportive voice in my life. I'm honored to finally be able to return the favor. She's a former Kindergarten teacher turned SAHM (Mary Clare is 16-months-old and she's expecting another little one in March.) and blogger. She keeps it real on her site and social, often shedding light on important topics like PPD, anxiety and the comparison game. Below, she opens up about how motherhood takes a toll on marriage in such an honest and relatable way. I just know you'll love her as much as I do…
The first year of marriage wasn't easy for me. Merging my life with another was actually very hard. My husband, Rob, and I are both very strong-willed- you'll be damned if you get either one of us to change our minds. As you might imagine, there were many dead-end arguments. Since that first year, we've worked hard to understand each other better. Now we know how the other operates and we communicate much more effectively. It has helped us build a happy life together, most of the time! Naturally, it's a work in progress.
When a third wheel joined the party, in the form of our daughter, Mary Clare, things got a little tricky. We had ideas for how we wanted to be with our first baby. I knew I wanted to convey a quiet gentleness but I've never been a particularly quiet person. In fact, my high school yearbook named me "the loudest" girl in the class of 2004, much to my mother's chagrin. Yet there was something about this tiny creature that slowed me significantly down. She'd been safely inside of me for her short existence and suddenly she was thrust into a busy, often scary world. I worried she was constantly being overwhelmed and I wanted to protect her. I didn't want loud noises or raised voices around her. I wanted gentle, calm, careful.
In addition to my wish for my daughter, I was suffering from postpartum anxiety and depression. During this phase of my life, I didn't want loud, scary or rough around me either. For most new mothers, the postpartum phase (depression or not) is a time to retreat into ourselves. We go inwards to recover from one of the most life changing experiences. My parenting was really informed by this.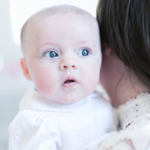 During the first few months, I was constantly telling Rob to "be gentler with her, slow down, don't be so loud." I will forever feel terrible about this and won't make excuses for it. While we've spoken privately about it, I'm deeply sorry for this. Between the postpartum depression I suffered from, our conflicting yet developing parenting styles and, of course, the insanity of being first time parents, we struggled. We struggled a lot. I cried, he felt helpless. He carried the weight of a newborn and a sick wife, I cried some more. I told him how to be and what to do, he felt badly, I cried again. It was hard.
I spent those first several weeks wishing the days away. Fear, mental illness and anxiety stole every bit of joy from me. I will always feel deprived of that time with Mary Clare. One thing that was particularly challenging for both of us was changing her. Every time, she'd cry. And I mean wail so loud that someone on the other side of the front door could hear her. My heart would race and I'd break into a full sweat. It got to the point that I feared changing her. I often asked Rob to help me or do it for me but then I would always tell him how to do it. "Don't rush so much. Would you just relax? You need to be gentler with her!" As you might imagine, he'd ask me to just leave them alone so he could do it himself. I don't blame him. Thank goodness he loves me, though I'm not quite sure how he did in those moments.
One Saturday morning when Mary Clare was about 7 weeks old, Rob went upstairs to change her and put her down for a nap. I don't remember exactly what I was doing but chances are I was sitting somewhere paralyzed by my own anxiety. Sometime later, I went into Mary Clare's nursery to get her, as she was waking up. As I picked her up from the bassinet, she felt wet and not like she leaked through her diaper on one side wet. I'm talking really wet, strangely wet. As I slung her over my shoulder, I felt the crib mattress. It was saturated. I was confused. I reached up to touch her bottom and it felt far less padded than usual.
I laid her down on the changing table as I called for Rob and unzipped her onesie to see my baby was going commando. As he always did, he came running. But this time, he found me laughing like I hadn't laughed in weeks. This moment is forever etched in my memory not only because it was hilarious but because it was the first time I was able to laugh and feel even a little bit like myself again. In that moment, we looked at each other and both exhaled. I finally felt alive again.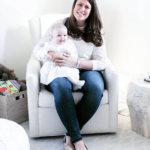 As I reflect back on those first challenging months, particularly that very damp episode, this is what I know. Rob is one of the greats. He carried so much, nearly all of it, during those first months. He revealed to me who he is – a man of strength, love and a ton of patience. Raising children is a helluva task. For us, it's about being a team, communicating and laughing as much as possible. Sometimes it takes something really silly to bring you back down to earth— and to each other.
Check Emily out on Instagram too!
December 12, 2019

The MomVENT Calendar

Behold: The MomVENT Calendar. It's all about the kids this time of year. As if they don't have enough stuff. […]

READ MORE

March 31, 2019

Oliver's First Art Class

Between New York and New Jersey, I've done a lot of things with Lilly and Oliver over the last six […]

READ MORE

May 23, 2018

The Reality of What Being Laid Off Feels Like: My Friend's Brutally Honest Account

Jennifer Halper (a.k.a. "Halps") was one of the first people I met at Us Weekly when I started there a […]

READ MORE