September 5, 2017
Nantucket Girls' Trip
If you read my Insta account, you know I've been housebound (and hectic!) all summer so when I put out the call for guest bloggers, I was thrilled that an NNA reader responded requesting to do a few travel posts. First up? Nantucket, which has been on my list for years. After reading her recommendations and flipping through her photos, I'm even more excited to book a trip. Summer 2018, are you listening?! 
Hi Nat's readers! I'm Kelly, a born and raised New Yorker living on the Upper East Side of Manhattan with my husband Michael, 2 year old son James and 1 year old son Chip. Having 2 boys 18 months apart has been a doozy, so when my husband encouraged me to plan a girls weekend to Nantucket, I jumped at the opportunity. I absolutely love being a mom, but boy is it nice to sleep in and relax once in a while!
As luck would have it, I was able to find a weekend that worked for my four best friends to join me for a long weekend in July. We hadn't all been in the same place in three years so this was a long overdue reunion of sorts. I'd like to say that we took advantage of every opportunity on the island and went bike riding, hiking, and sailing, but really all we did was eat, drink and be merry!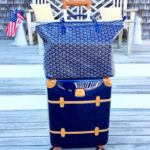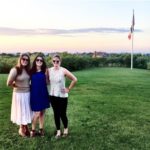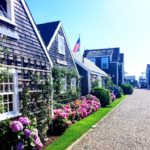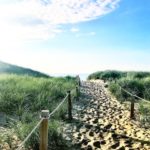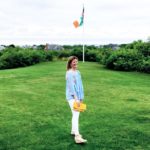 Here are some of my favorite places where we wined and dined…
BEST TACOS ON THE ISLAND
Millie's is one of  my favorite lunch and sundown spots. It is located about a 15 minute drive from town in Madaket and has a great view of the ocean. Don't have a car? No problem. Take The Wave bus from town for $2. The scene is casual and is the perfect spot to grab a beer and a taco on your way home from Madaket beach. Enjoy a Westender (Blackened mahi mahi in corn tortillas with pineapple mango salsa, guacamole, lime sour cream) or Smith Point (Grilled shrimp in corn tortillas with tomato & sweet corn salad, guacamole, chili ranch) at the picnic tables outside or upstairs in the restaurant.
BEST LUNCH WITH A VIEW
The perfect place to enjoy a long drawn out meal while looking out at the ocean. We indulged in some pina coladads, pizza and lobsters rolls and then walked off our lunch on the beach!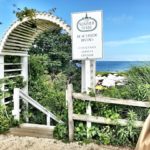 BEST LUNCH ON THE GO
Provisions is the spot. Don't even read the menu. Just order the Turkey Terrific (smoked turkey, stuffing, cranberry sauce & mayo on Portuguese bread, but I prefer it on herb bread). Hands down the best sandwich you will ever have in your entire life! #thanksgivingonasandwhich – what could be better? Bike over to Jetties Beach and enjoy your perfect sandwich with a great book like Summer House by Nancy Thayer which takes place on Nantucket!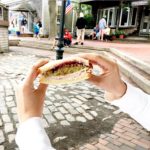 POST-BEACH, PRE-SIESTA FIESTA
Going to the brewery is an absolute must. It is most popular in the late afternoon when people are leaving the beach. People of all ages gather here to enjoy Cisco Brewers beer, Nantucket Vineyard wine or 888 Vodka, listen to live music and enjoy delicious snacks from the 167 Raw bar or the Millie's & Lobster Trap food trucks.
BEST NO-NONSENSE BREAKFAST
If you are a nostalgic person, you will LOVE The Downyflake. This place is an old school diner that makes their own donuts. No frills, yet oh so delicious. Don't let the tiny parking lot or line scare you away, tables turn over quickly and it is always worth the wait.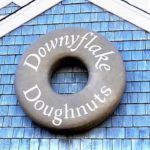 Since I'm a regular, a few more notes for newcomers…
Dionis Beach is the perfect place to relax with your girlfriends. The water is calm and the crowds are never overwhelming. There are also bathrooms – a must if you are enjoying some adult beverages in the sand! Children's Beach is the place to be if you're traveling with kids. The beach is narrow and short, so it is easy to keep an eye on little ones. There is also a fantastic playground and large grass area for lots of running and playing!
Downtown Nantucket offers many beautiful shops. Pop in to Island Cashmere for the perfect White and Warren Cashmere sweater to keep you warm on Nantucket's chilly nights or The Skinny Dip for a Ruby Cotton summer dress to wear to the brewery.
The Sconset Bluff Walk is quite unique. You may feel like you are trespassing as the trail literally goes through people's backyards, but the breathtaking views of the ocean and the homes you'll be getting a sneak peek at are worth it!
If you are in the mood for a little off-roading adventure, head to Altar Rock. This is one of the highest spots on the island, so the views are unparalleled. Bring a cushion to sit on as the dirt roads are quite bumpy!
For the perfect sunset sail, hop aboard The Endeavor conveniently located in town on Straight Wharf. Enjoy beautiful views of the harbor and homes off of Cliff Road.
Would you like to be considered for a guest post? Whether it's travel, a recipe or a personal essay, we'd love to hear from you! Email [email protected] to pitch your idea!
SaveSave
SaveSave
SaveSave
SaveSave
December 7, 2017

Catering Christmas: One Daughter's Story of How She Lost Her Mother While Becoming One Herself

Life works in interesting ways. Years ago (many more than I'd like to admit), I went to college with a […]

READ MORE

September 19, 2017

The Best Banana Bread Recipe

Daniel Tiger's mom and I have two things in common. 1) We wear the same outfit every day. Mine usually […]

READ MORE

August 3, 2017

Dealing with a Decade of Anxiety: One College Girl's Confessions

I first met Betsy ("B") in Bald Head. She's the cousin of my bestie Brooke and came on our girls trip […]

READ MORE