October 16, 2017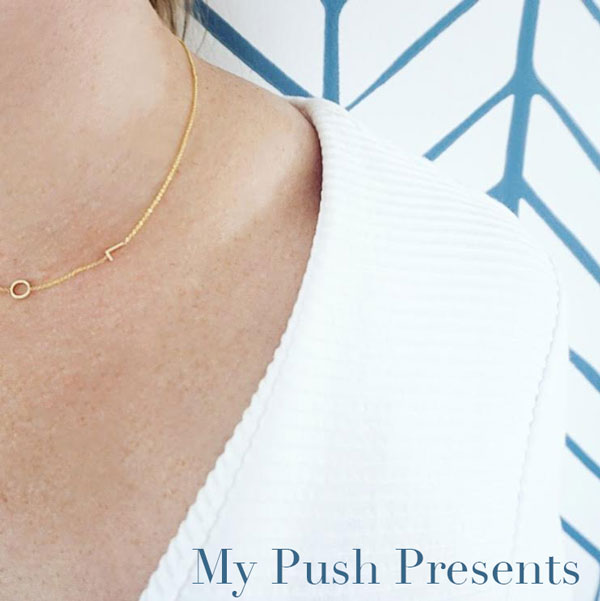 My Push Presents
I actually hate the term "push present". To me, it seems, I don't know, dated. Like we're in the 1800's and "woman" is rewarded by her caveman husband for bestowing him a babe. Okay, maybe I'm being a bit dramatic but I just don't like the phrase. Having said that, I firmly believe a mama should be pampered, taken care of, loved on and treated (Spa time, girls weekend, case of wine and unlimited sushi? Yes, please!). I also love the idea of commemorating your children with personalized jewelry.
When Lilly was born, I got this Nameplate Necklace by Jennifer Meyer and had the heart removed since it's meant for two children. I used her first and middle names instead. I wore the Lilly James necklace for four years (and will continue to) but with Oliver's arrival, I wanted to represent both of my children. I fell in love with the simplicity of the 2 Letter Necklace by Maya Brenner. I also love that it's asymmetrical, something about that seems so imperfectly perfect to me, much like motherhood is. But Ollie needed his own representation too so I didn't stop there. I also picked up this diamond initial ring. Again, I love the subtlety.
So, that's that. I picked out and paid for my own presents and it wasn't because I pushed but because I want to represent my loves. But, don't worry, I'm planning a few girl's getaways for the future. Zach, are you reading this? 😉
Does the term push present bother you? Did you get one? I'd love to hear from you!
November 27, 2017

Nat's Personal Picks

What's on Nat's list this year? In addition to the round-ups we've already done (her, him, them), here are her […]

READ MORE

November 24, 2017

What to Get the Men in Your Life

There's bound to be something for the guy who has everything on your list here. Whether he's into fashion or […]

READ MORE

November 24, 2017

What to Get the Ladies in Your Life This Holiday

Candy trunk? Wine flight? Drybar box? Glitter flask? Yes, please! Sign. Us. Up. To all of it. And more!

READ MORE