May 10, 2019
My 40th Birthday Trip to Napa & Sonoma
Up until a month ago, I'd never been to Napa before. And I lived in California for close to three years. Don't judge me.
In fairness, we were planning to be there for life so we thought there was plenty of time and, even as a newlywed, I was married to my career, which didn't leave much time for personal travel. Still, we went to Palm Springs five times, Laguna and Cabo twice and Santa Barbara once… Just never Napa.
Then we moved back to the east coast before getting the chance, became parents and it's been on my list ever since. When it came time to talk about celebrating my big birthday, there was no question where we'd go. Despite needing to be in Palm Springs the week after (for Alt Summit, were I spoke) and having a free rental house (in exchange for my Visit Palm Springs campaign I did earlier in the year), I knew I'd be mad at myself if I didn't take the opportunity to check out Napa when I had it.
So I started planning. I also opened up the invite to friends. And to my delight, 8 of them (9, if you count Zach) were able to make it. For 4 days, it was 5 fun couples in wine country. And when I say it was a dream, I'm not exaggerating. While we could've had an amazing time anywhere with this crew (Seriously, some of my favorite people- the most generous, go-with-the-flow and funniest people ever!), the scenery, food and wine did not disappoint. It was truly some of the best I've seen, tried and had.
And, I'm not alone. Whether they had been before or it was their first time, like us, everyone else raved too. You know I'm not one for sugar coating, so you know I'm earnest in saying, we couldn't have had a more perfect weekend. Below, just some of the snaps from our epic adventure to Napa and beyond…
My friend Brooke and her husband, Hap, were sitting a few rows behind Zach and I on our 7am flight. 15 minutes in, the attendant appeared with a tray full of confetti, a card and the makings for mimosas. God love that girl. She leaves no detail undone.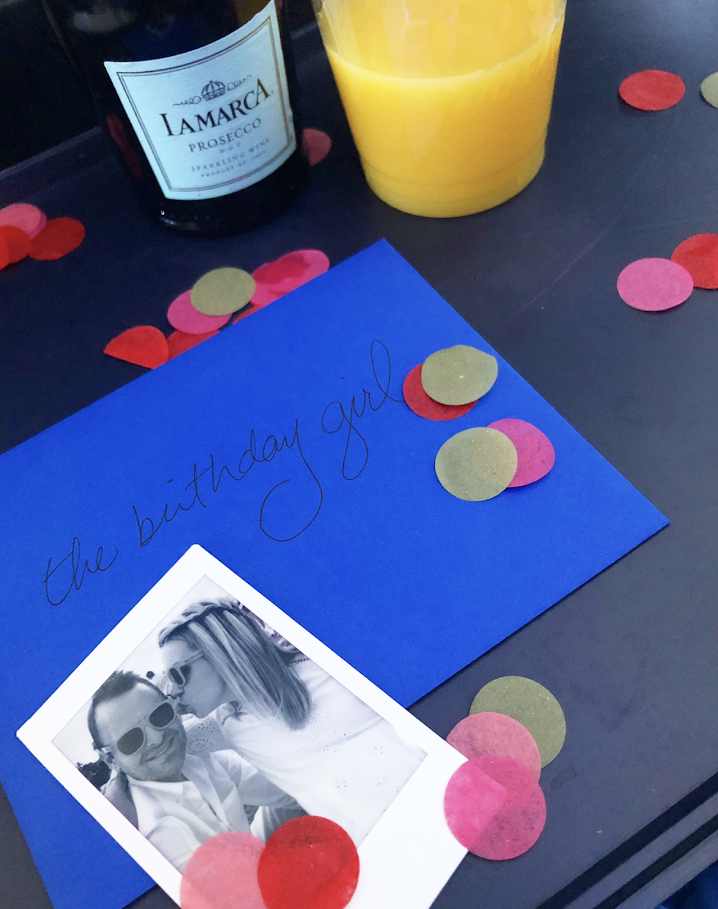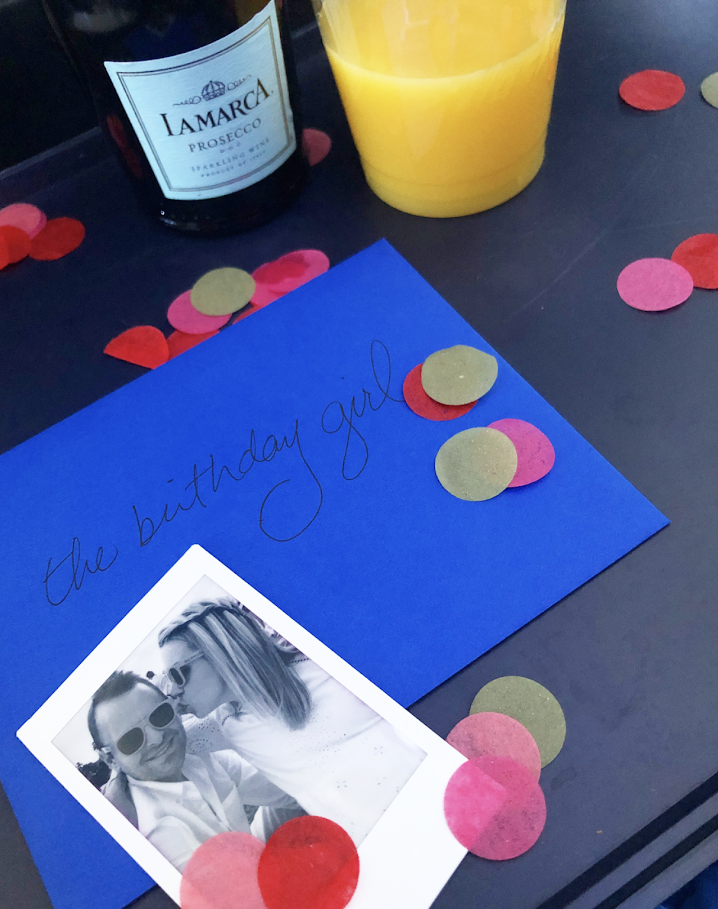 The drive from SFO was a pretty sweet kickoff for the trip. And, for me, a caravan with friends is half the fun. Is there anything better than the excitement of the first day of vacation when it's all ahead of you?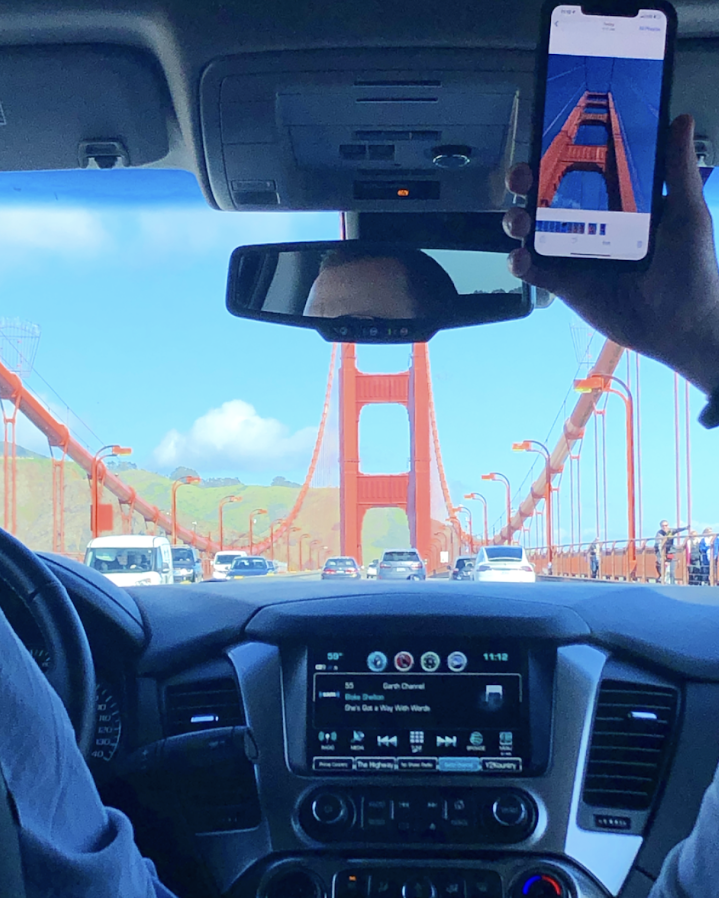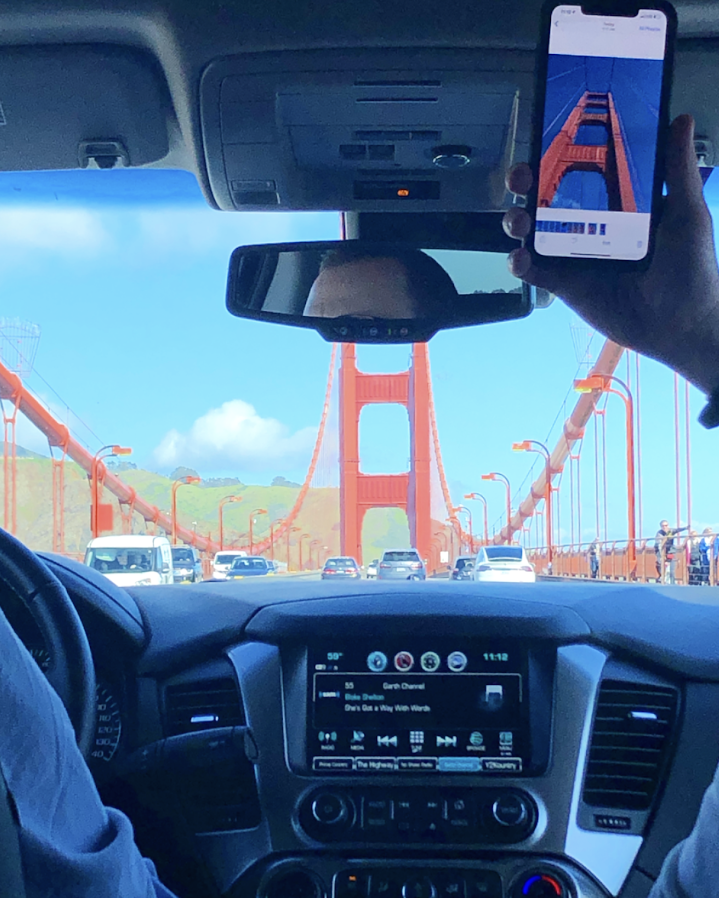 It may have been adults-only, but our first priority off the plane was to FaceTime with Lilly and Oliver. Okay, first it was to find food and a wine tasting and then, before we consumed, we called home.
Speaking of home(s), special shout out to Nonna, Pa, Boo, Cece, Pop Pop, Nana and Mimi (a.k.a. the grandparents) for allowing this trip to happen and watching our crazy kids.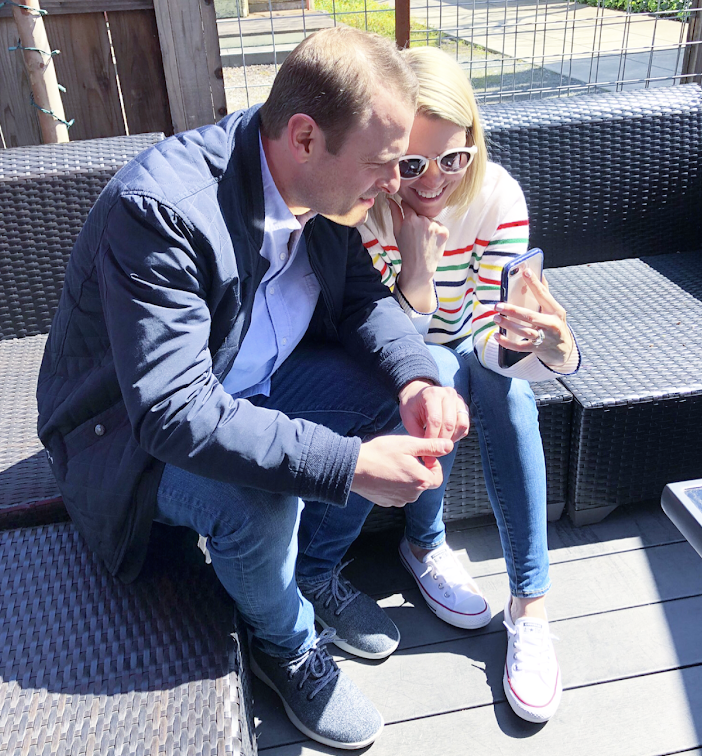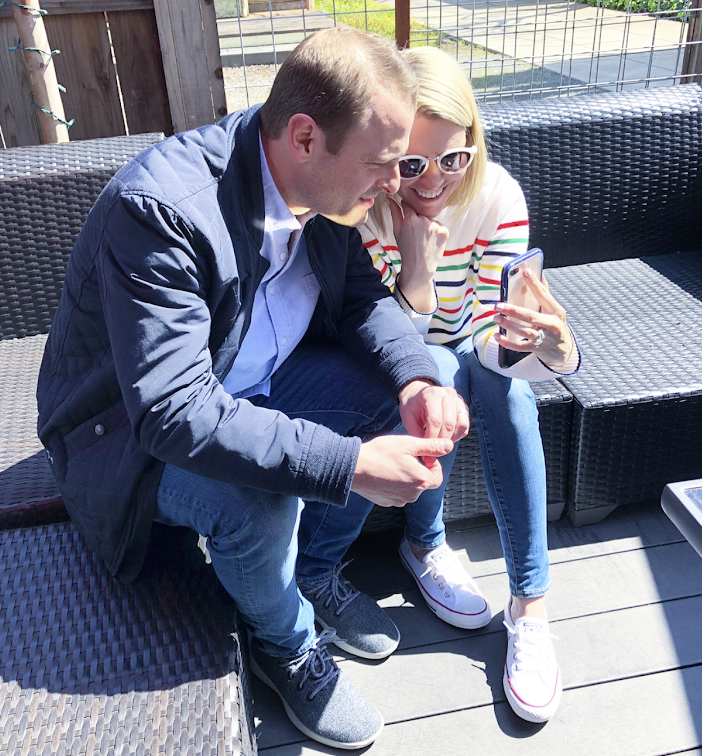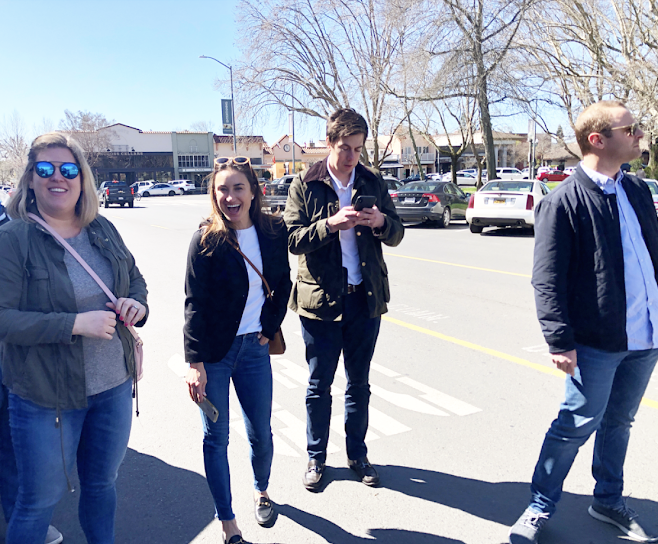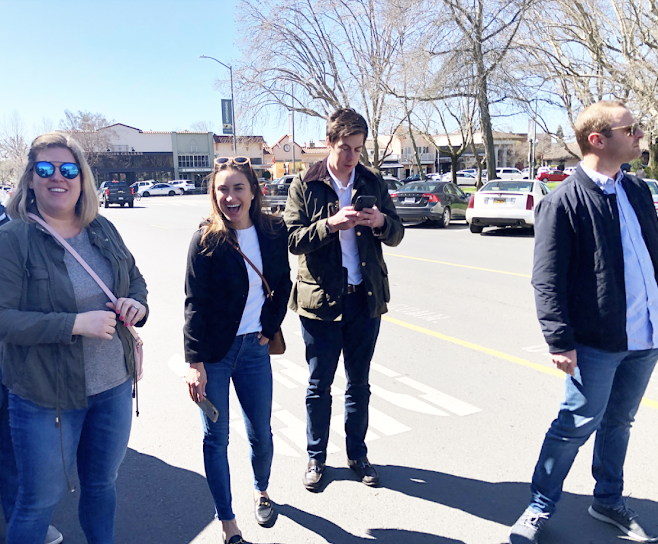 After a fantastic meal al fresco at Sunflower Cafe, in the heart of Sonoma on the Square, we were planning on hitting up the grocery store and heading to our house. But, we walked past a tasting room and who were we, kid-free, to turn down such an opportunity?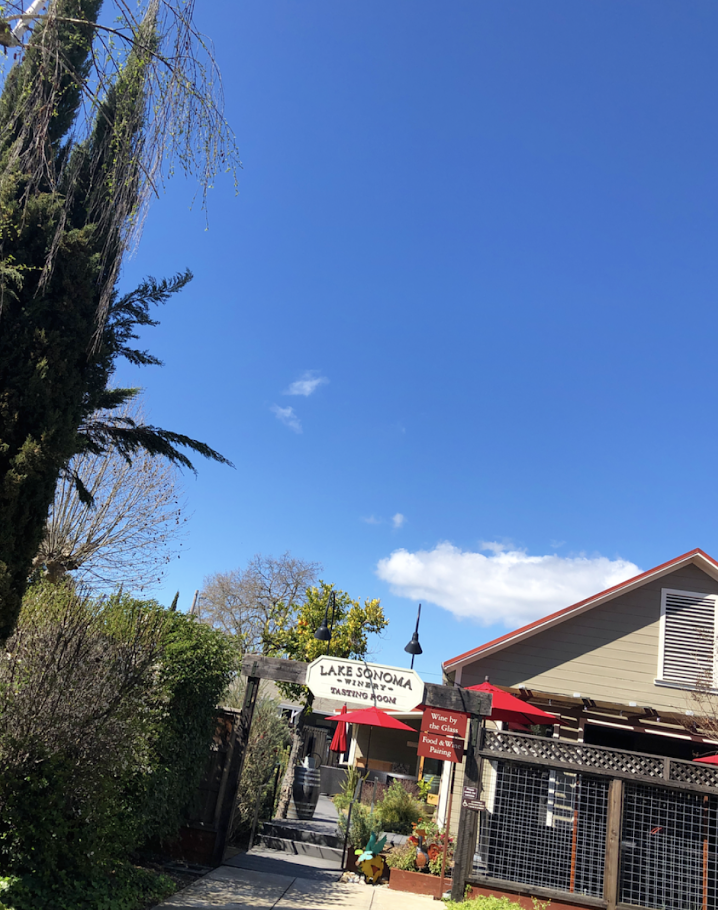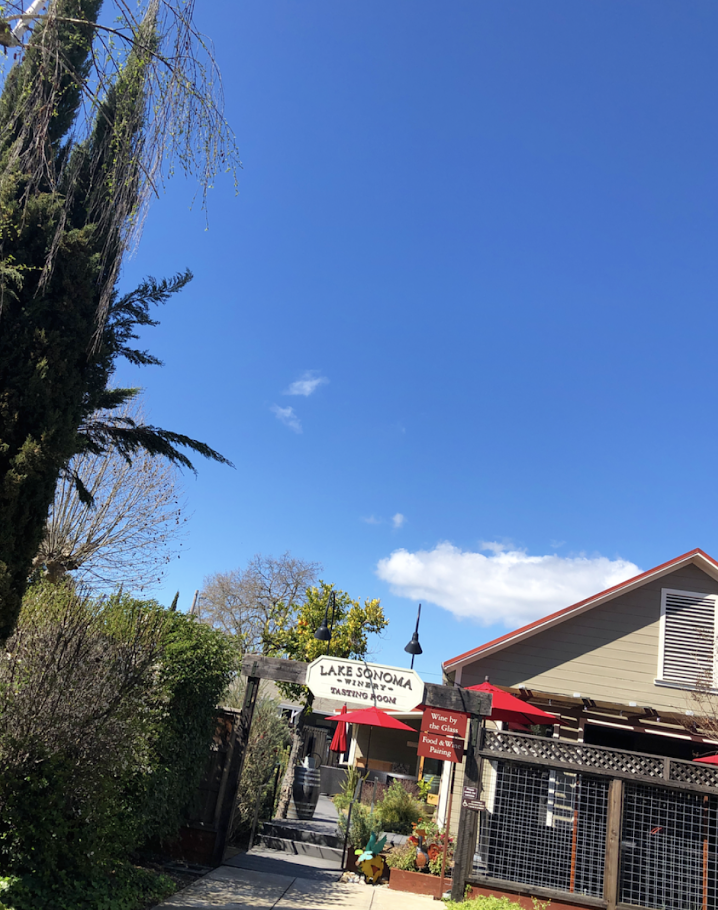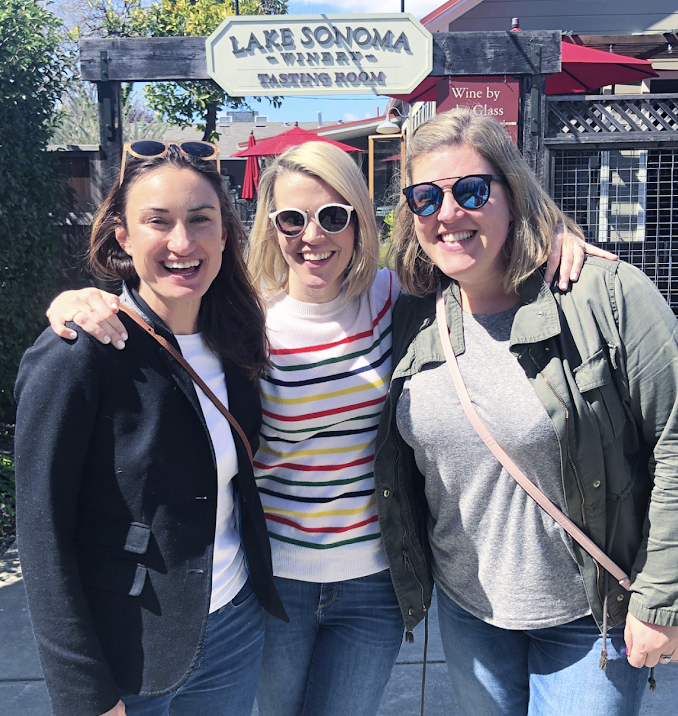 Lake Sonoma Winery ended up being one of my favorite moments of the trip. It was super charming, the wine was great, our sommelier was helpful, friendly and tolerant of our boisterous bunch but, the best part? Since it was a Thursday at noon, we had the entire place to ourselves! There were only 6 of us (the 4 others joined us later that evening and the next morning) and we were mixed company, but you'd never know it. We were soon laughing so hard, we were crying. That happened a lot that weekend, actually. So much laughter, tons of tears… Fully alive. And slightly buzzed.
I think the spontaneity of it all, added to the specialness. That and it being the first of our experiences. Does anyone else feel like that? Again, there's nothing like the excitement of the first day of vacation. It's a ticking time bomb from there. But, that first day… it feels like you'll stay there forever.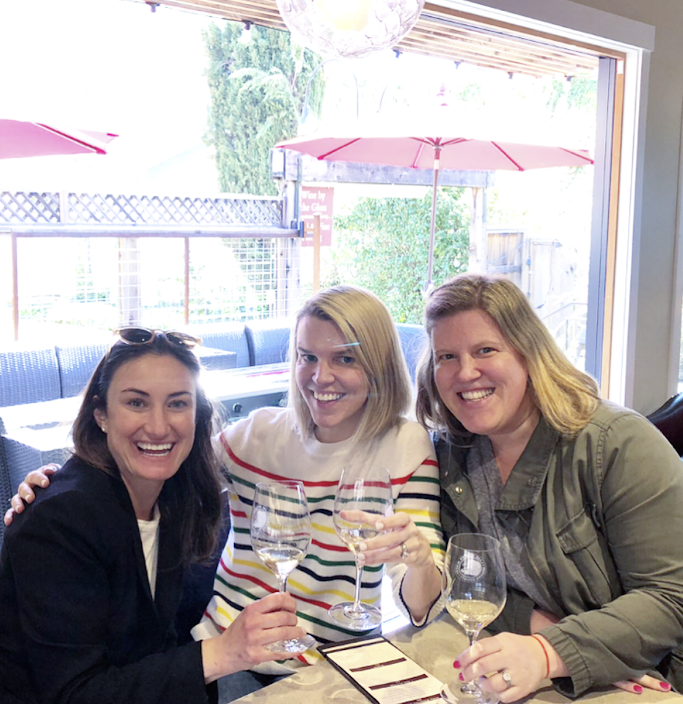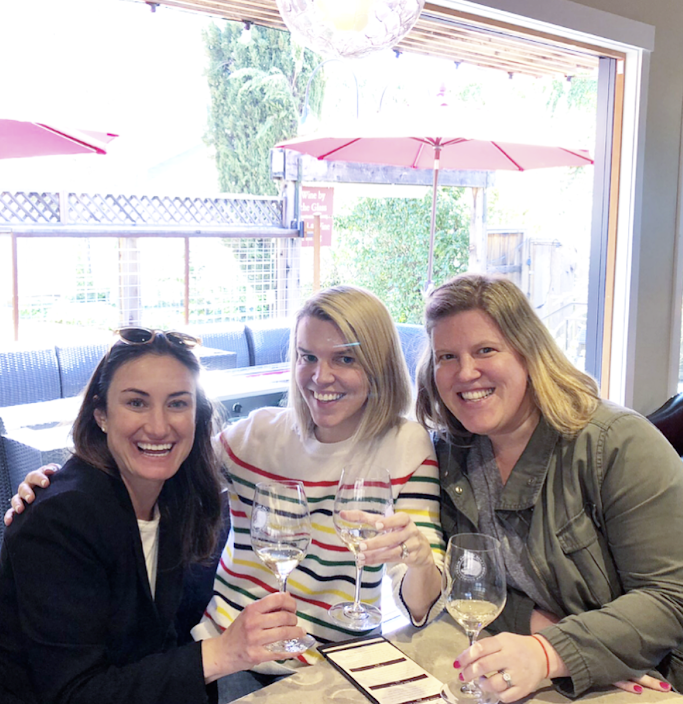 Case in point. Gotta love a girl who always plays my games. "Brooke, go get on that llama." "Okaaaay…"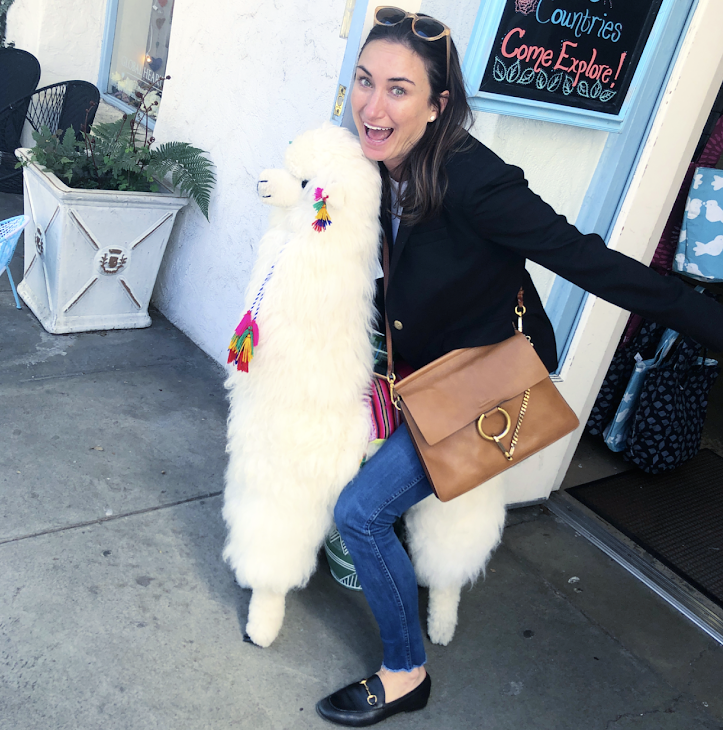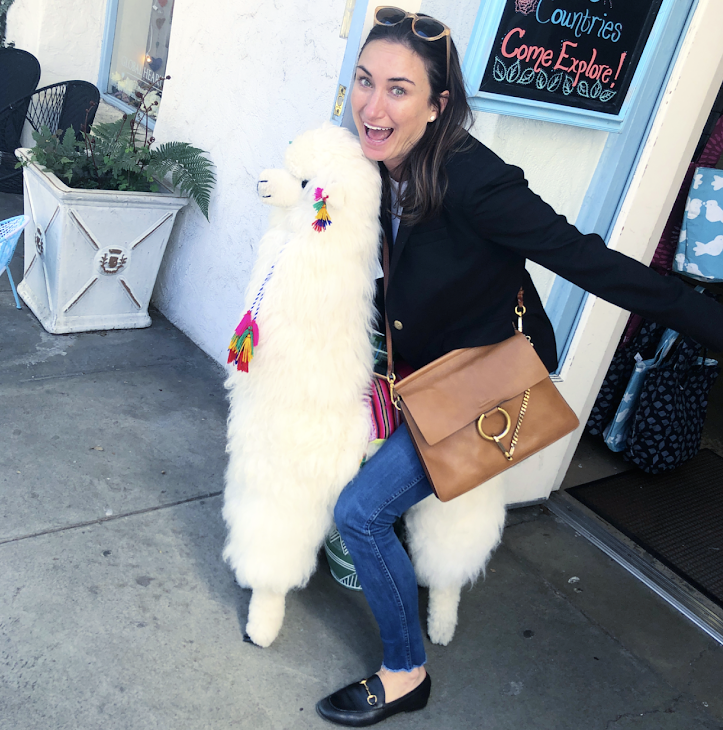 We contemplated it, but needed someone to pay for the groceries. 😉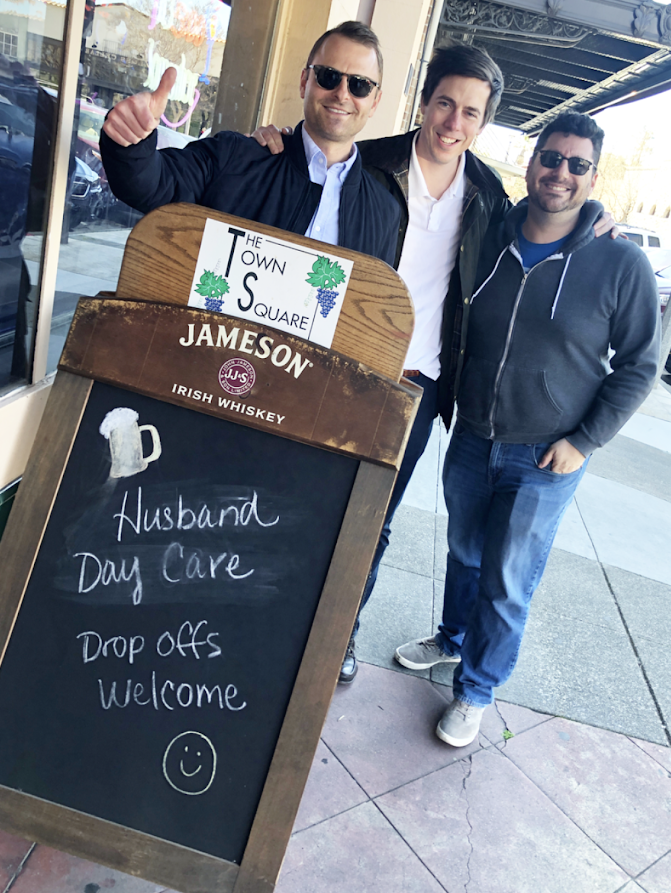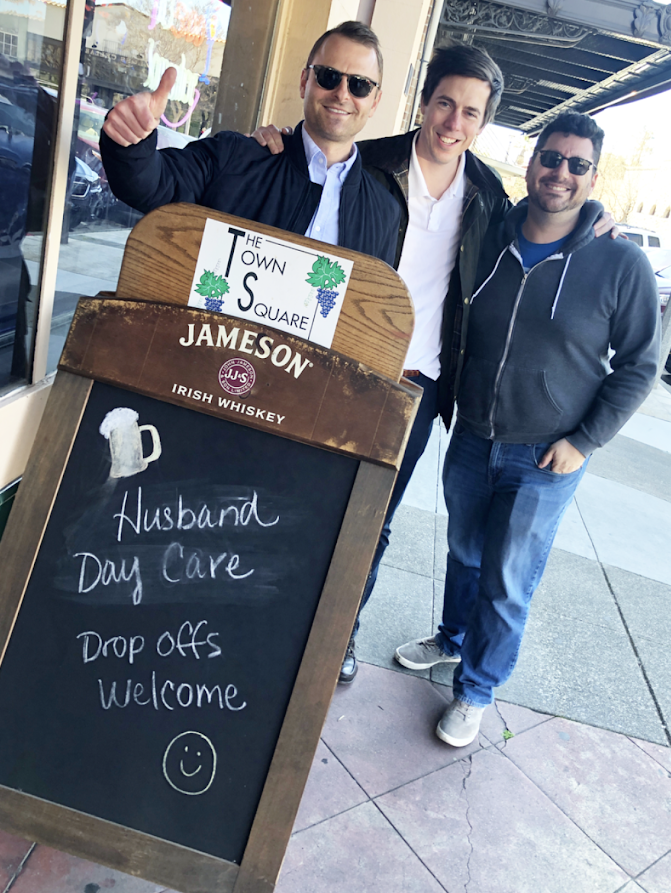 If you're looking to be in the epicenter of Napa or Sonoma, our rental is not the place for you as it's a bit off the beaten path, but I chose it partly for that reason. We're all parents of young kids and, therefore, tired and we don't get to see one another enough so I wanted a great, big, luxurious home away from it all that we would have plenty of time to chill in. I think you can see, I found it!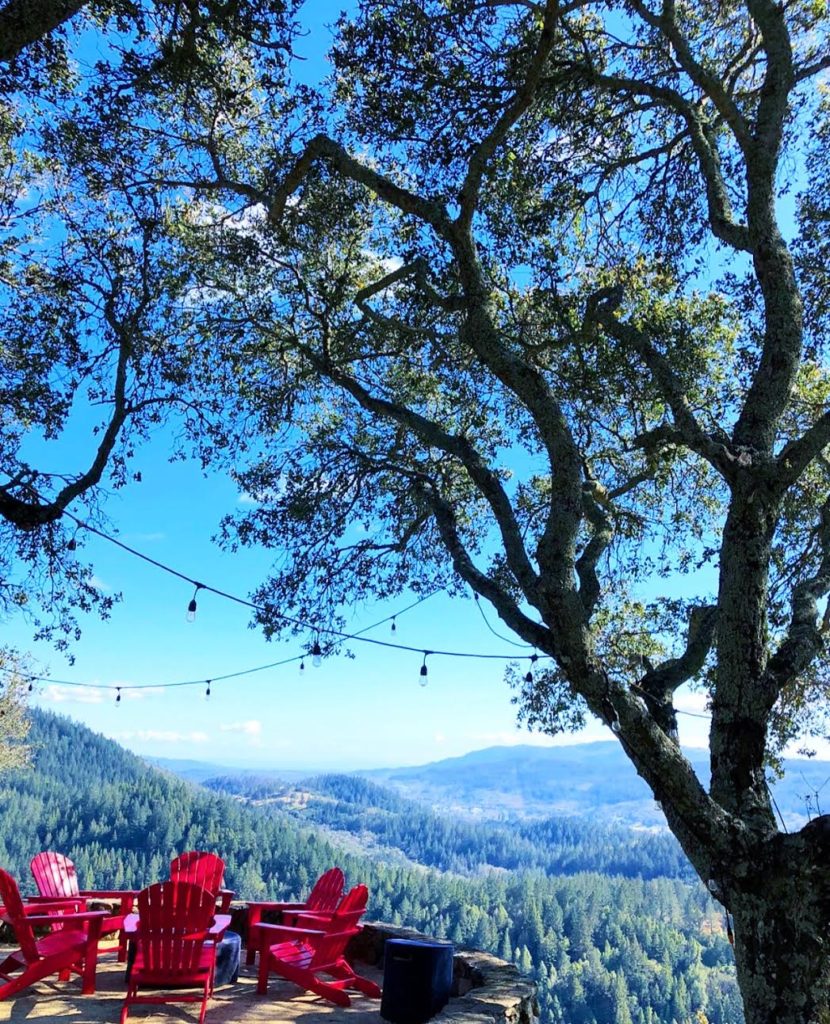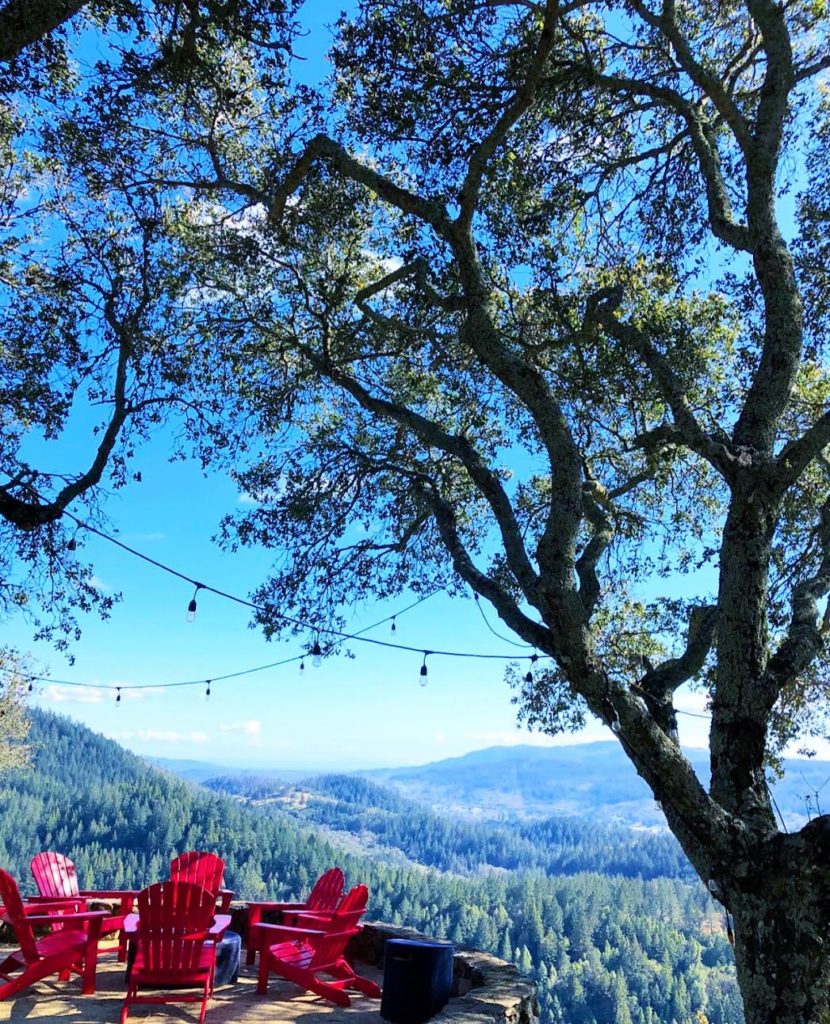 Located in Santa Rosa, on top of a mountain, with nothing else around it, our views were epic and it was completely secure, private and… quiet. Yes, we're old. So much so, in fact, that after full days, we were going to bed happily around 9 or 10pm! Heaven. Of course, since most of us were east coasters, we were getting up quite early.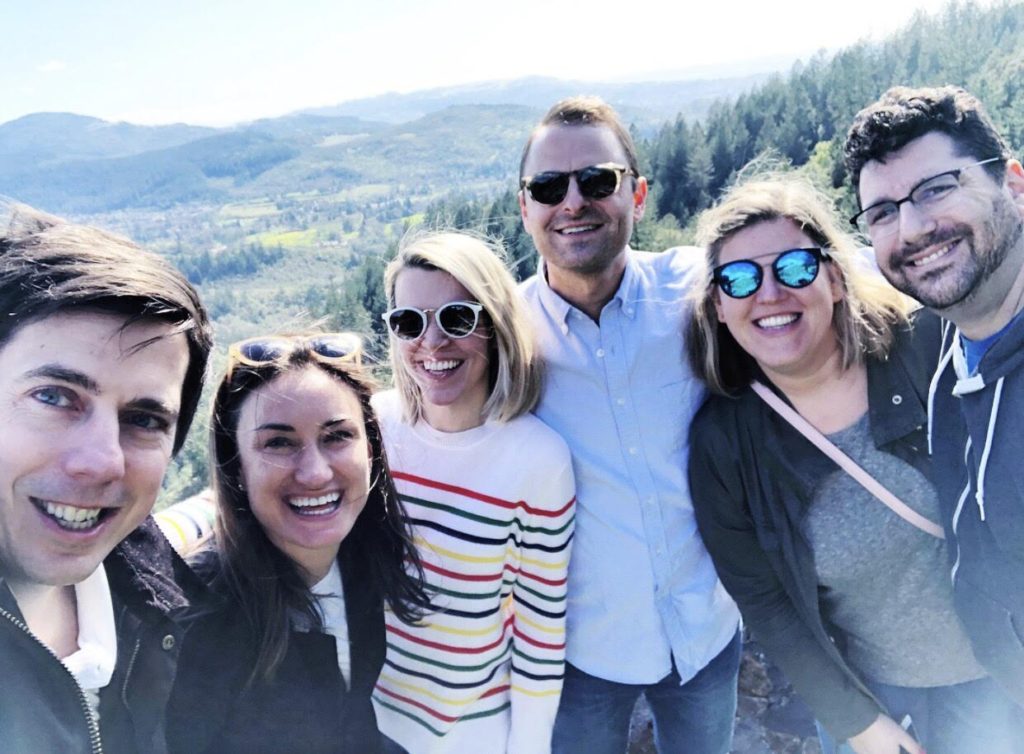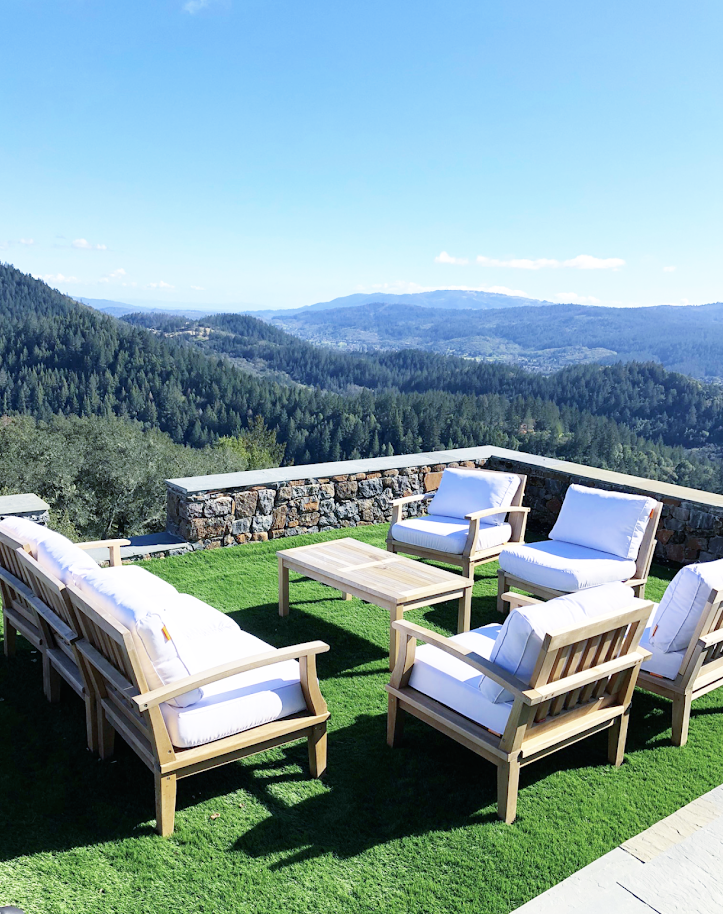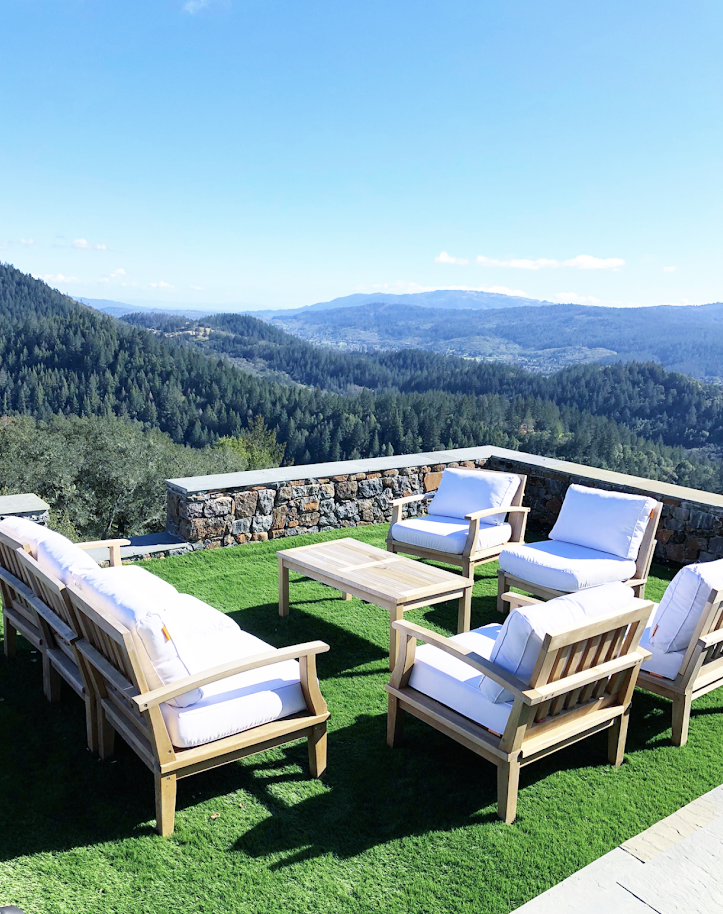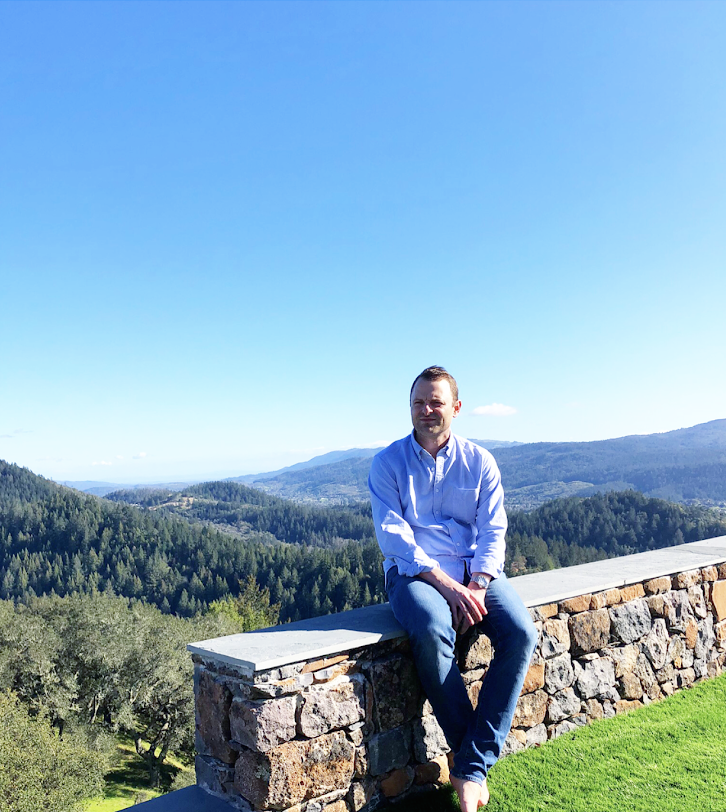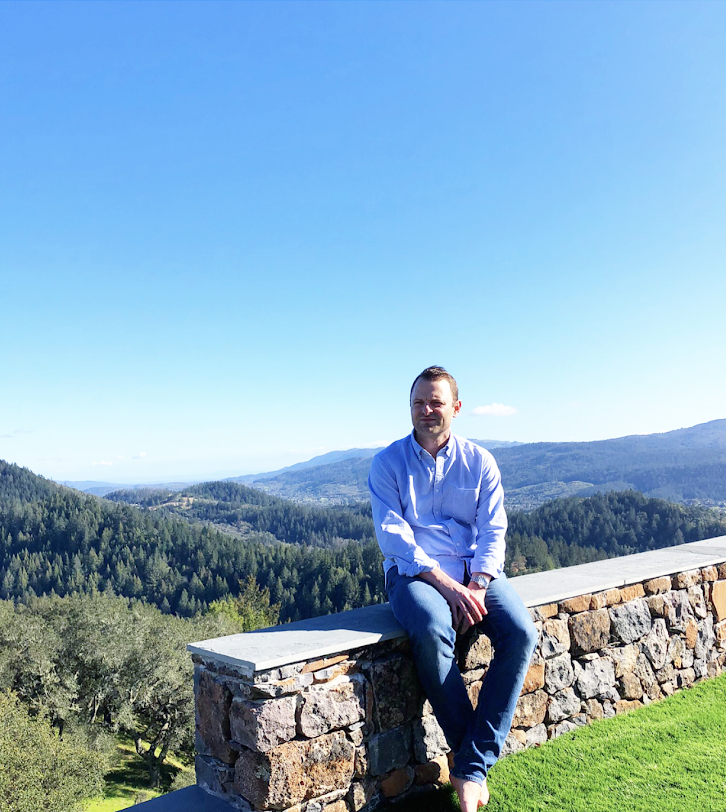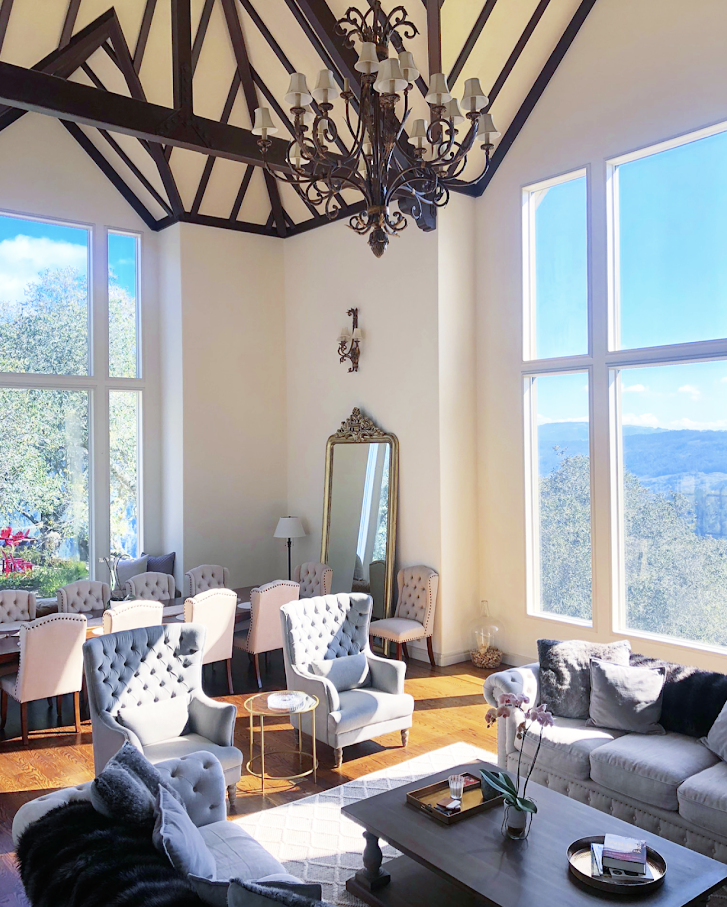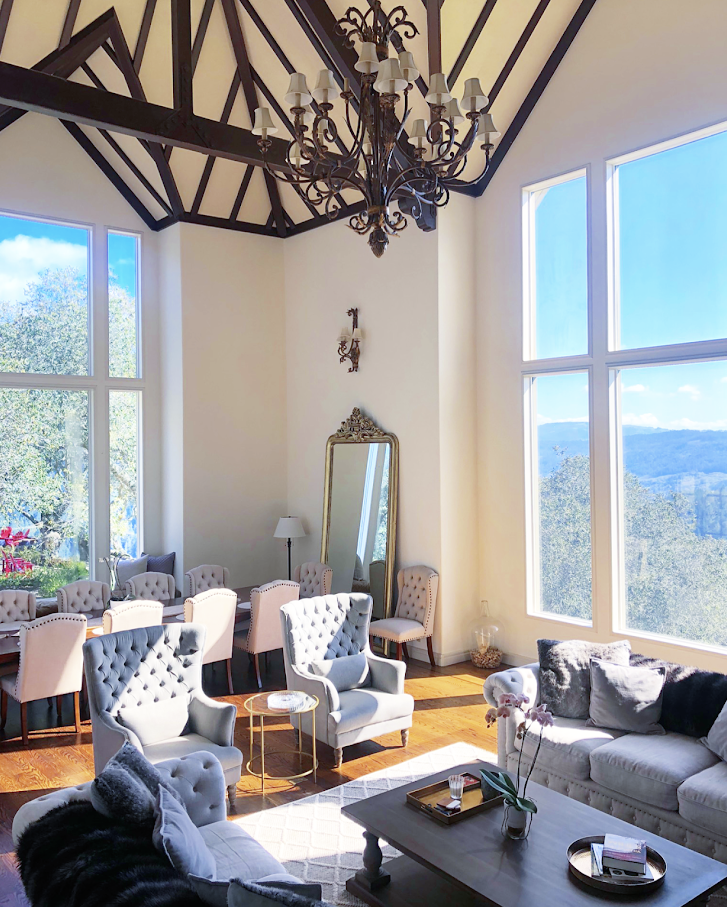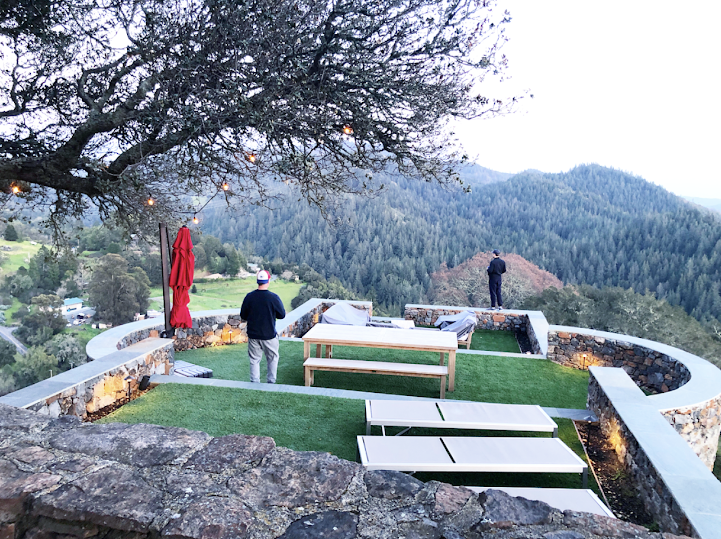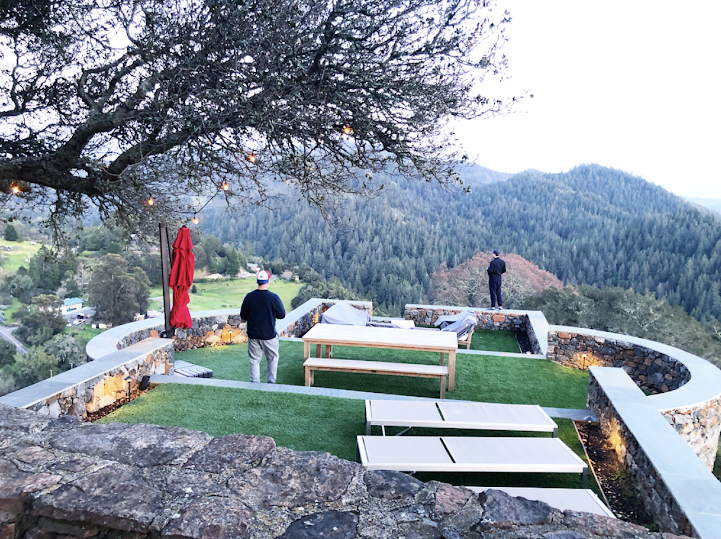 I wanted to welcome my friends with a bag full of things they would actually need and use. Read: water, some snacks in the form of Fatty Sundays, hydrating face masks and, most importantly, hangover cures (Blowfish, Morning Recovery and Advil). Also koozies for the guys and wine glass holder necklaces for the ladies. All of it was wrapped up in this cute custom tote by Brant Point Prep.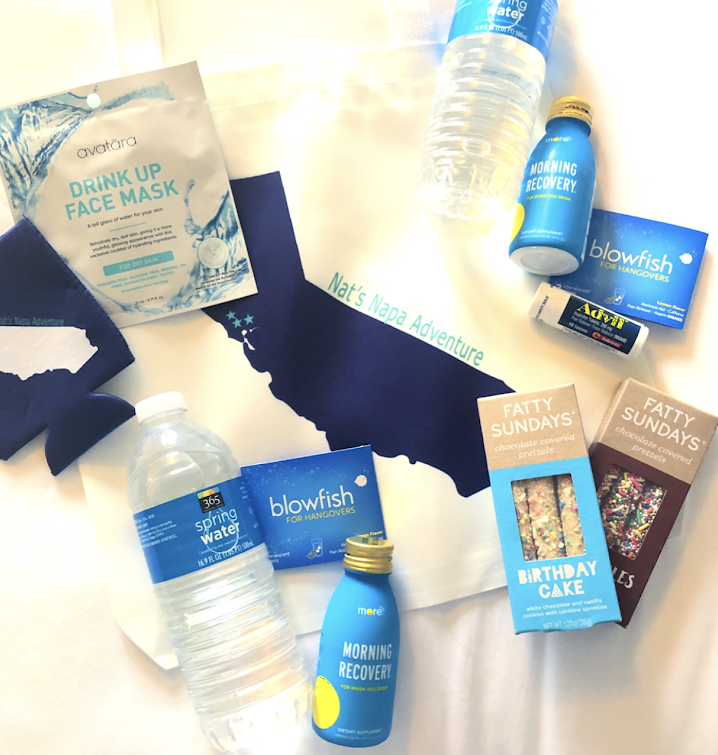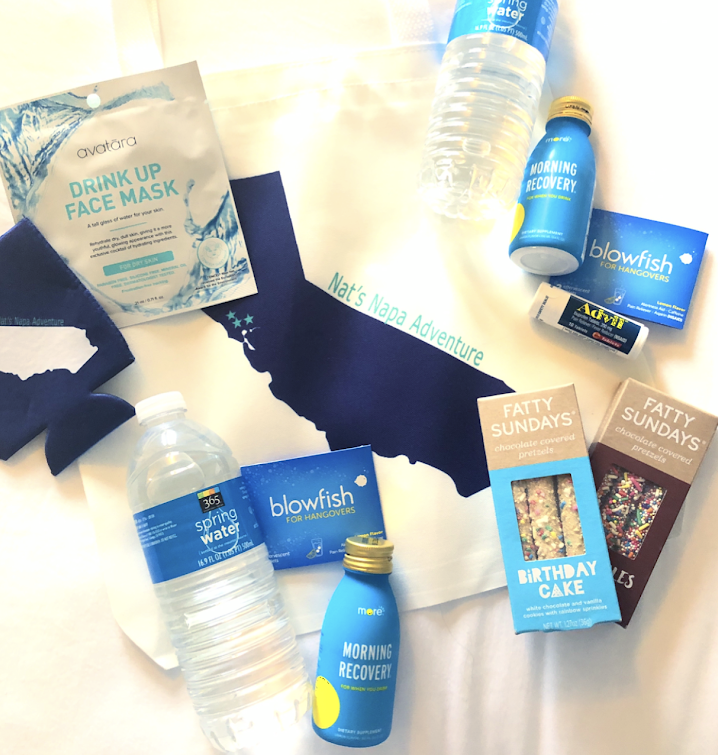 After some relaxing in and outside our stunning rental, it was time to clean up and head out to dinner in Santa Rosa.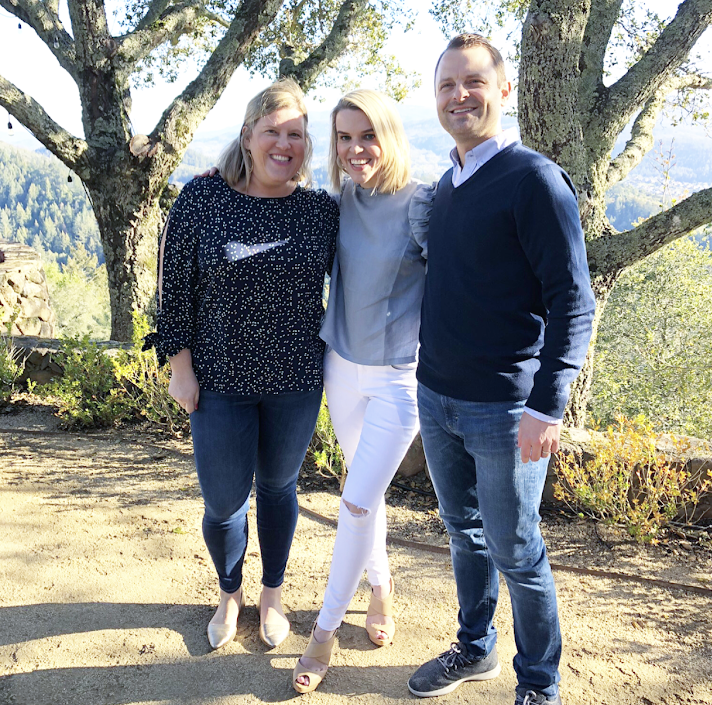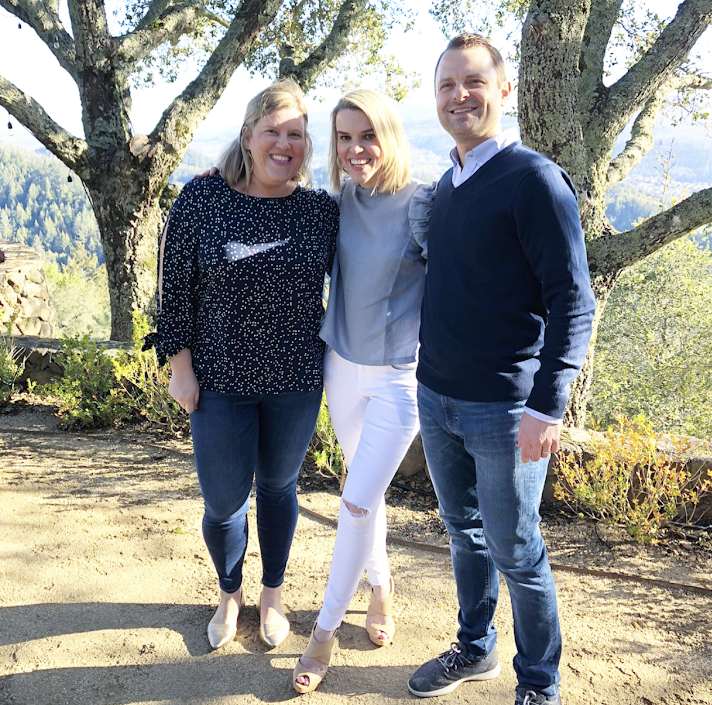 Best friends for 38 (!) years.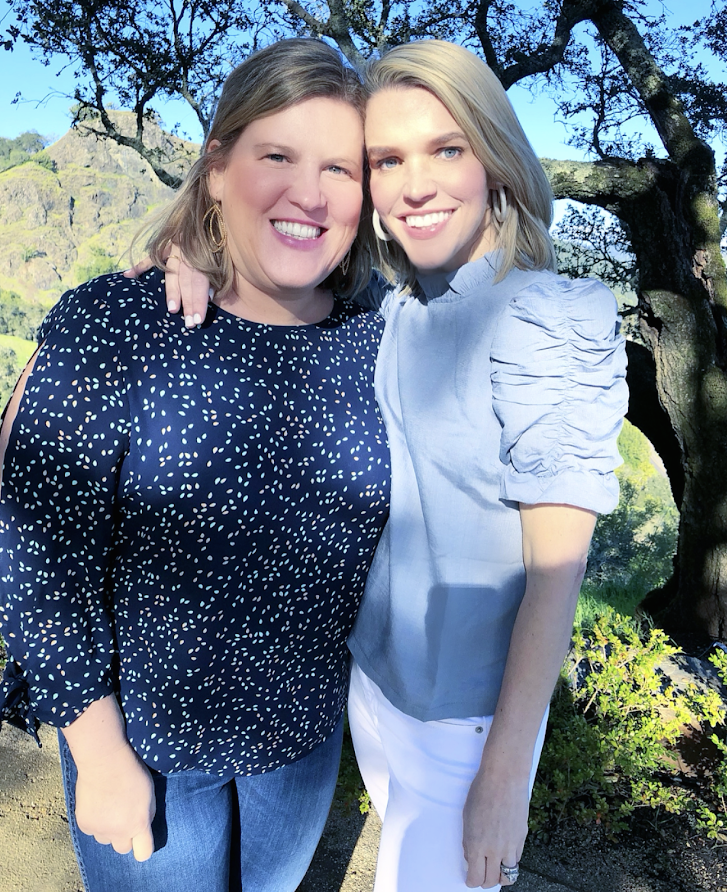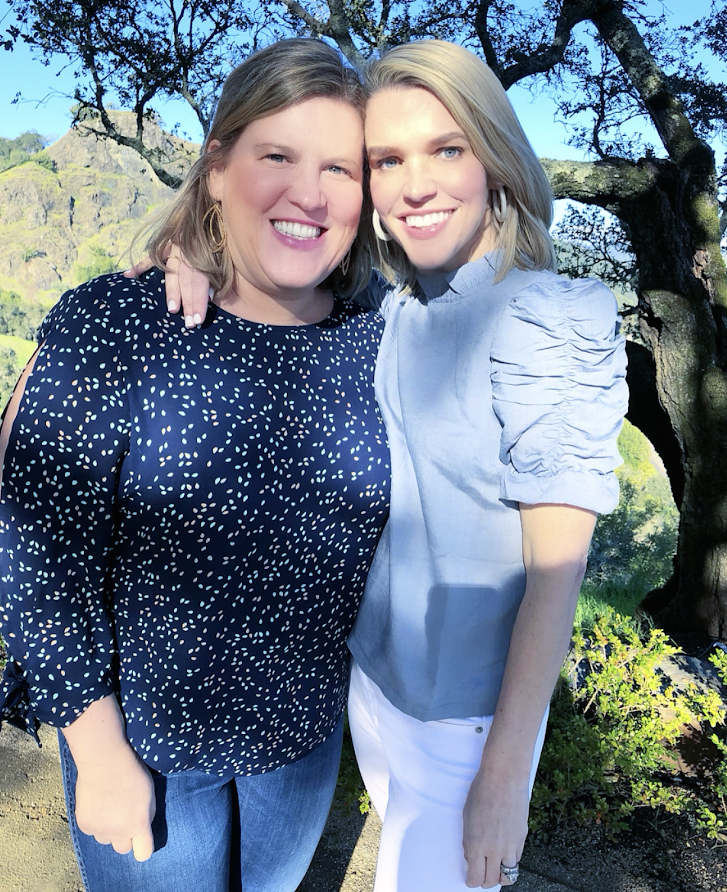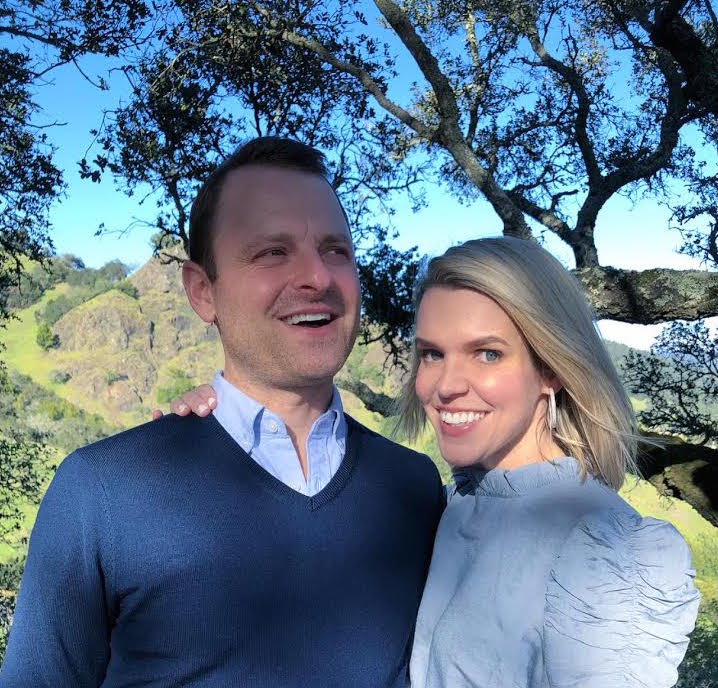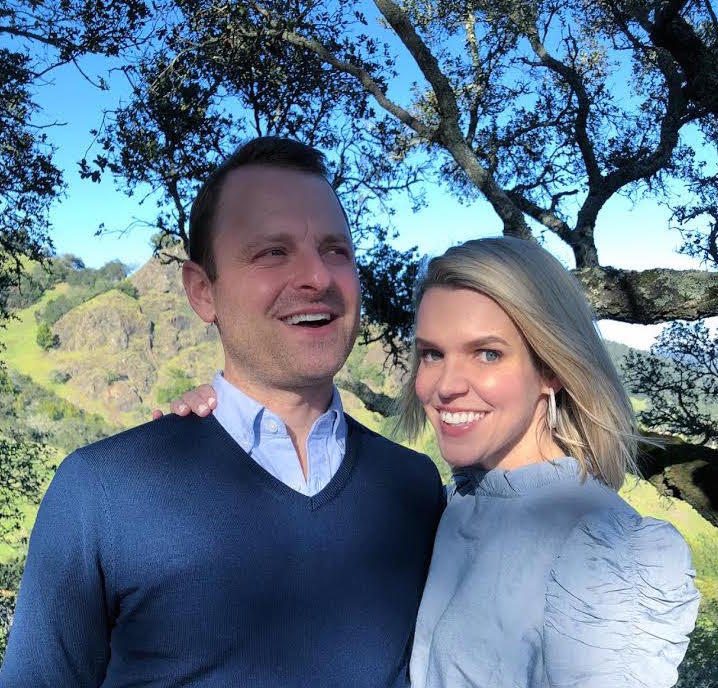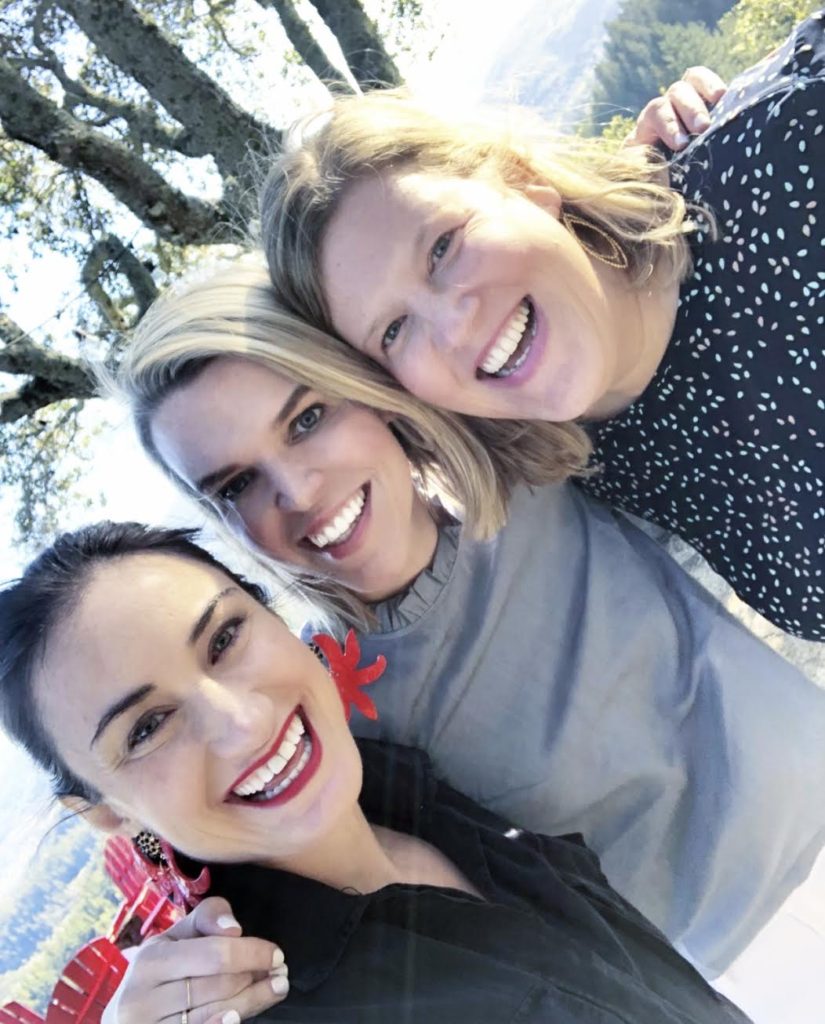 When researching the trip, I read so many good reviews of Bird & The Bottle. After taking one look at the menu, I was sold- creative cocktails, fried chicken, street tacos… Yes, please! The food is meant to be shared and share we did. We ordered everything off the menu. Every single thing. Some things, twice. And everything was amazing! The brussel sprouts were some of the best we've ever had, the tacos rivaled those of Texas (I can say that being Texan by marriage)… my God, it was good. And the ambience was A+ too. It was such a fun night!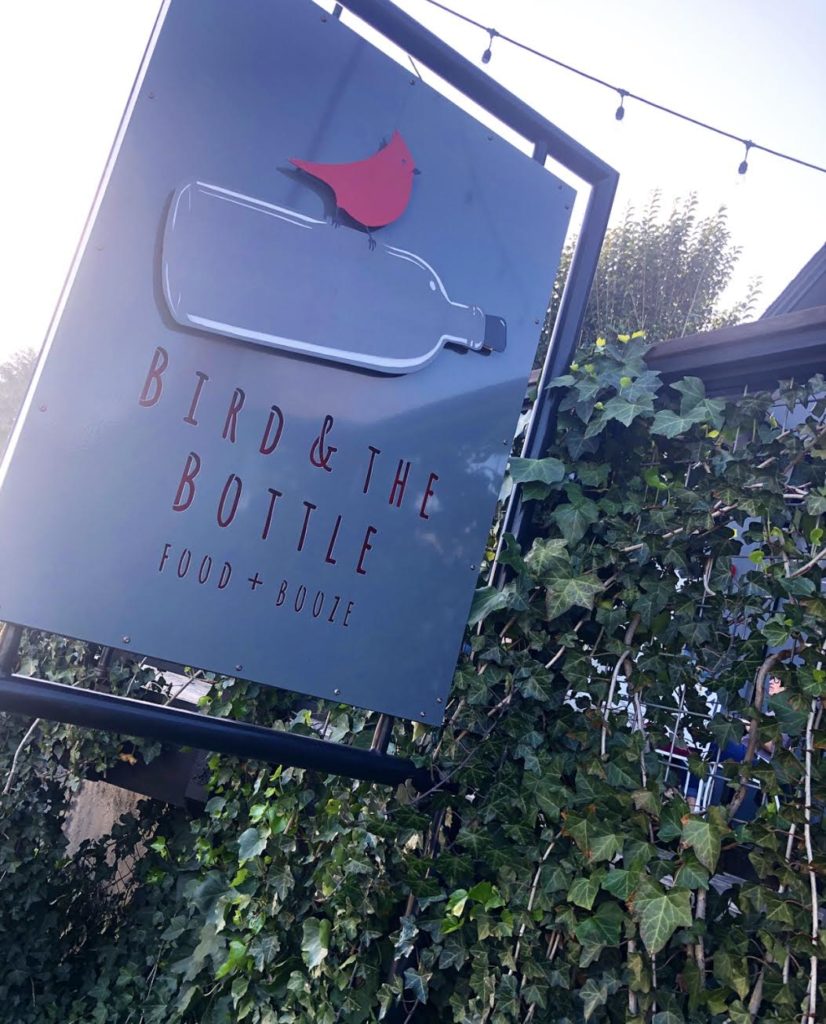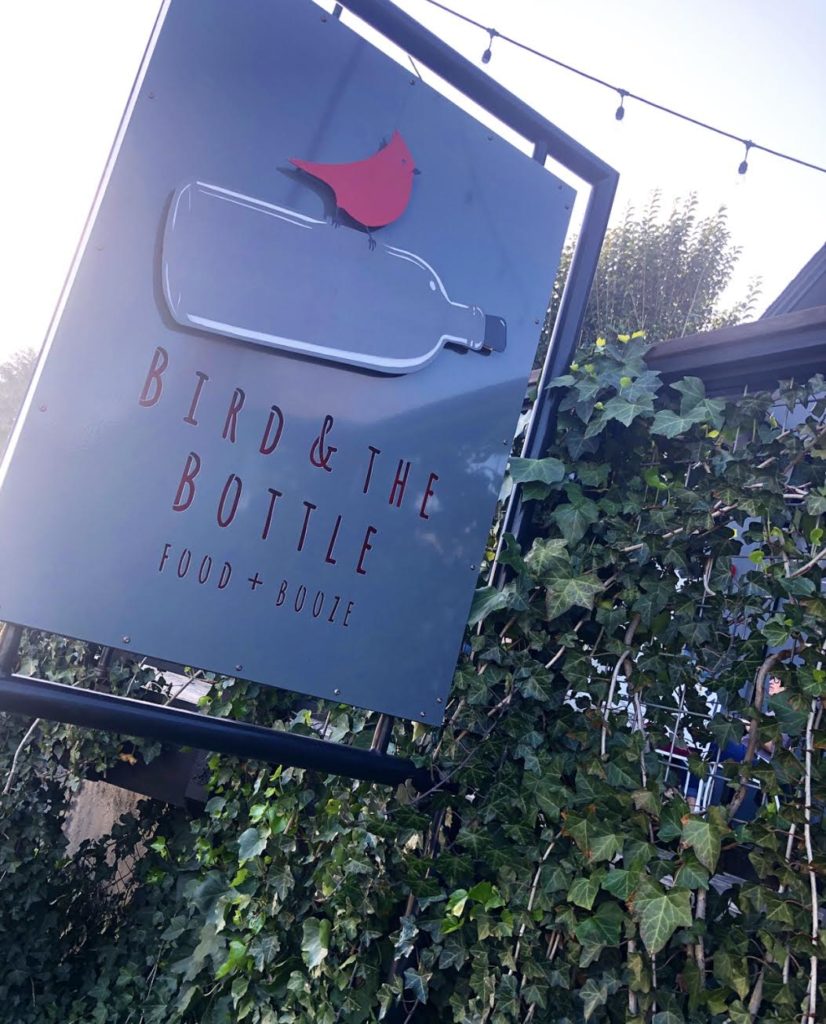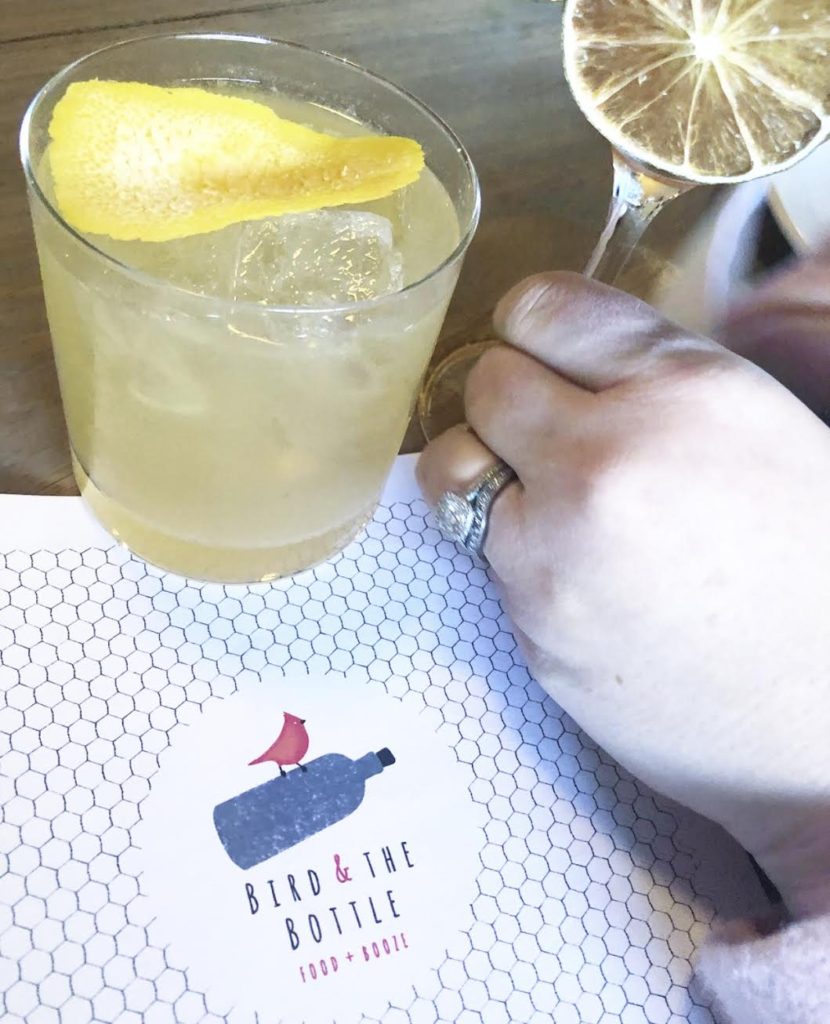 Those cocktails were so good, we might have ordered 3 each. The last time I had 3 cocktails (I usually switch to beer, wine or water after one or two.), I was probably twenty-something New York.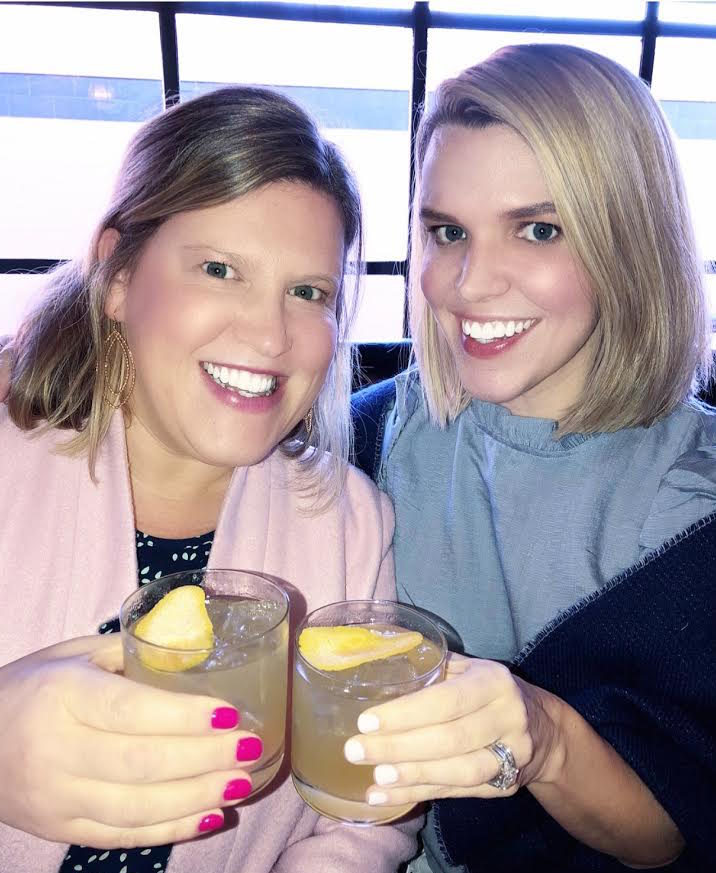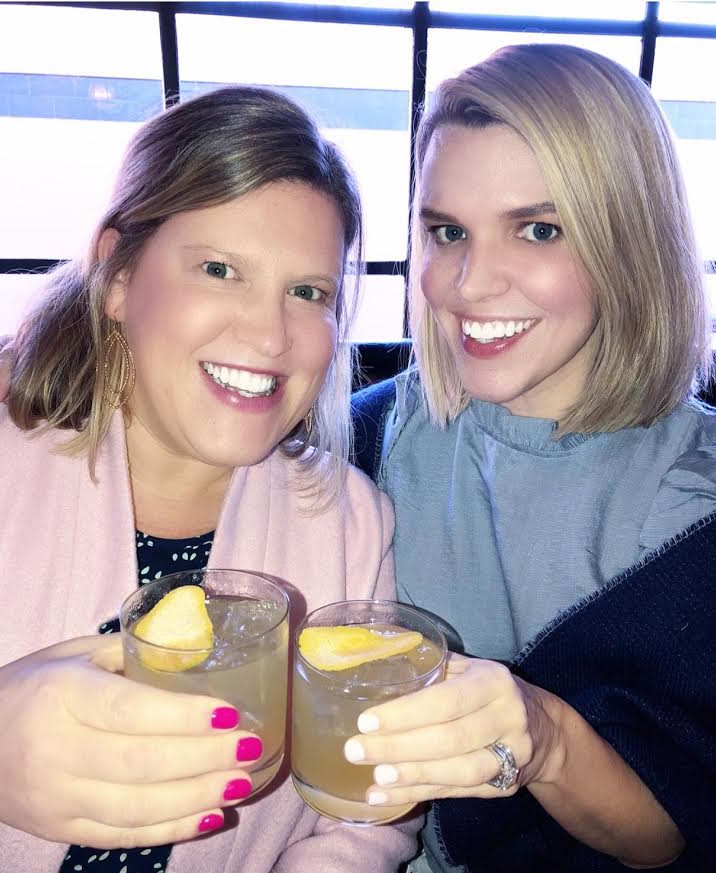 I'm still dreaming about some of the food.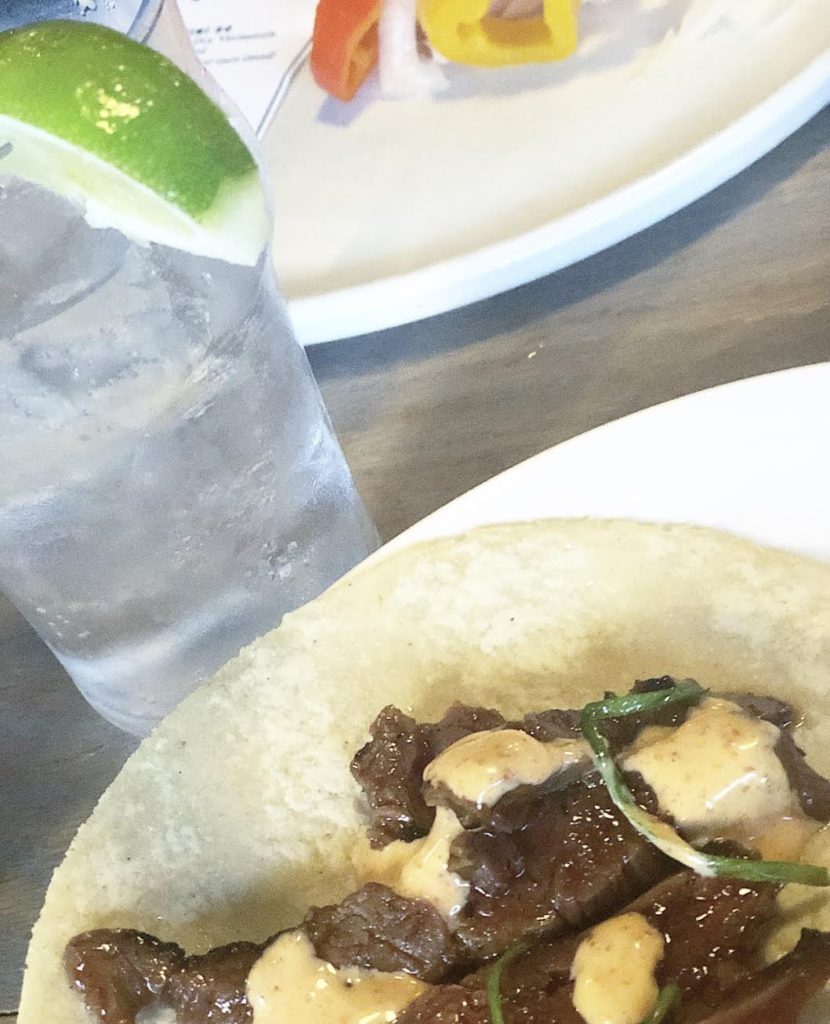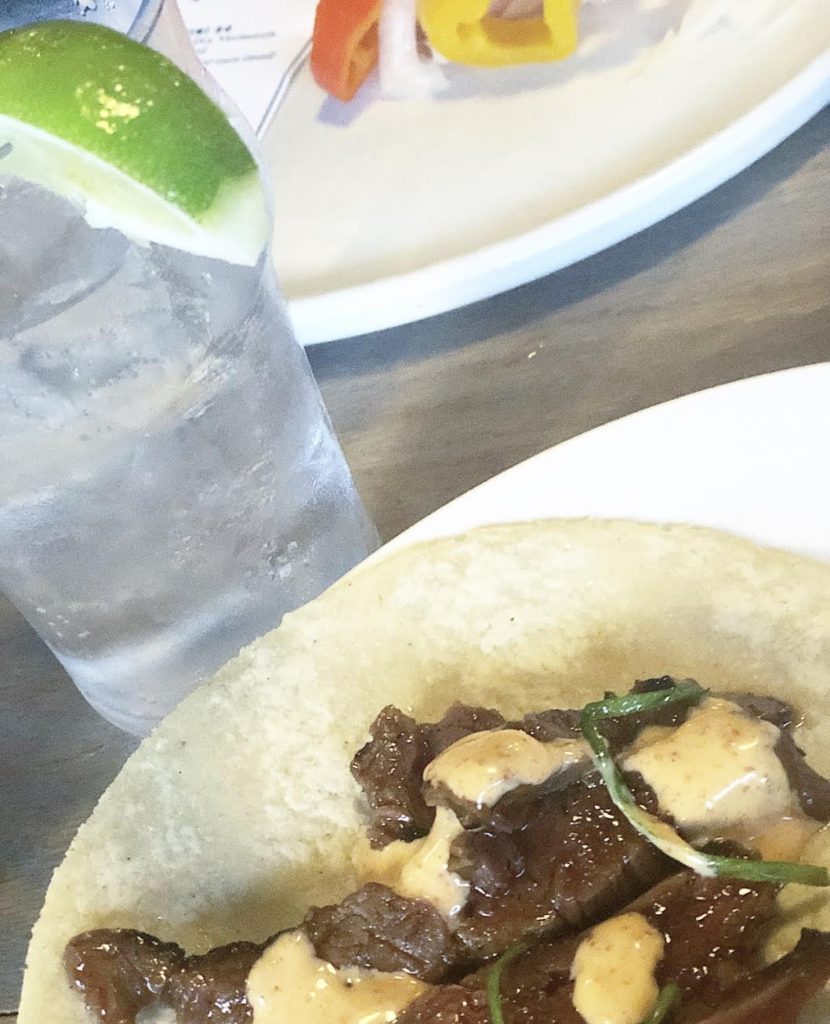 Then we headed home to wait for our next guests who were flying in from New York that night.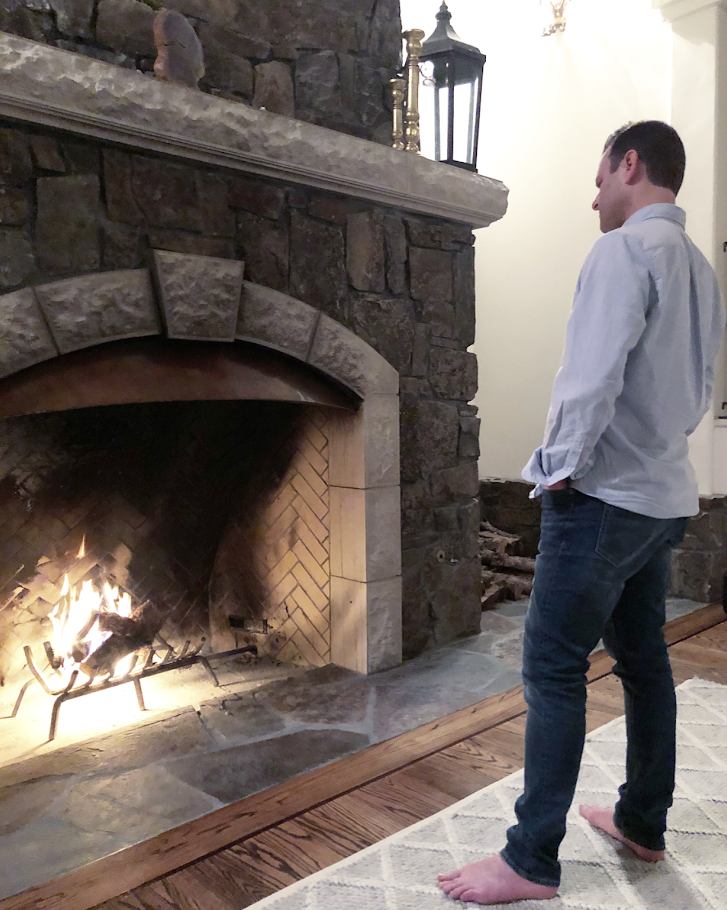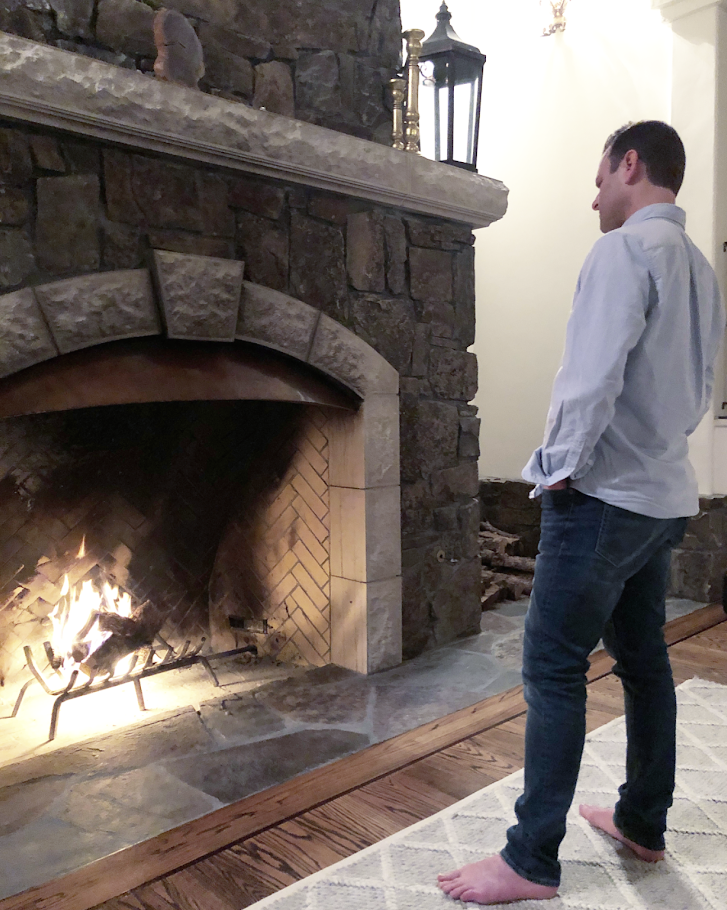 Of course we made it into a PJ party. Brooke and I are often, unintentionally, matching. Does that happen to anyone else with their best friend?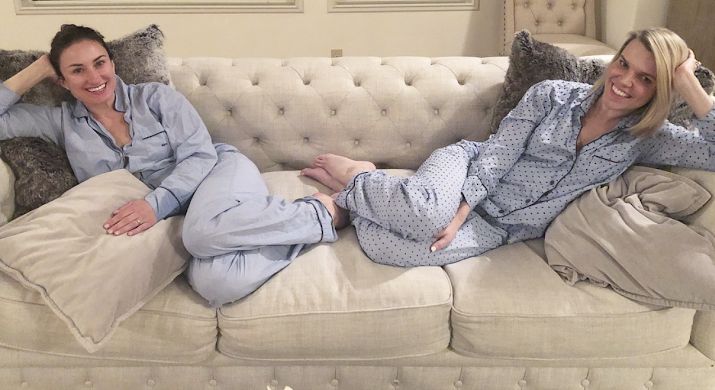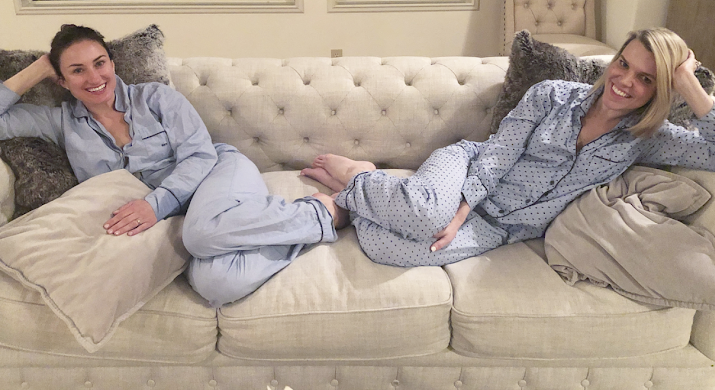 After such a filling dinner and a few big days ahead, I purposefully didn't make any breakfast plans for Friday. I wanted us to be able to sleep in (ha!), lounge around and ease into our day. The boys picked up coffee and donuts and we just chilled by the fire and soaked up some sun outside. After a several hours, we got ready for lunch.
And, what a lunch it was! One of the best experiences, start to finish, of my life. Seriously. Scribe Winery is nestled in a charming hacienda in Sonoma. Since this was technically my birthday lunch and the official kickoff to the weekend as it was the first time we all were together (my friends Andrew and Krystal arrived from LA and came straight to Scribe), we reserved the private room, which set the tone for the entire time. They had all the doors open, overlooking the gorgeous grounds and it was raining, which only added to the moody, romantic and relaxing ambience. The table was set to perfection, thanks to both Scribe and Brooke, a former event planner with impeccable taste… It was like my bridal shower. But better.
The food was impeccable. Everything was delicious but the cheeses, bread, halibut and wines were some of the best we've ever had. It was served family style, which I love, so everyone can have as much or as little as they want. We had a tasting with the seated lunch so we got to try so many different varietals. The rosé was so good and I'm not even a huge rosé drinker.
But, the best part, by far, was the company. Everyone was in such a celebratory mood (how can you not be sans kids in Sonoma?) and ready to unwind and let loose. There were toasts, wish cards and lots of laughter. It was truly the most incredible afternoon.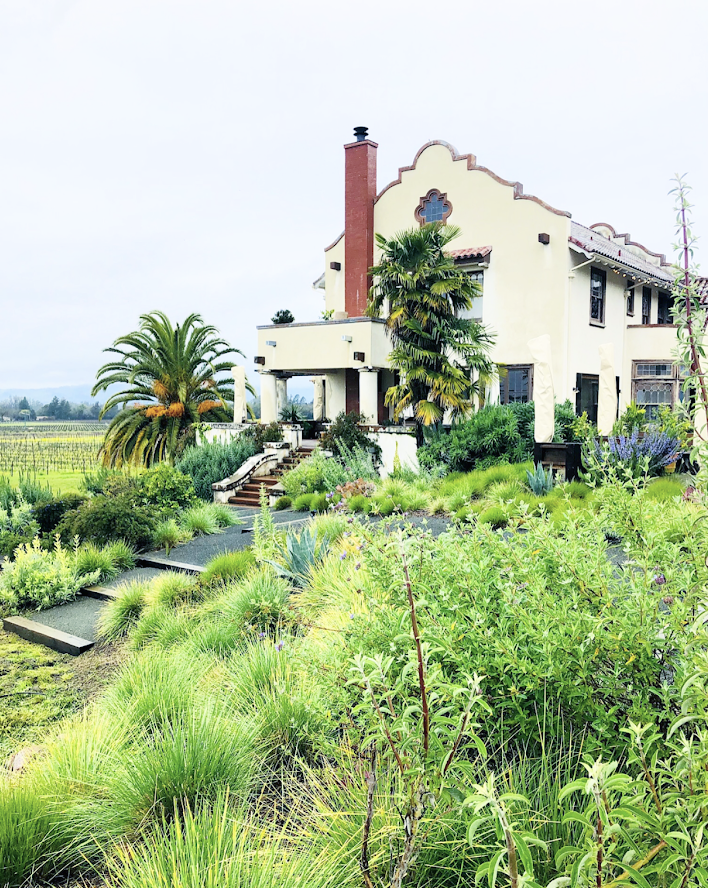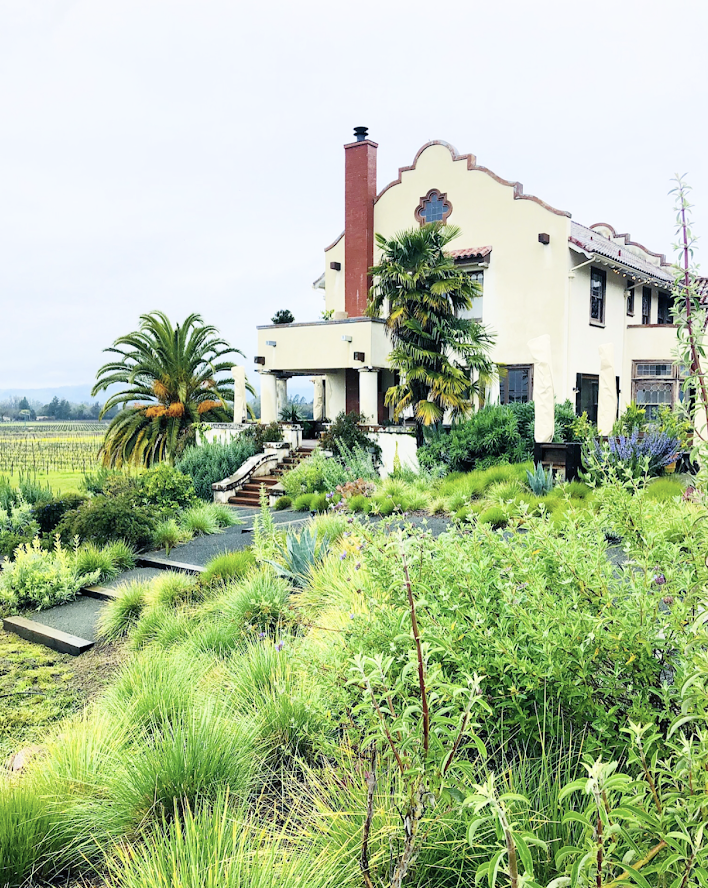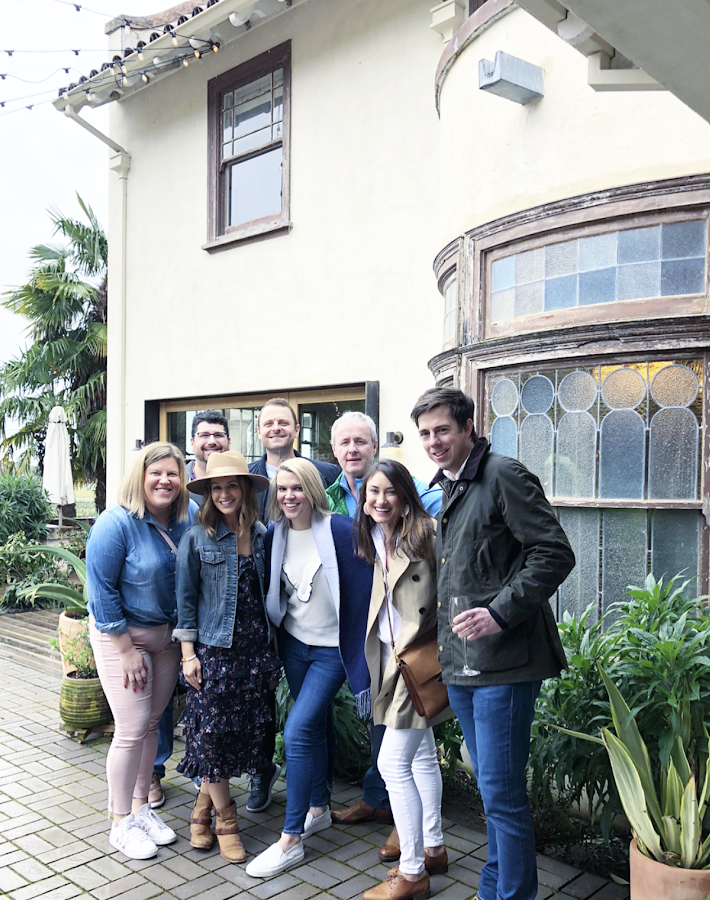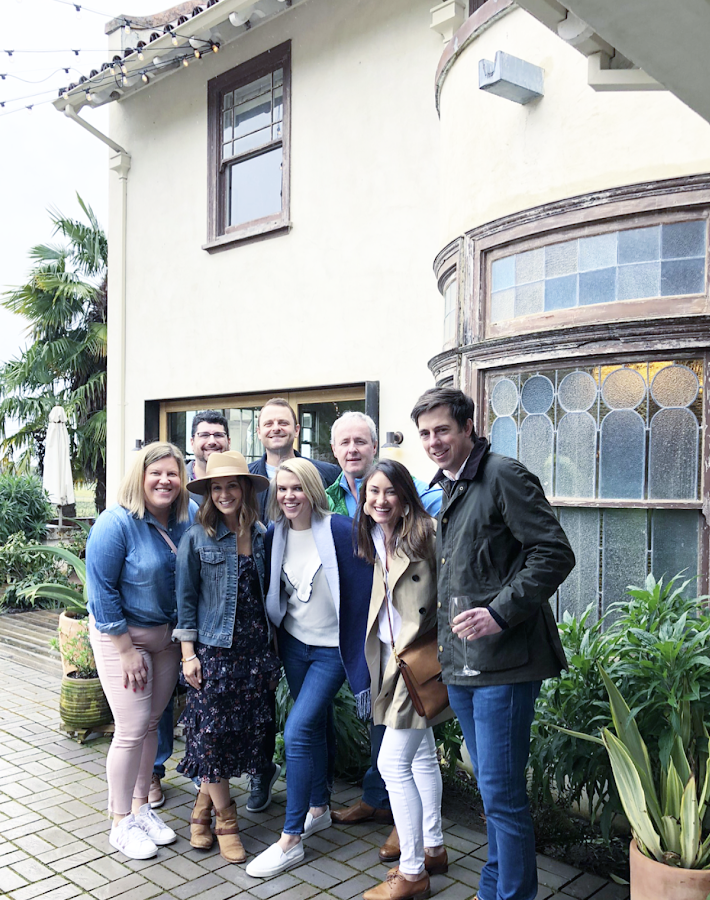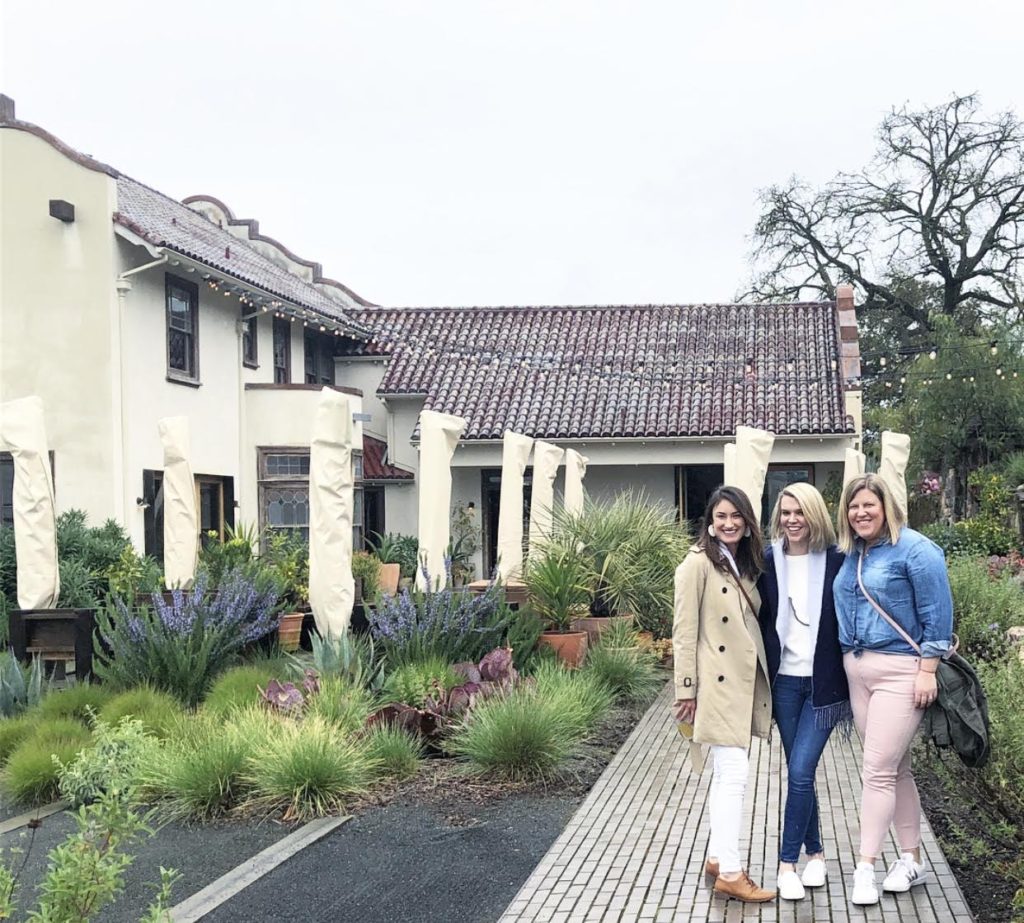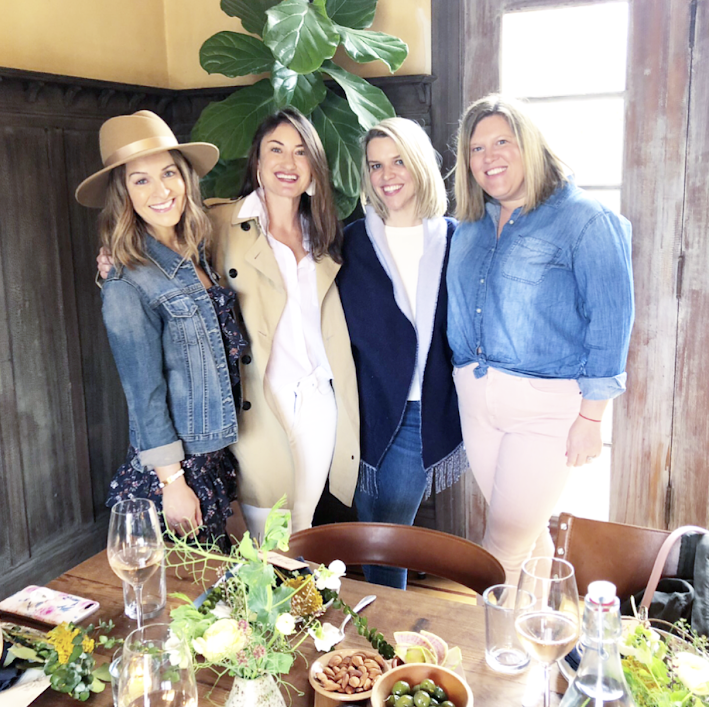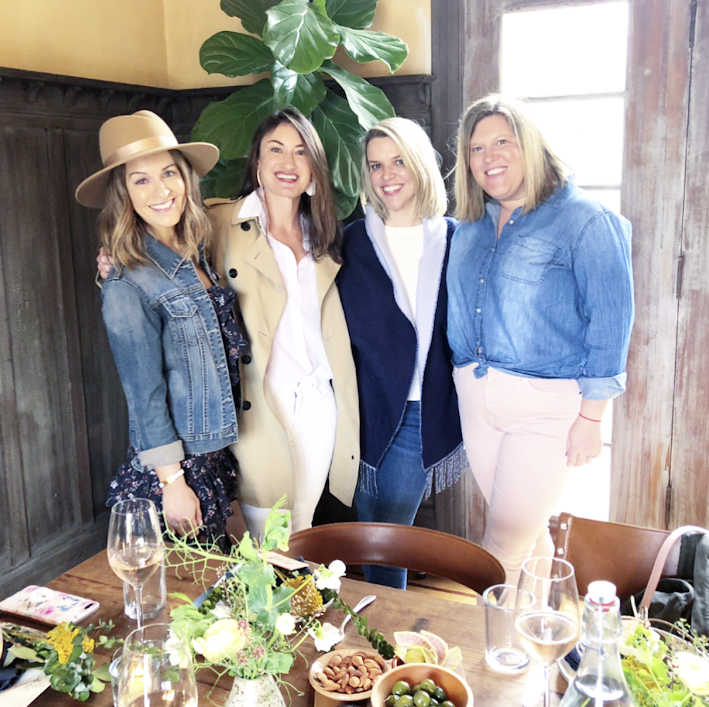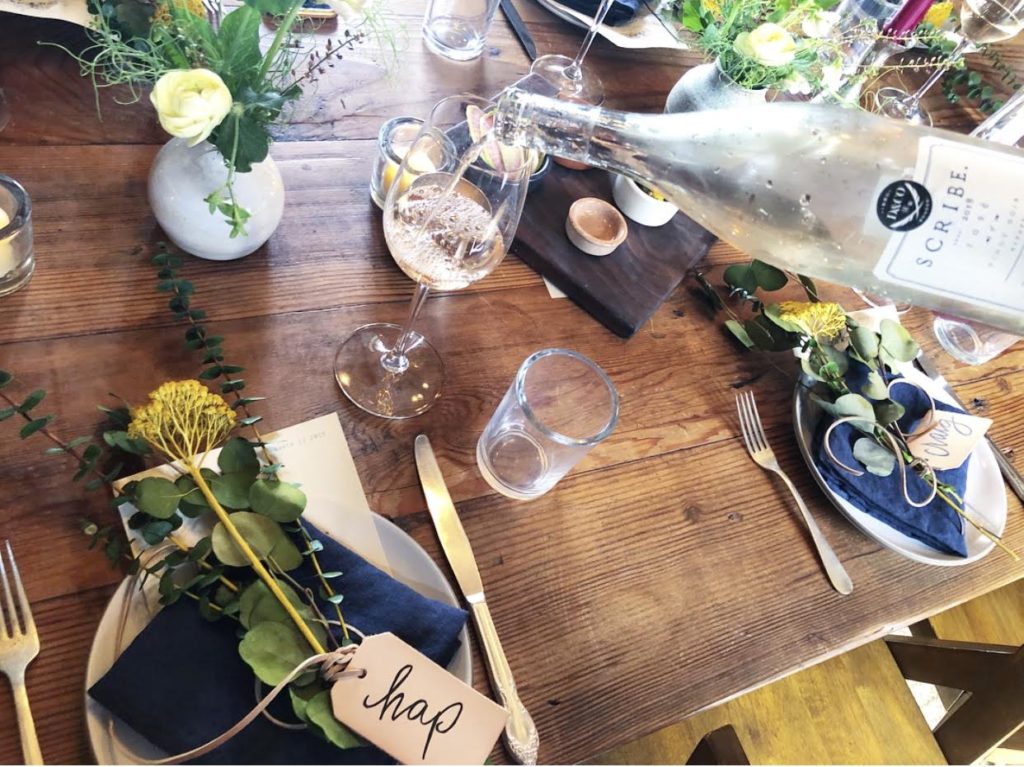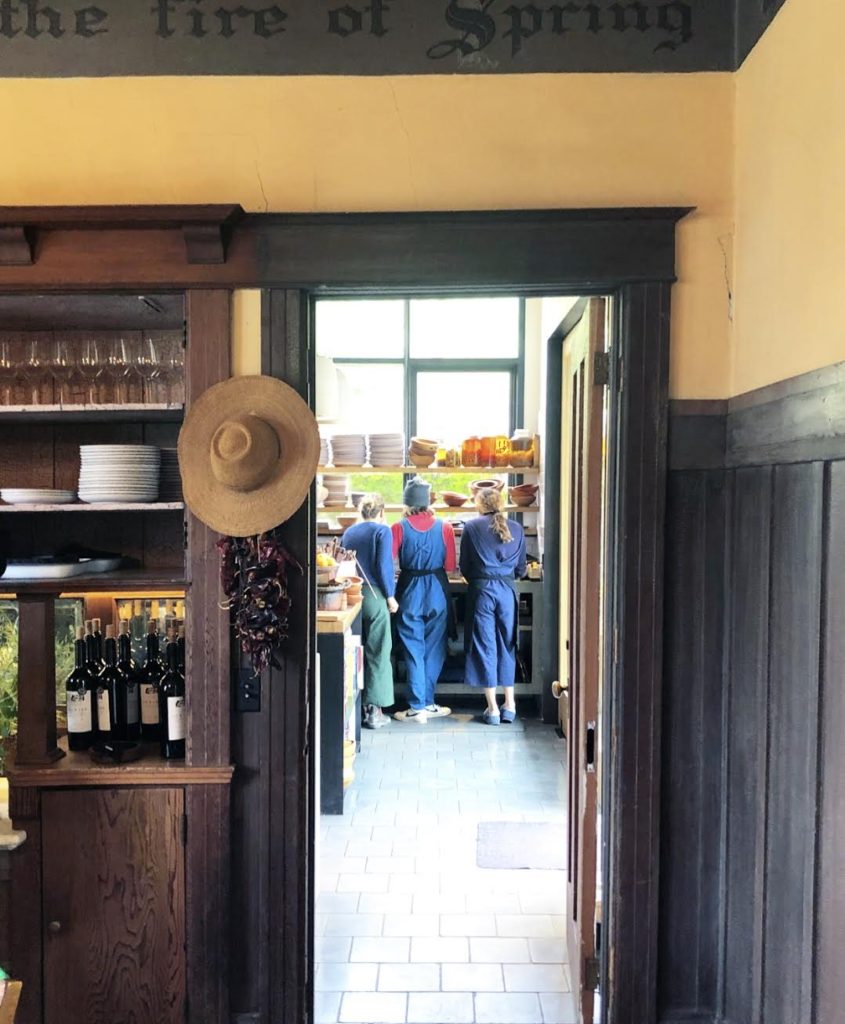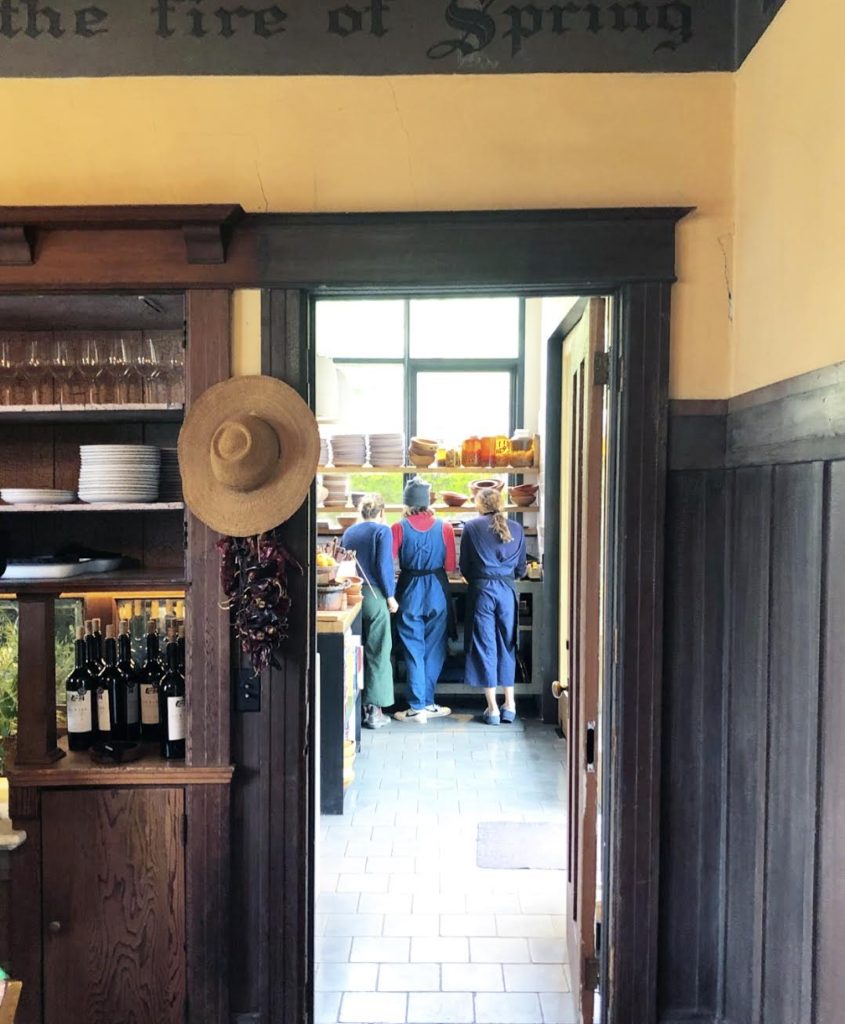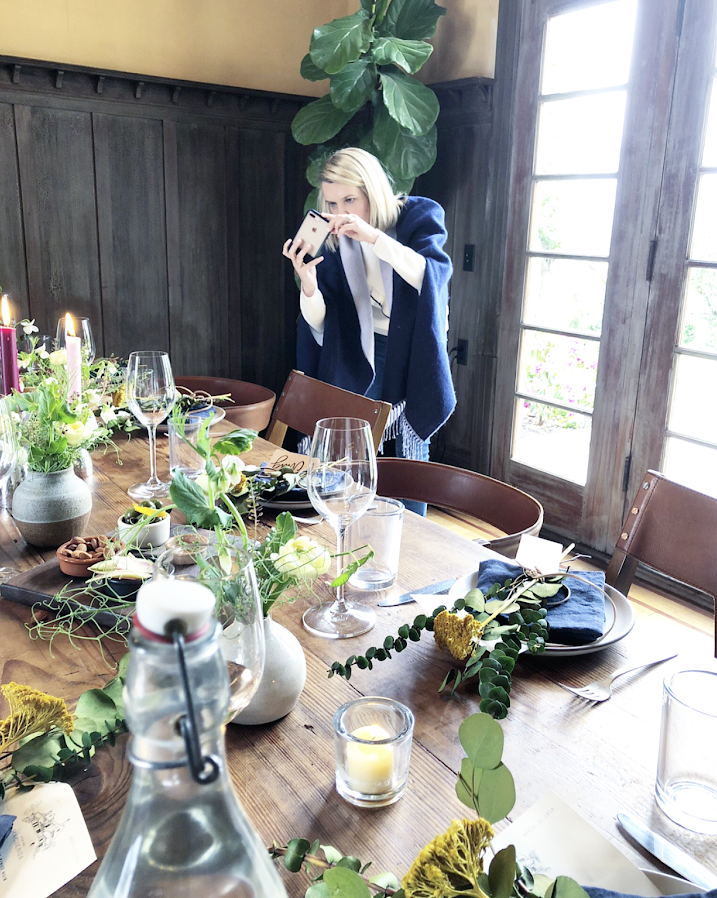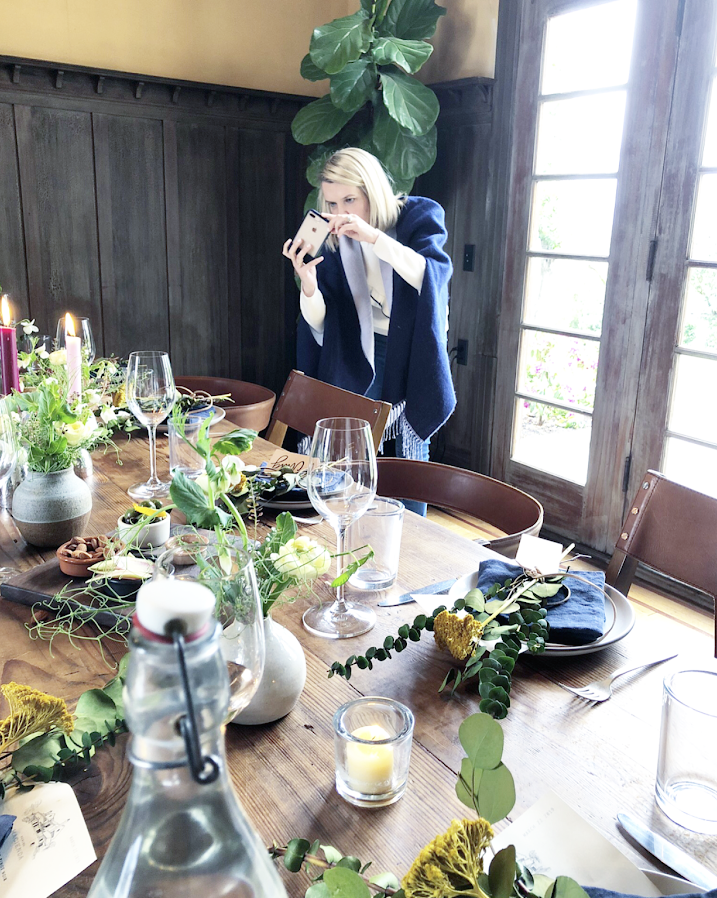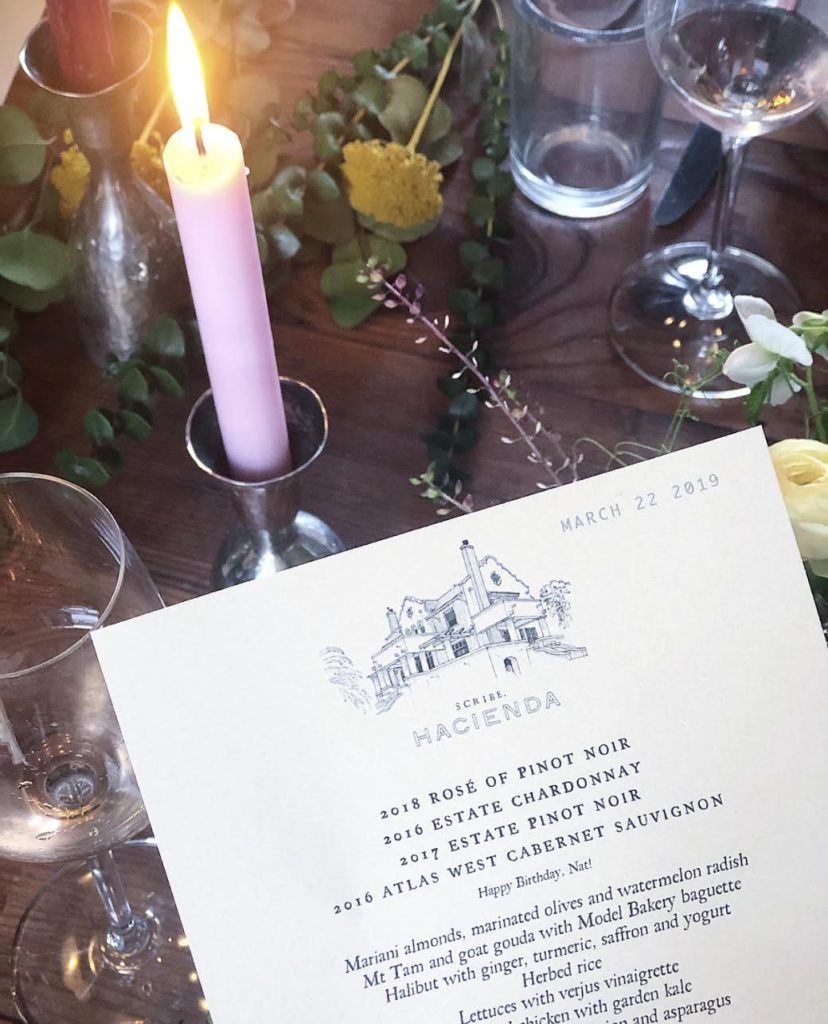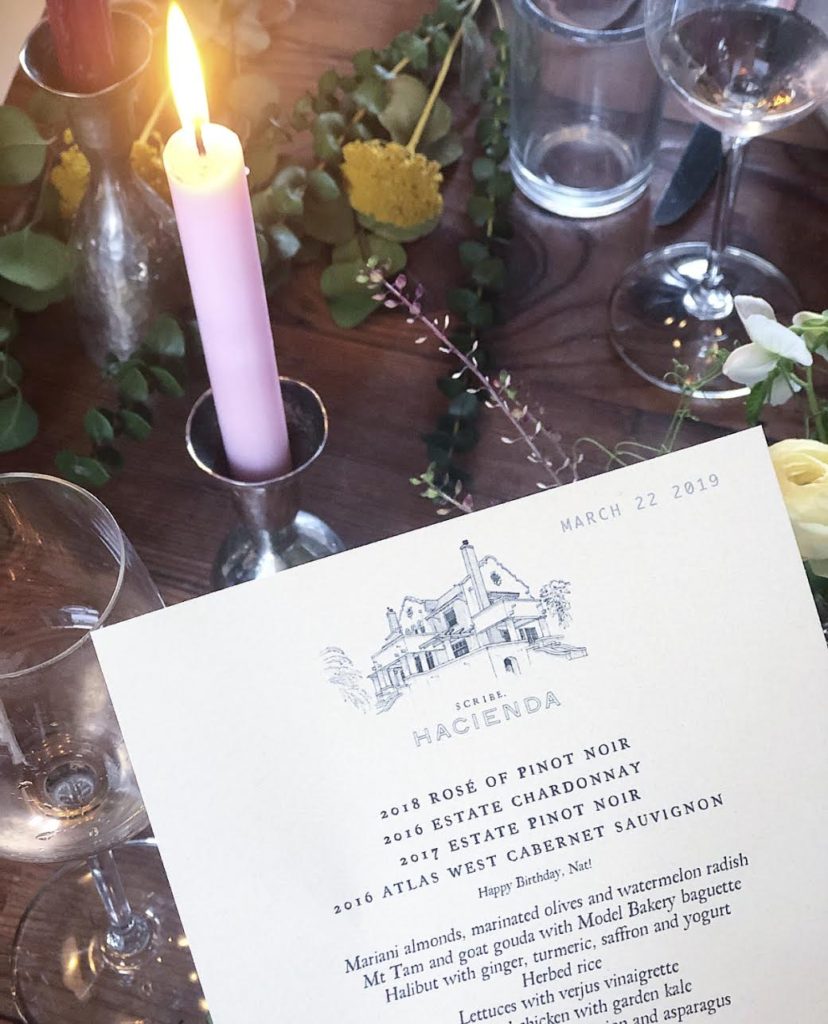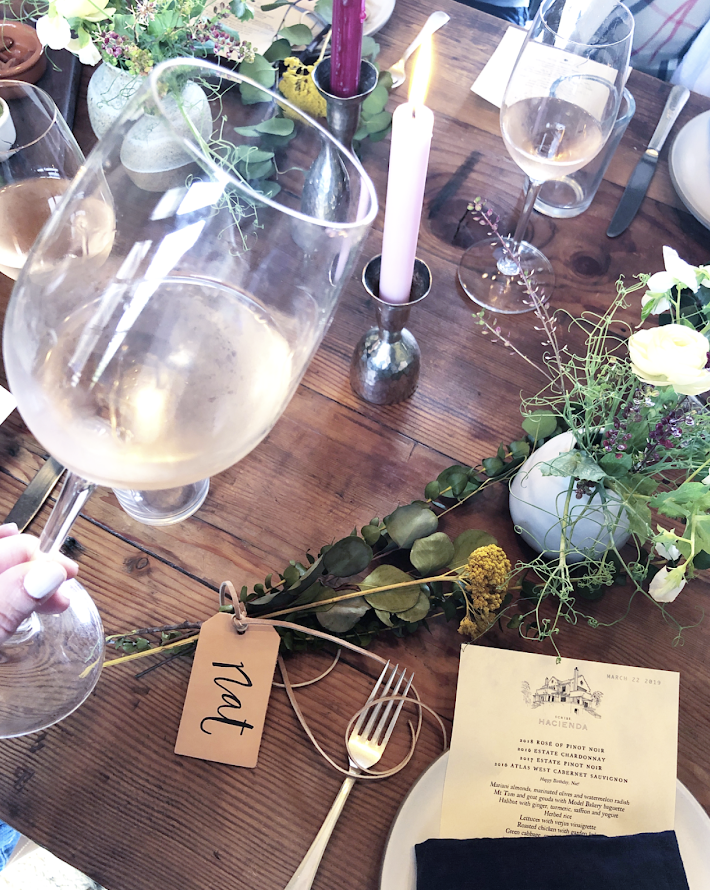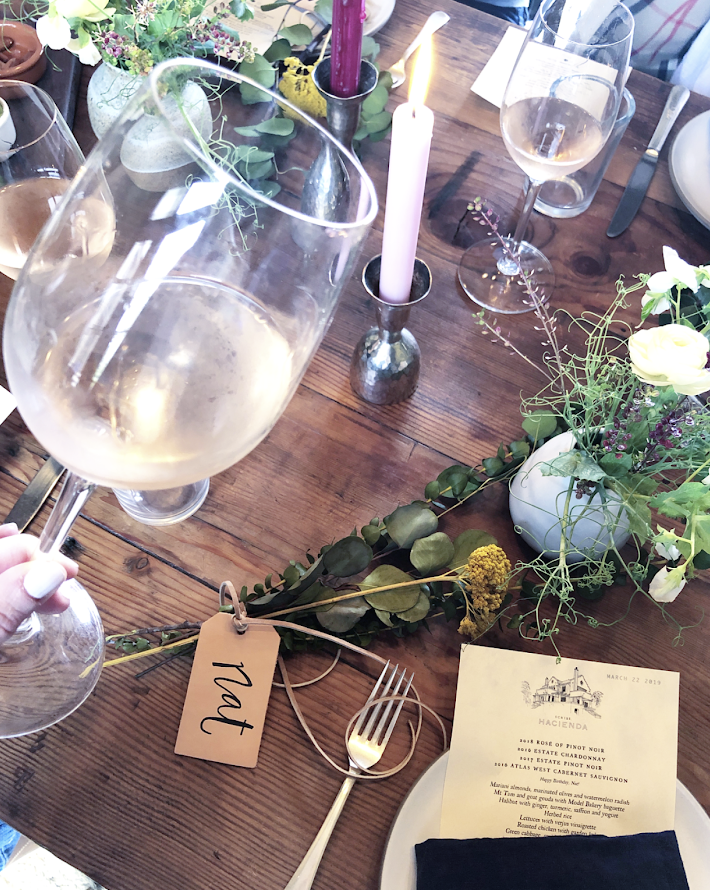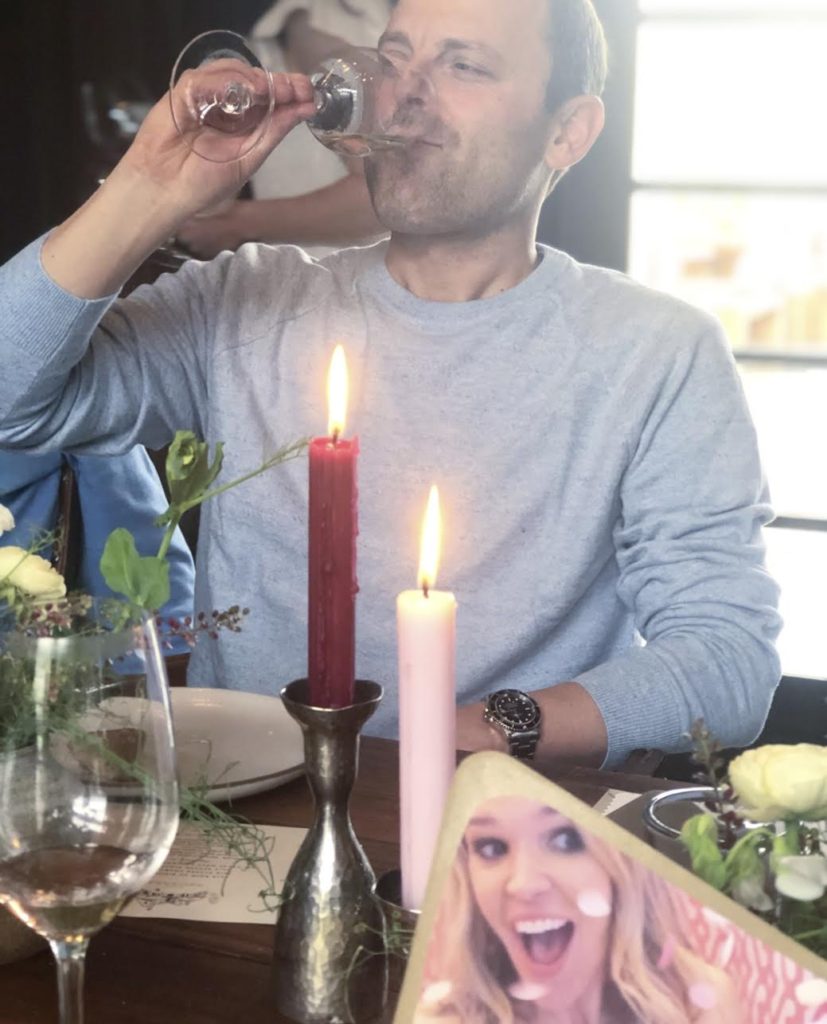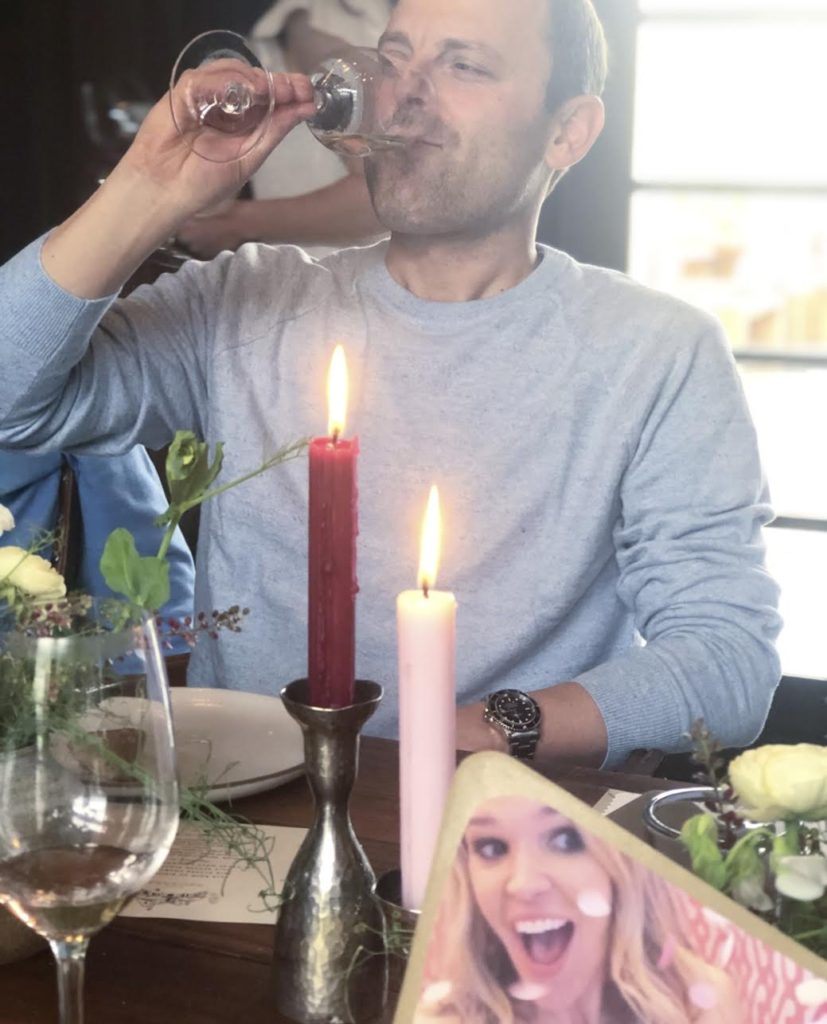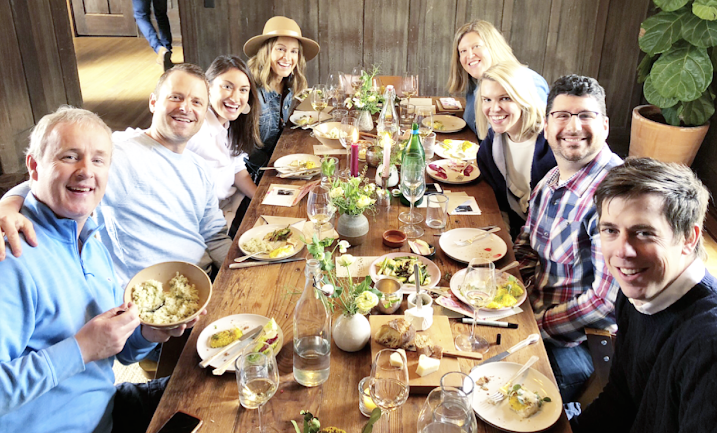 Krystal, my close friend from California, who I don't get to see nearly enough, arrived and, of course, I cried.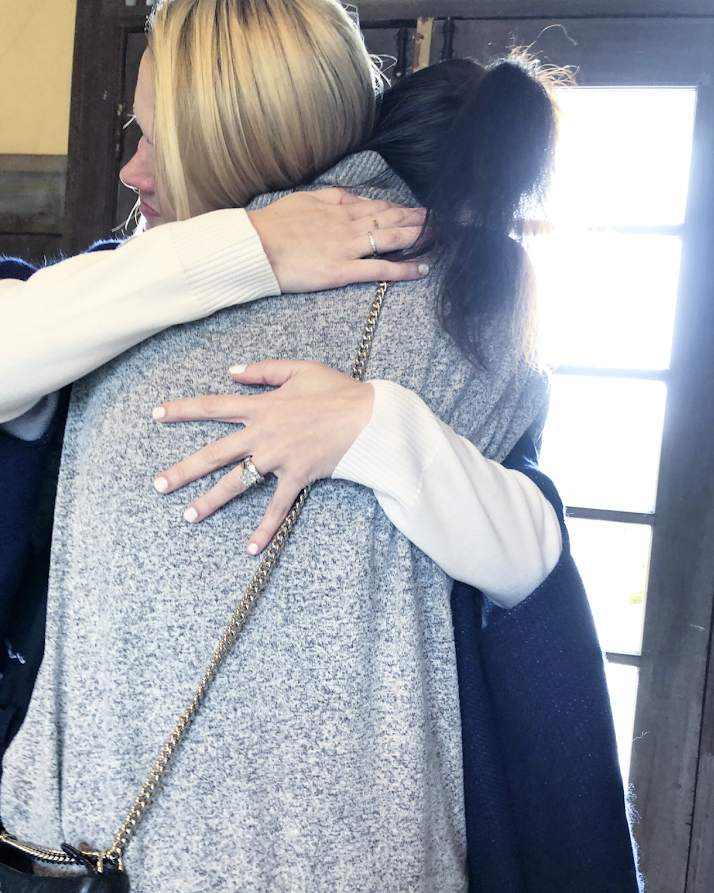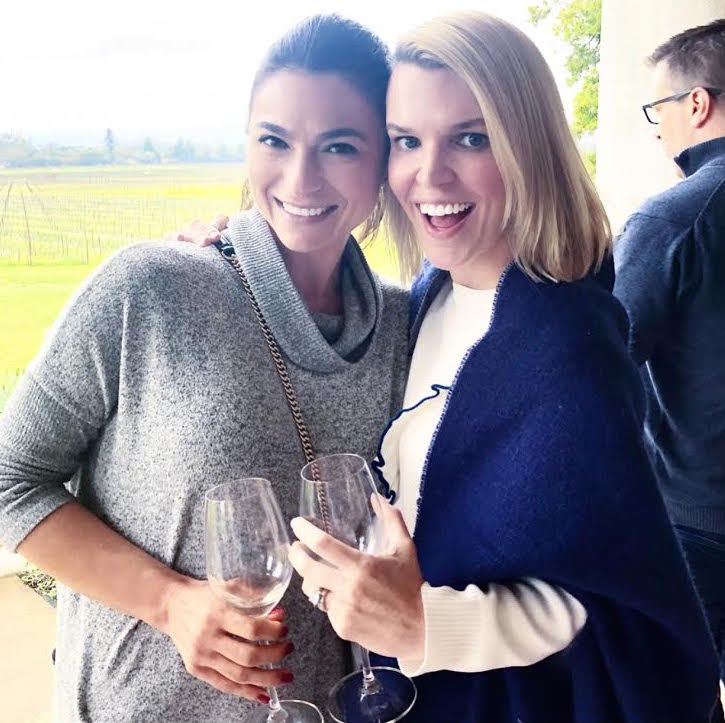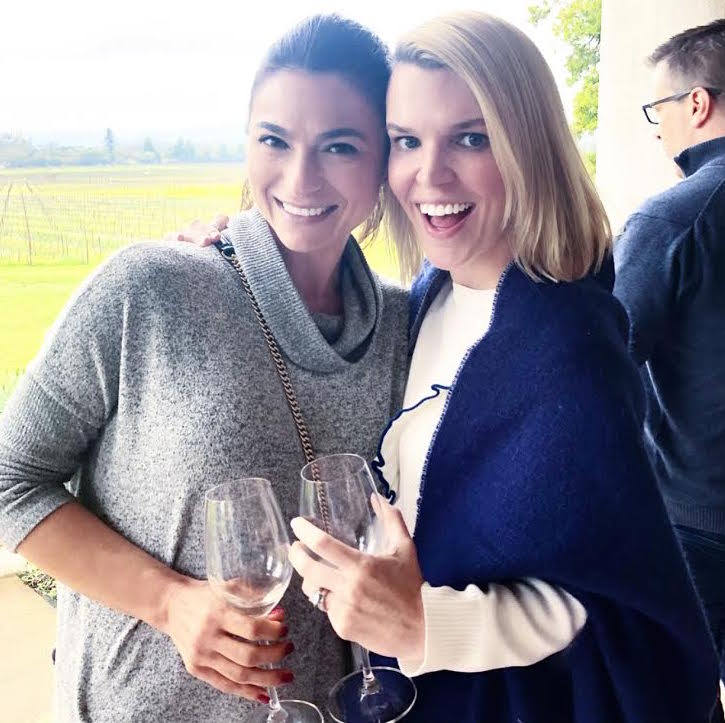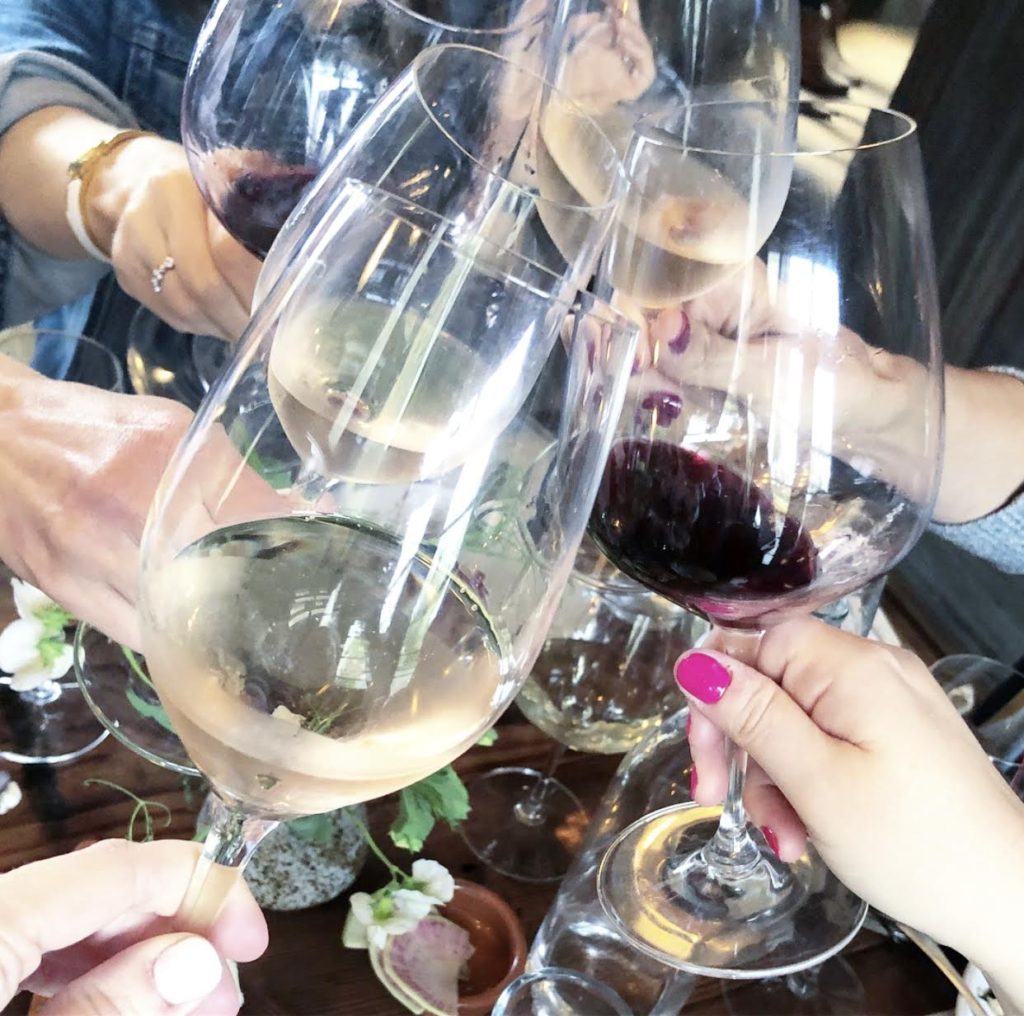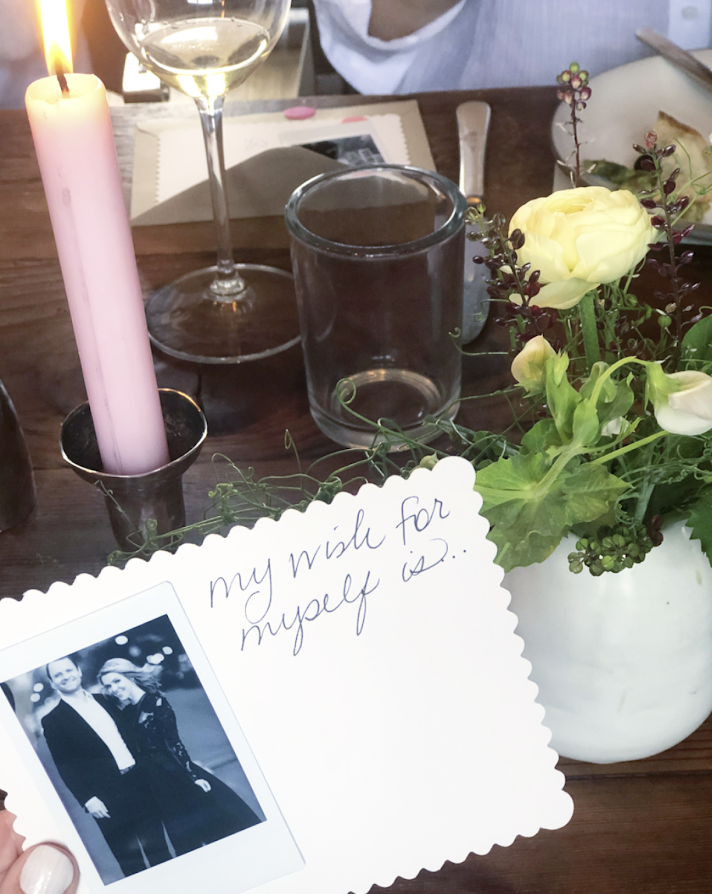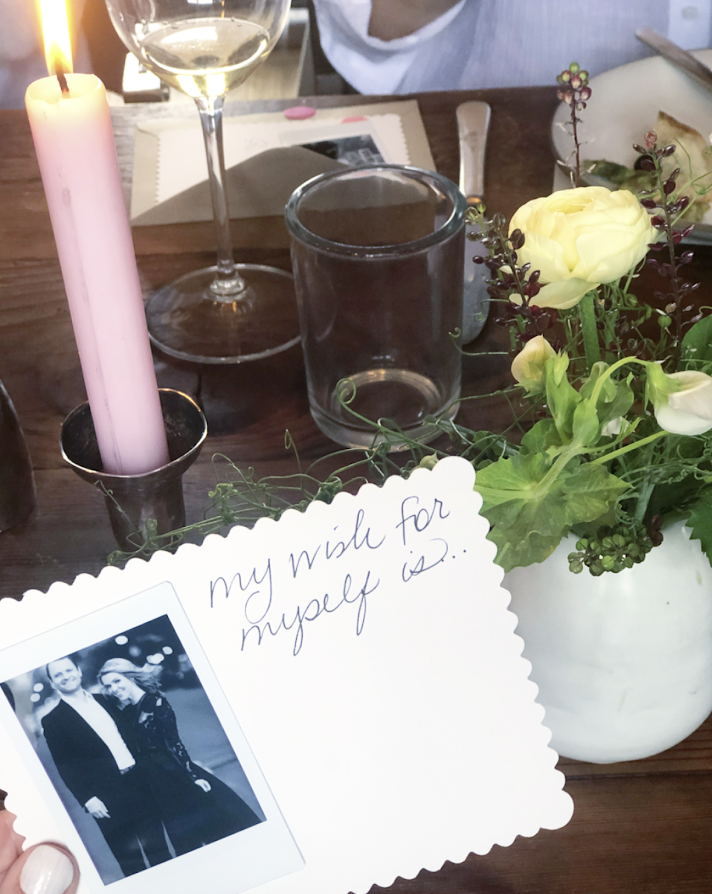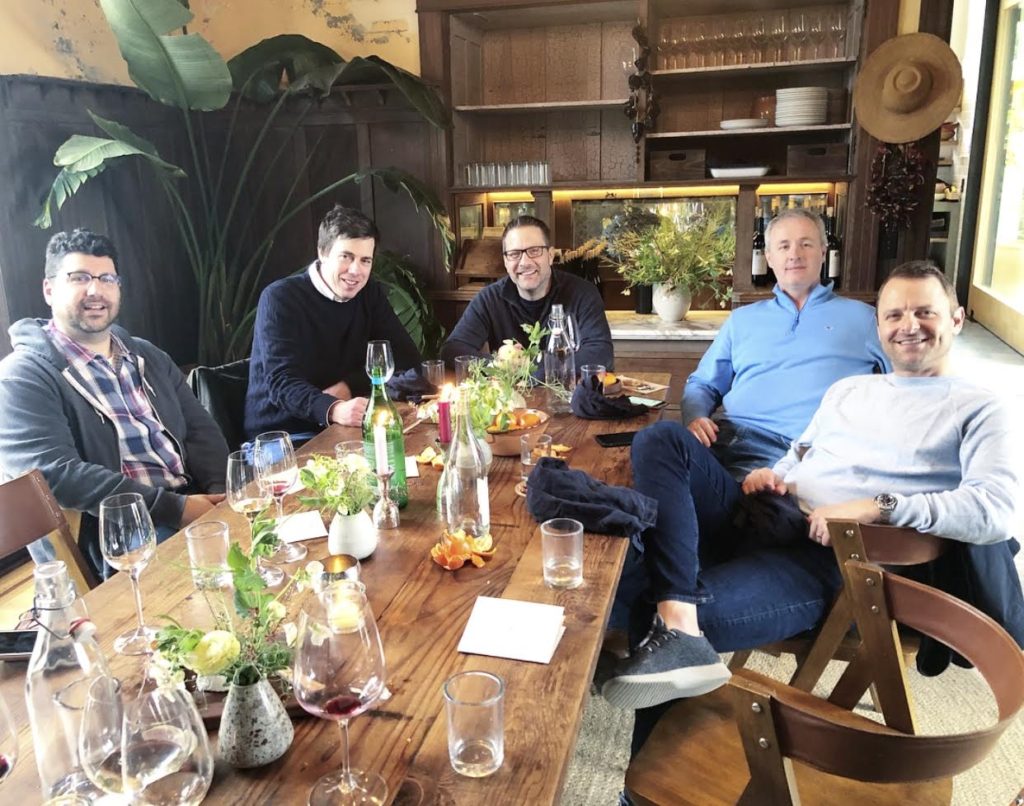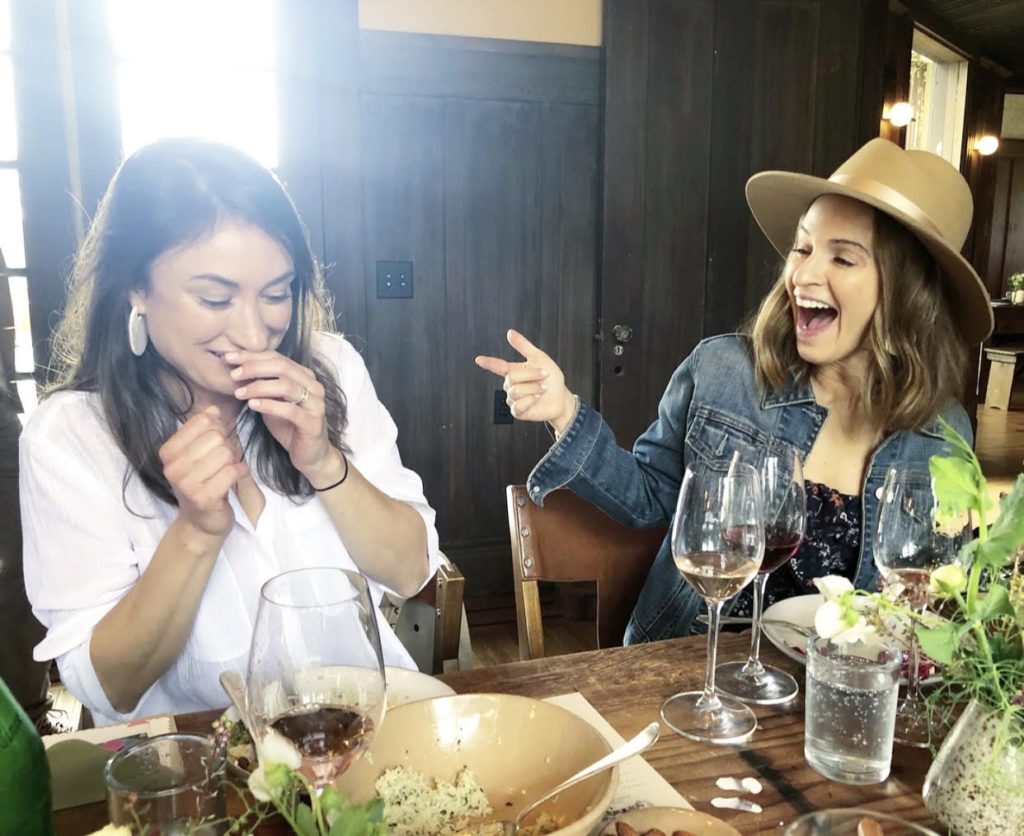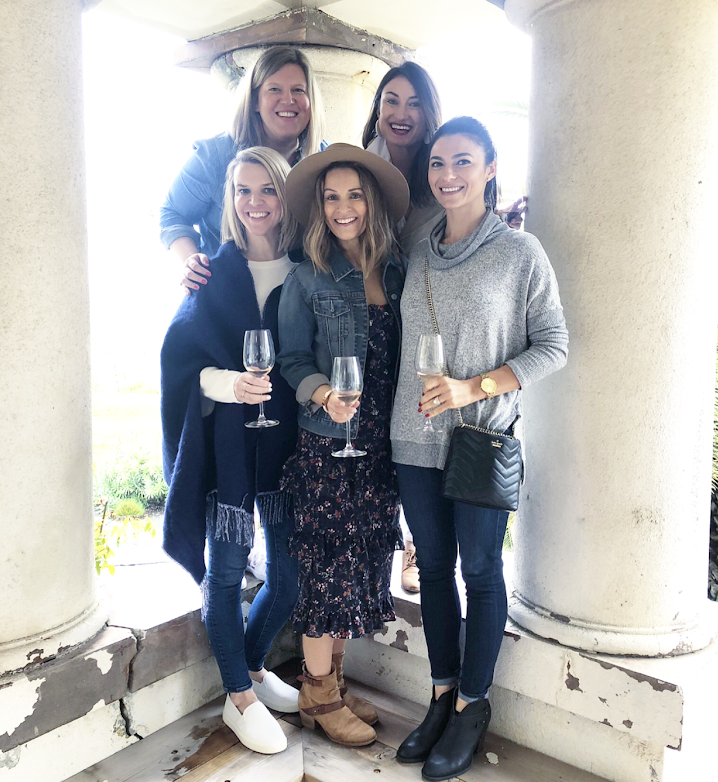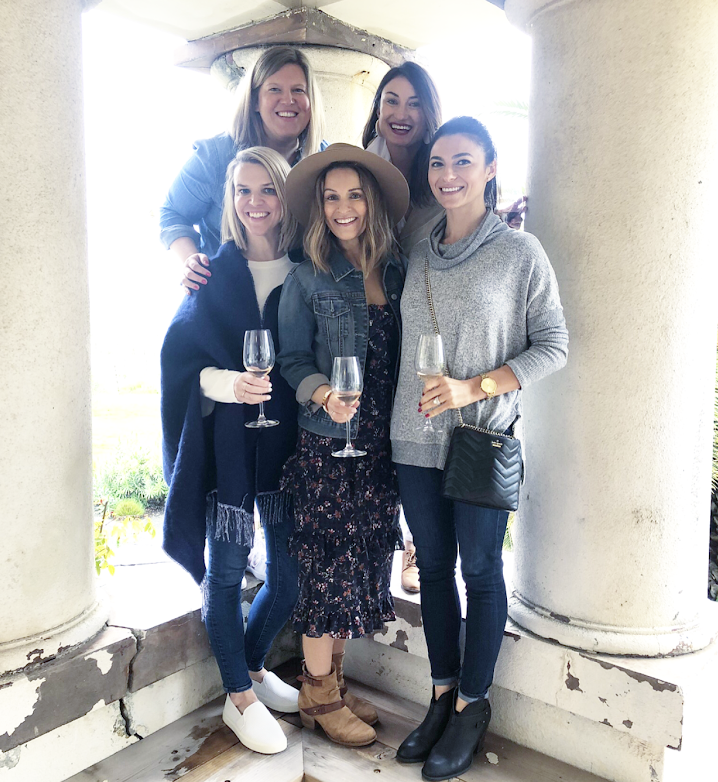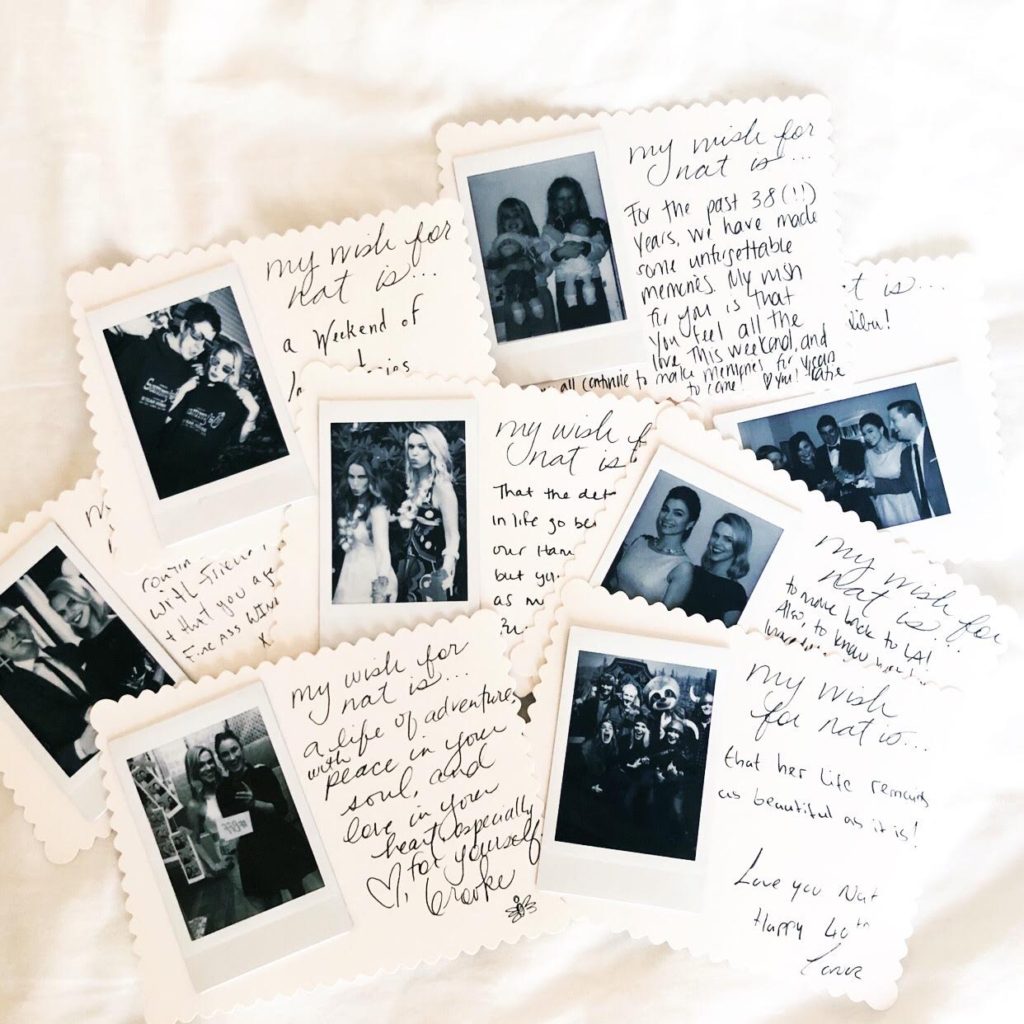 After Scribe, we went to Domaine Carneros to mix it up and sip some bubbles. While the grounds are gorgeous, this was definitely my least favorite vineyard of the trip. To be fair, it was raining so we were inside, which definitely dampened some of the experience (Not really for us as this was where some of the biggest laughs and inside jokes of the trip came from.), but the indoors lacked luster. I felt like we were in a dated banquet hall. Of course, coming from Scribe, we were bound to be a bit disappointed.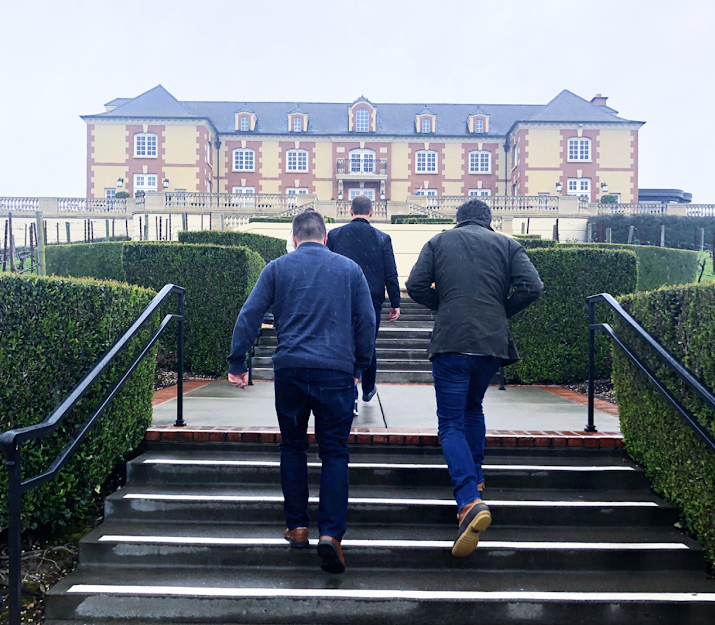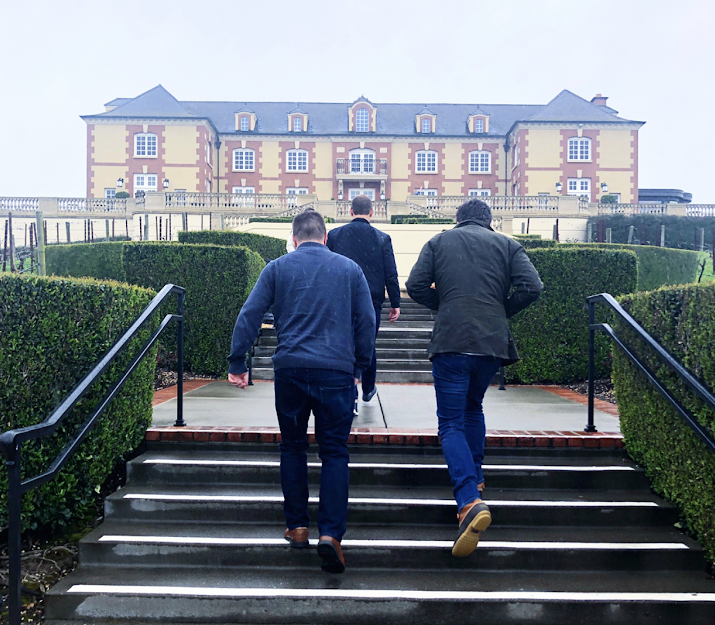 The champers was good though!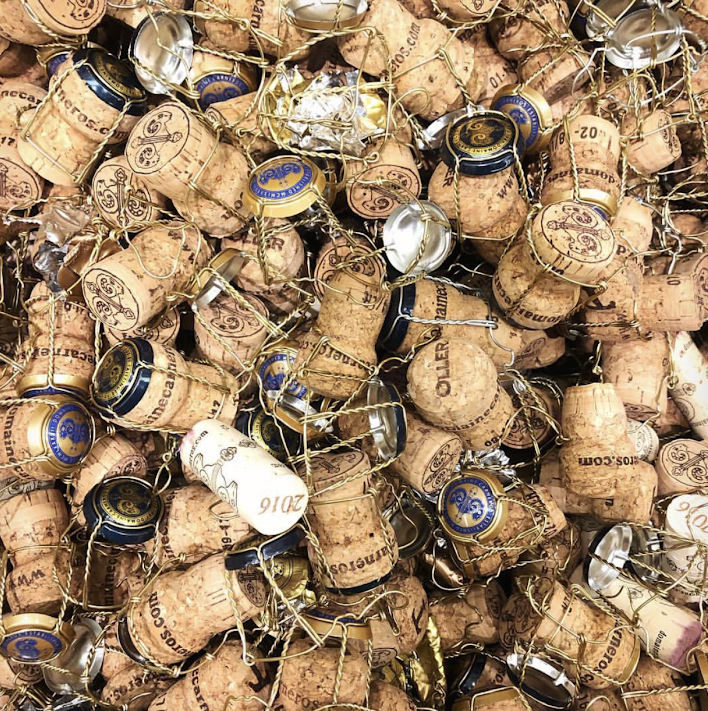 Love this crew.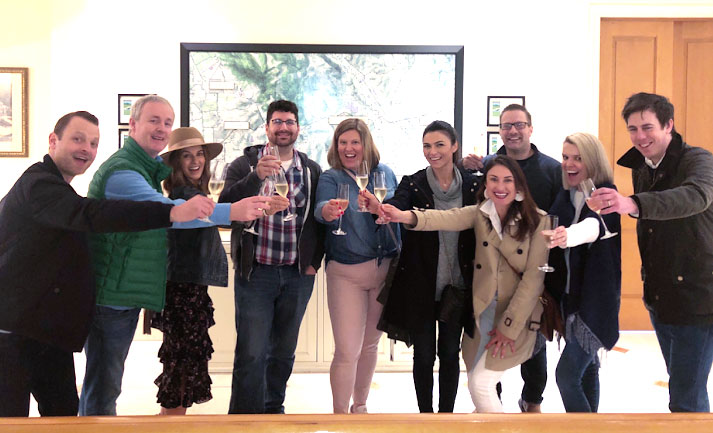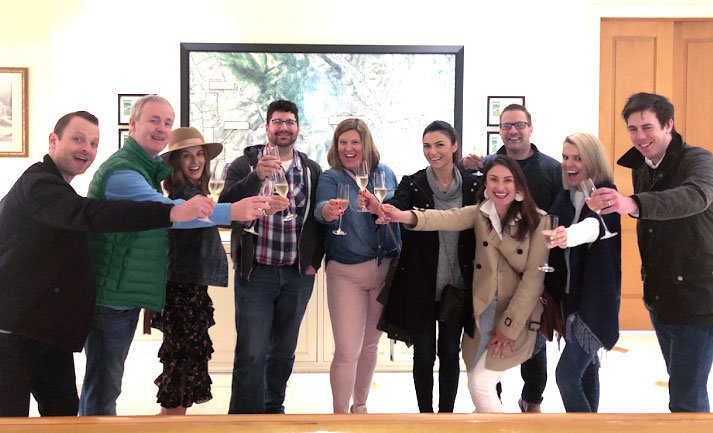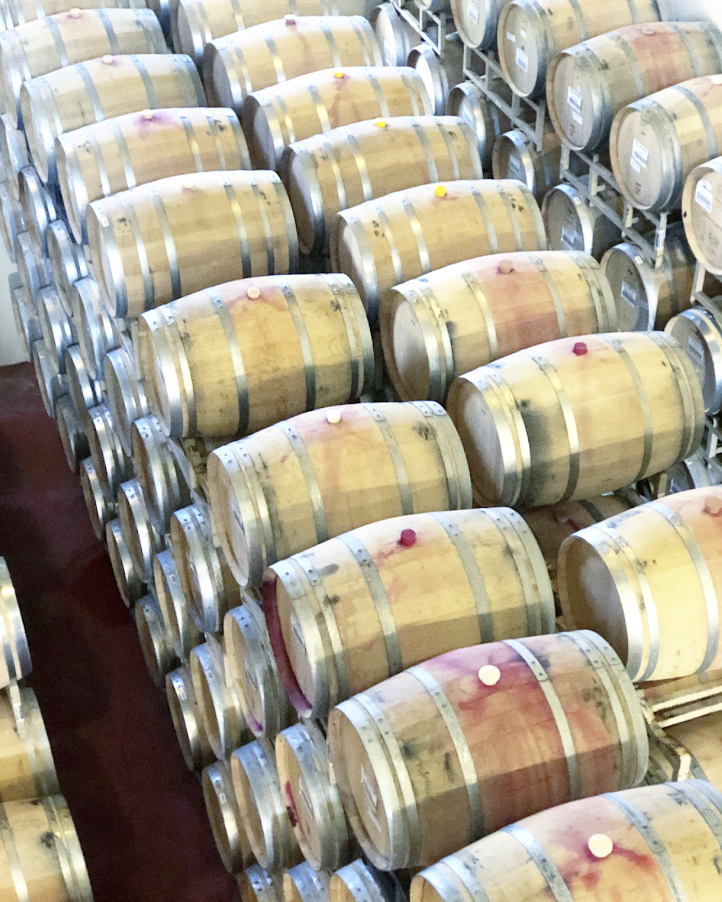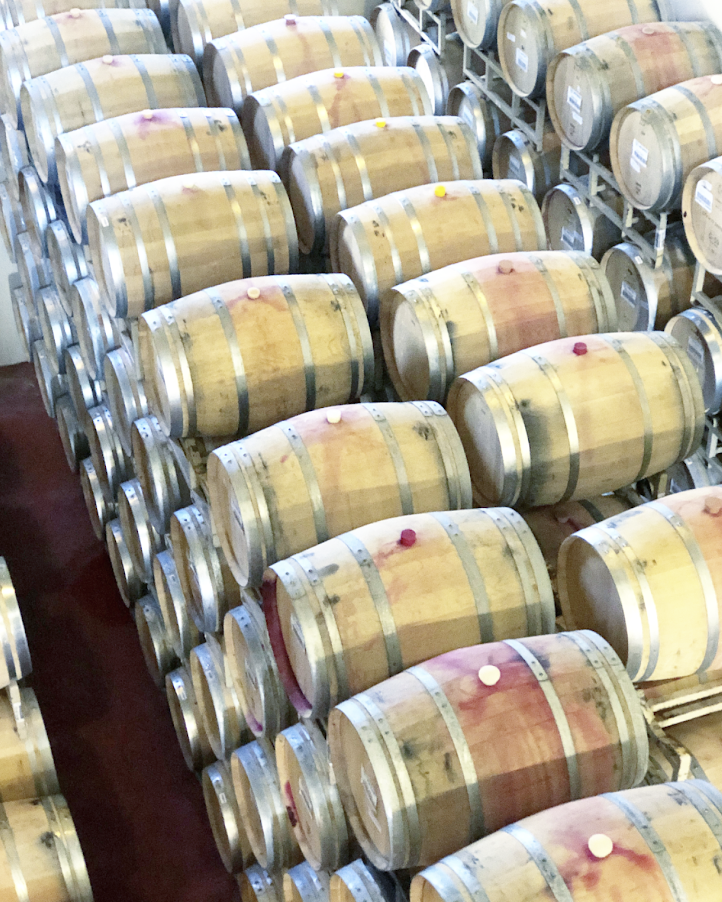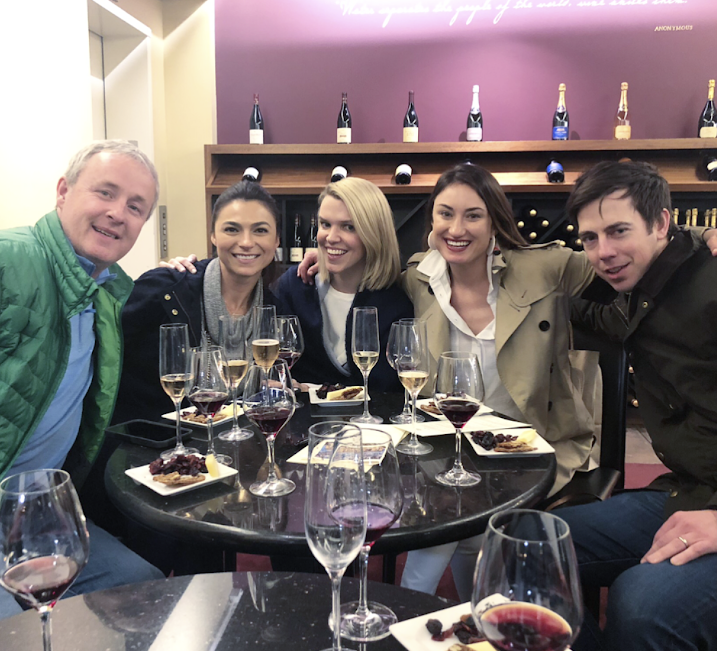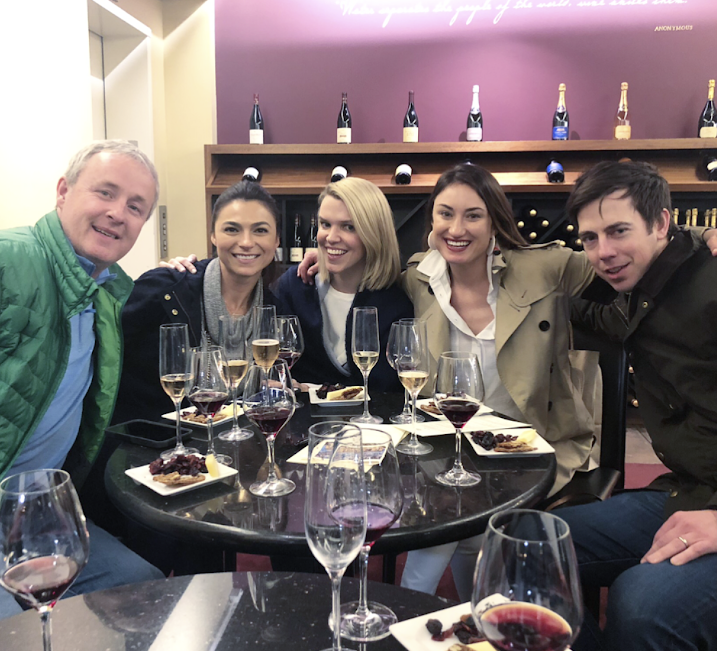 You can't bring me anywhere. I broke the champagne glass while trying to save my falling phone.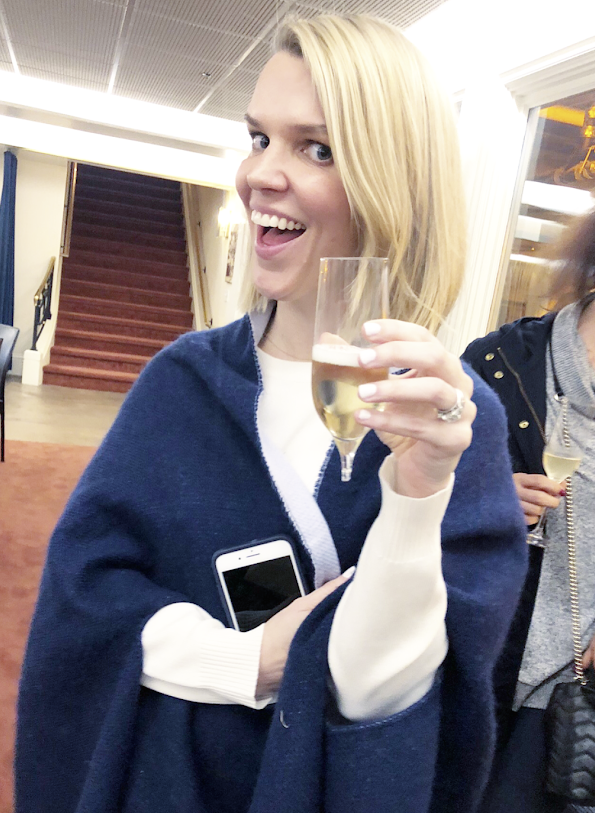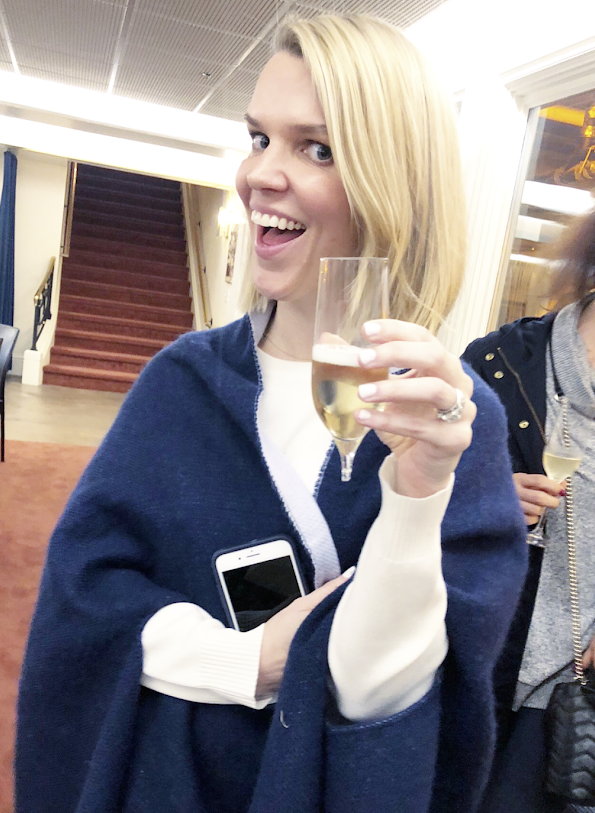 After two wineries in a row, it was time for some Sweet Scoops. This charming spot in Sonoma makes their own ice cream, which rivaled any I've tried.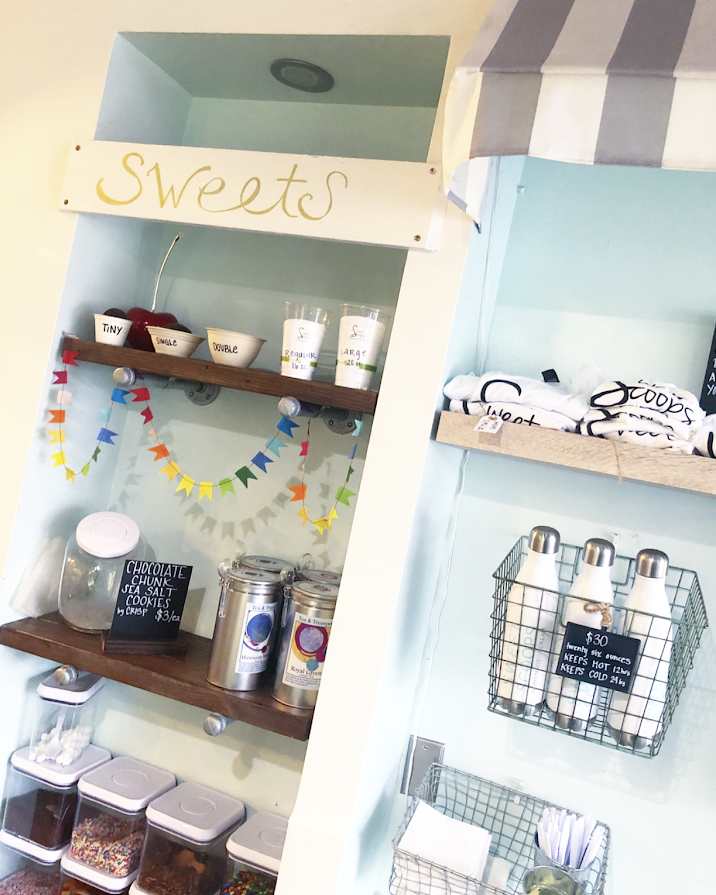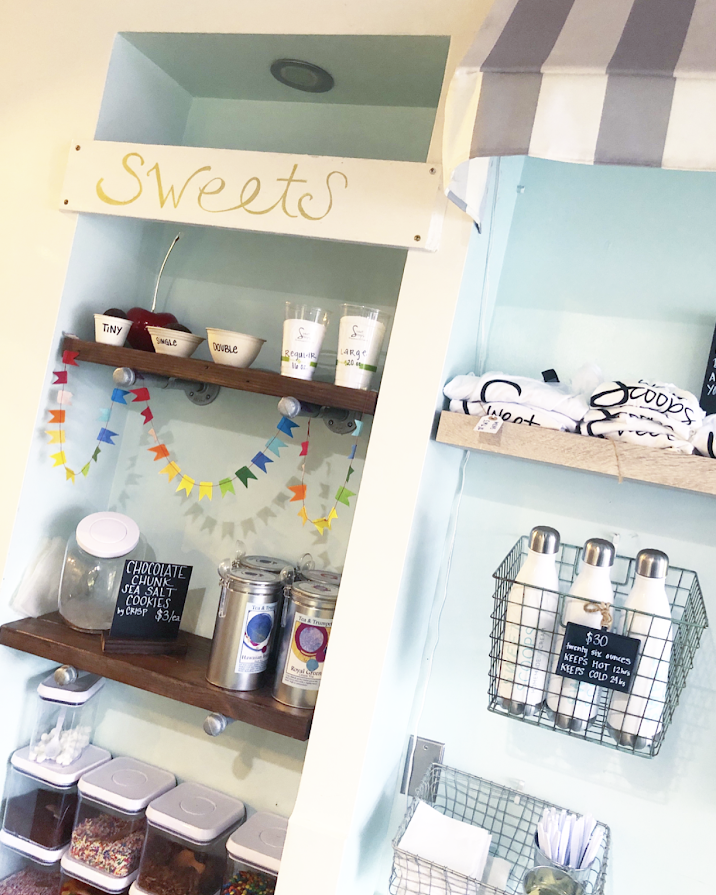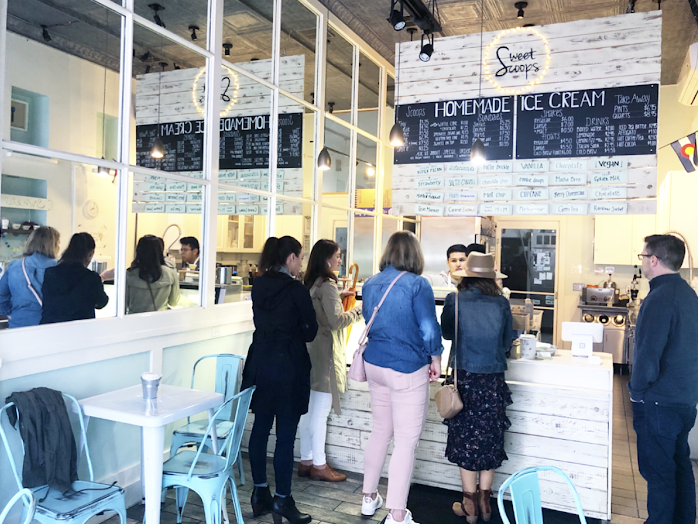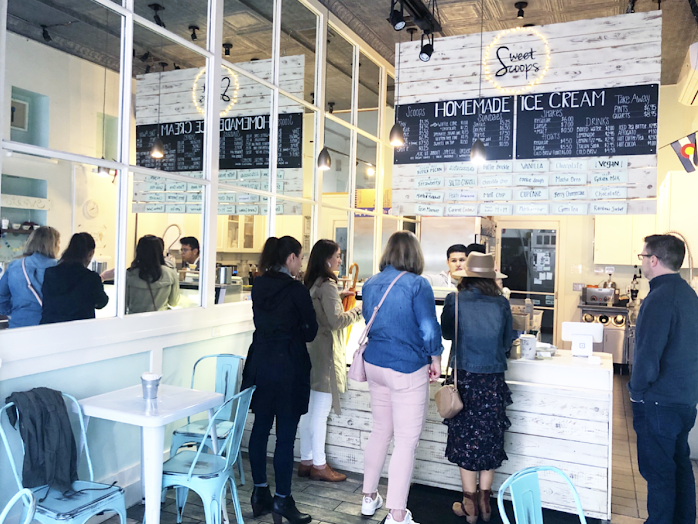 Pretty ladies.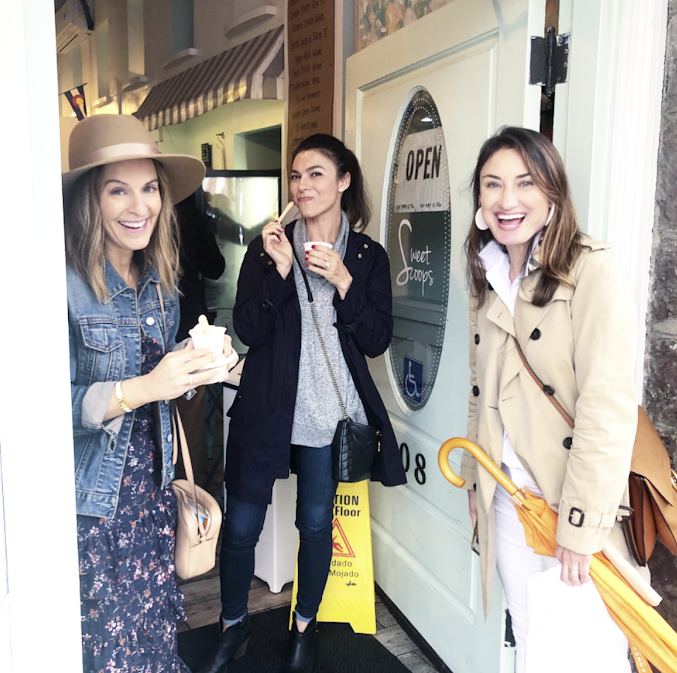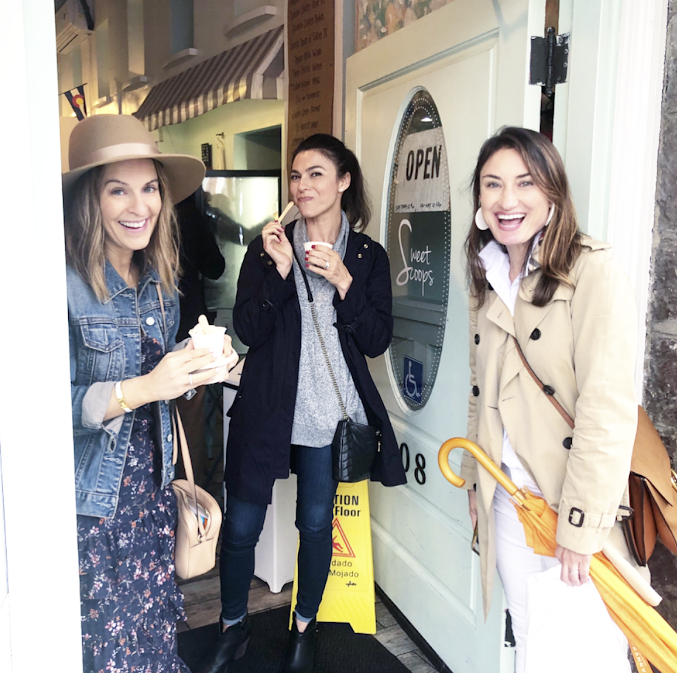 The rain let up and it was perfect timing to sit outside by the fire.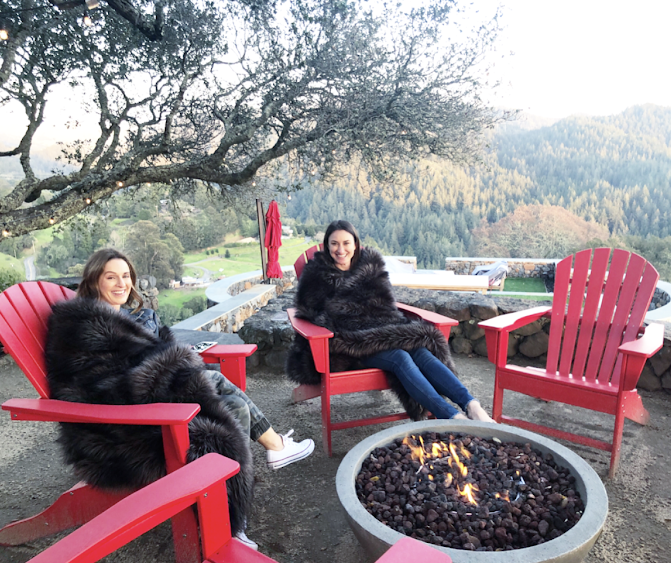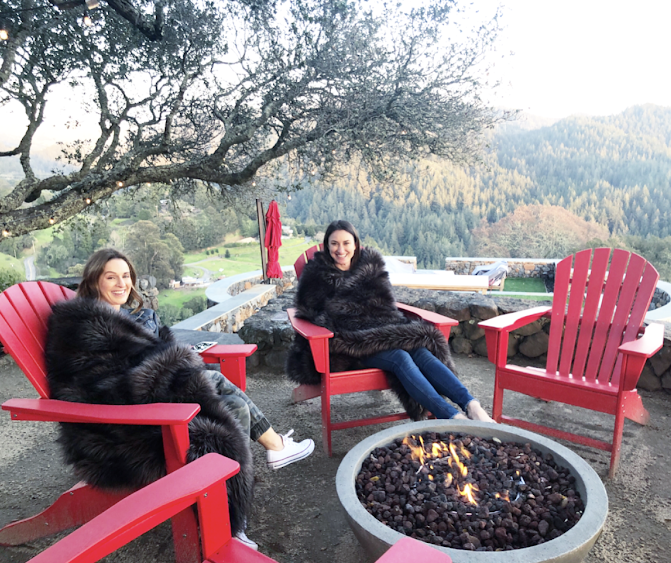 Tiffany at Brant Point Prep was fantastic to work with. The guys have been using these koozies at home ever since.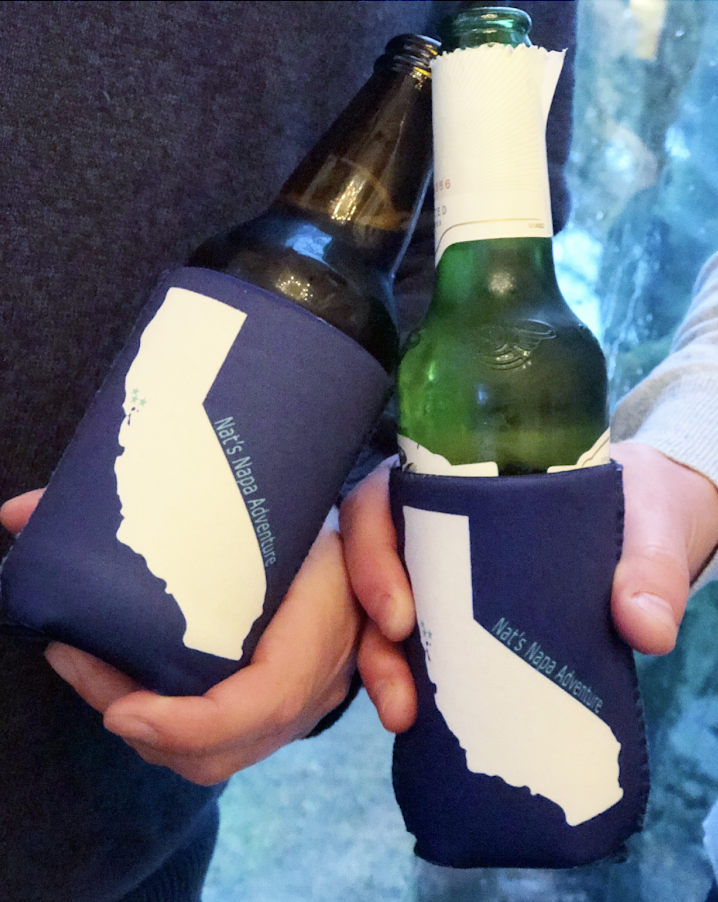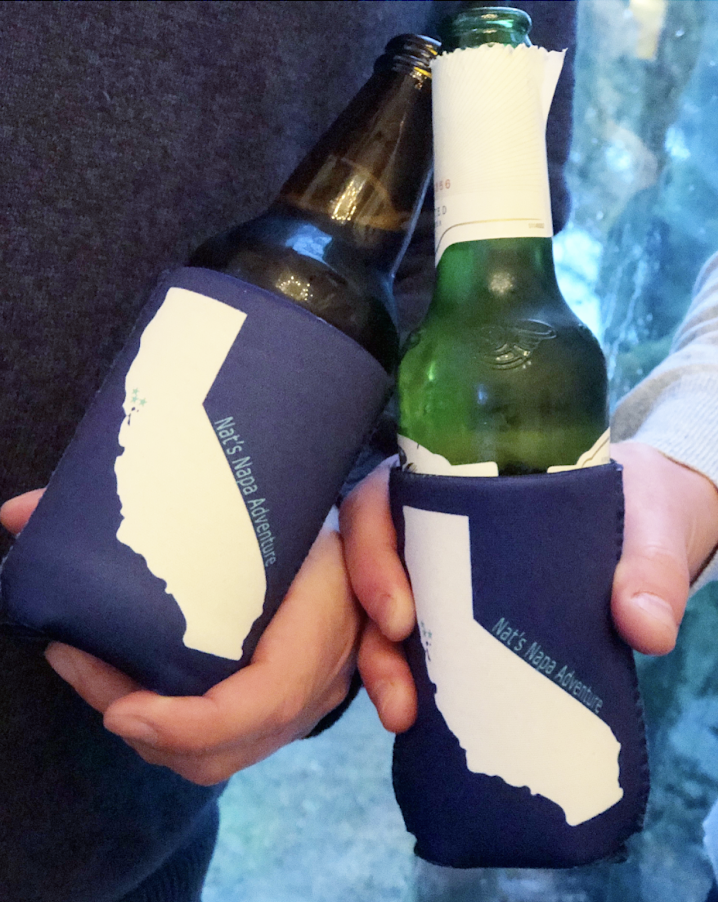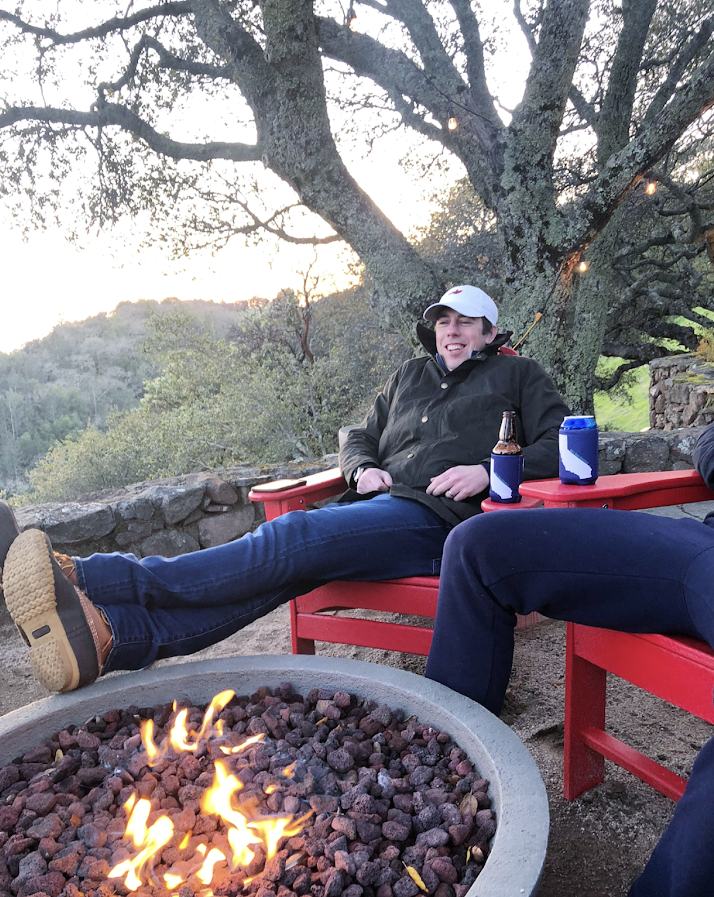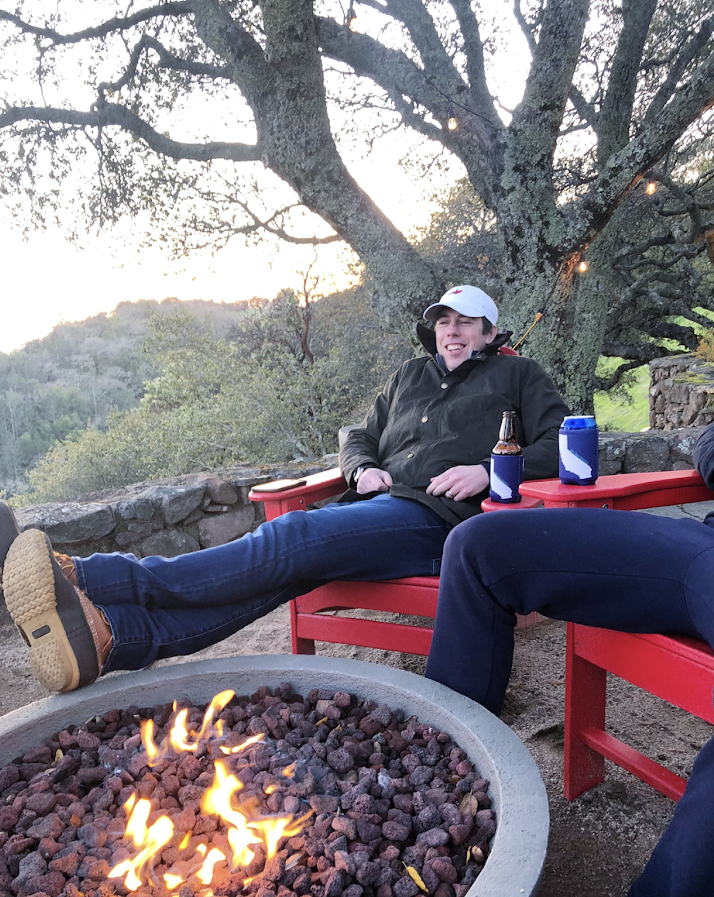 I knew I wanted one night where we stayed in. We'd be going out so much during the day that it'd be nice to unwind in our gorgeous home, not have to leave at a certain time, be dressed, take two Ubers, etc. So I arranged to have Elyse and her team from Brass Spatula be there when we got home Friday early evening to start prepping the party food. I chose not to have a specific sit-down dinner or menu. With varying tastes in the group, I didn't want to have to commit to one starter, one entree, etc. I wanted everyone to pick and choose what they like and to have as much or as little of it as they wanted. Plus, I wanted to be able to get up and mingle around and not have to settle in one seat, next to the same person all night. Still, we were debating whether to get dressed up and make it a proper cocktail party or change into comfy clothes and couch it. Guess which one won?
It was so nice to not have to get ready after being out all day or shop for, cook and clean up food and dishes. Instead, we sat by the fire pit, had some drinks and, when it was time, sat by the fire inside and had plate after plate of passed apps- my kind of dream dinner (it's what we did for our wedding too)! We indulged in everything from a fontina and caramelized onion tart, to mini lobster rolls, bánh mì's and pulled chicken sandwiches with apple relish. Dessert was personal apple crumbles à la mode, peanut butter pies and churros with dipping sauces. It was all so good and we were ridiculously full!
After dinner, as a "surprise" to me, my friends rearranged furniture in an in-home theater setting, put a projector on the wall and played a 30-minute (!) slideshow of my life. (I'll link to it in Stories for those who'd like to see it.) I was sobbing and laughing at the same time. When one of my friends accidentally spilled the beans via text prior to the presentation, I honestly thought, "Not a slideshow!" as I didn't want to make it all about me and have everyone have to sit through it. But, it was truly one of the greatest gifts I've ever been given and made the weekend that much more special.
Once the Nat show was over, we returned to the cleaned-up living room for game night. We played a ridiculously funny round of "Celebrity" and then some good old Cards Against Humanity.
Saturday morning, we woke up, still had some time to chill since we were rising so early and then got ready for our day in Napa. Beau Wine Tours picked us up in one of their party buses and chauffeured us for the day. Cary, our driver, was the sweetest, most knowledgable man and such a good sport as our group got a little rowdy.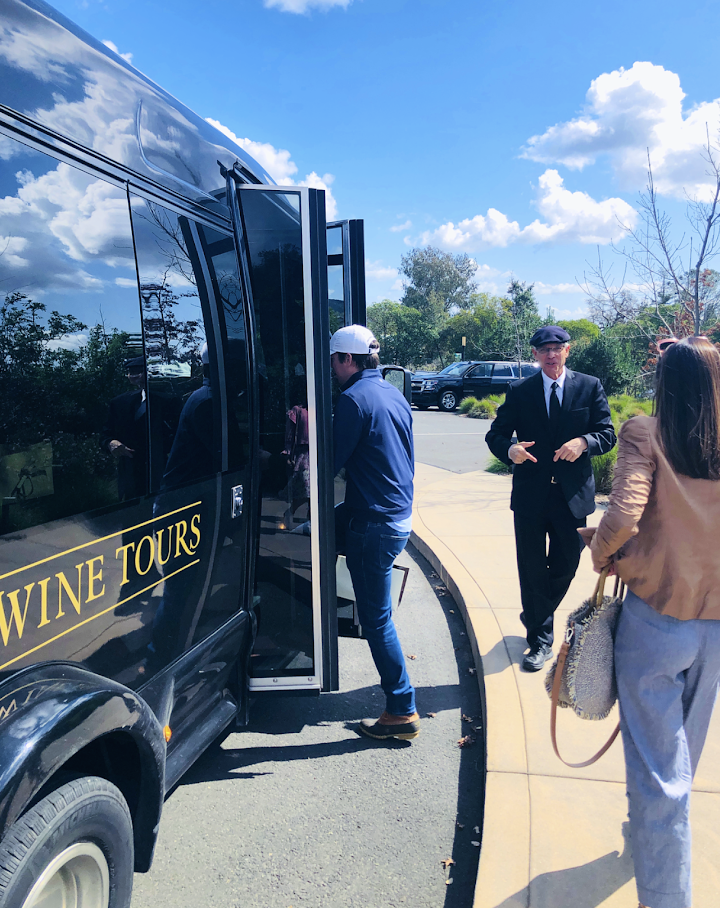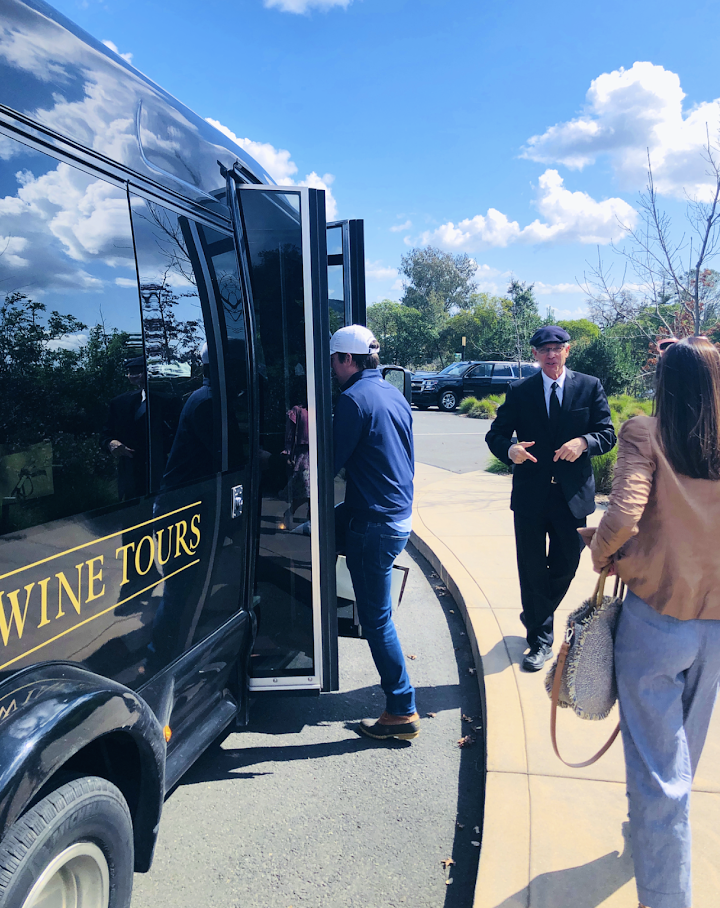 Naturally, we had a soundtrack for the entire adventure.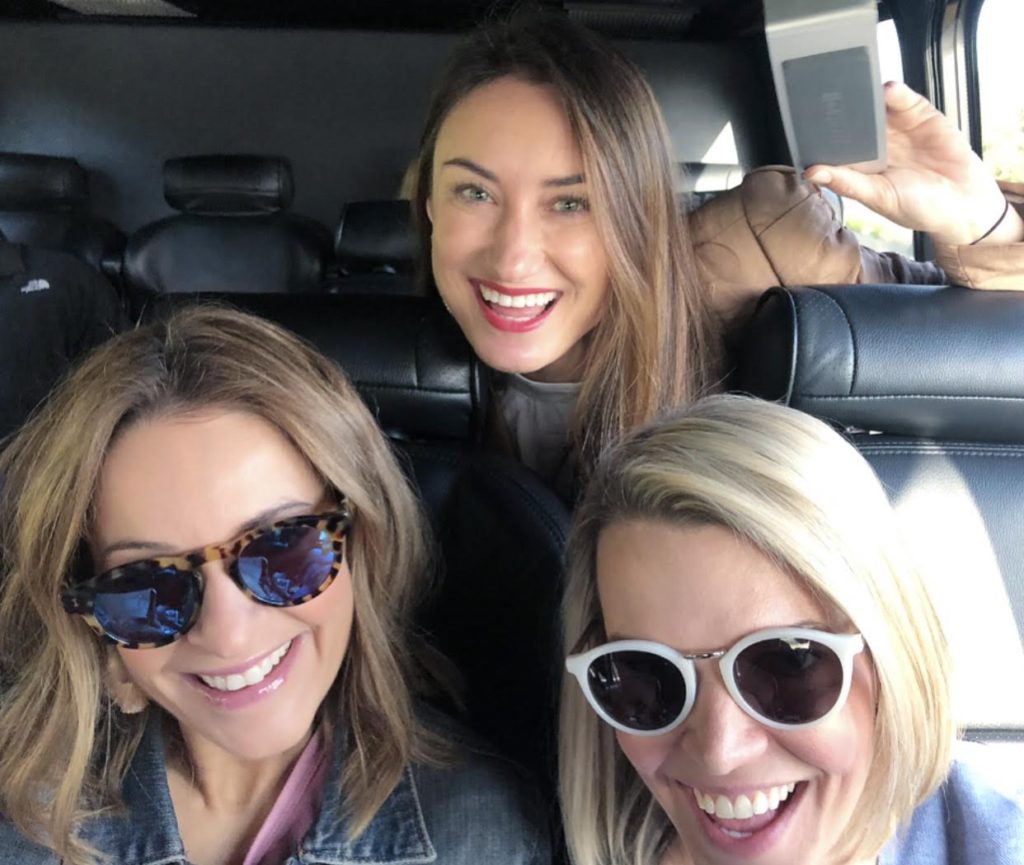 First stop: The Girl & The Fig. I'd read about this one as well in my research and, once again, salivated at the menu. We all agreed it was on point. My breakfast sandwich on a homemade biscuit was so good and the perfect base for a day full of drinking. We also got a table pancake to split. When there's a pancake on the menu and you're with a group, a table pancake is always the answer.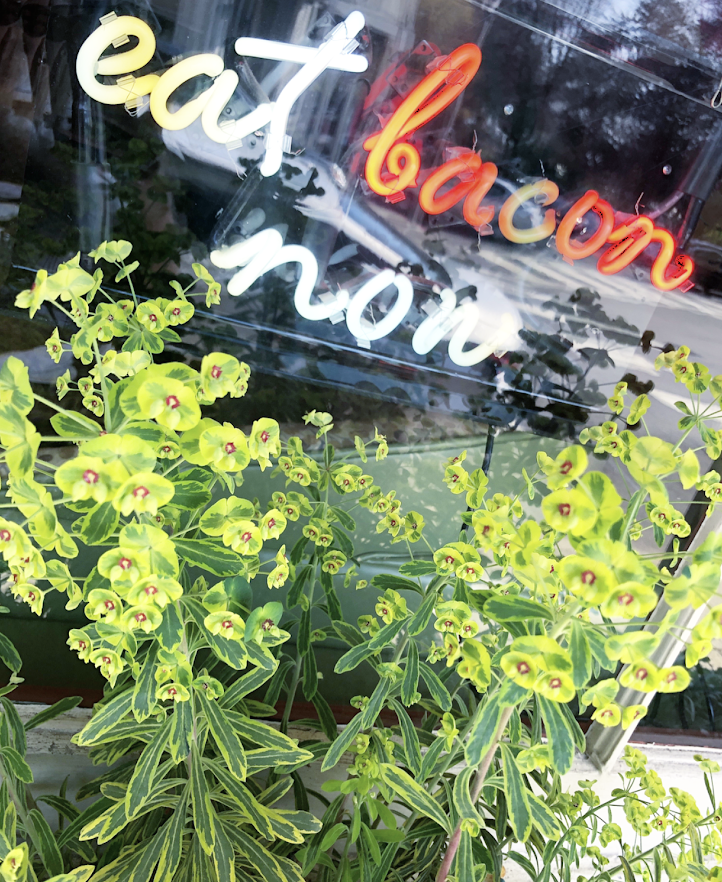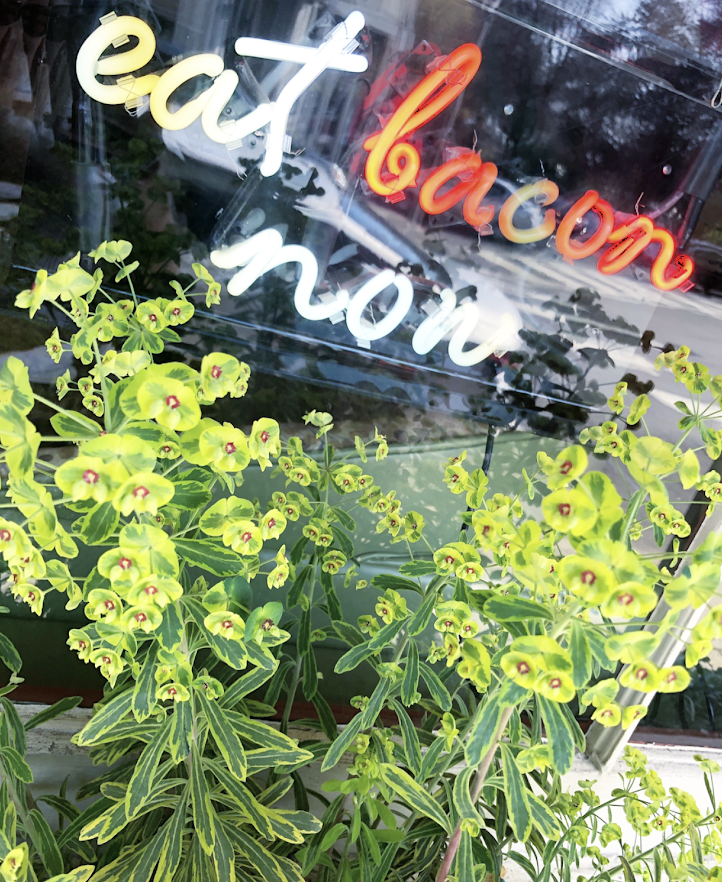 I went to the bathroom before we sat down and came back to this. It scared the crap out of me and everyone in the restaurant was staring. We then, of course, all dissolved into hysterics. I could barely breathe I was laughing so hard.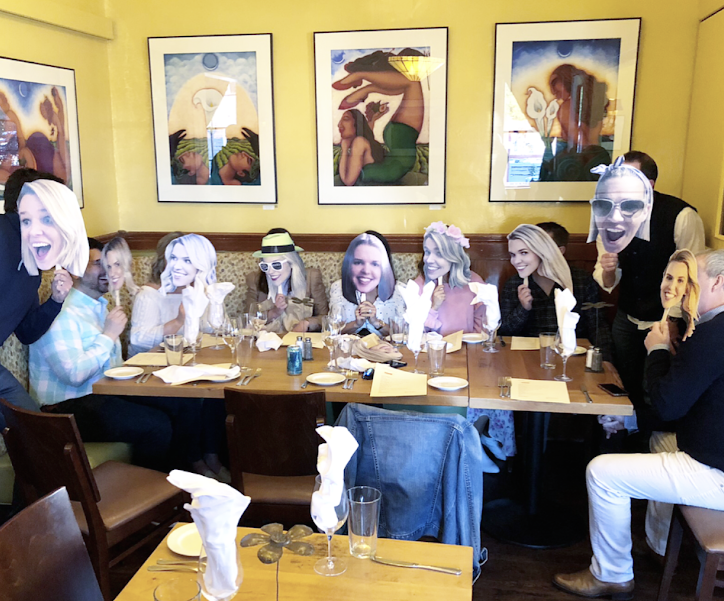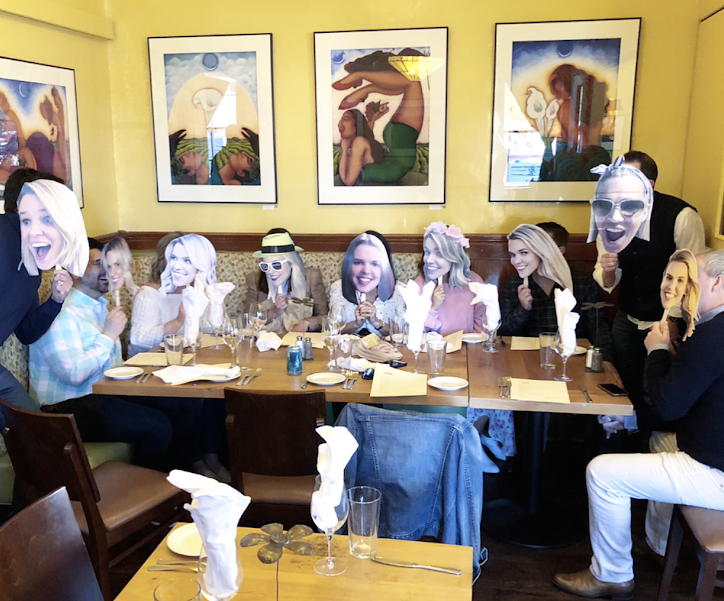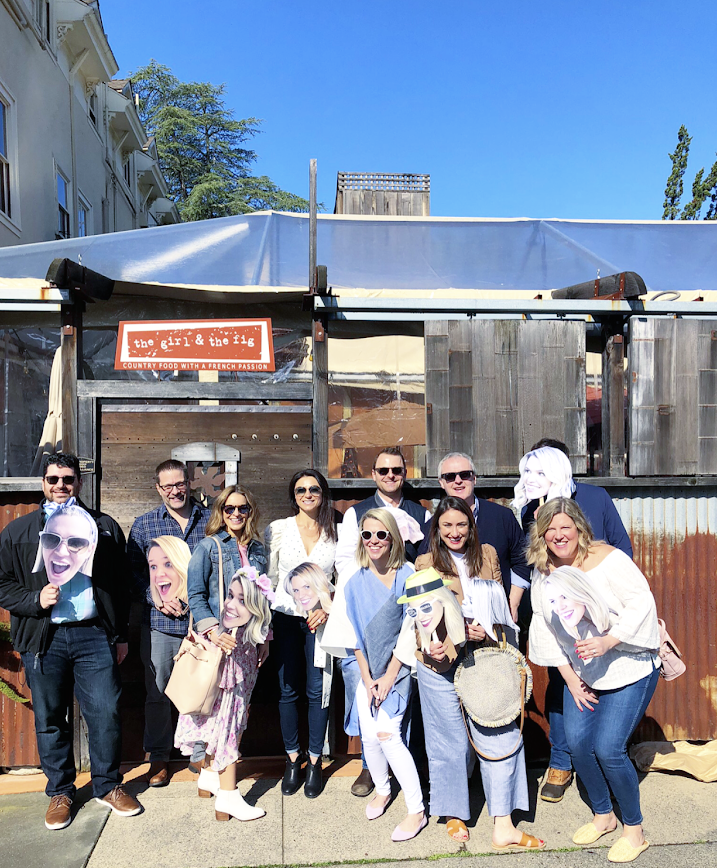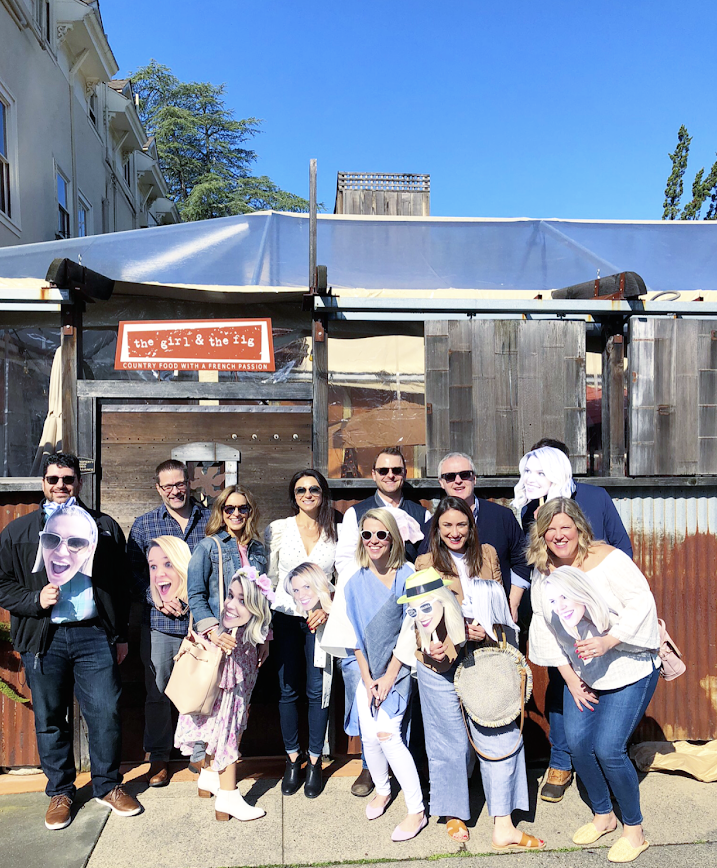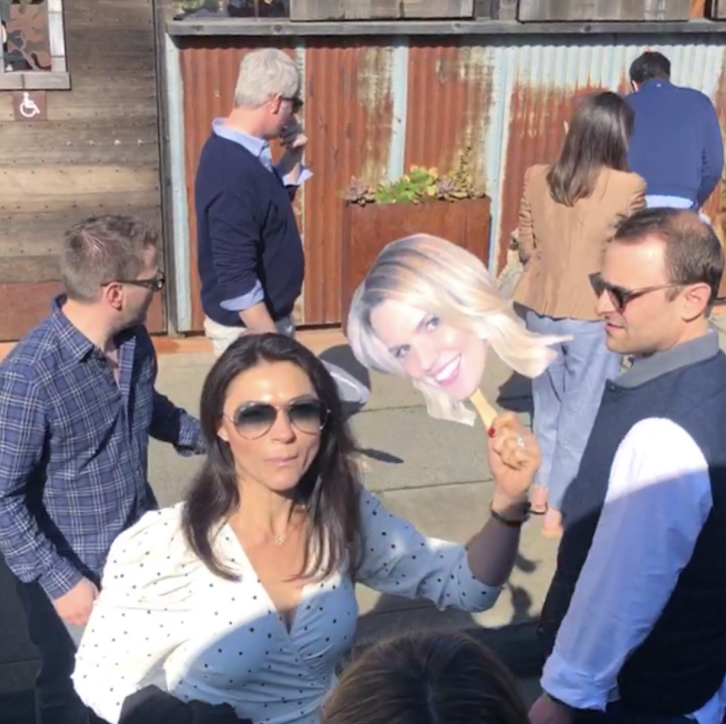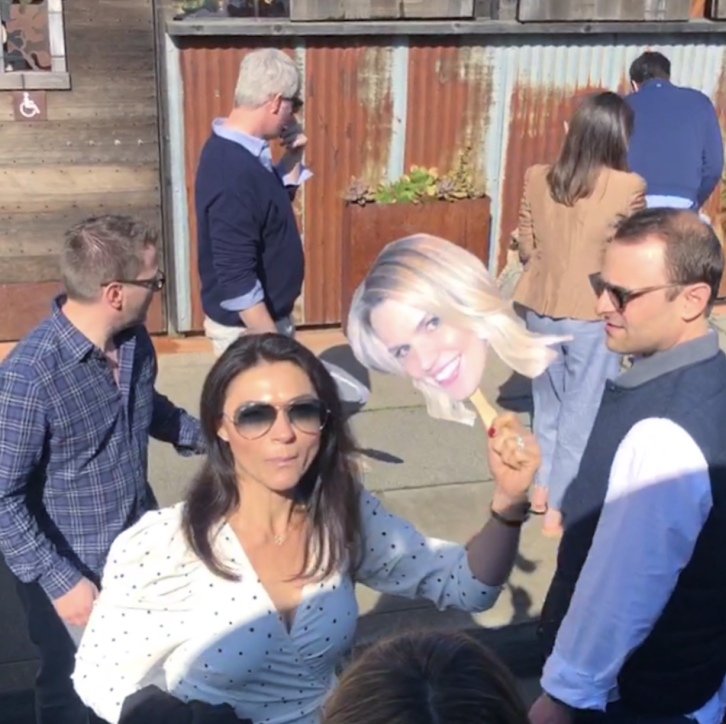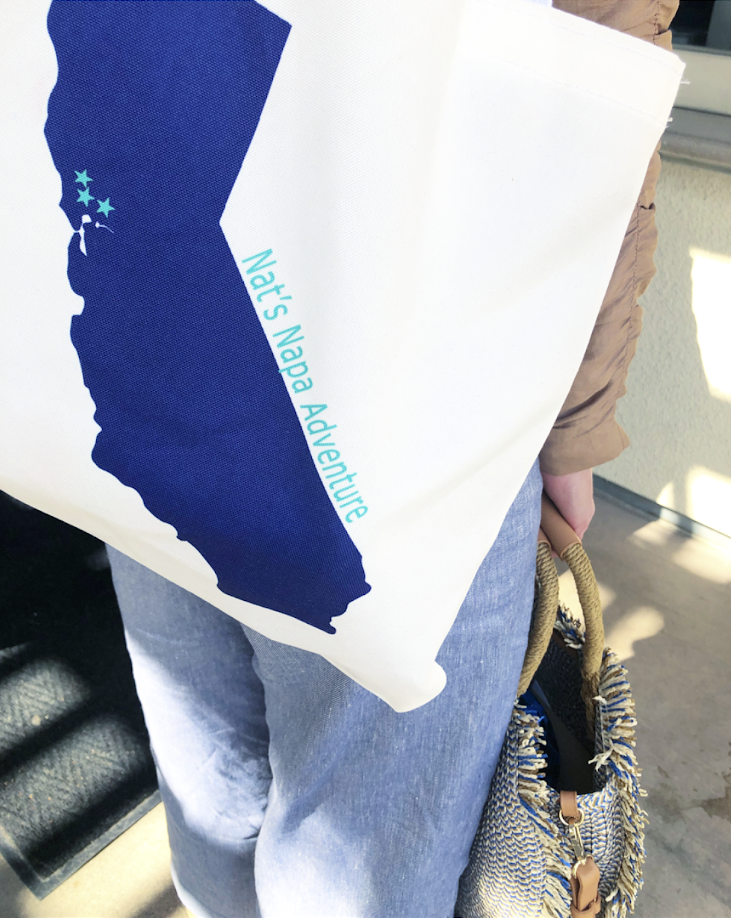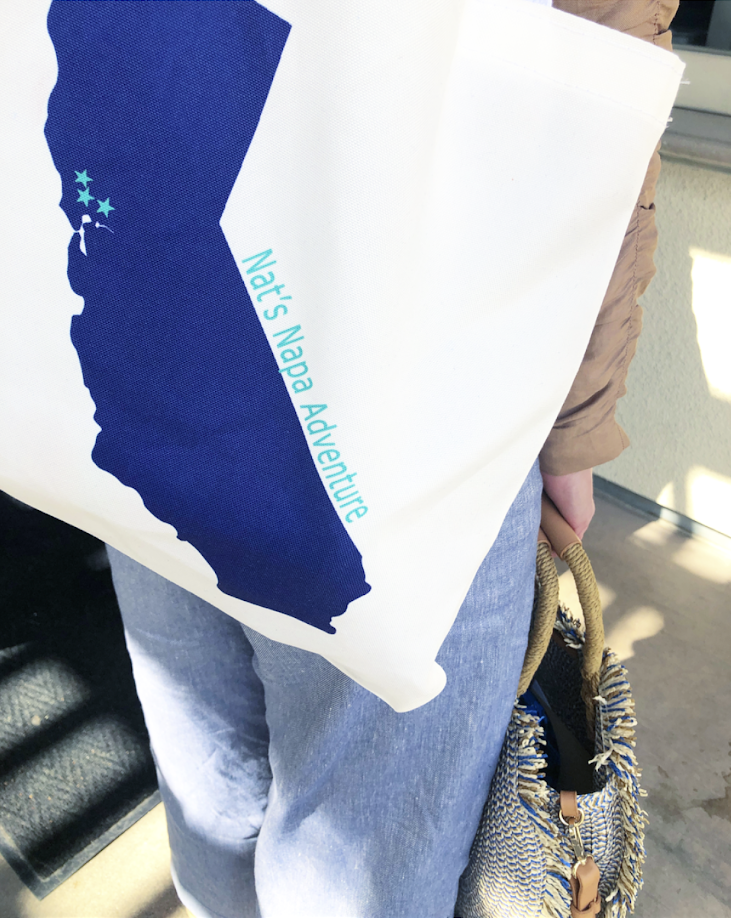 Next stop: Cakebread Cellars. It's like they knew I was coming! 😉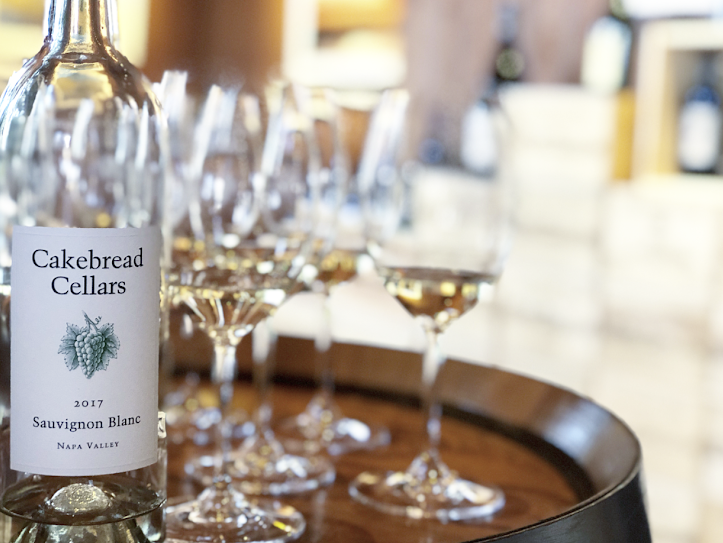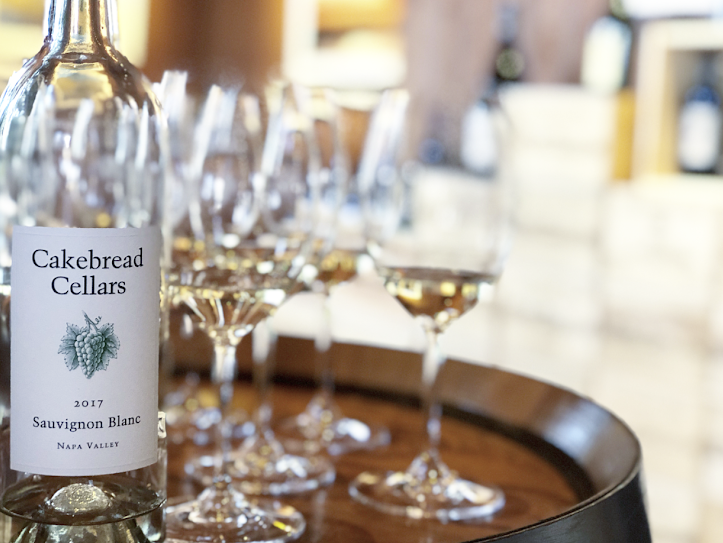 A woman in her natural habitat.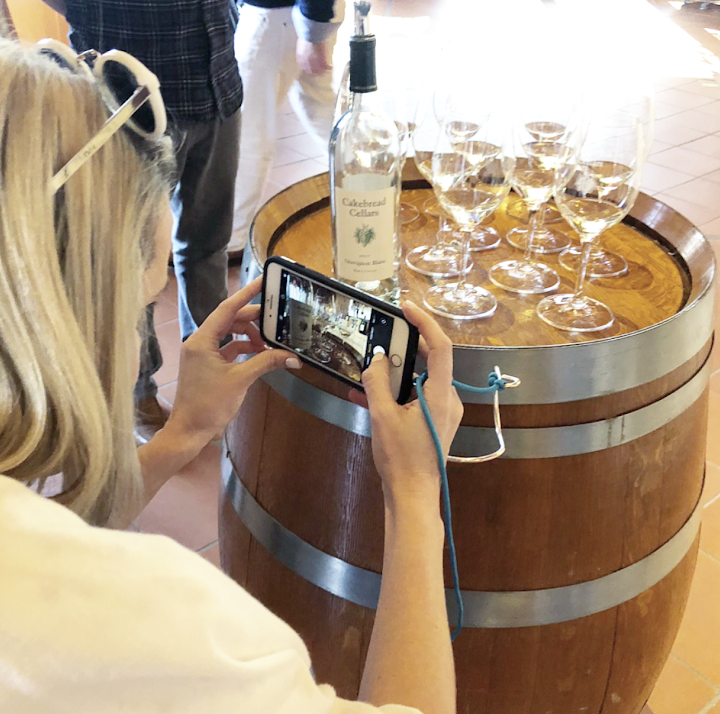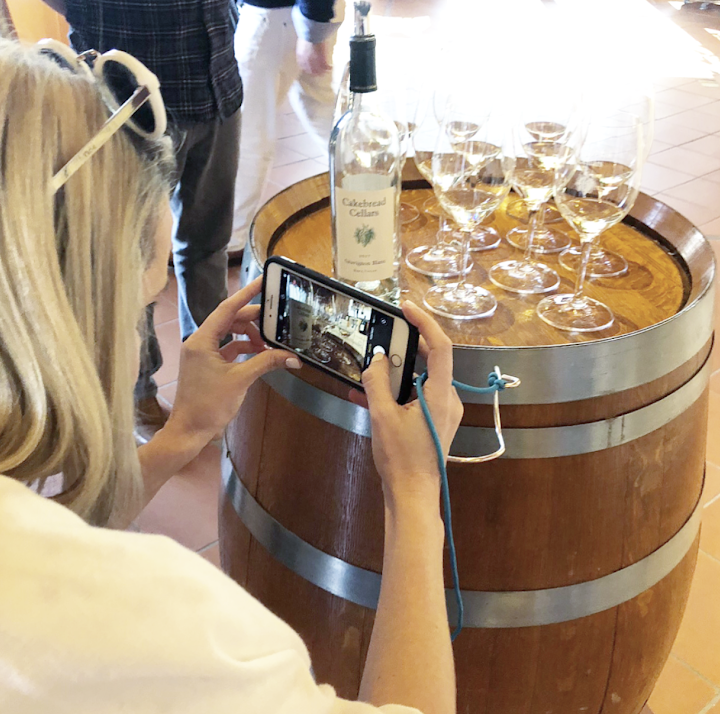 Cakebread was the number one place I wanted to go in Napa and I'm so happy it lived up to my expectations. First of all, it was a picturesque day. It was 70 degrees, the sun was shining, the sky was storybook blue and the trees were fully in bloom. My crew, as previously attested, is about the best you could pick for a trip like this and we had a really good tour guide to boot. Barrett was knowledgeable, but laid back. He let our group guide the way, stopping when we wanted, snapping a ton of photos, pouring us more wine and was often in on the joke. It made for such a fun experience.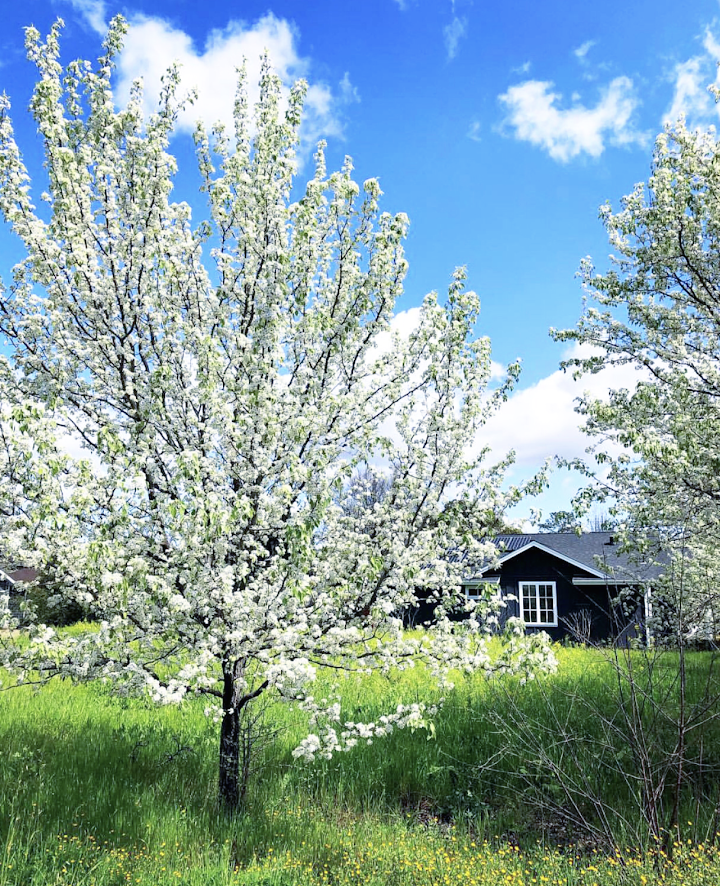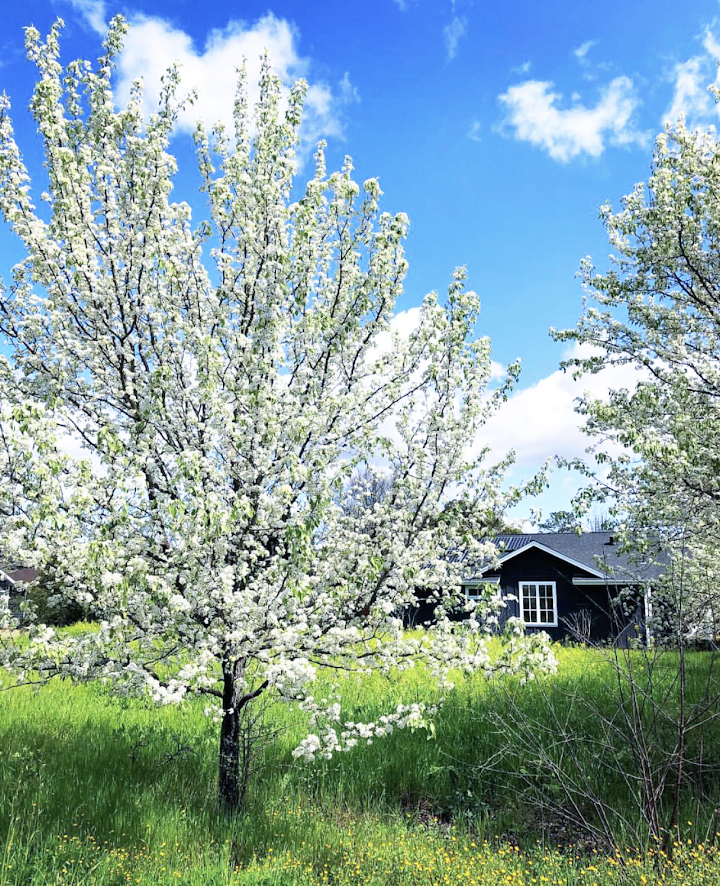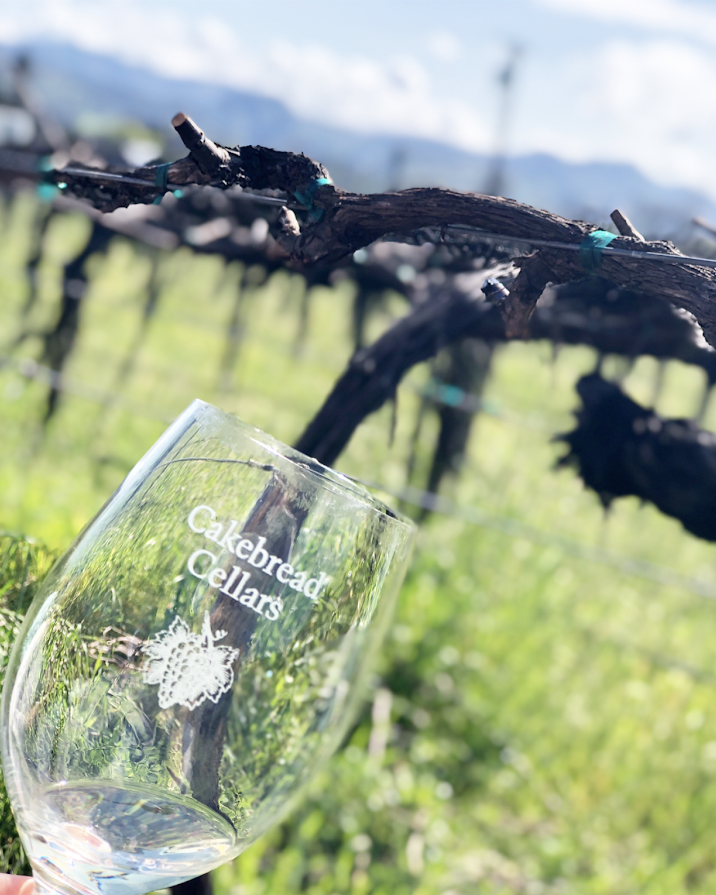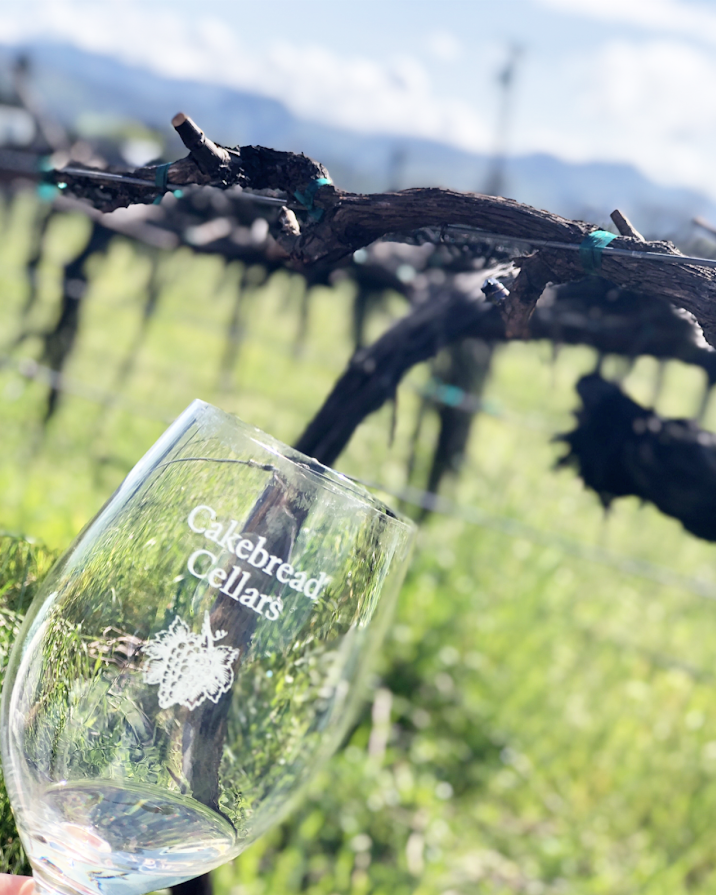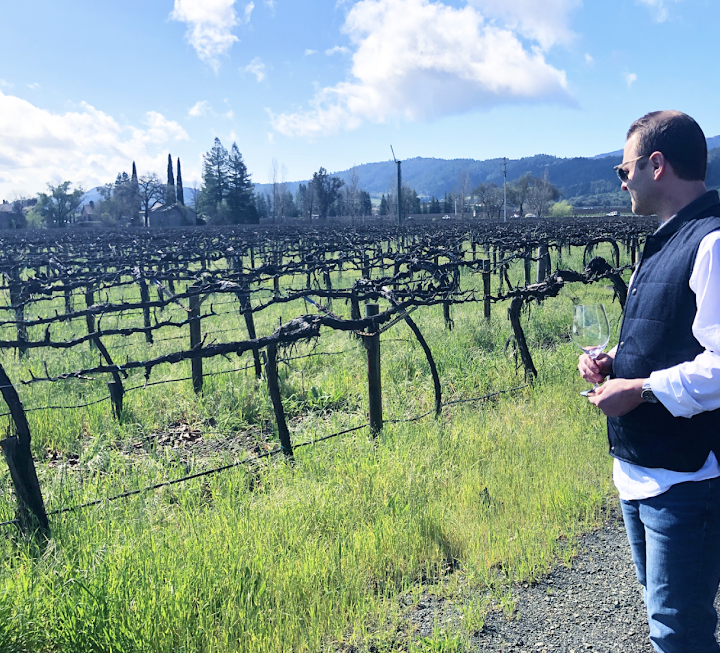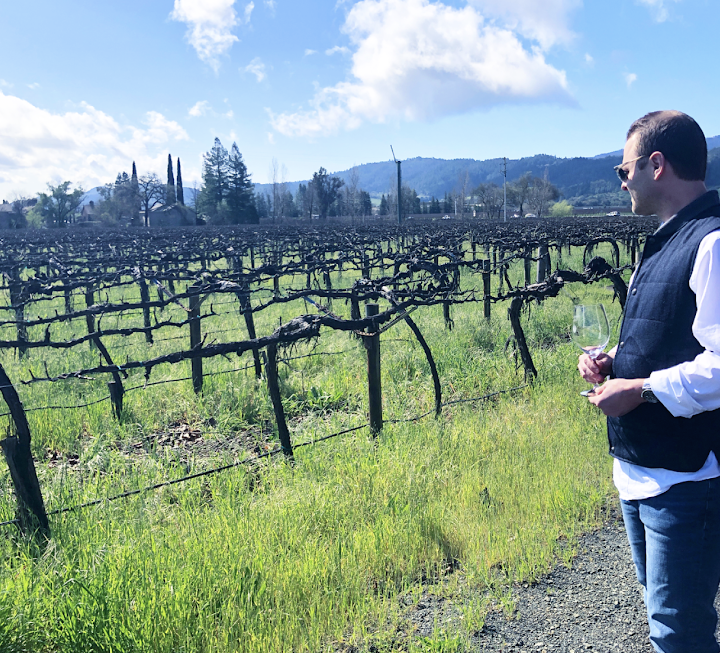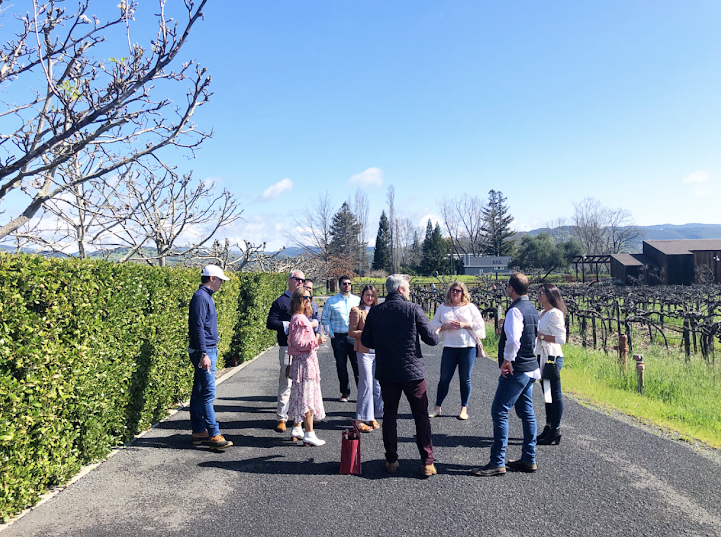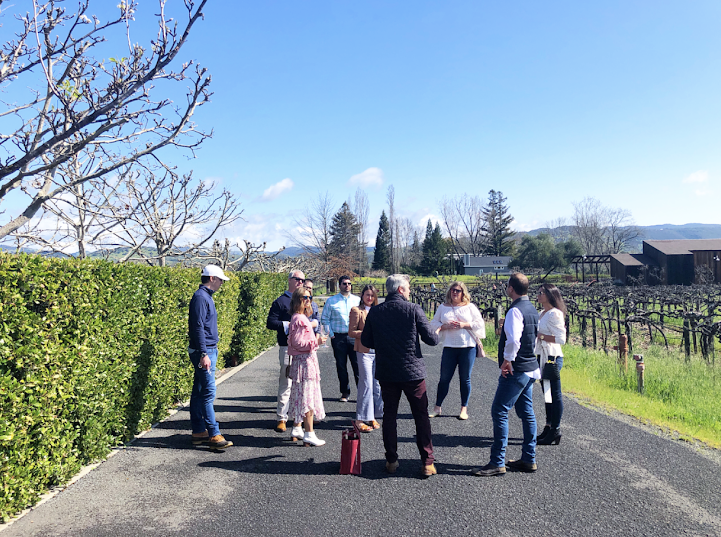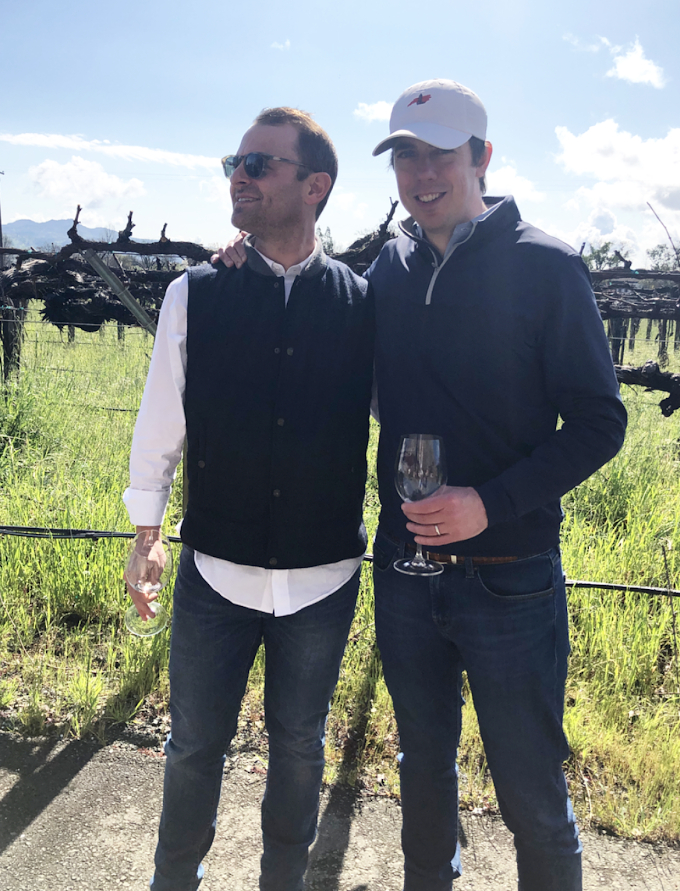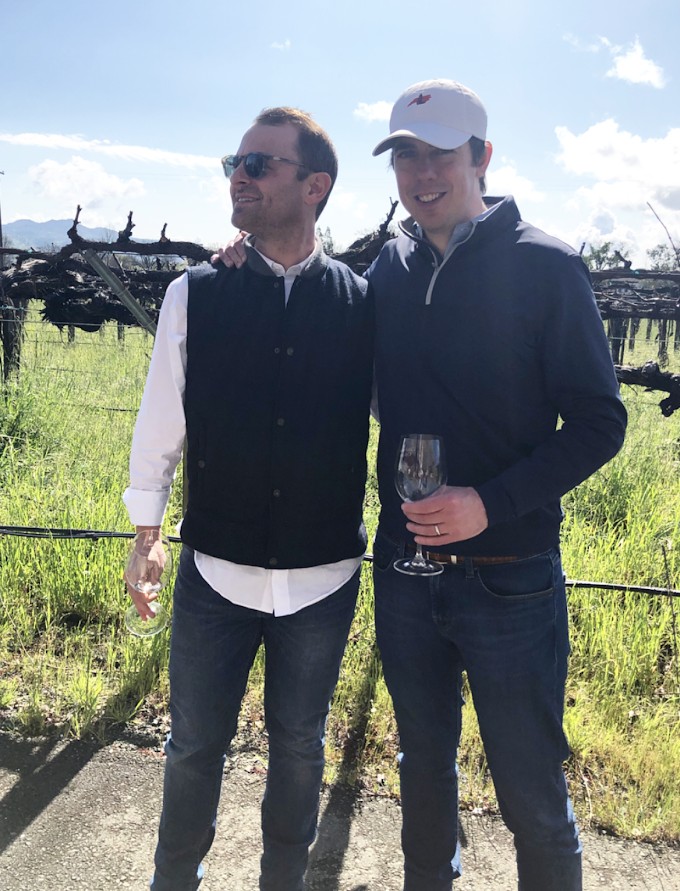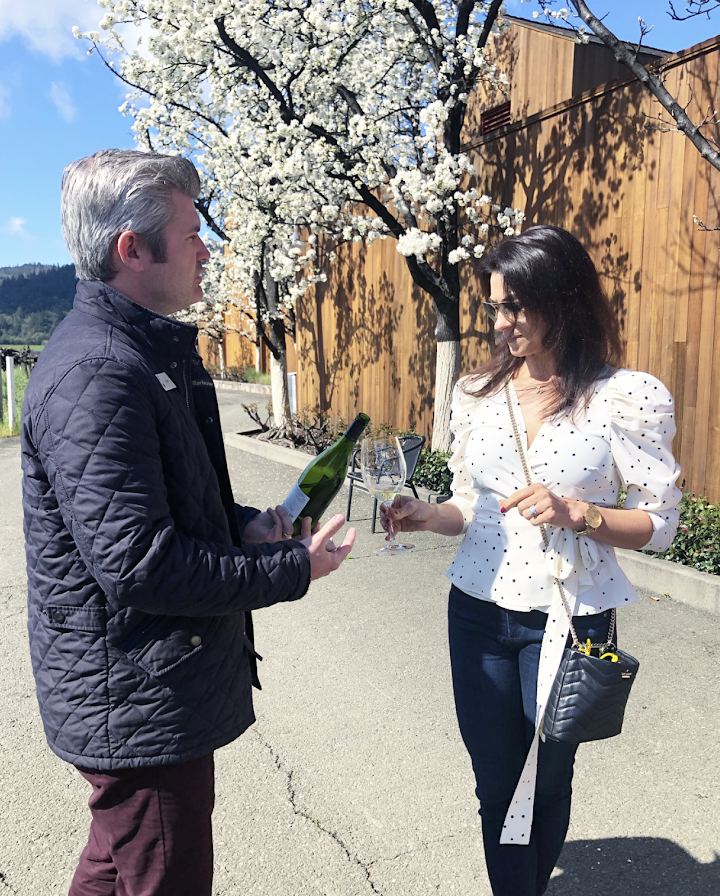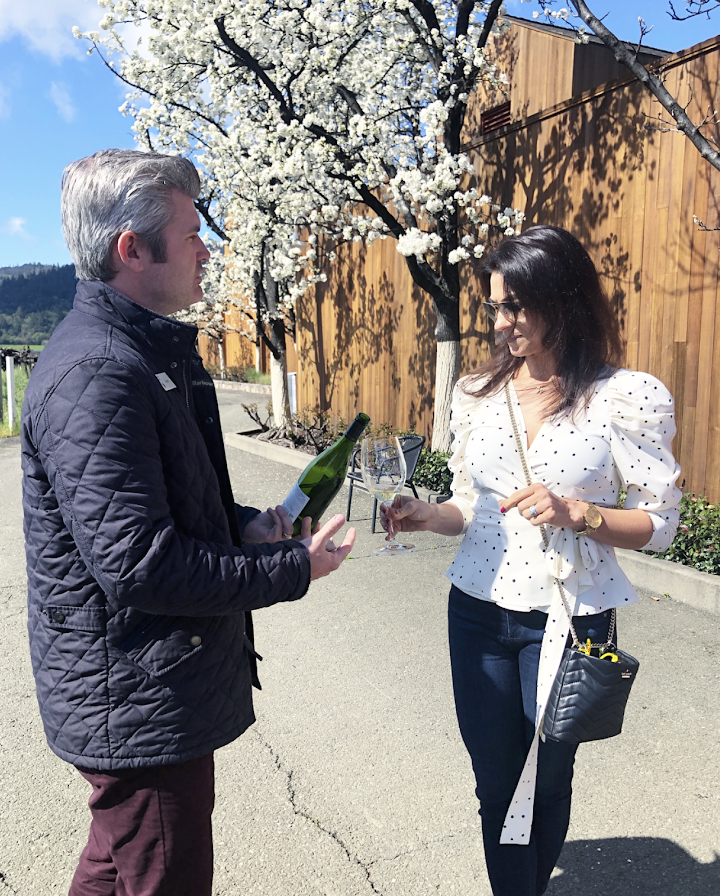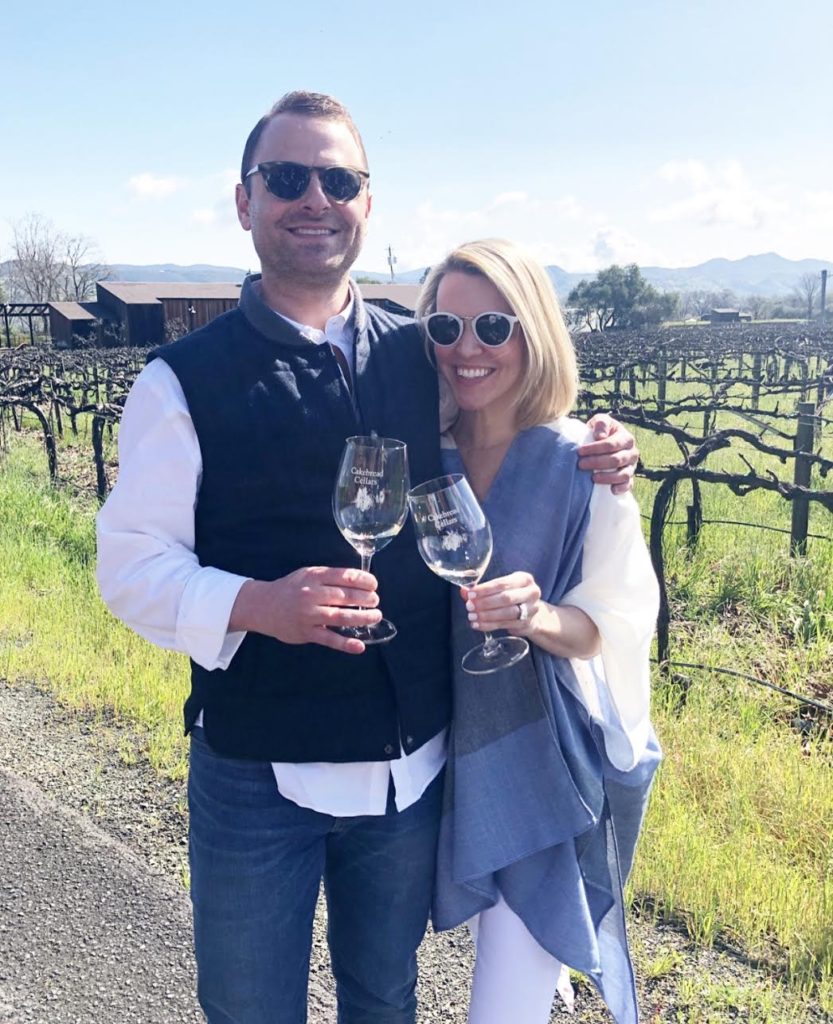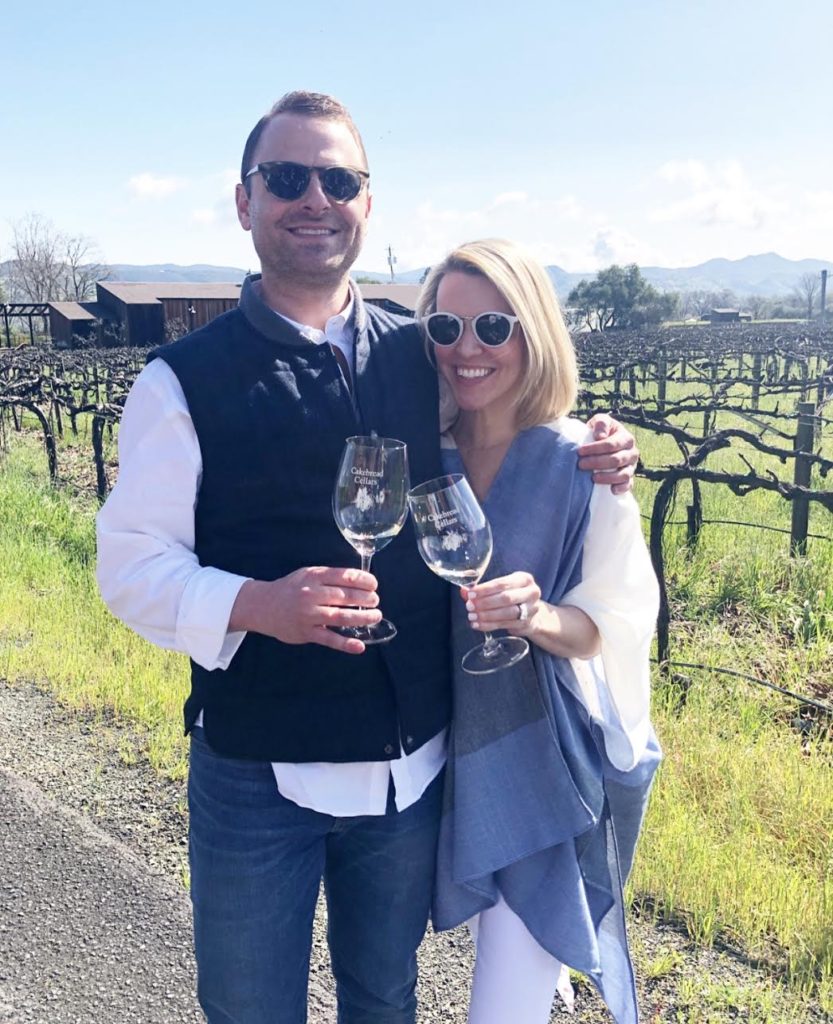 It feels like I spent half the trip like this, doubled over in laughter.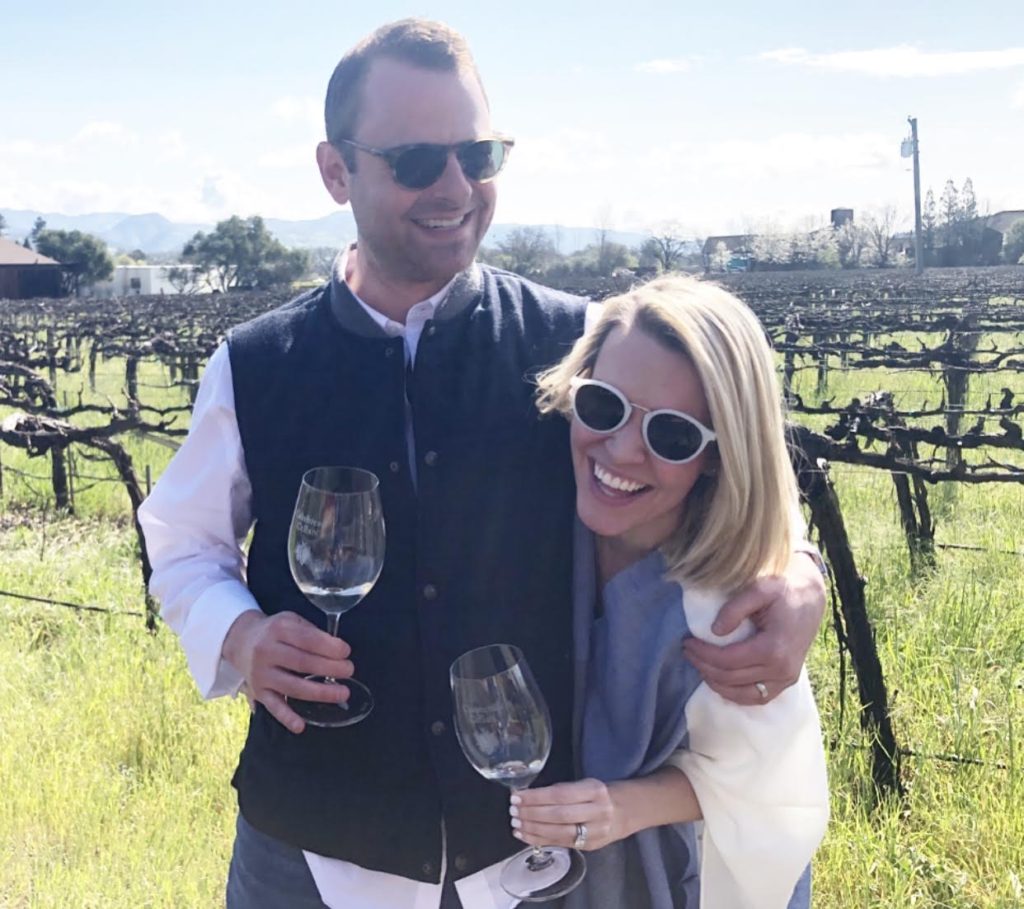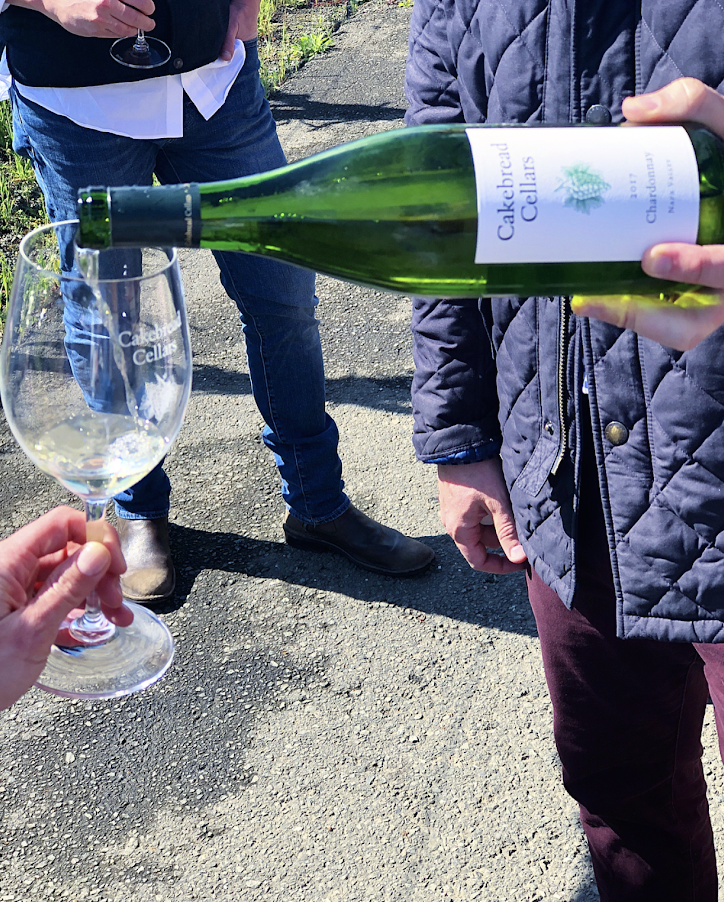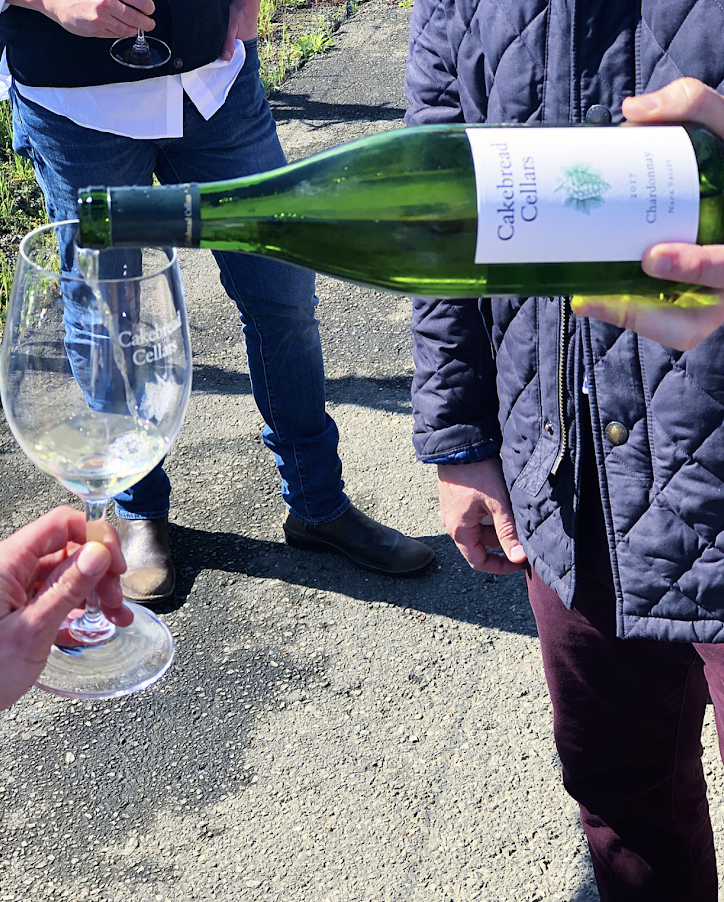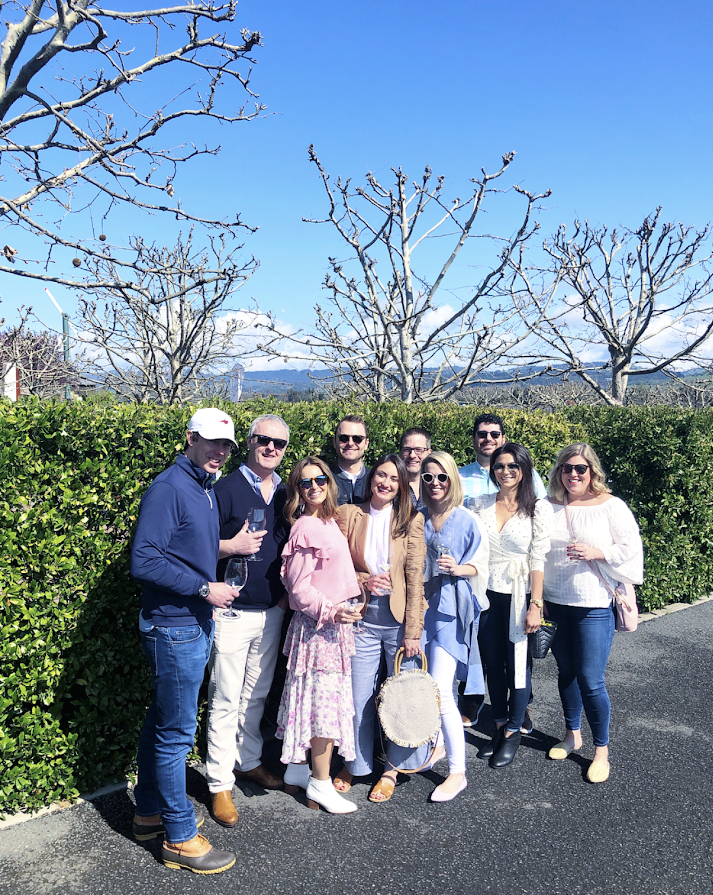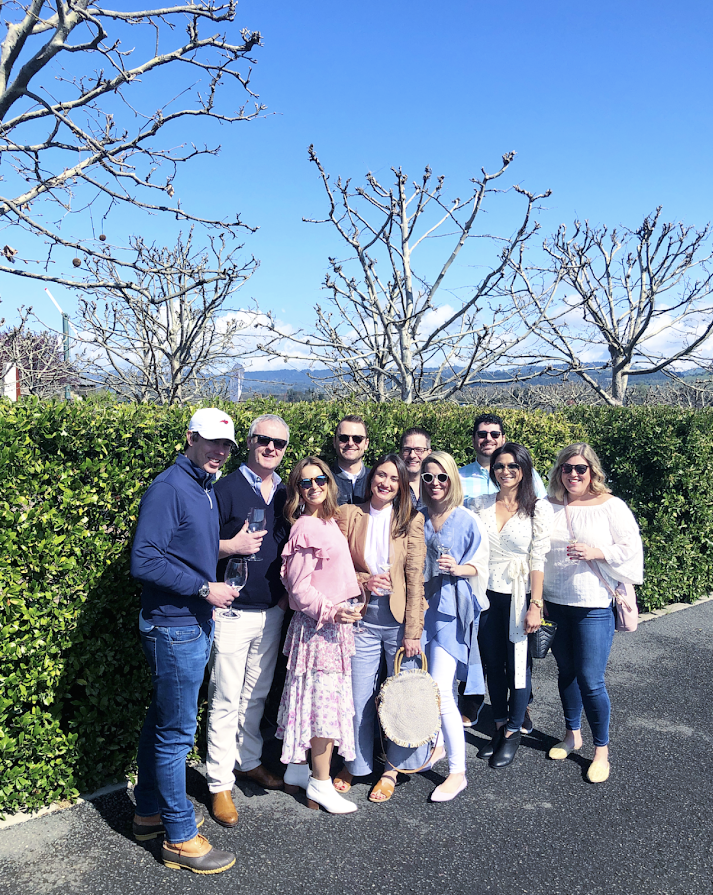 No offense Lilly, but this beat swimming lessons on a Saturday.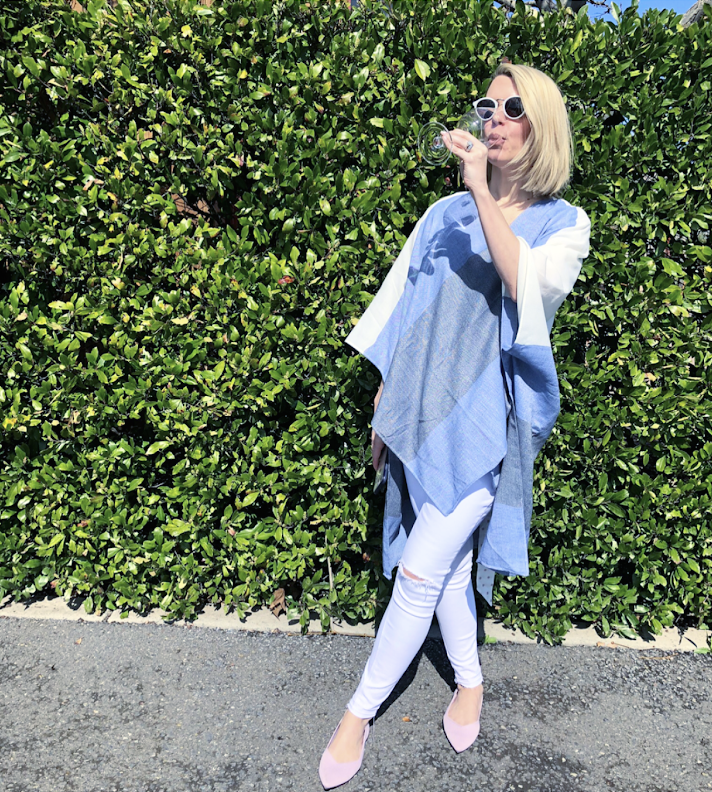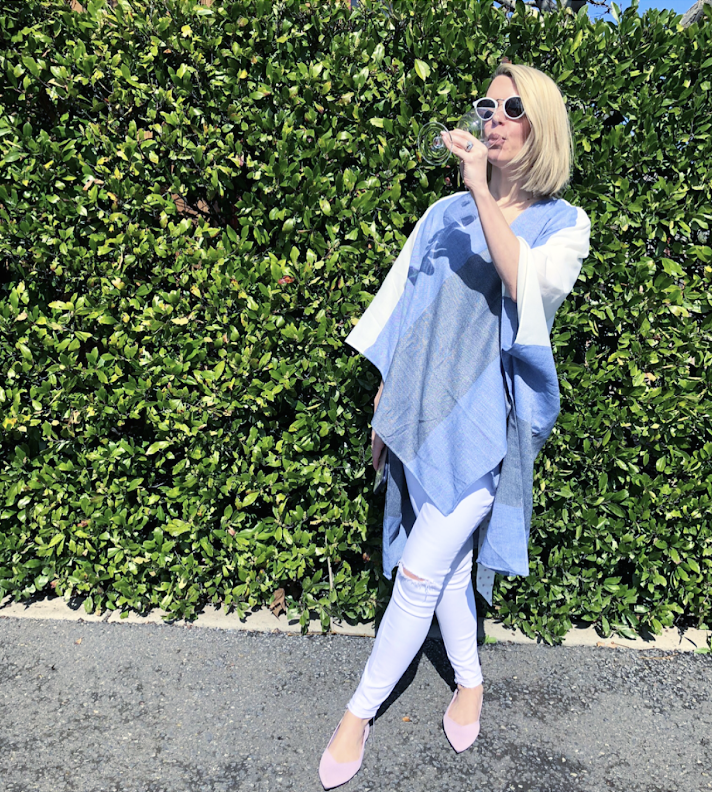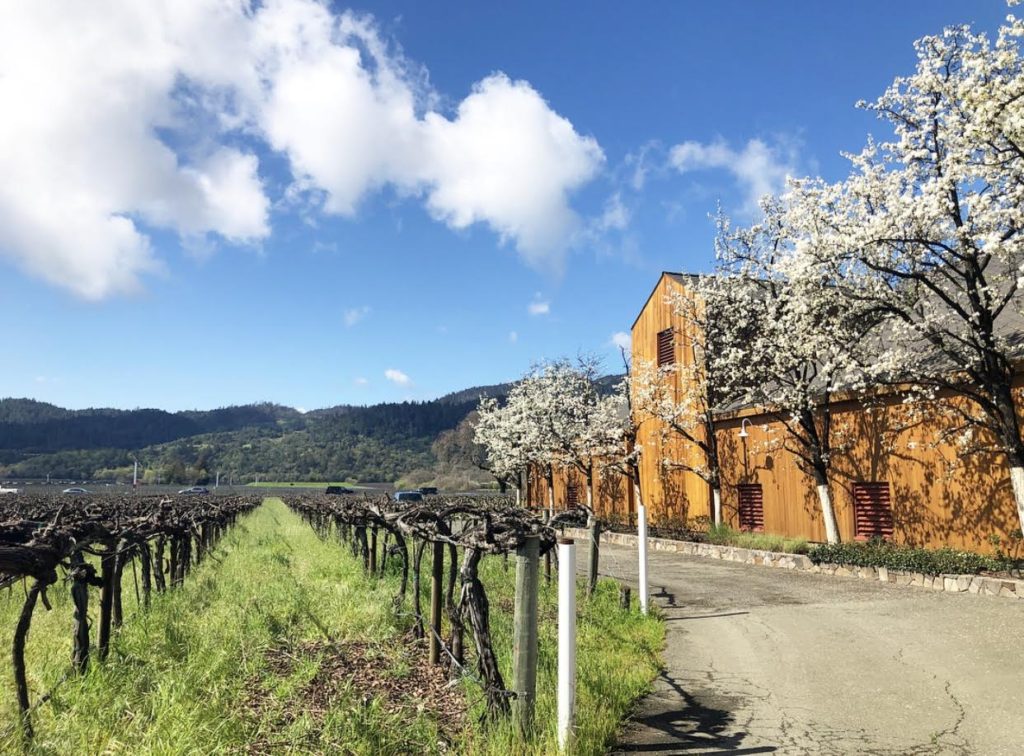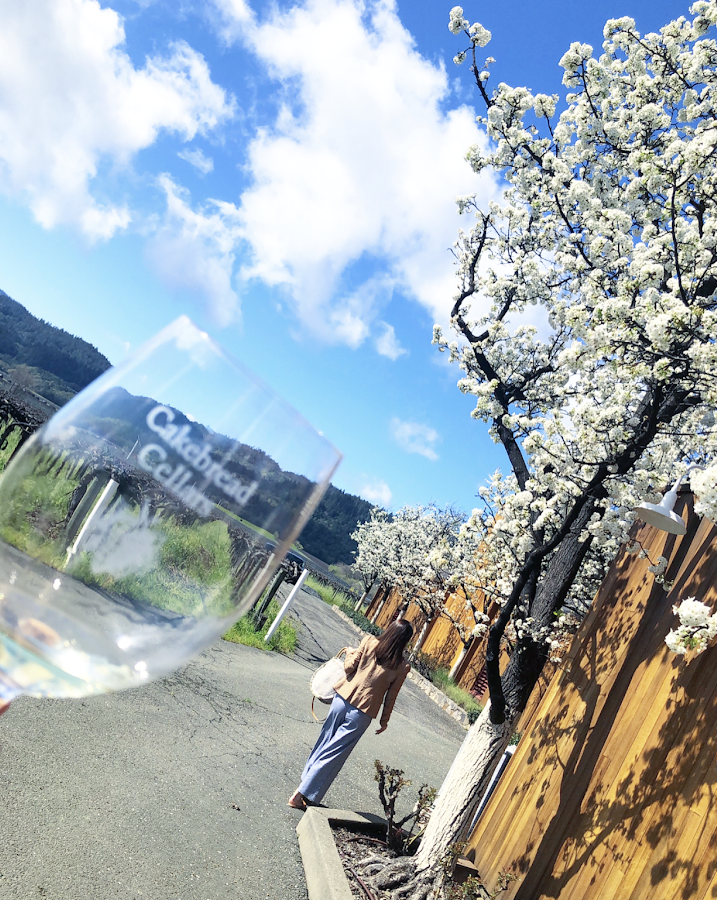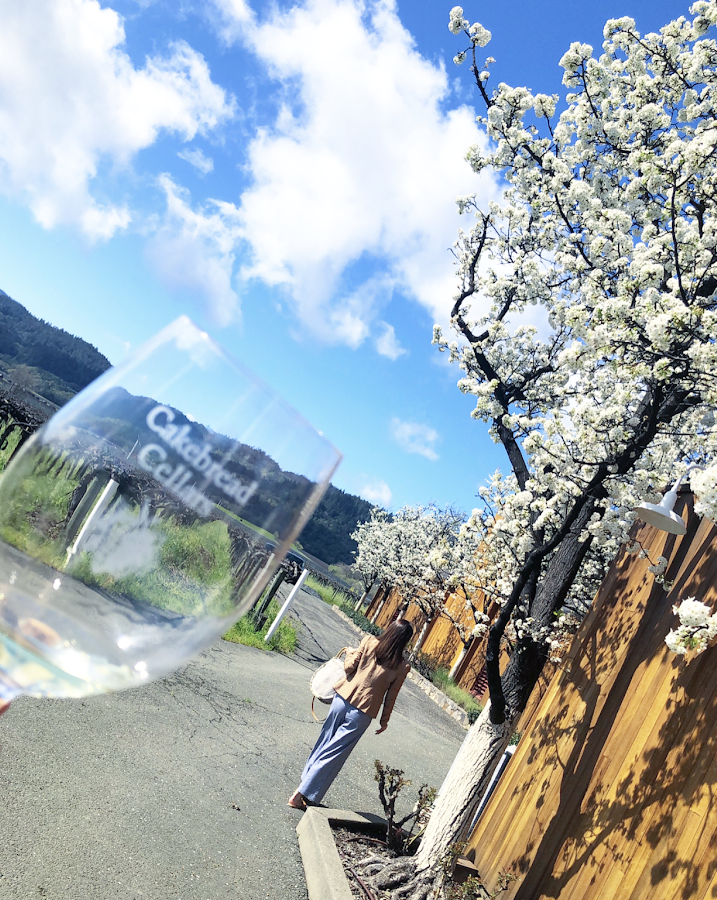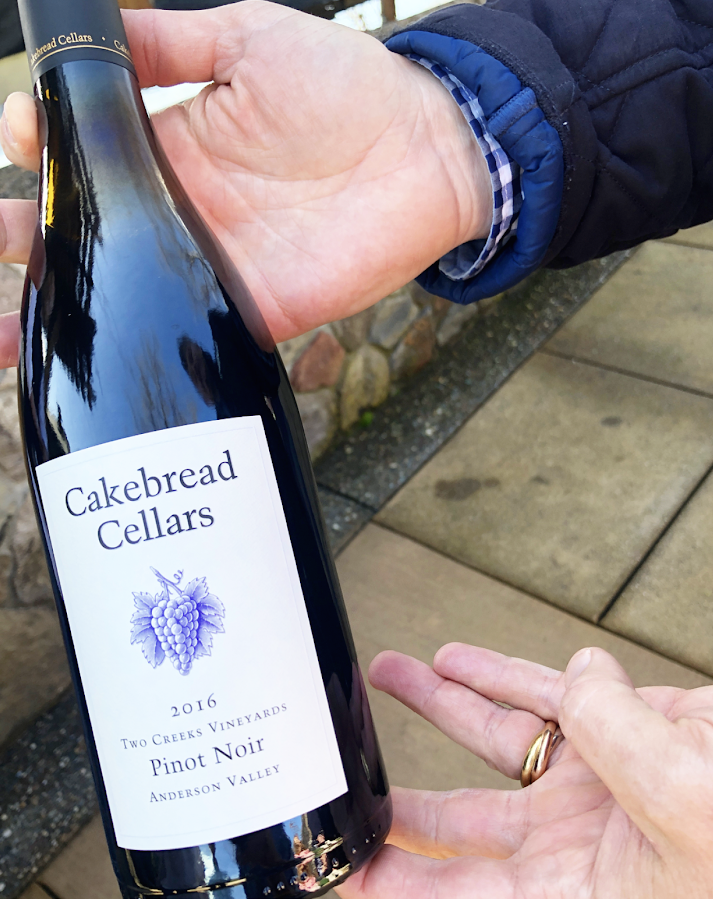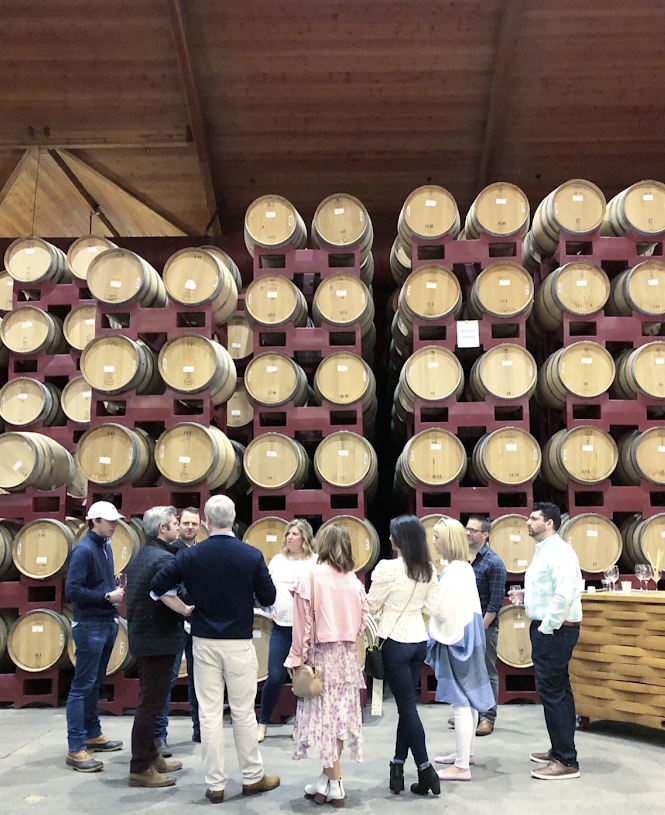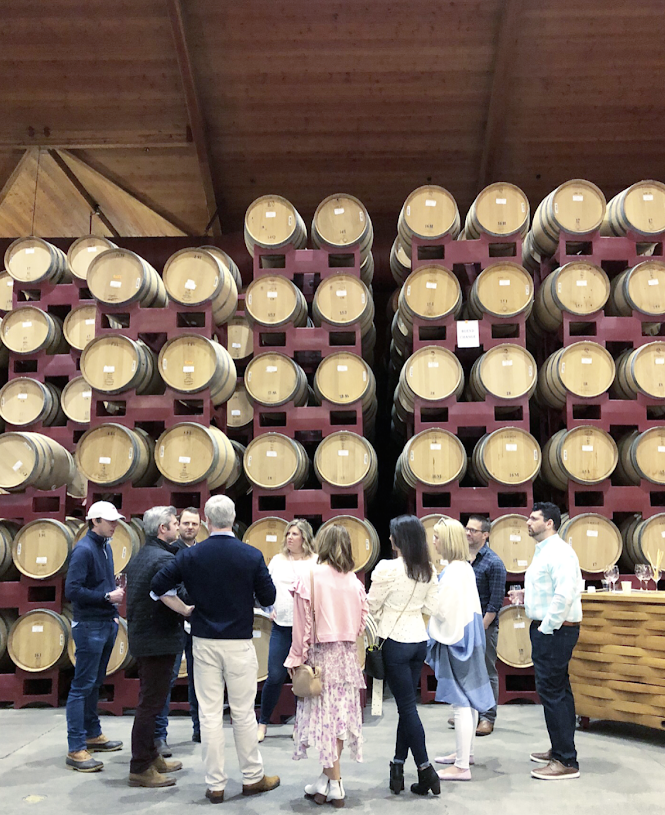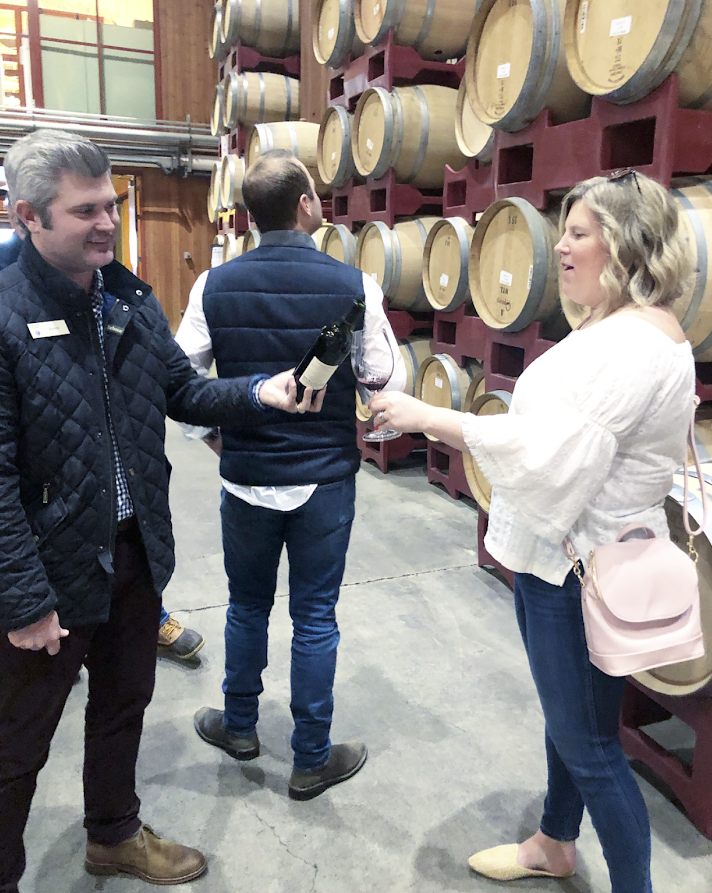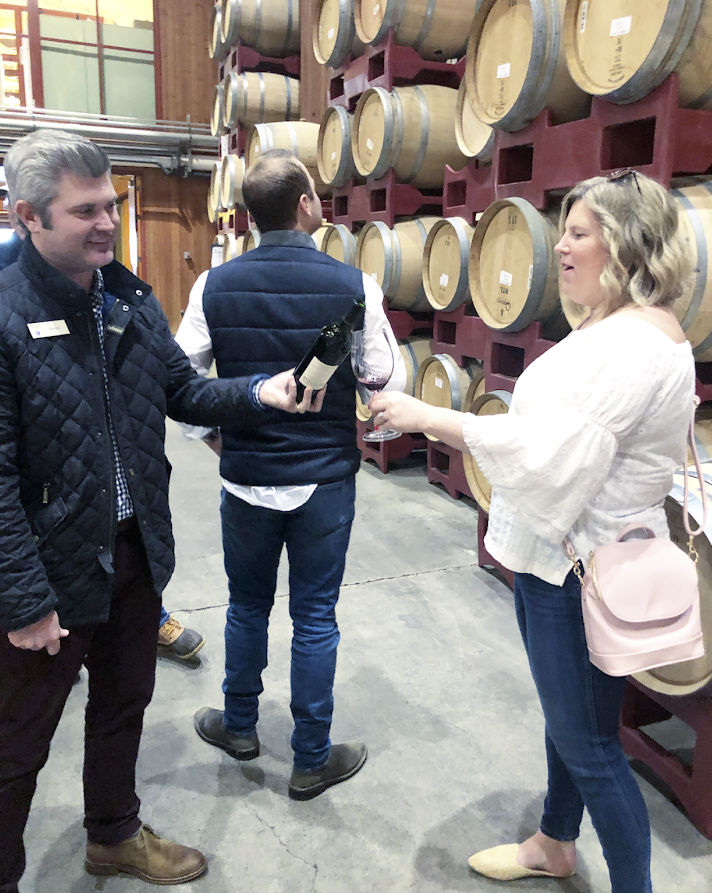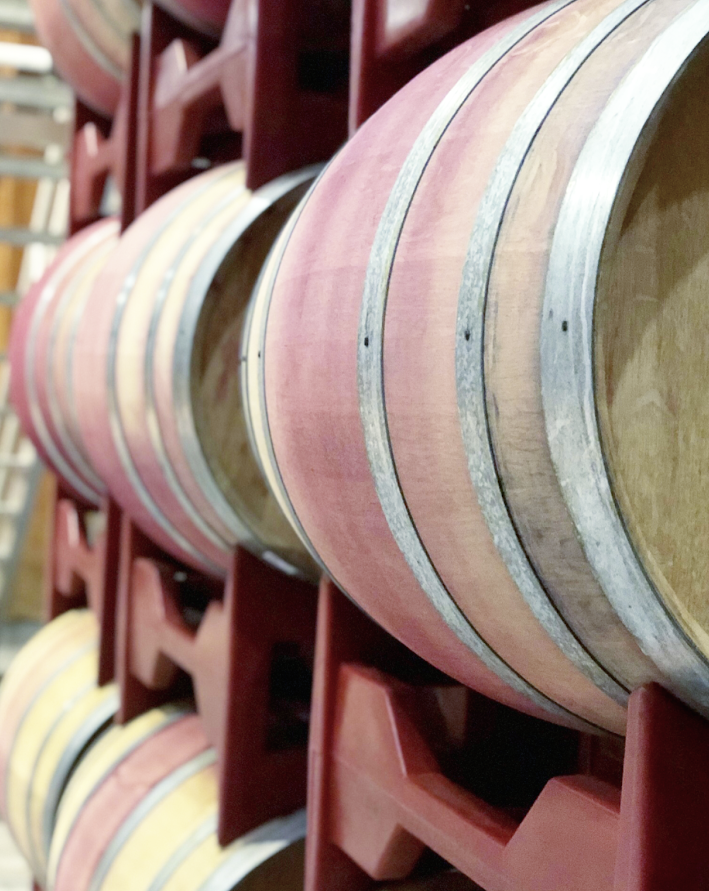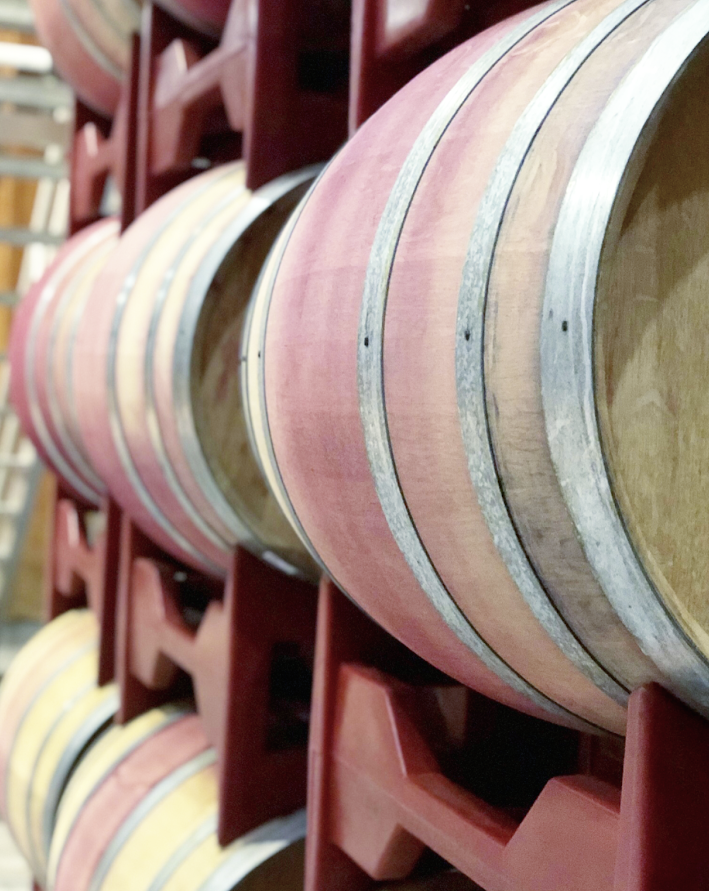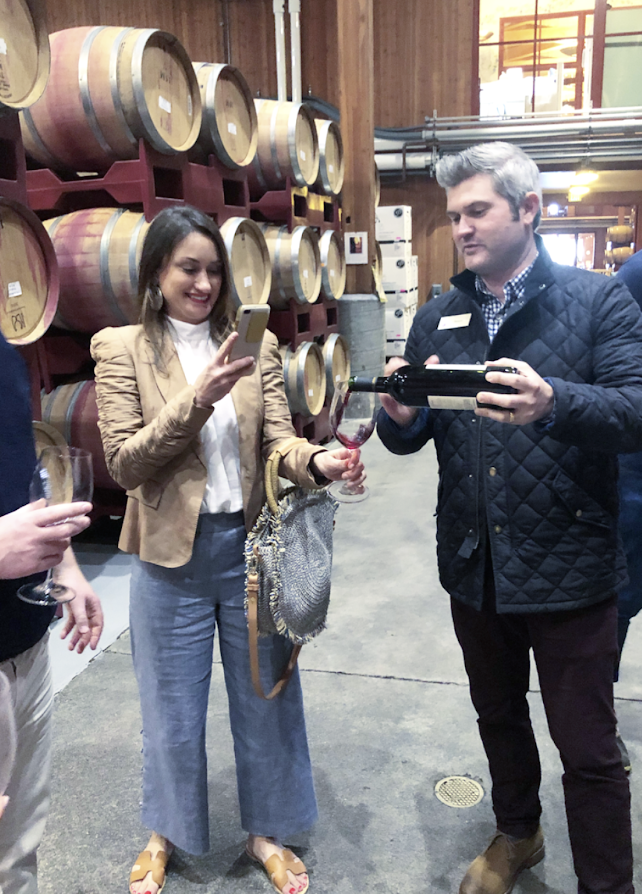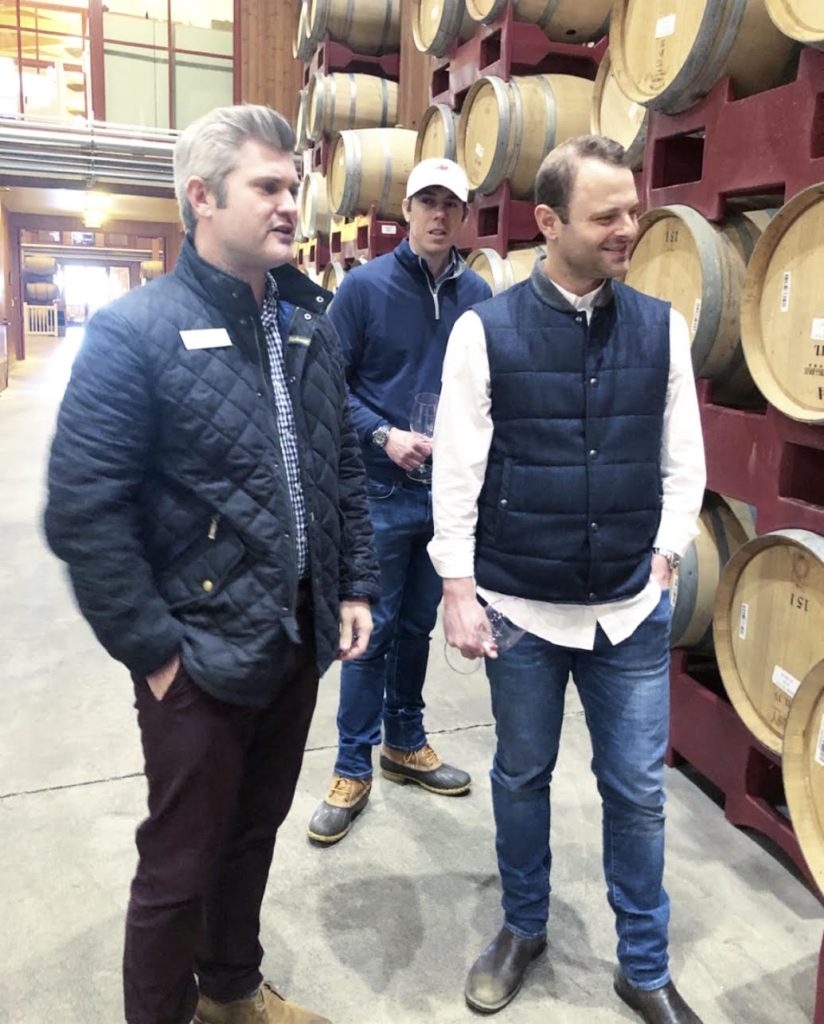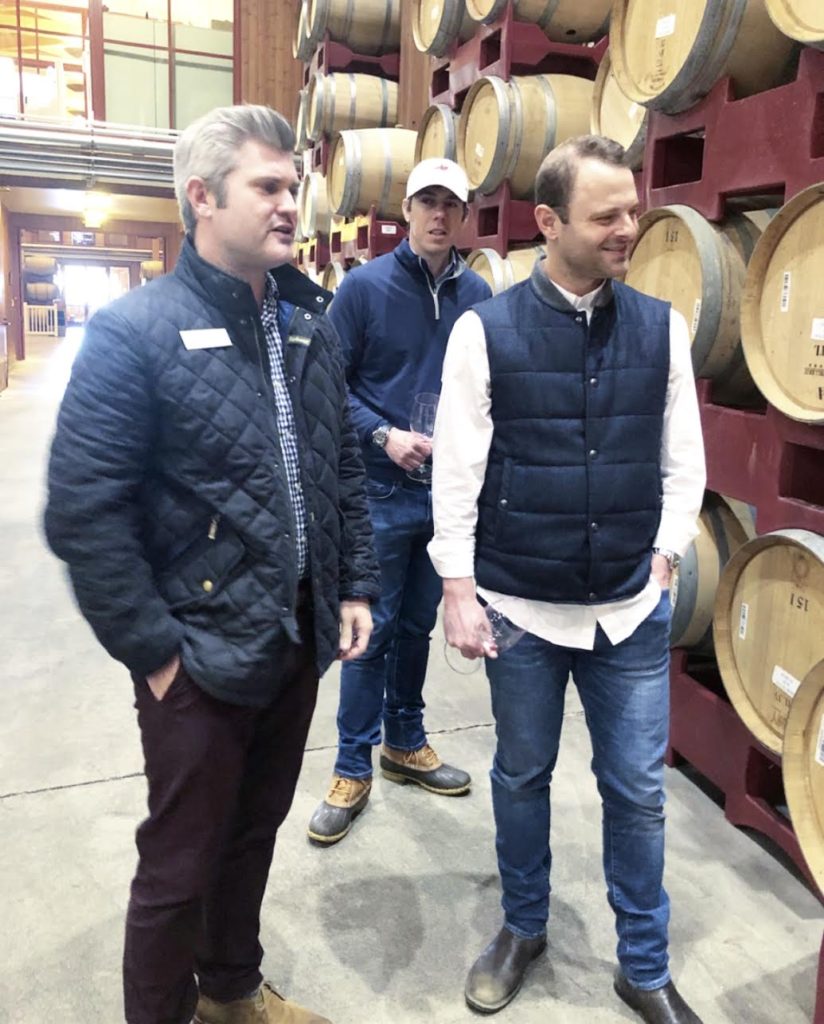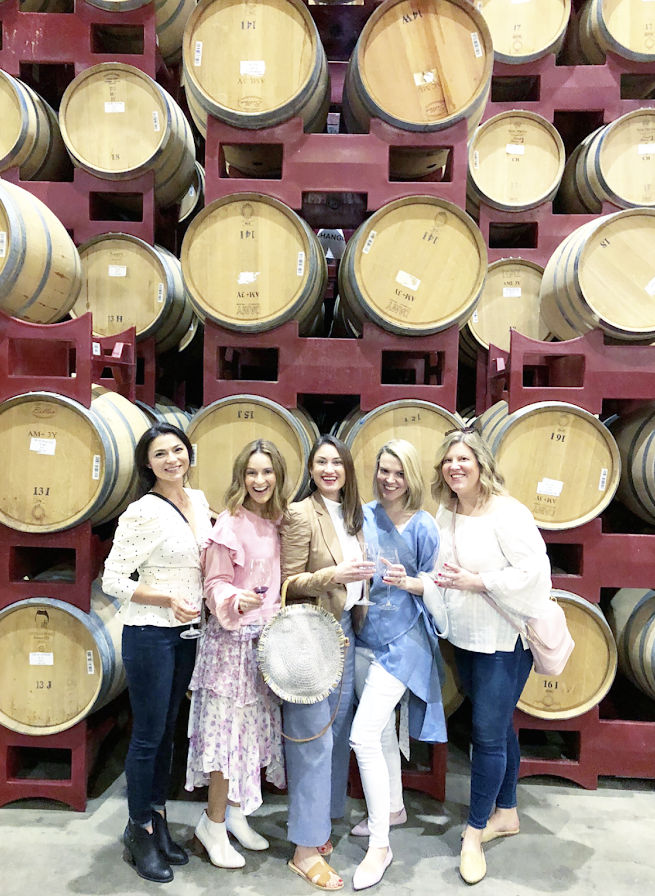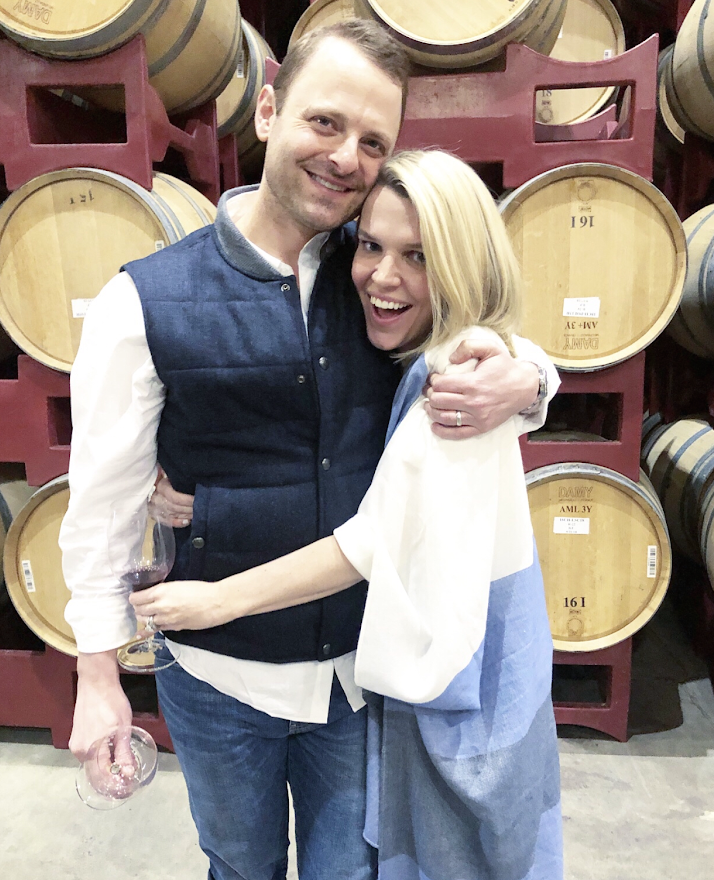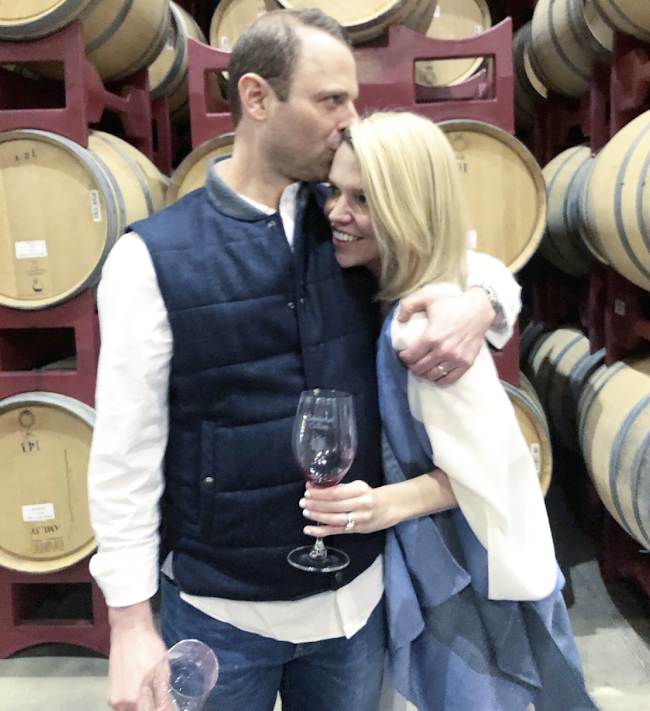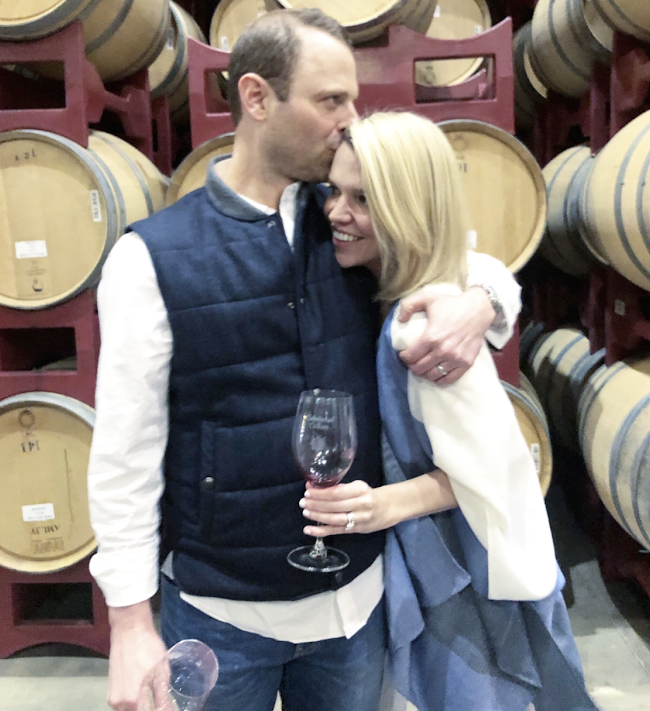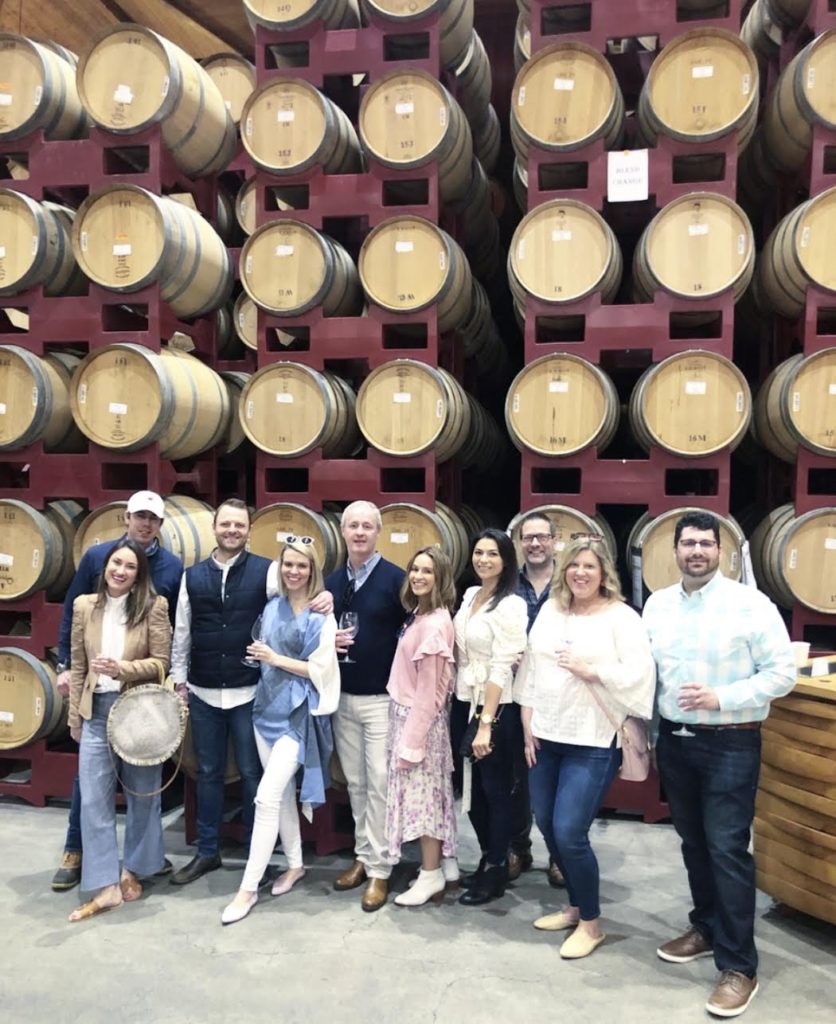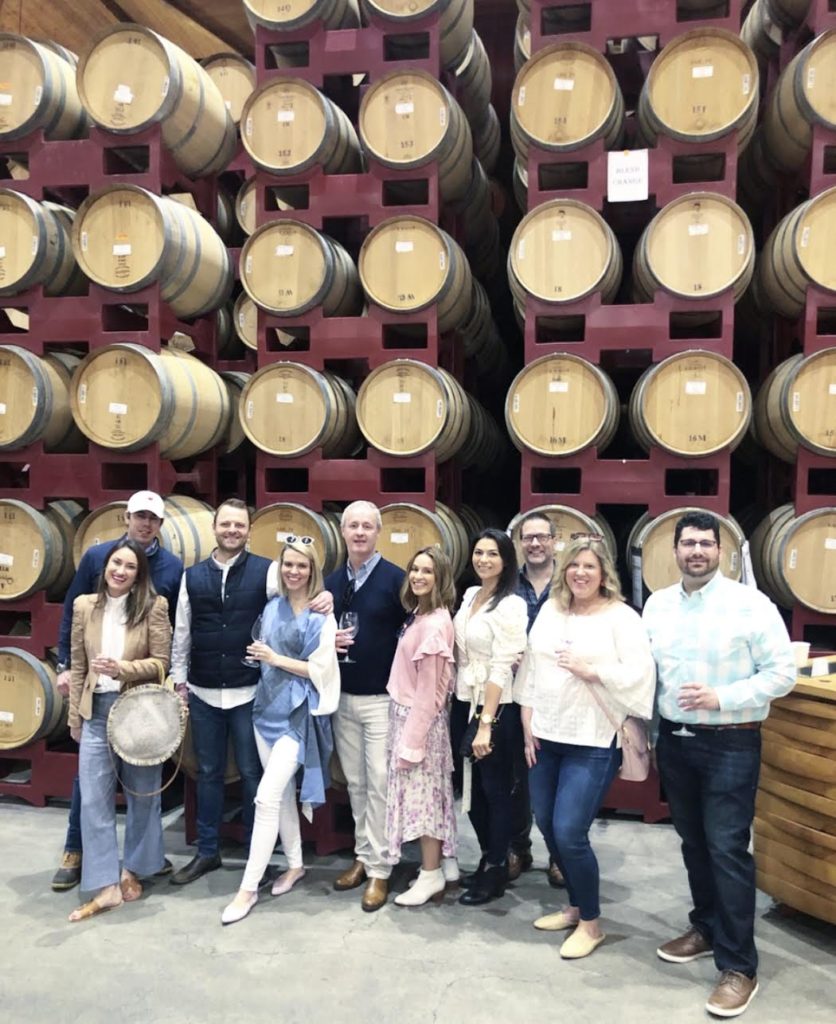 Stag's Leap was next. It was a complete departure from Cakebread. It felt a bit more serious and structured, but that could be because we did a sit-down tasting. The building is modern and austere, which I liked as it's so different than many of the other stately and old school wineries. And the views were breathtaking. Despite the buttoned-up nature, our tasting was really fun while still being informative. My favorite part was the private patio off of the tasting room, where you can unwind, sip some of your favorite blends, take in the scenery and, if you're like us, snap 500 photos.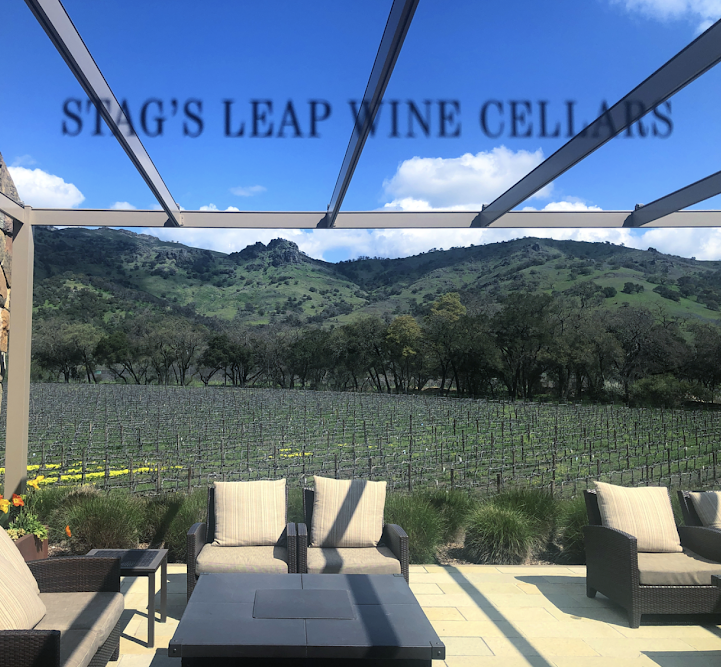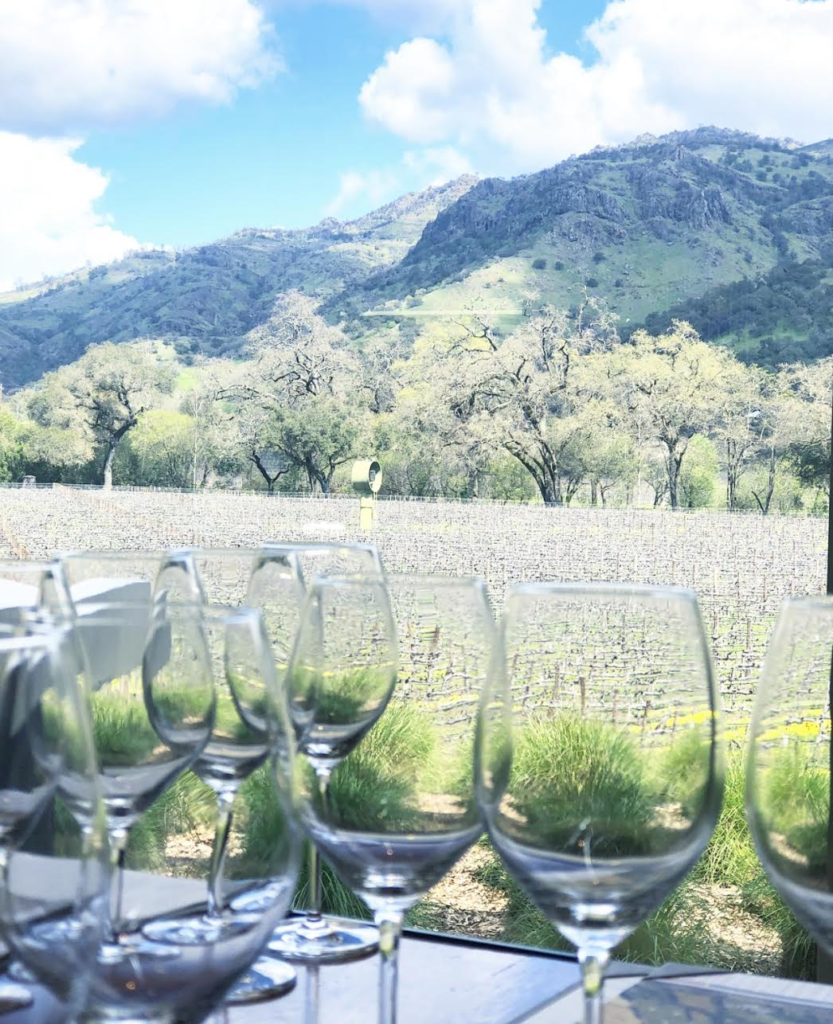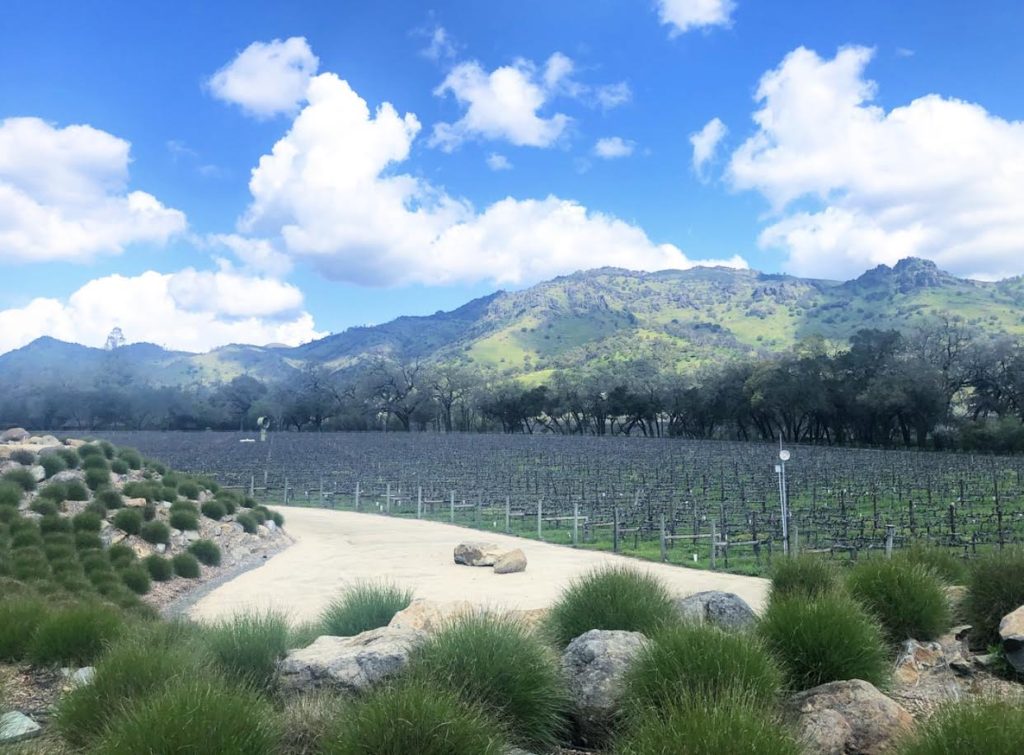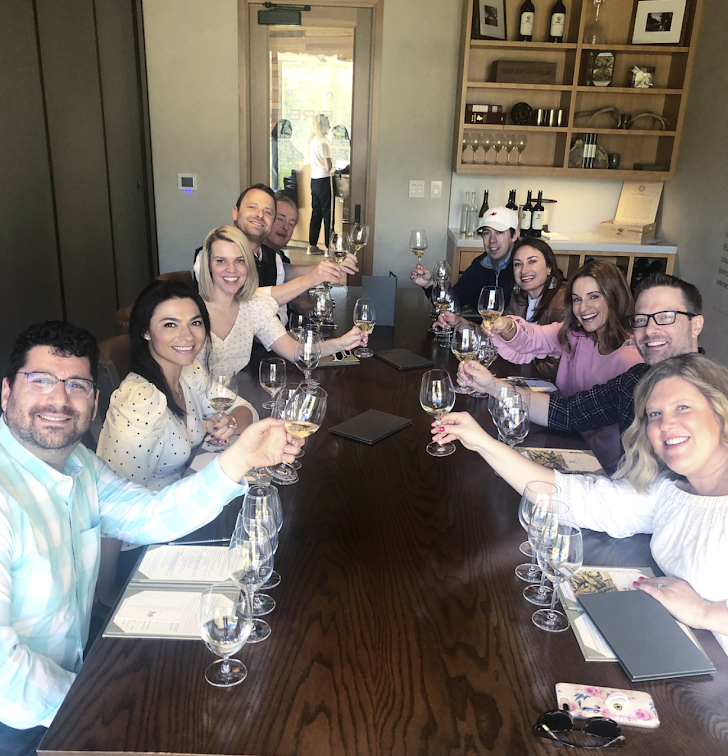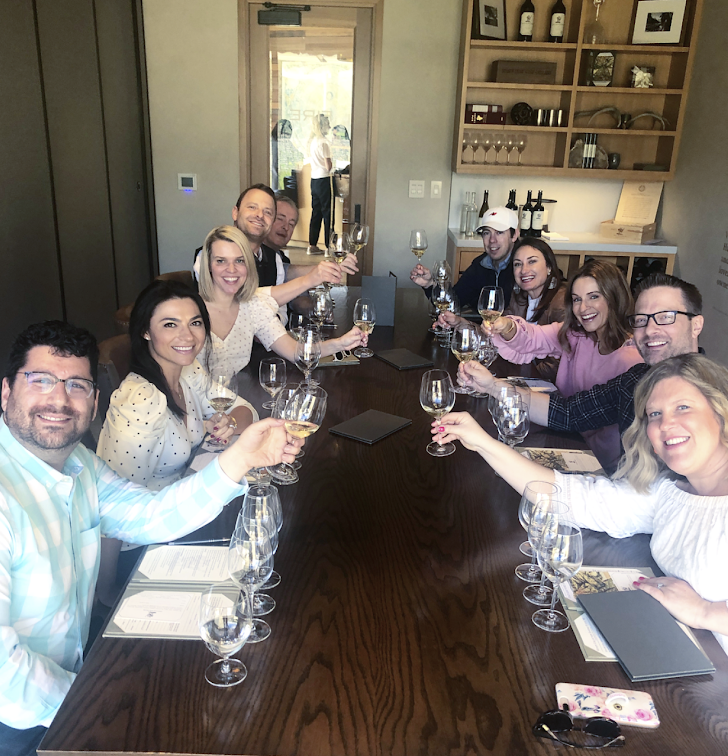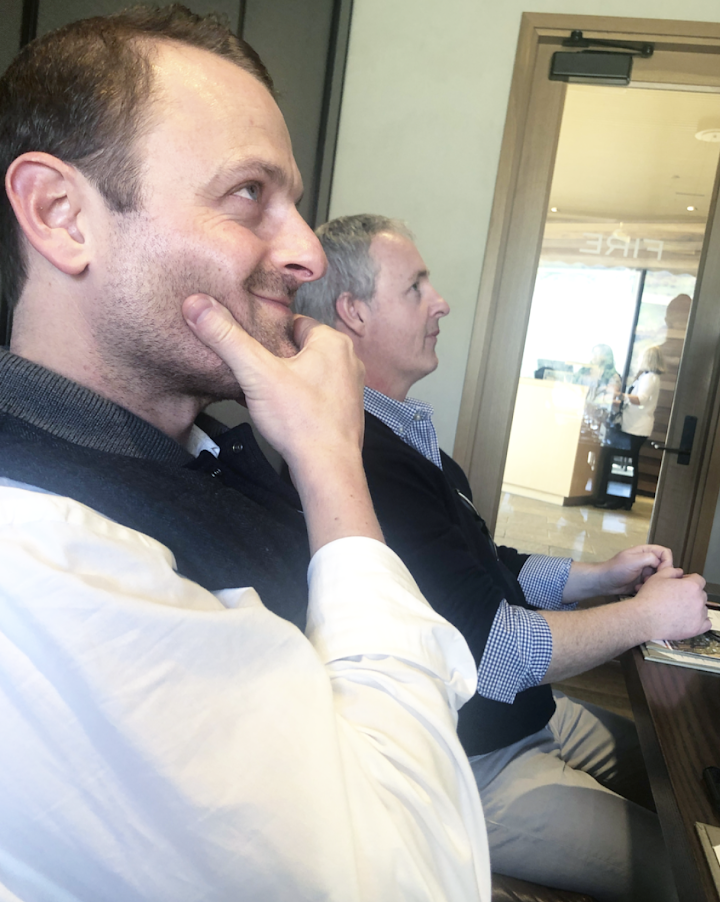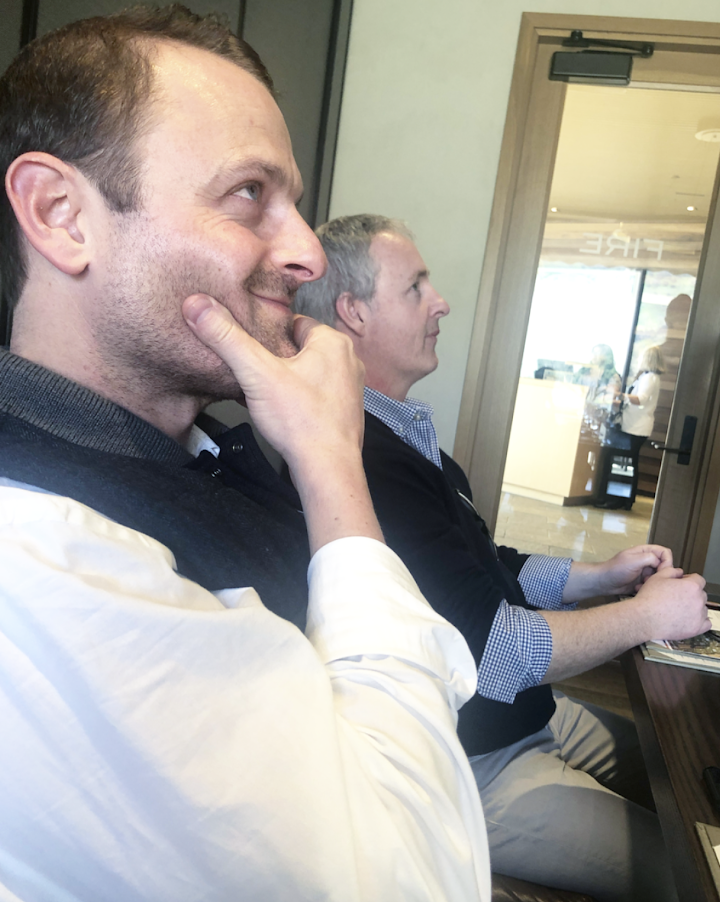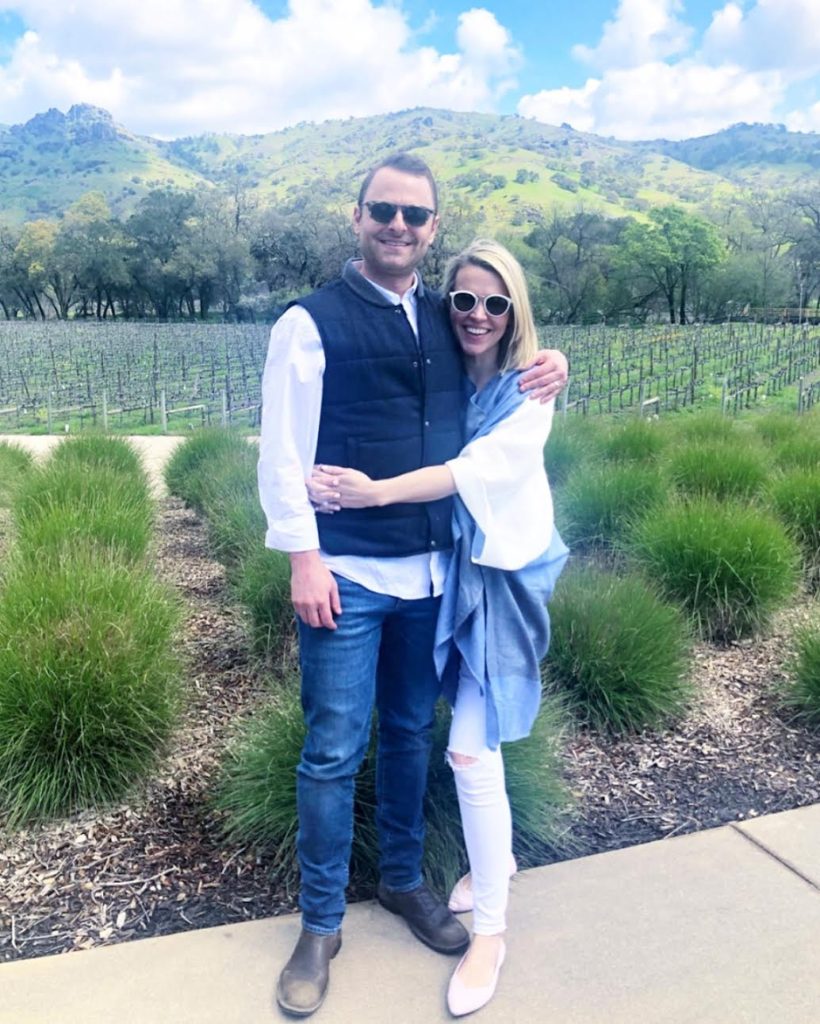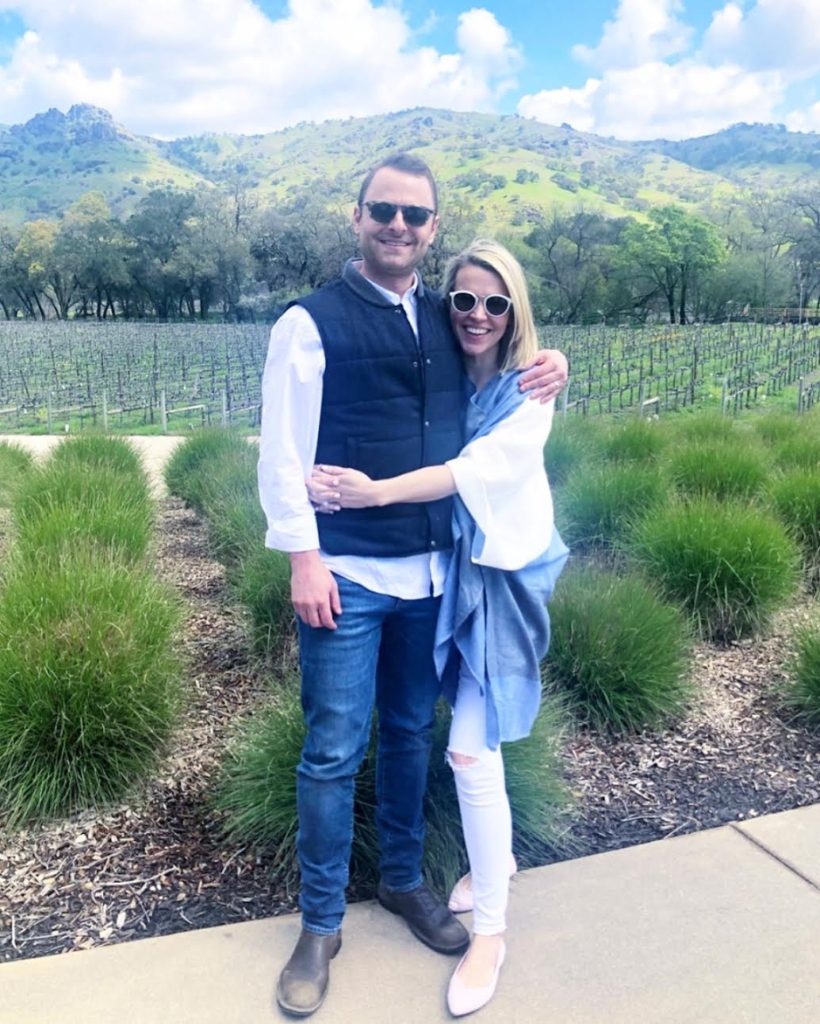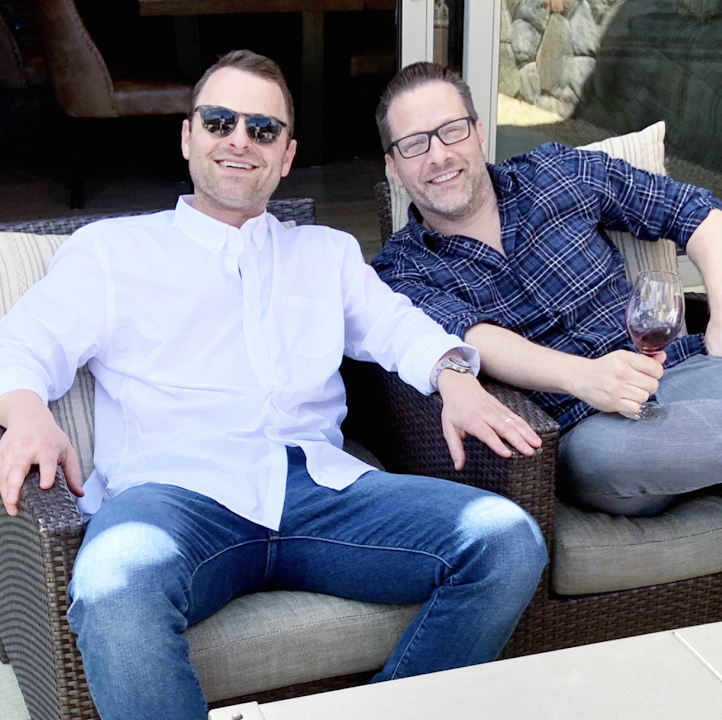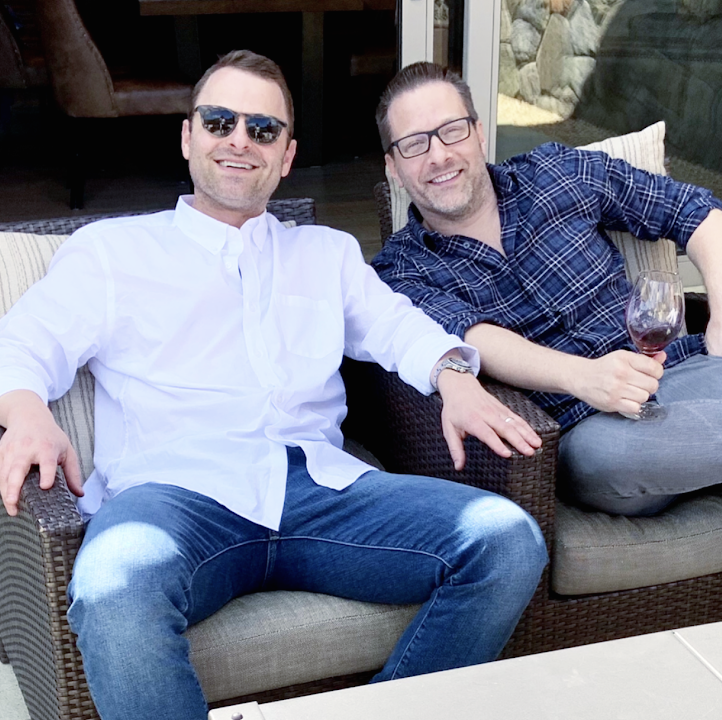 Sunset heart hands.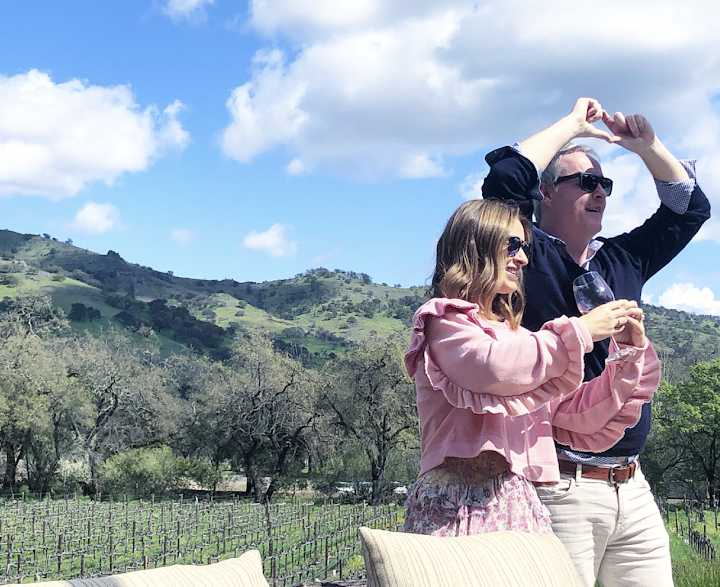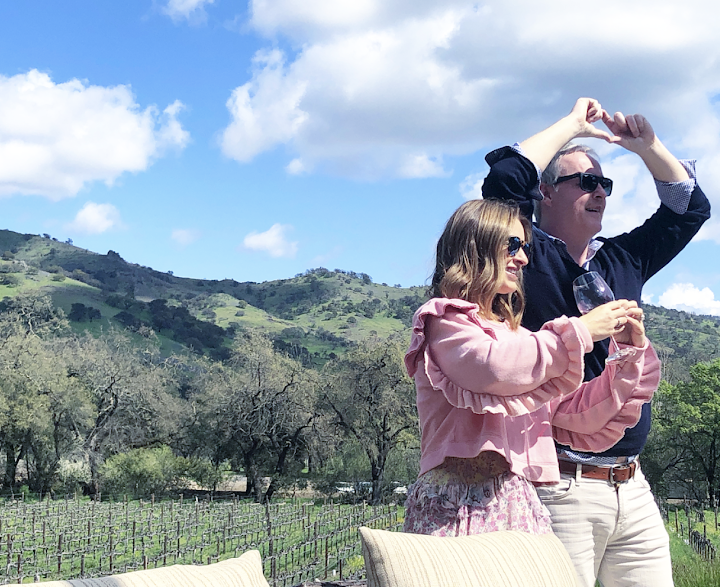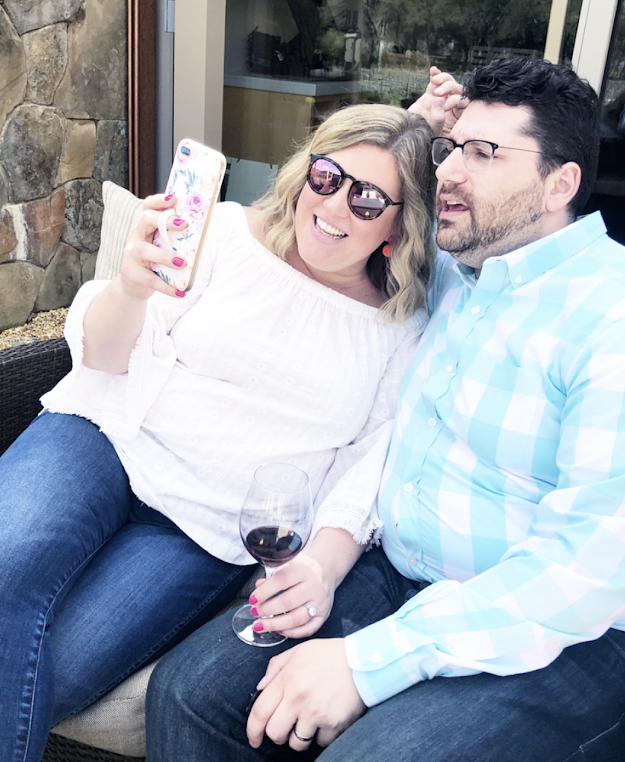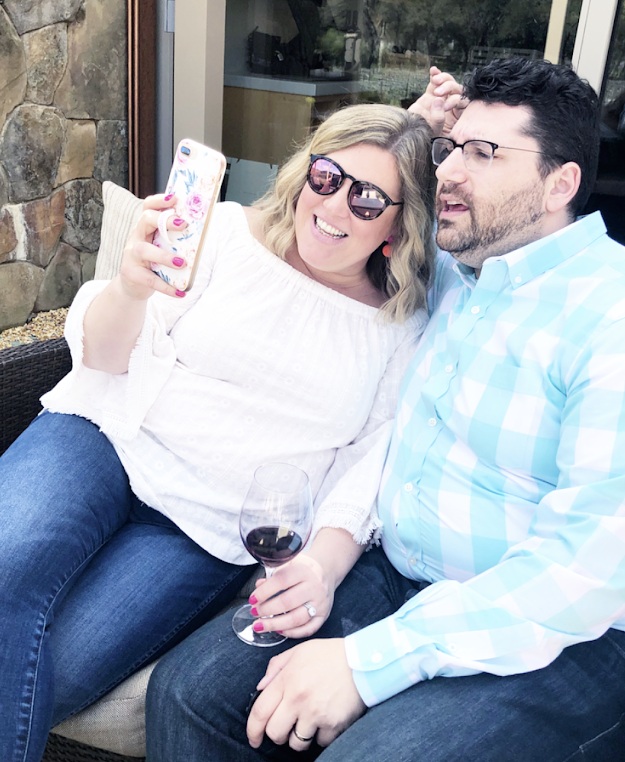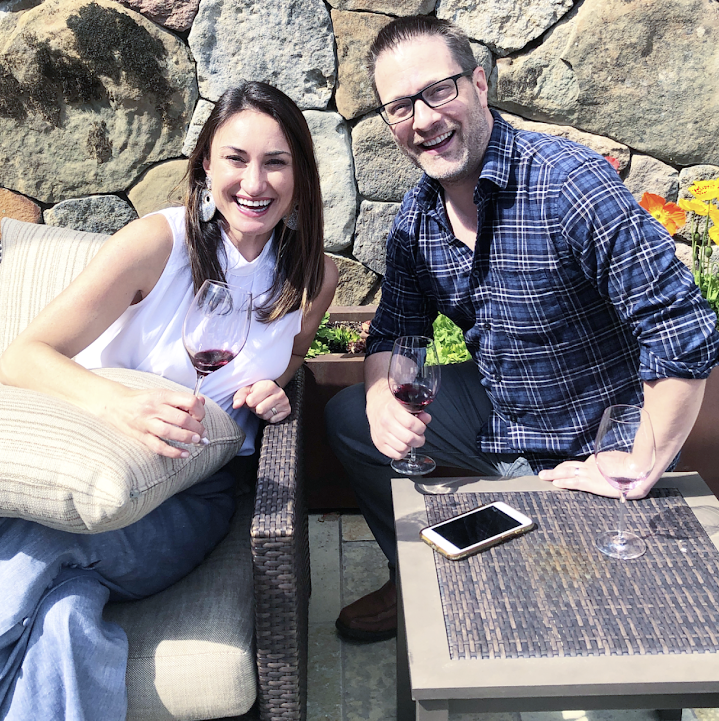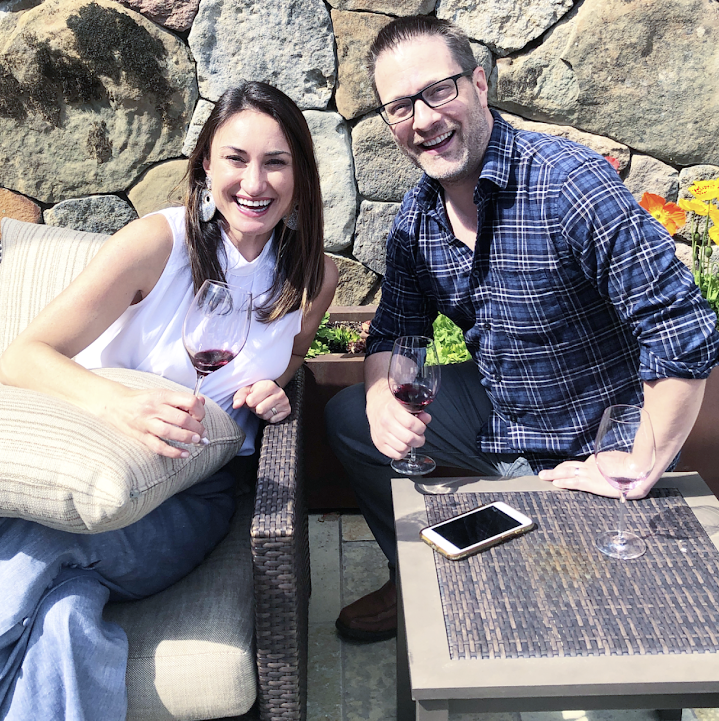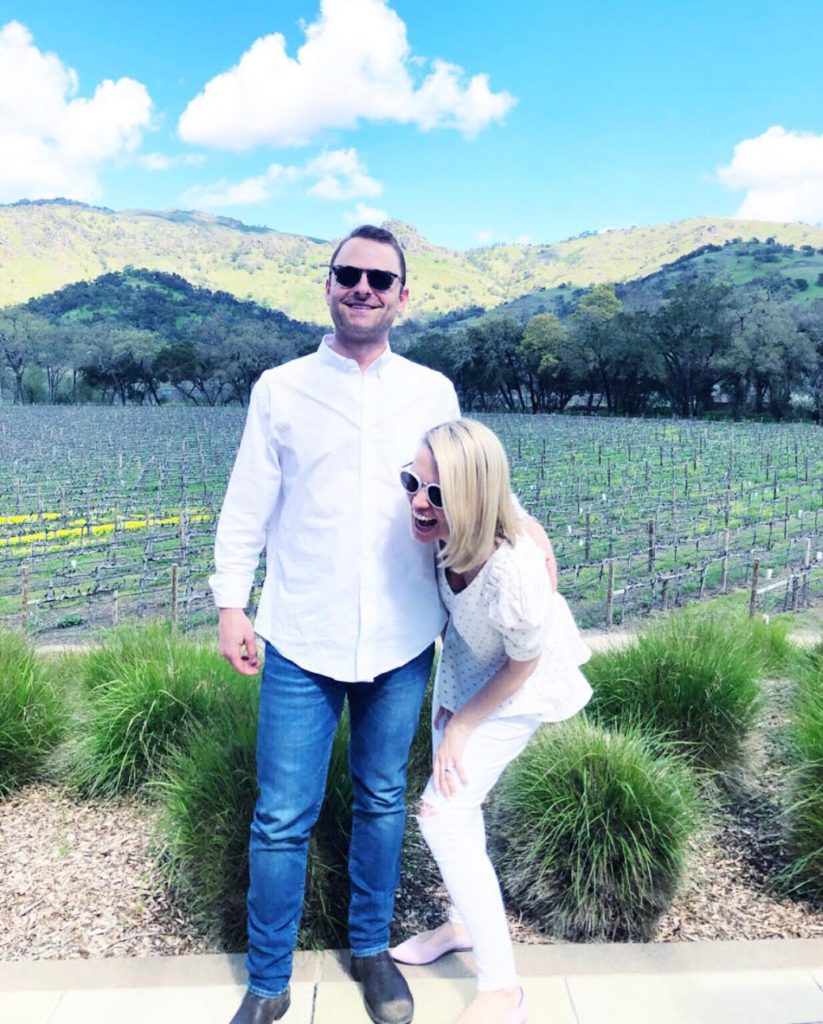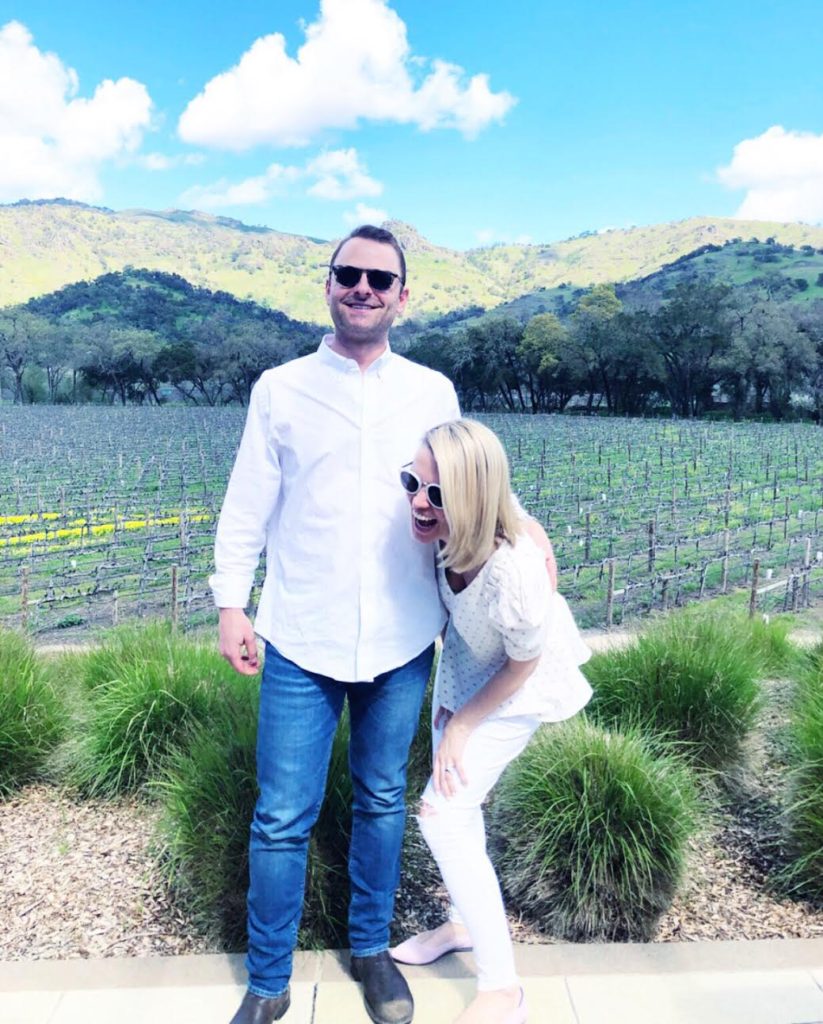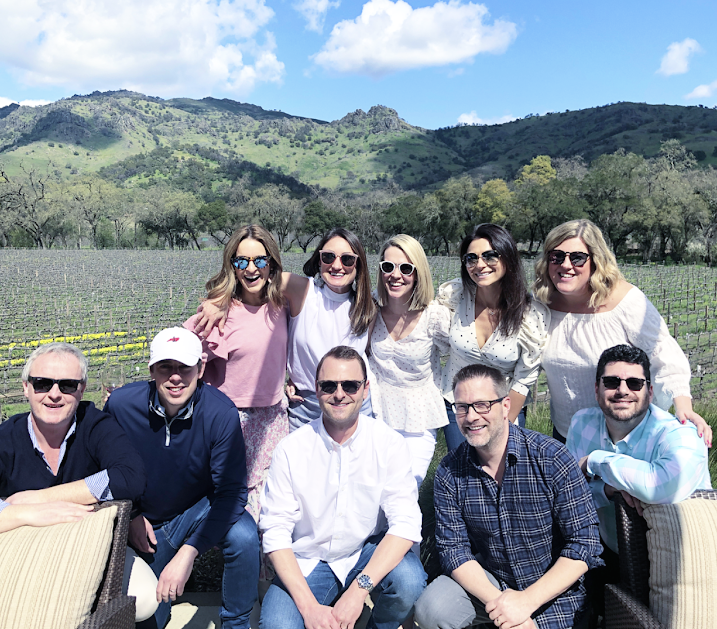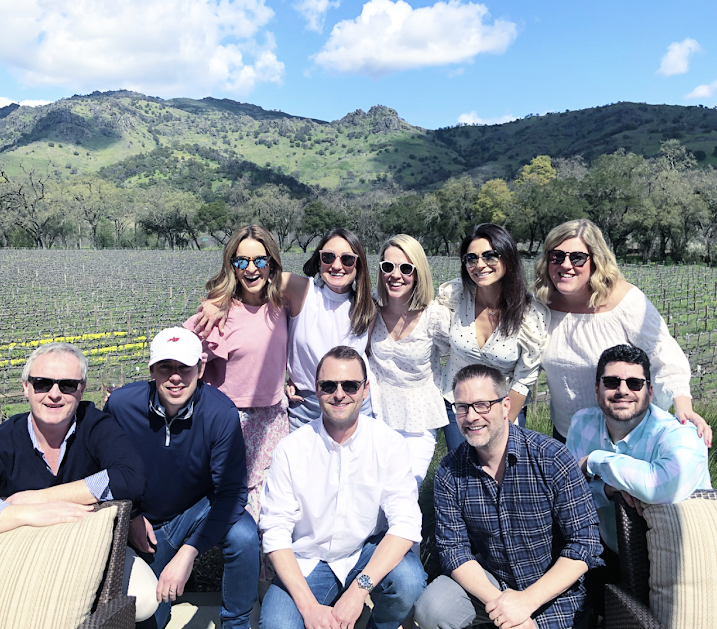 What's a day in Napa wihout a stop at Bouchon Bakery? We did a drive-by of the iconic patisserie to pick up breakfast for the following morning.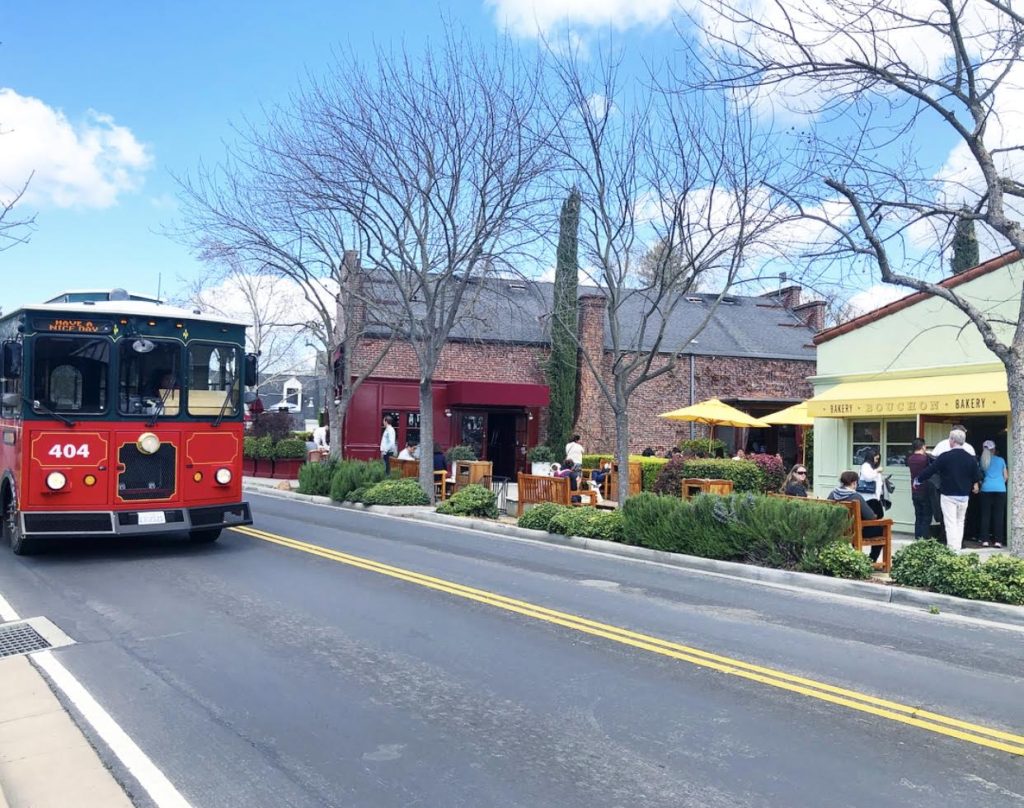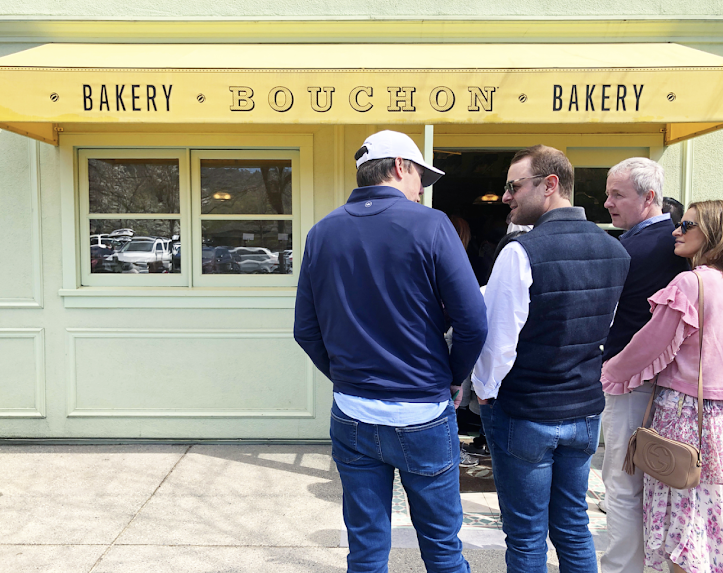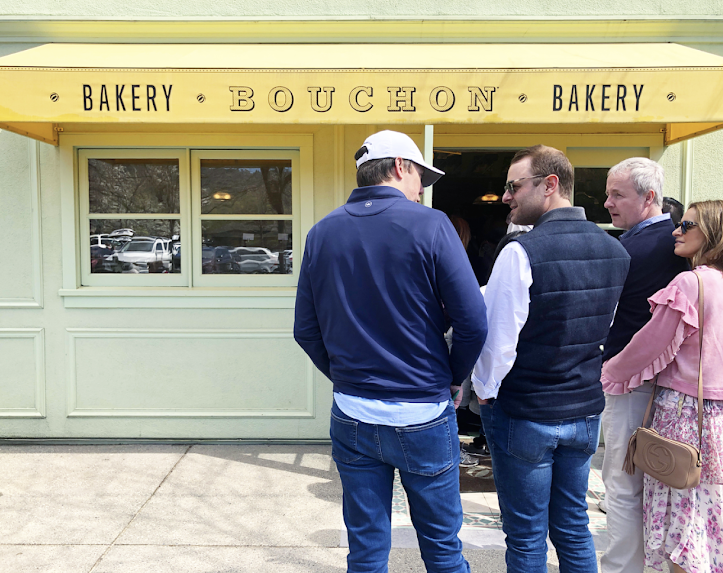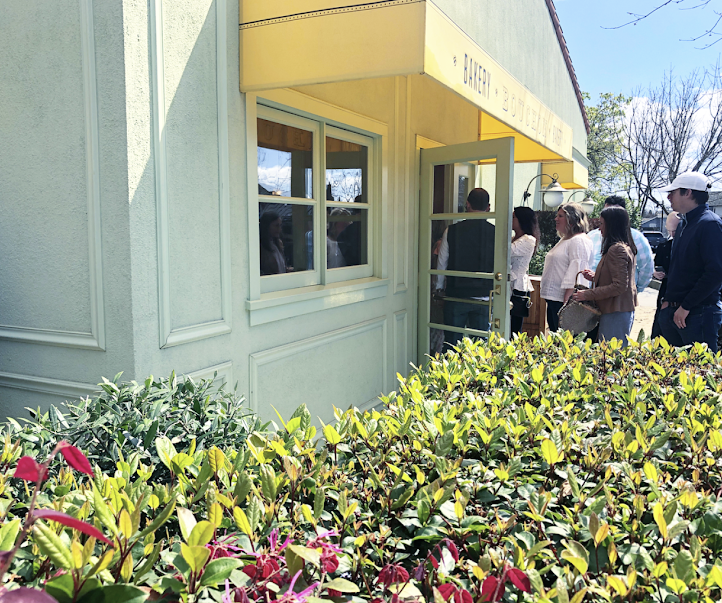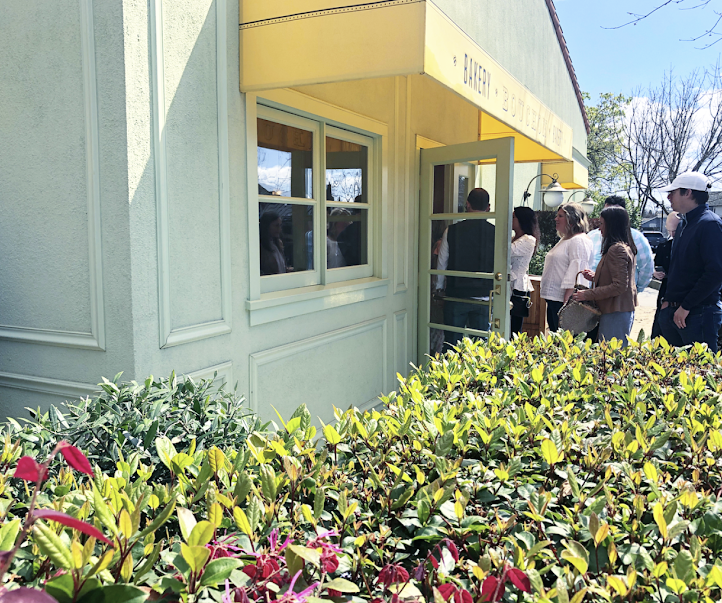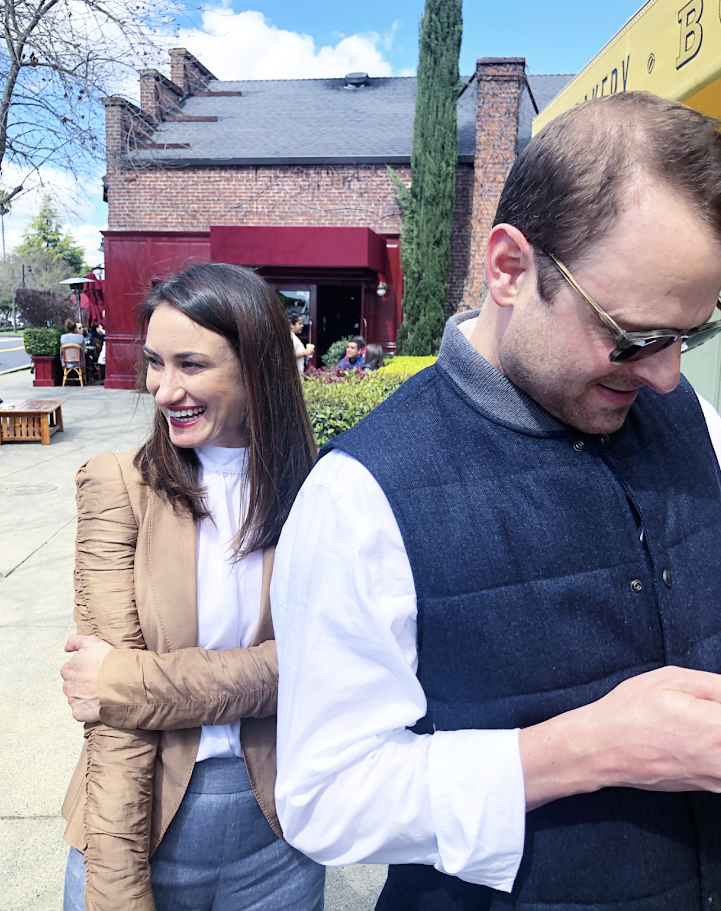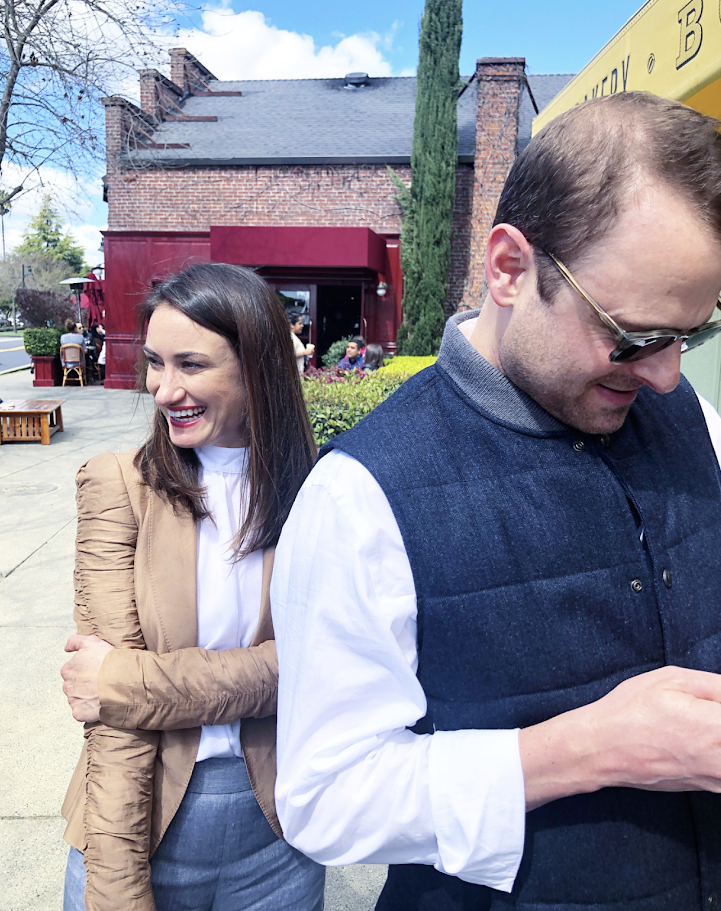 Next up: Sterling Vineyards. I'll be honest, we went there specifically for the gondola, or aerial tram, as they call it. We're suckers for an experience. And while the wait made it feel a bit like an amusement park, the time in the vehicle and the view at the top were worth it.
But, first, before we made it to the top, I, once again, went to the restroom and came back to these crazy cats in mini party hats.
I love them so, so much.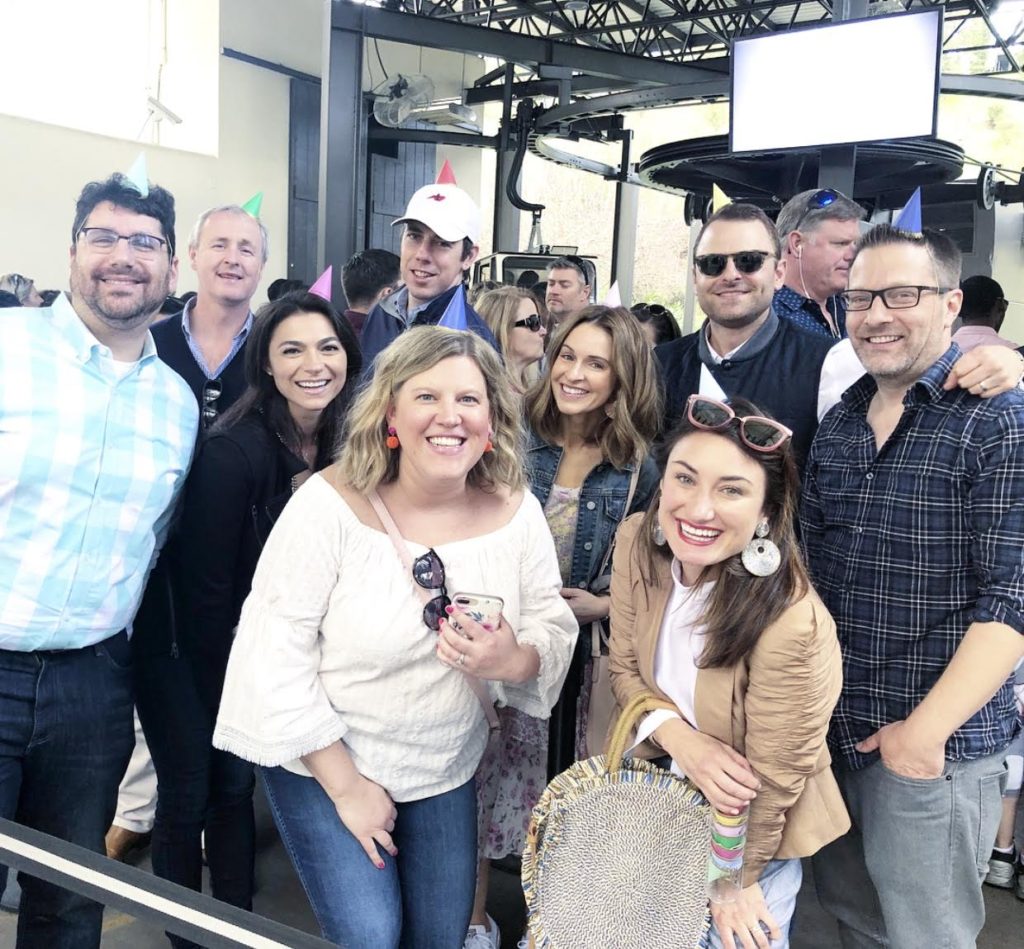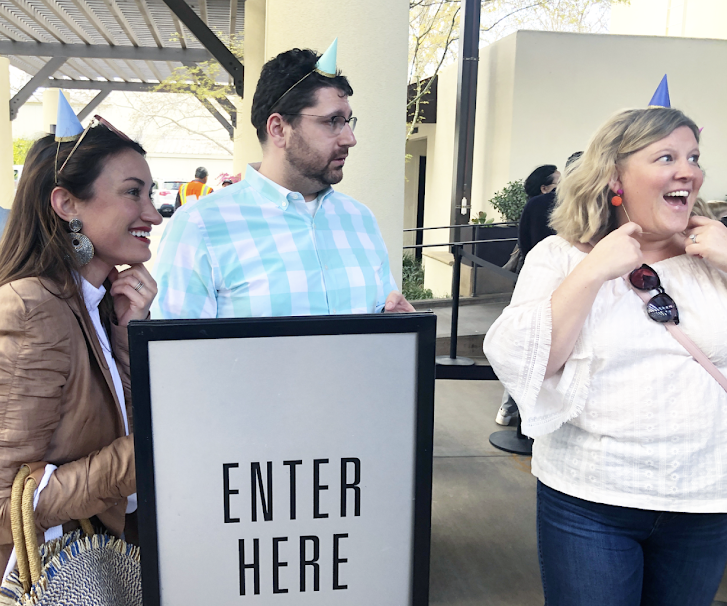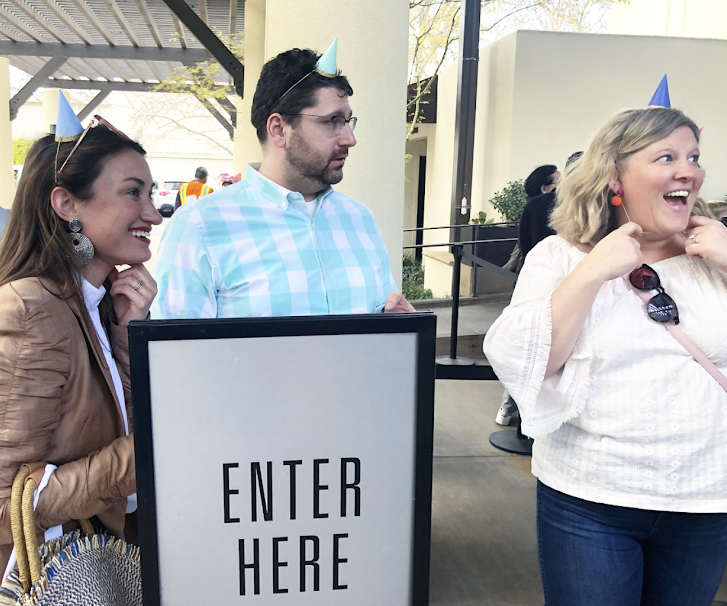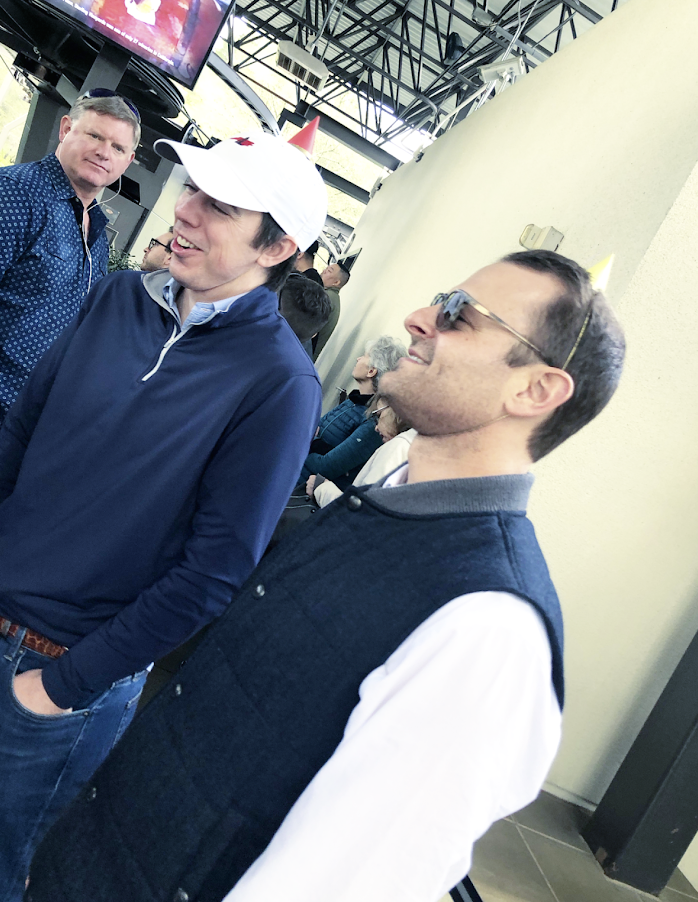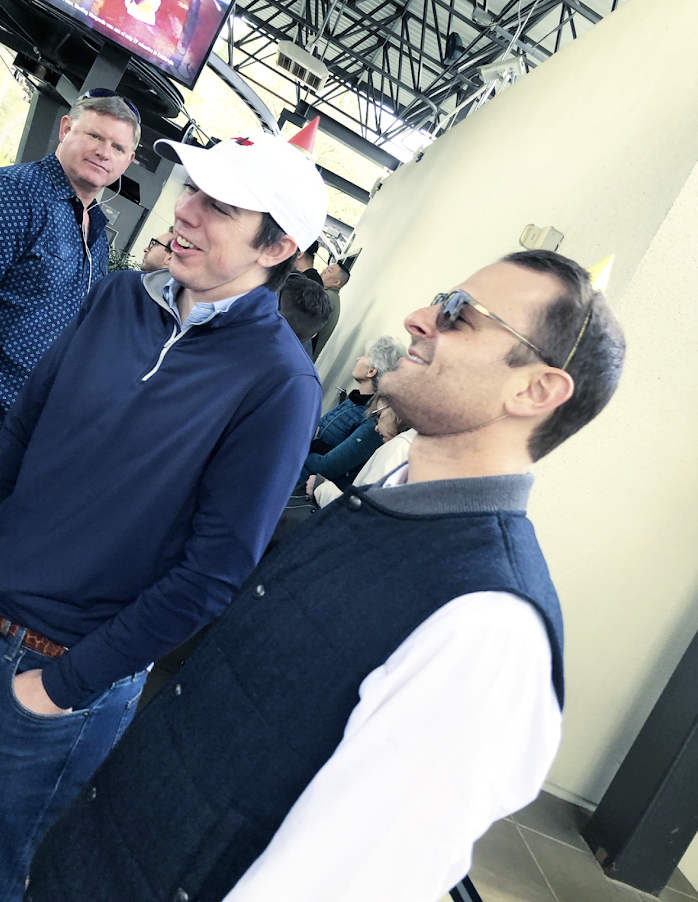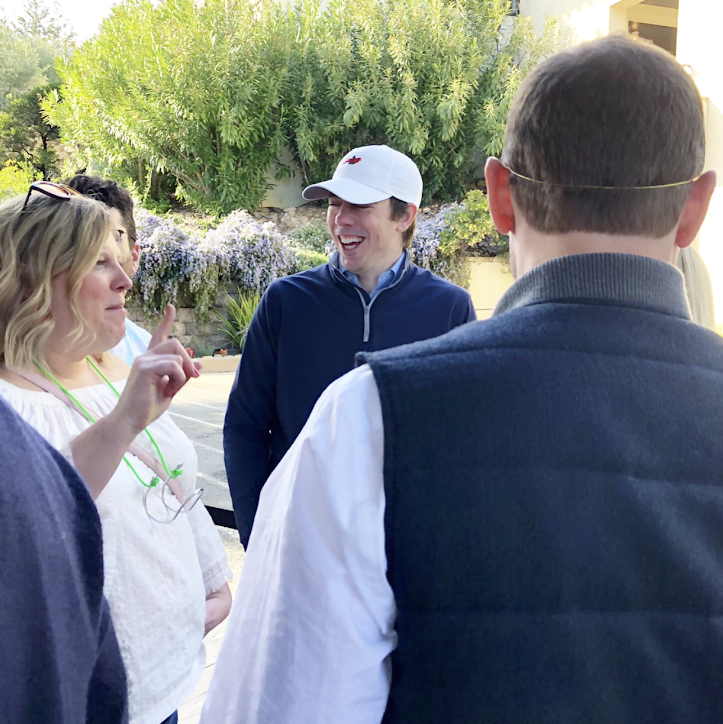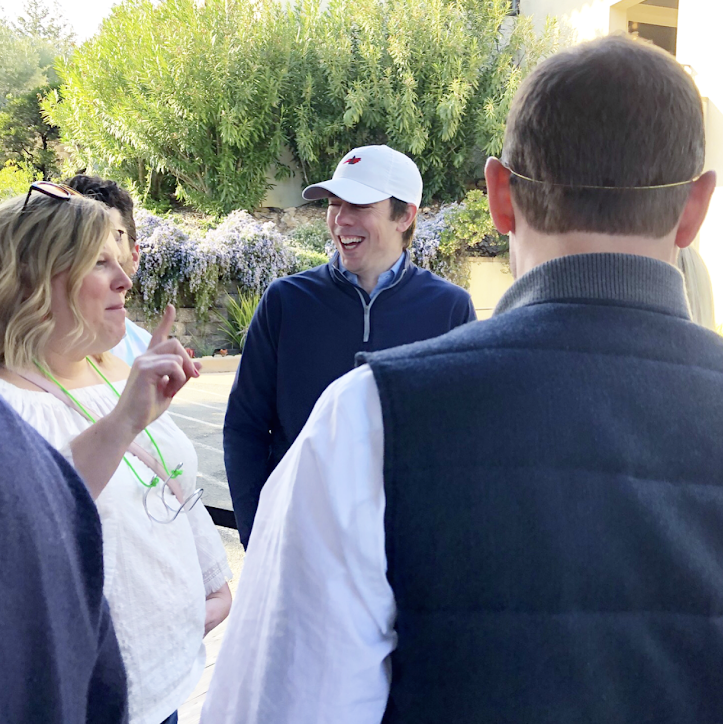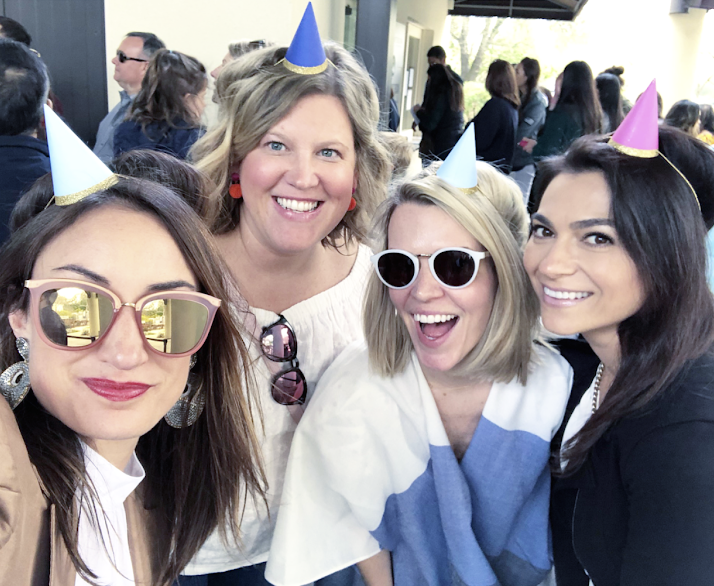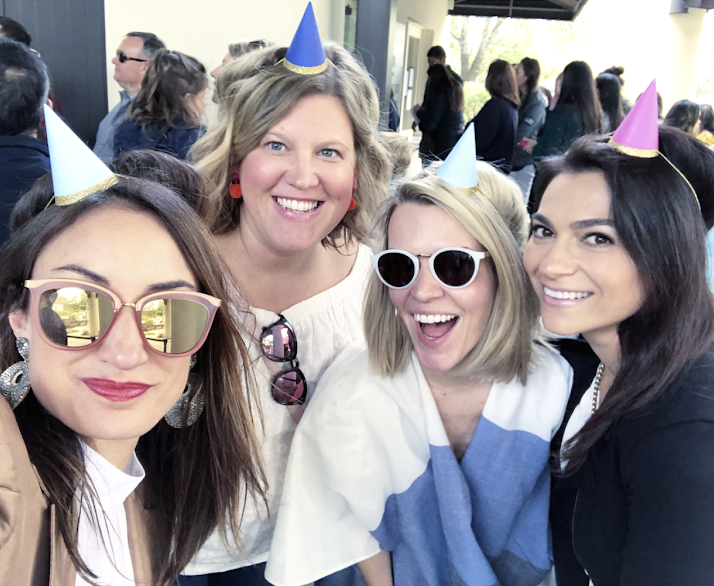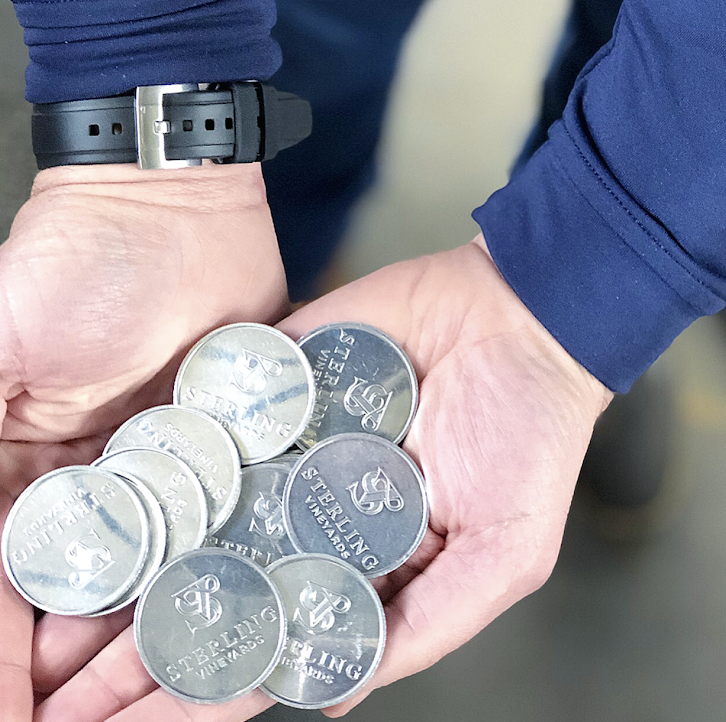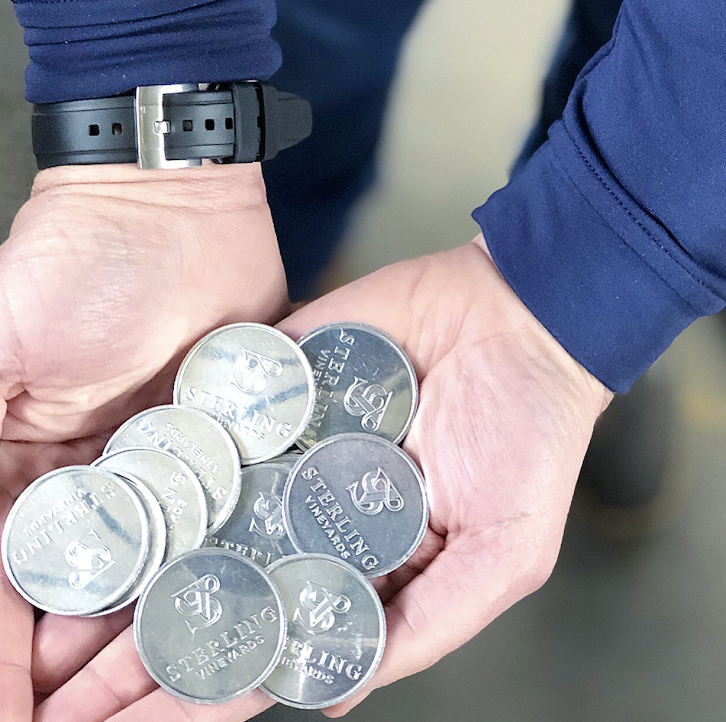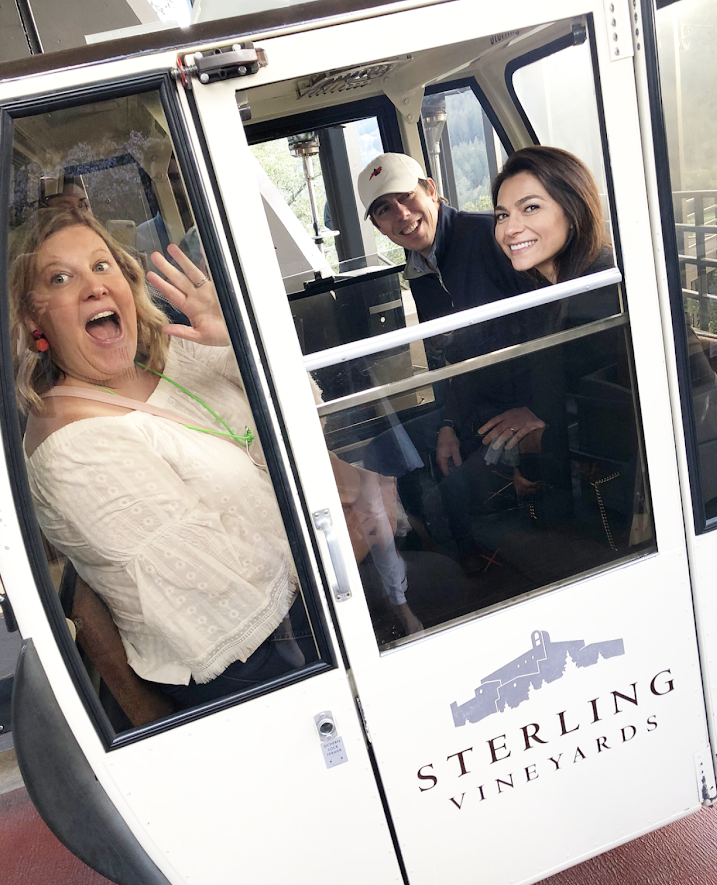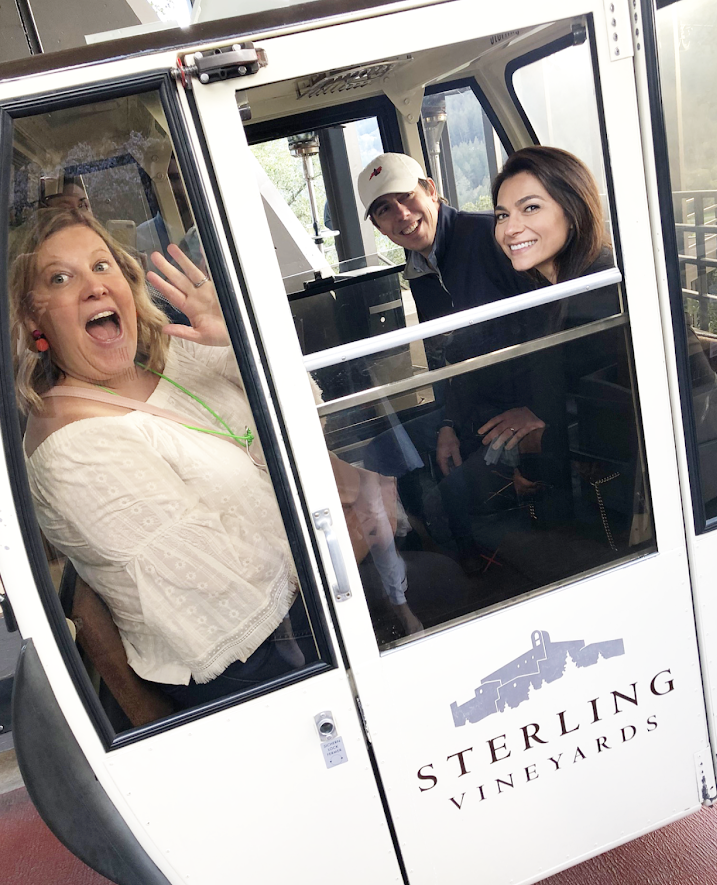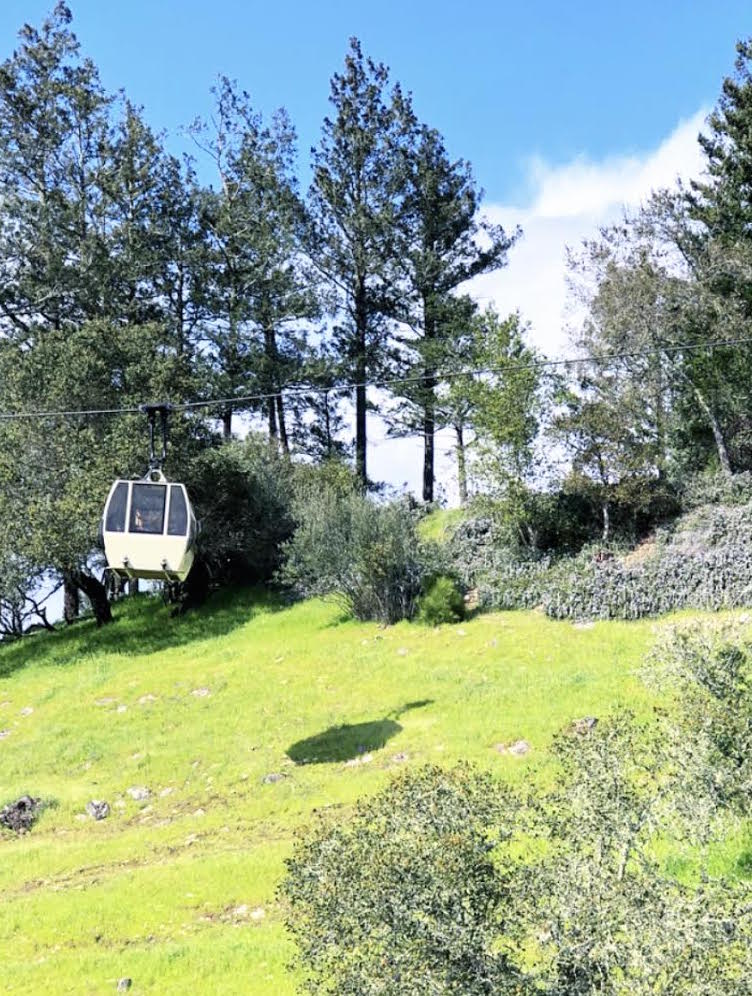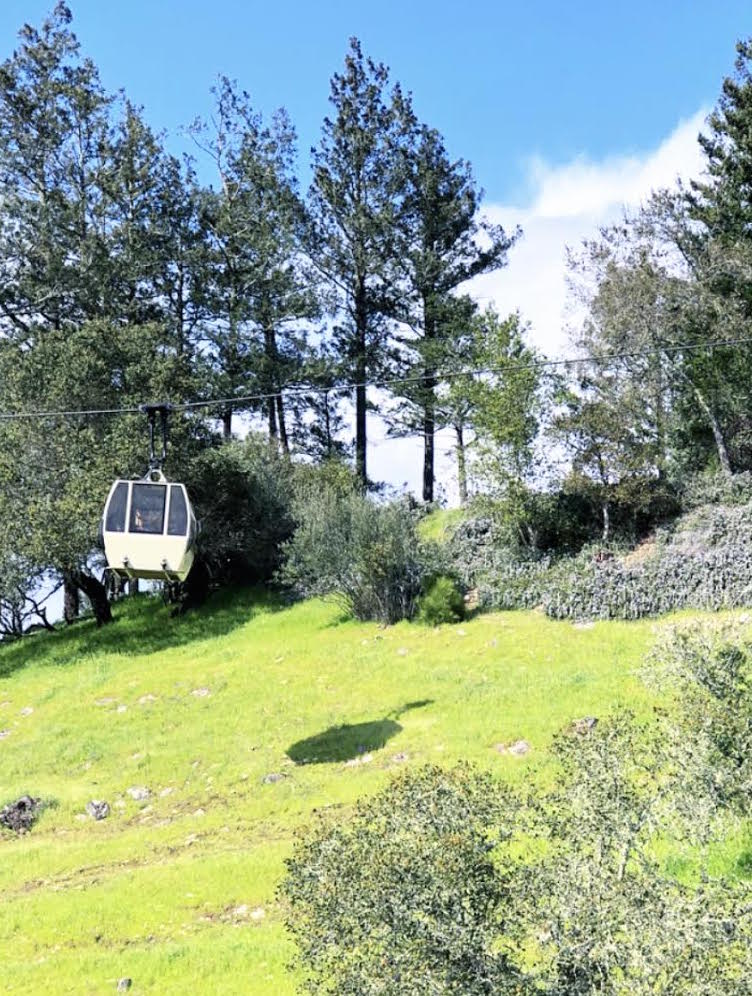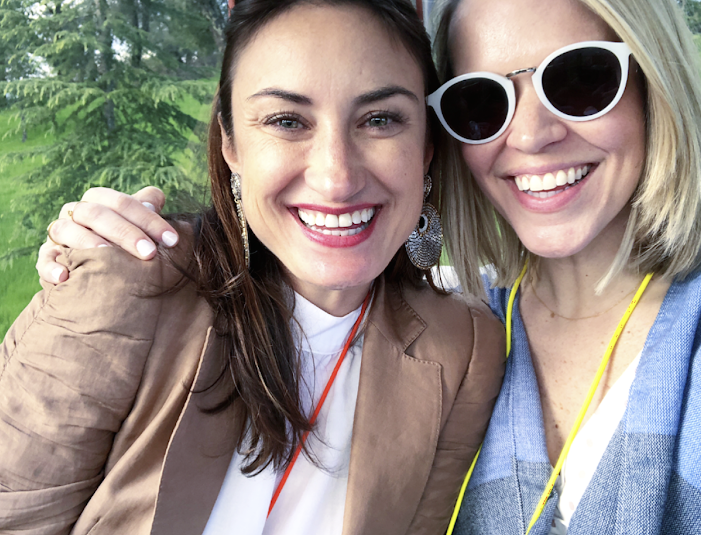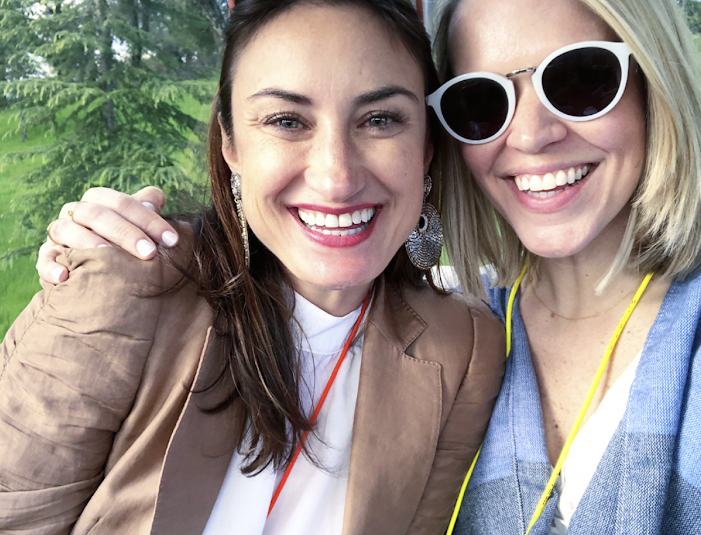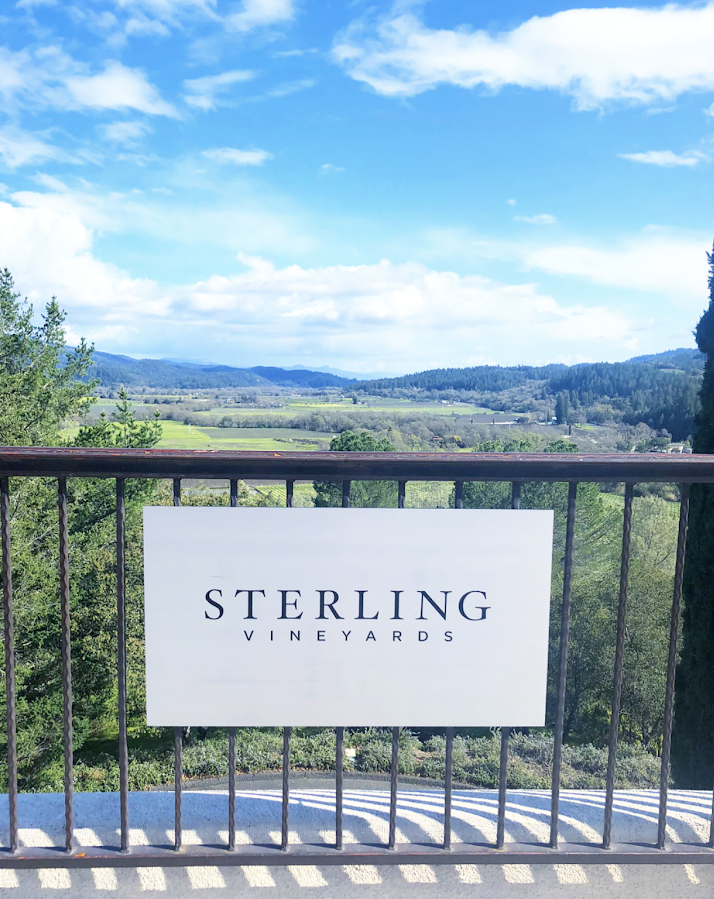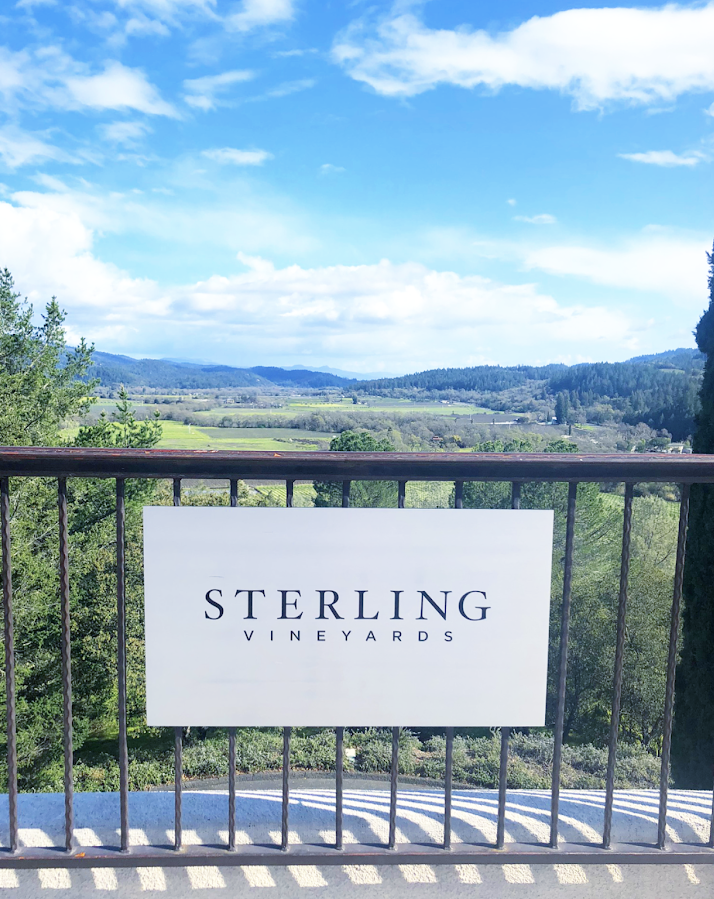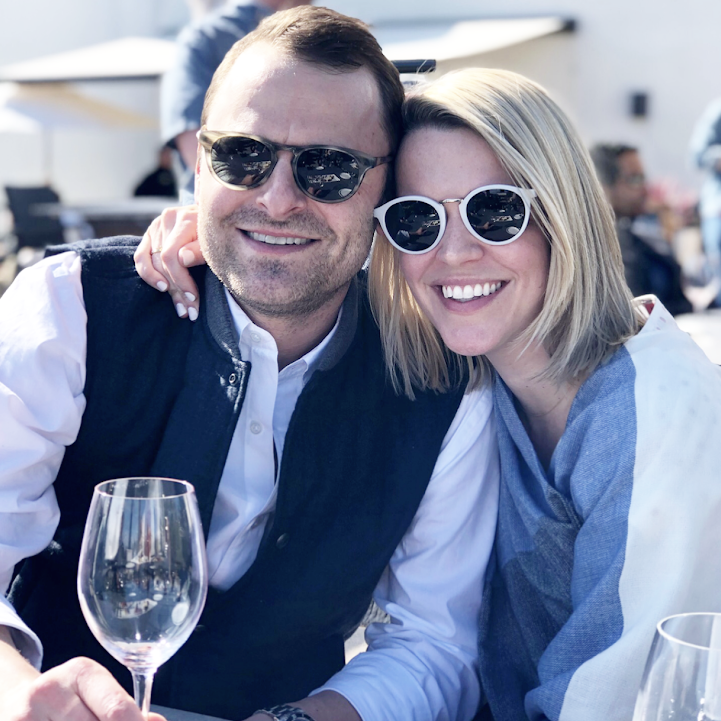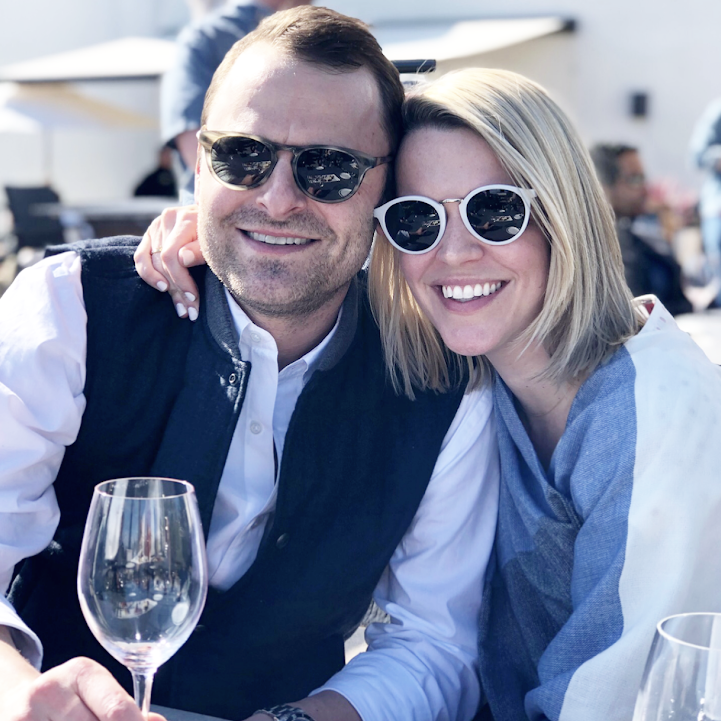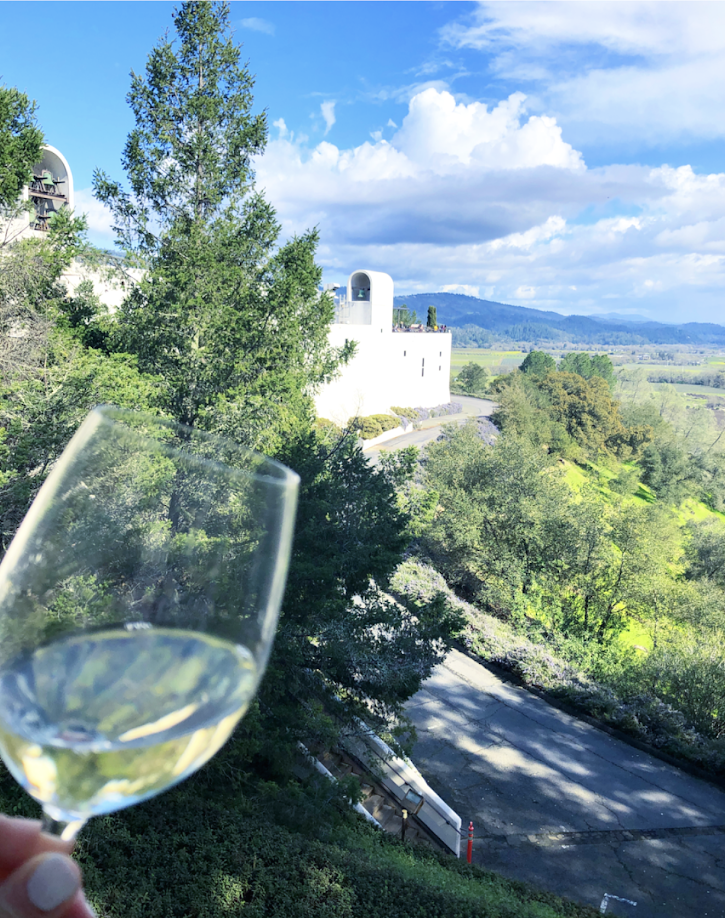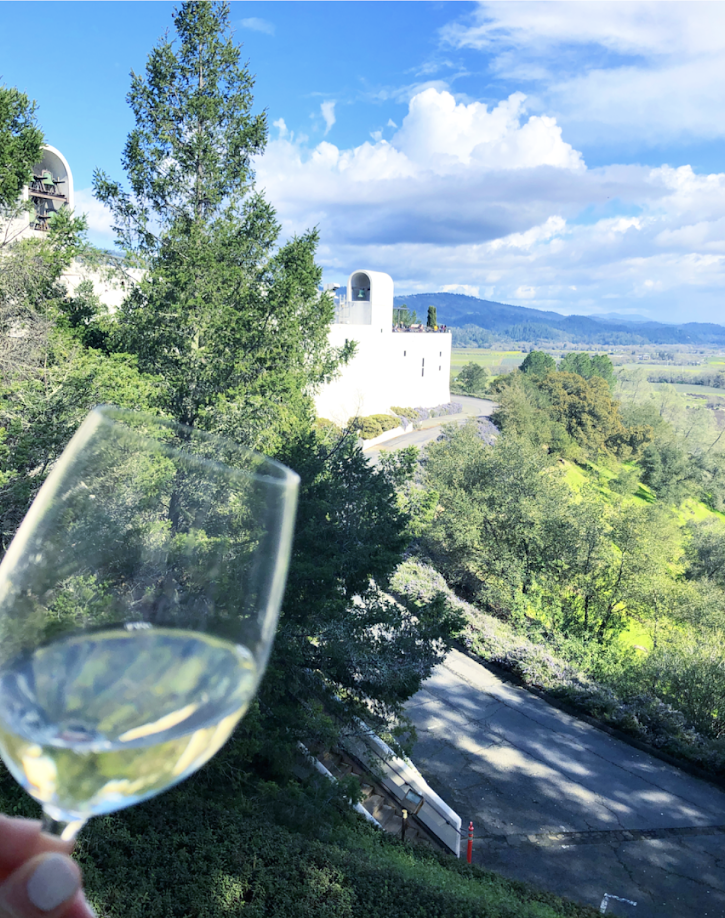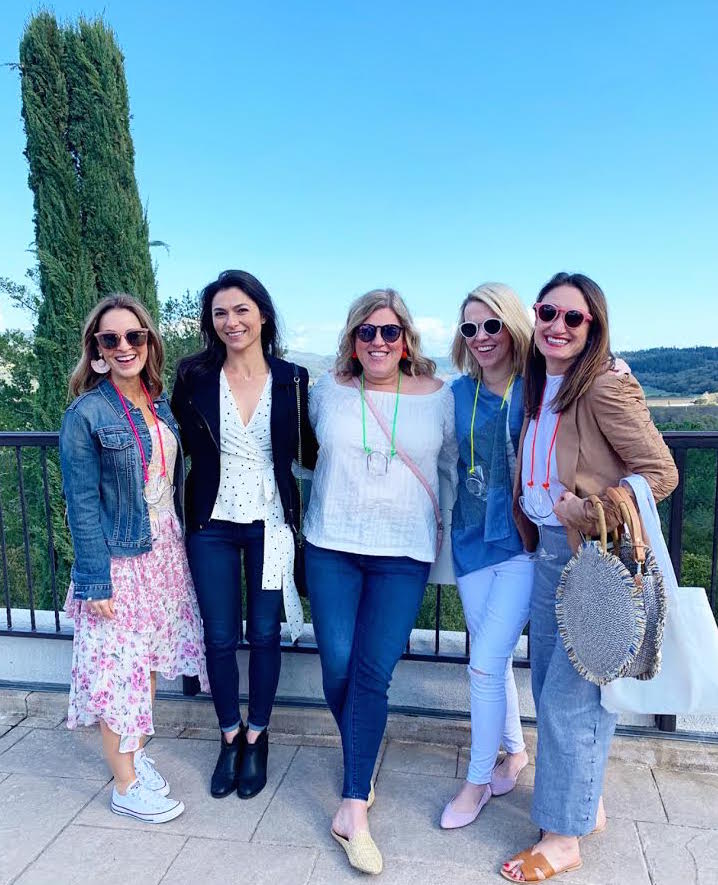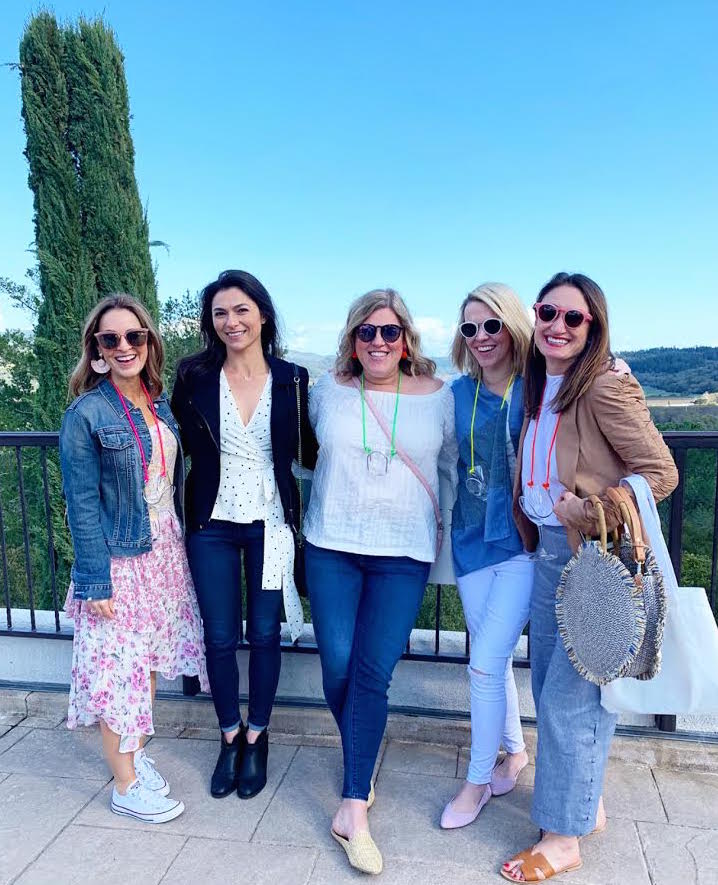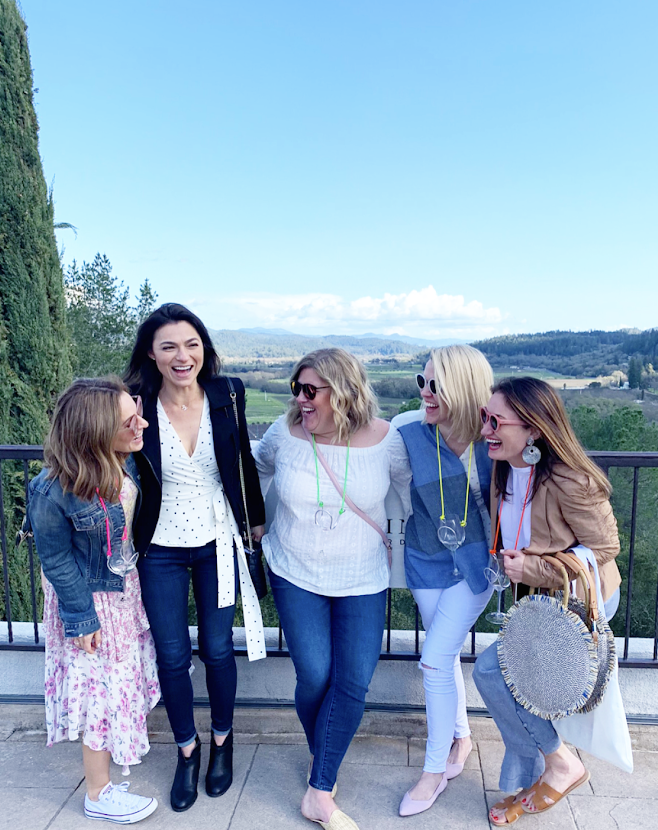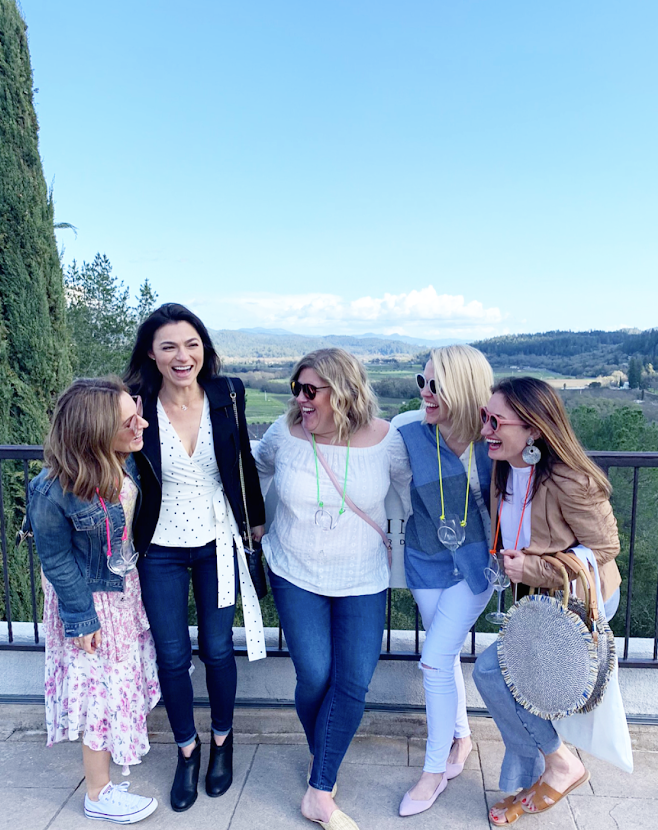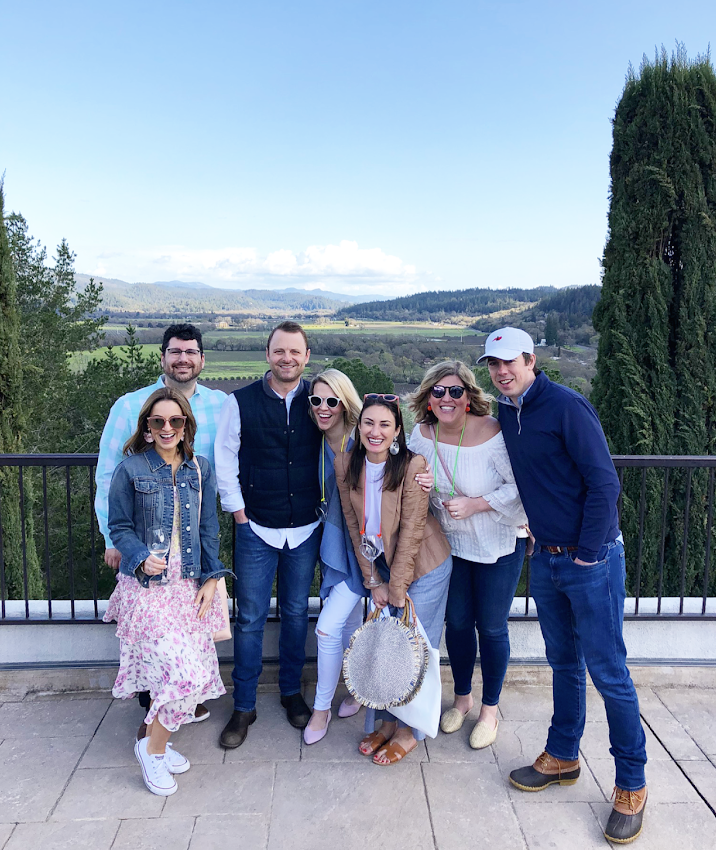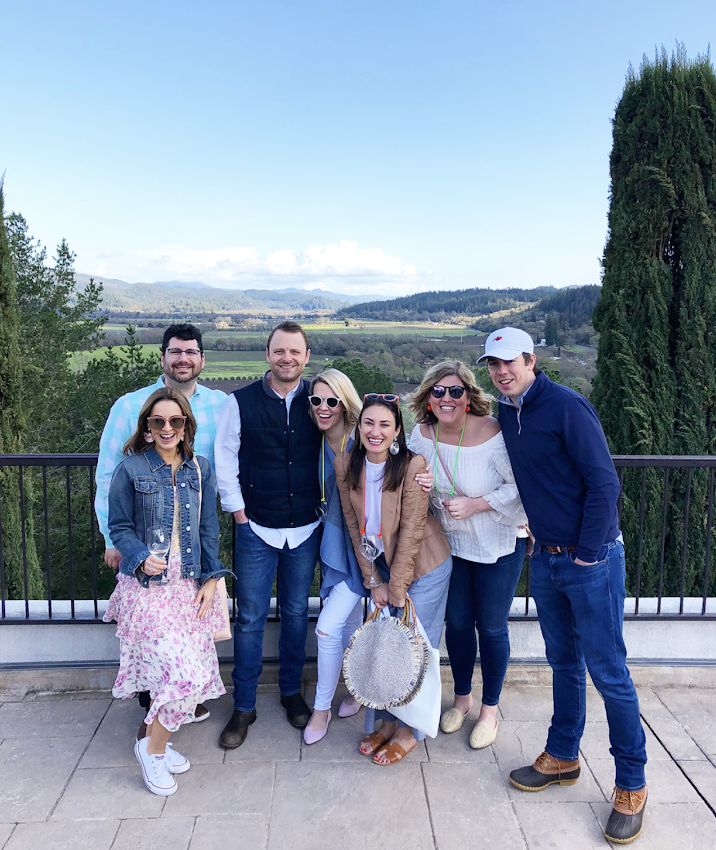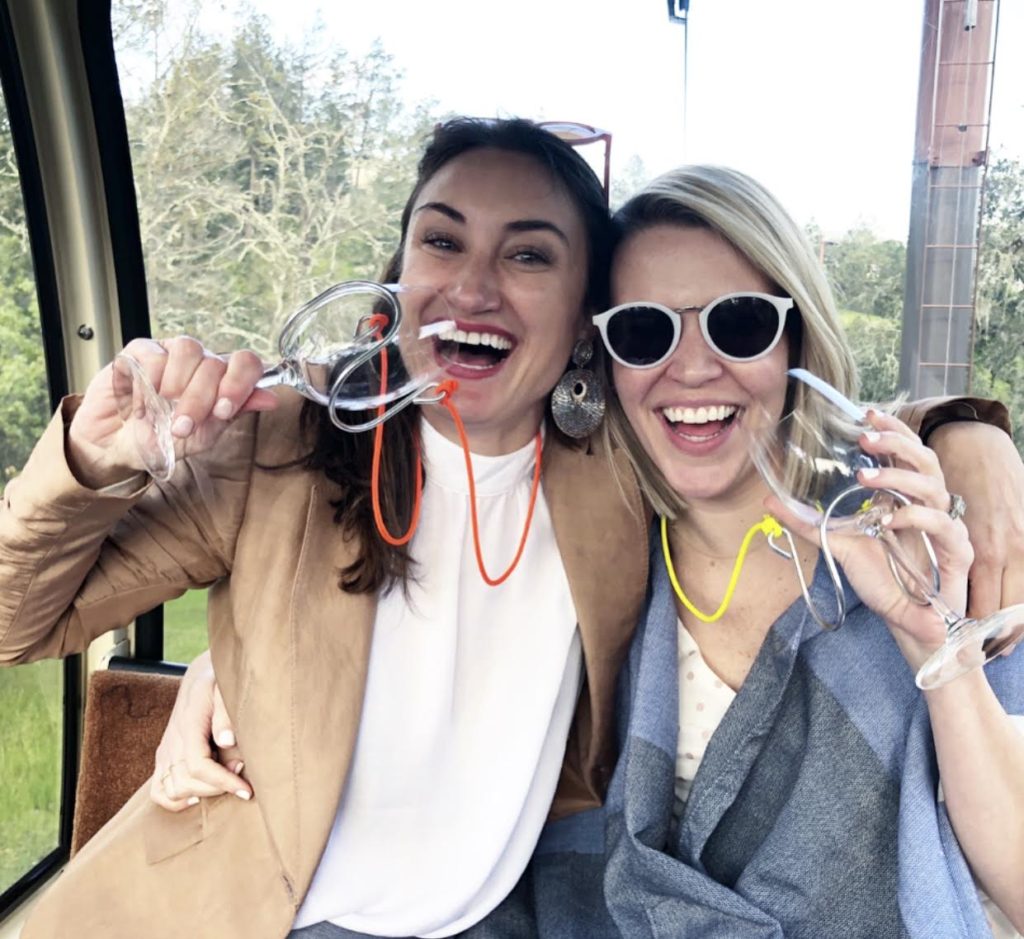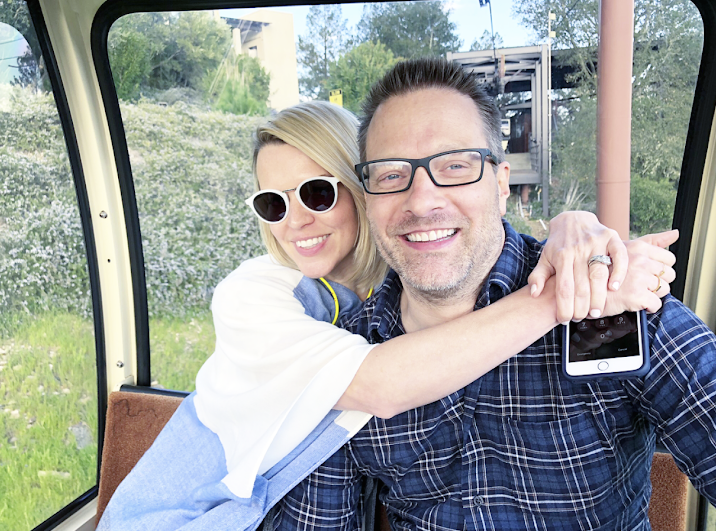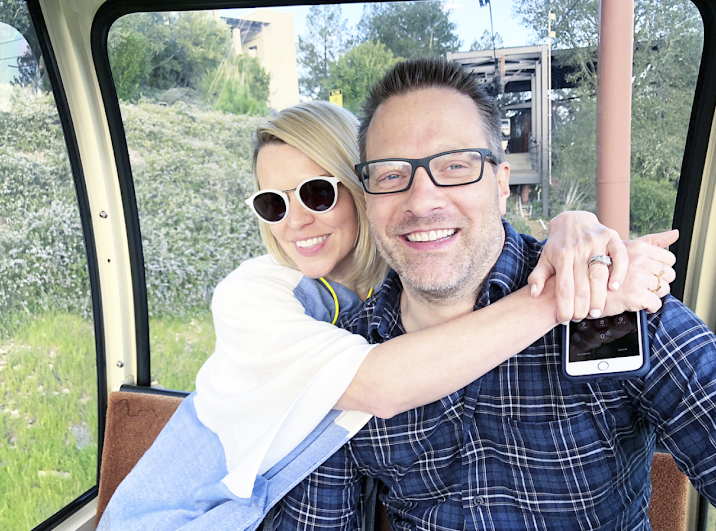 Yes, Zach is wearing my belt as a headband. Clearly, this is where the wheels came off. Poor Cary.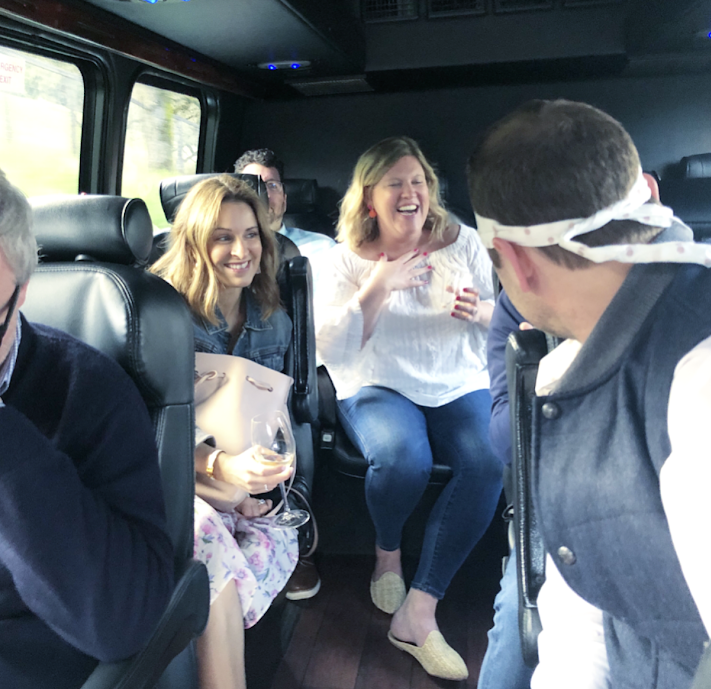 In maybe the most epic moment of the trip (there were a lot!), we bailed on dinner at Thomas Keller's new taco joint for… In-N-Out burger. And it was the best decision we've made in recent memory. Instead of waiting in a potentially long line (La Calenda does not take reservations and it was a gorgeous Saturday night.), doing a lengthier dinner and not getting home till later, we opted for a quick burger and headed back to, once again, enjoy the scenery and each other in a laid back environment.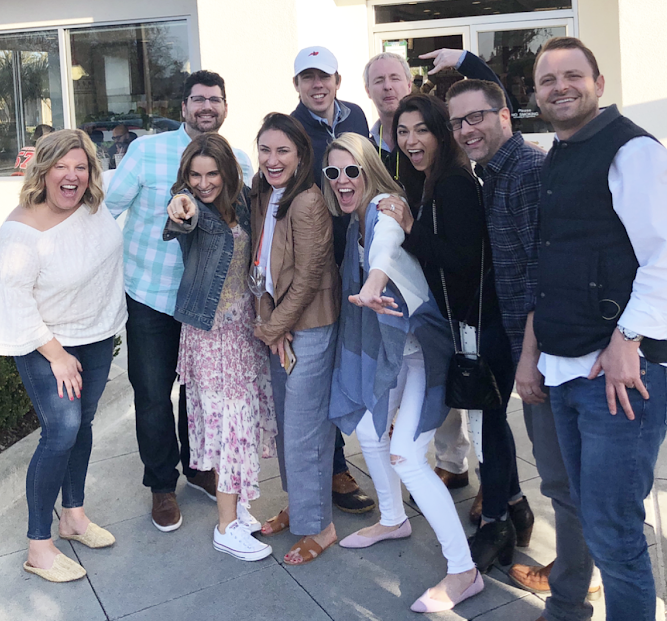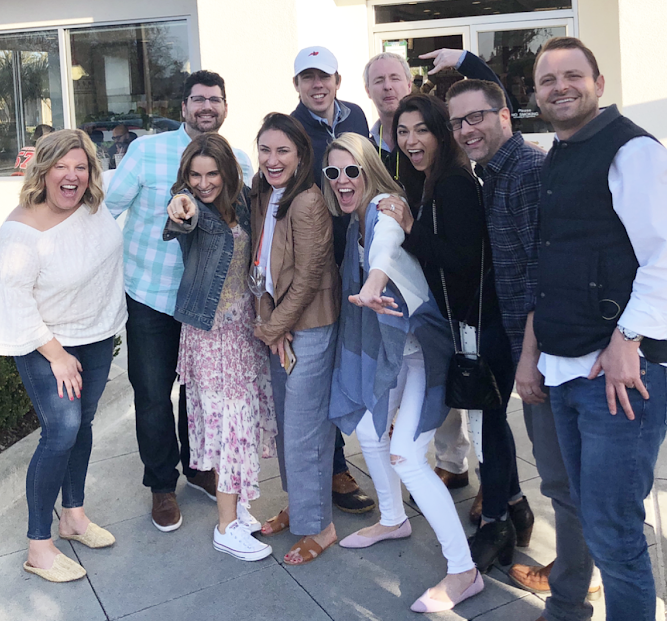 Some of us, naturally, changed into sweats. And, by some of us, I mean the women, of course.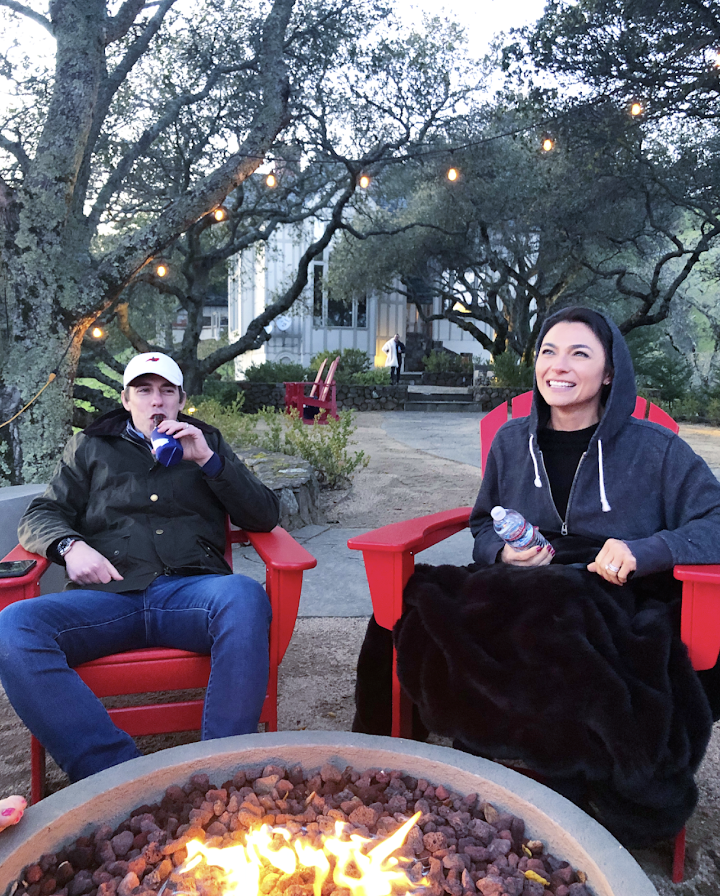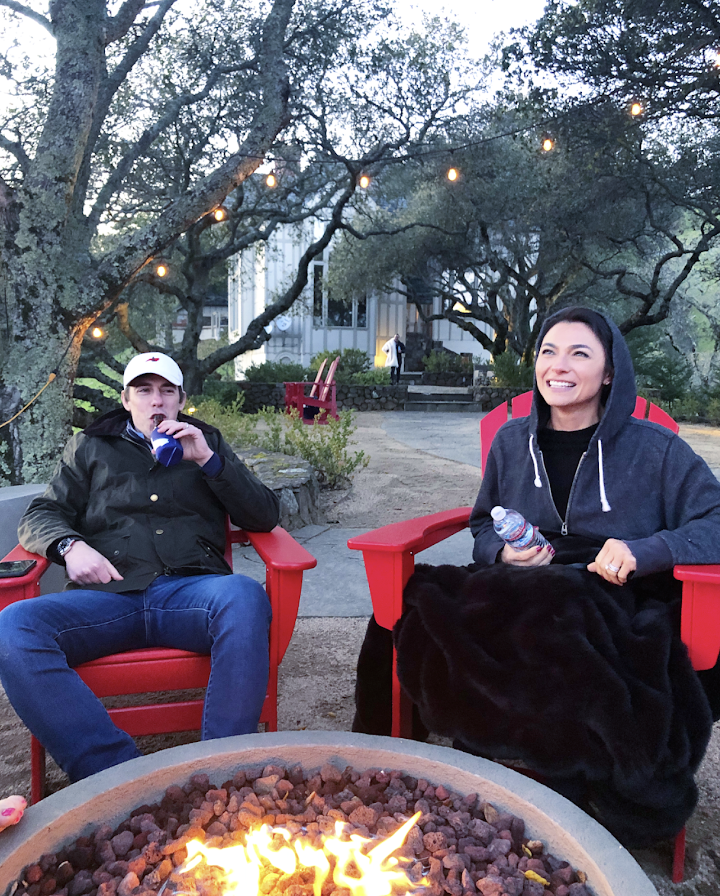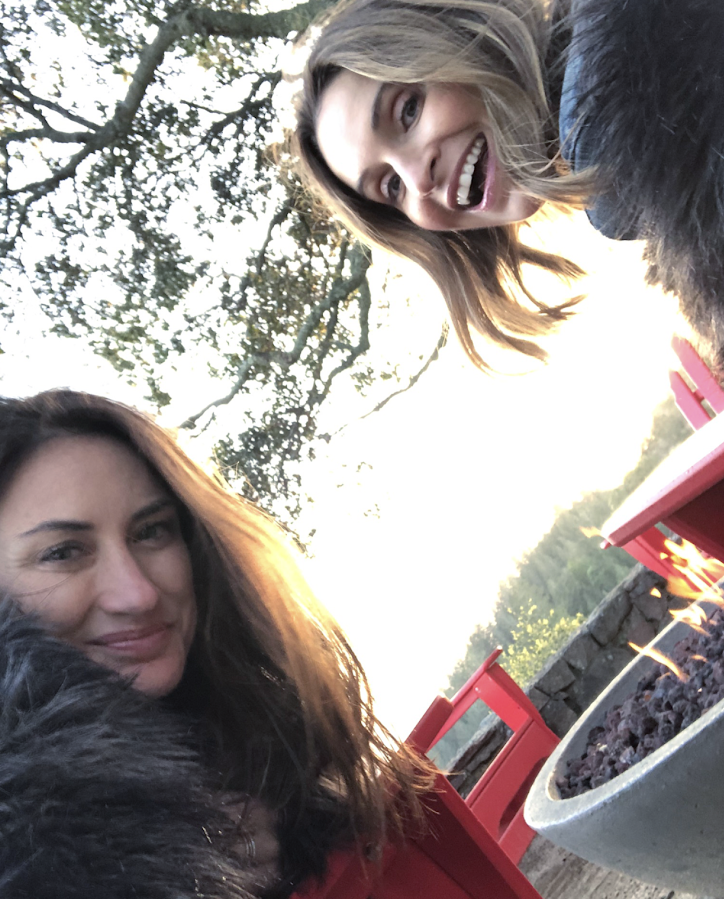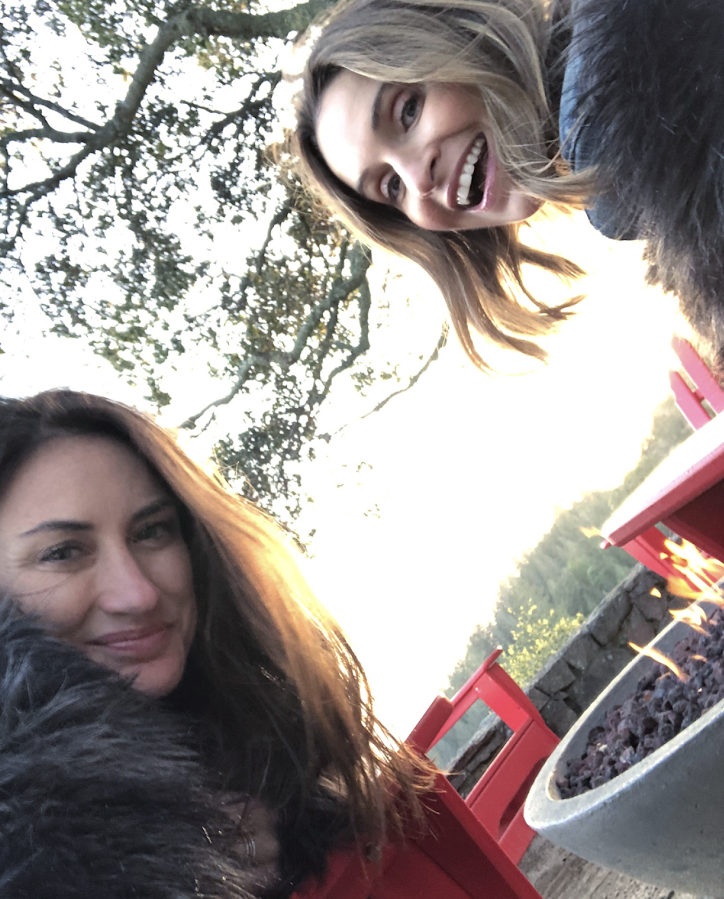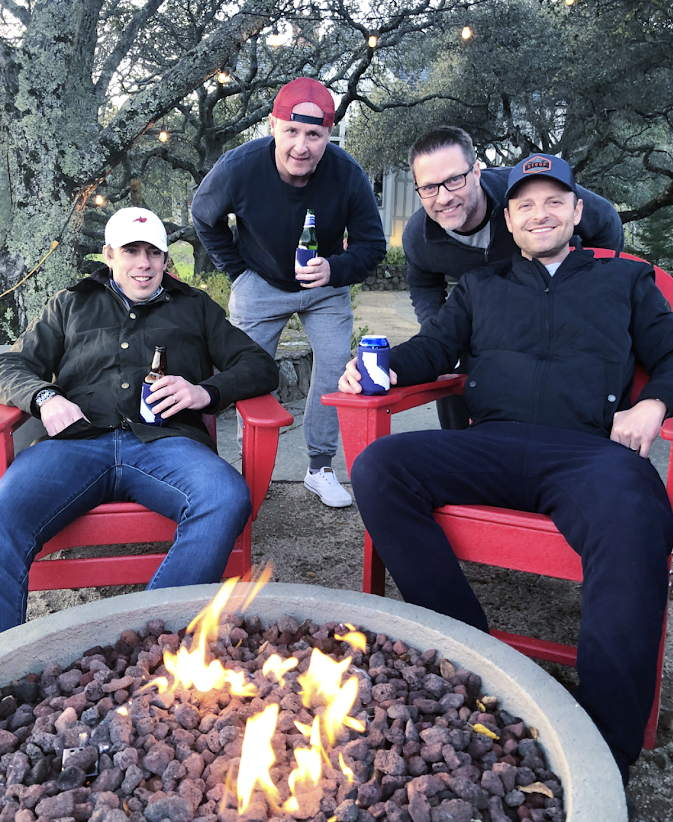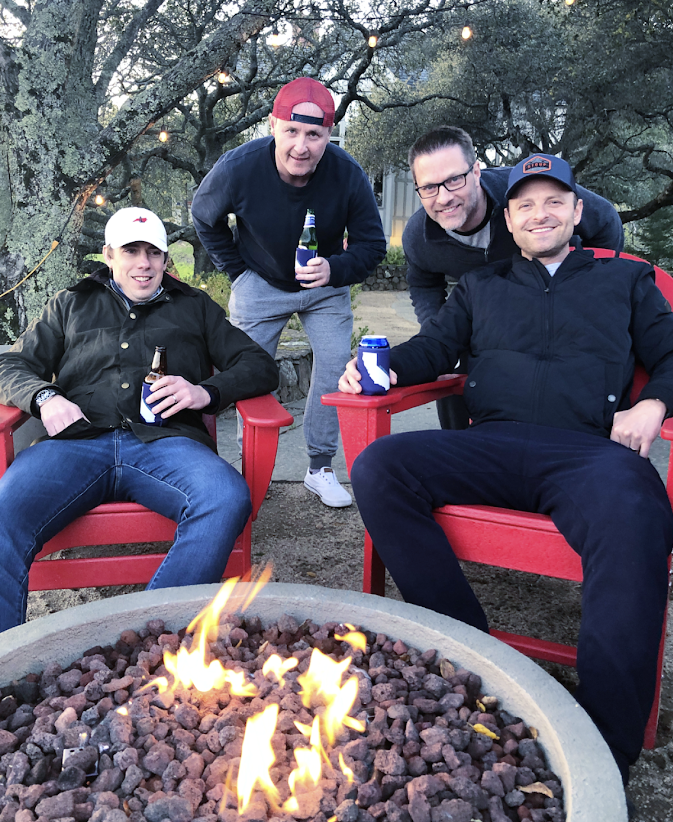 Perfect "end" to the day. Except we didn't end there. We went in to sit by the indoor fire place, broke out the leftovers from the night before, refilled our cups and played another rousing round of game night. Has anyone tried Telestrations? Think Pictionary (with a game of telephone added in) and Cards Against Humanity combined. Oh my God, we haven't laughed that hard in a long time and considering we were laughing all weekend, that's saying a lot. Tears were streaming down many of our faces. Brooke couldn't breathe. It was epic. And we have inside jokes to last a lifetime.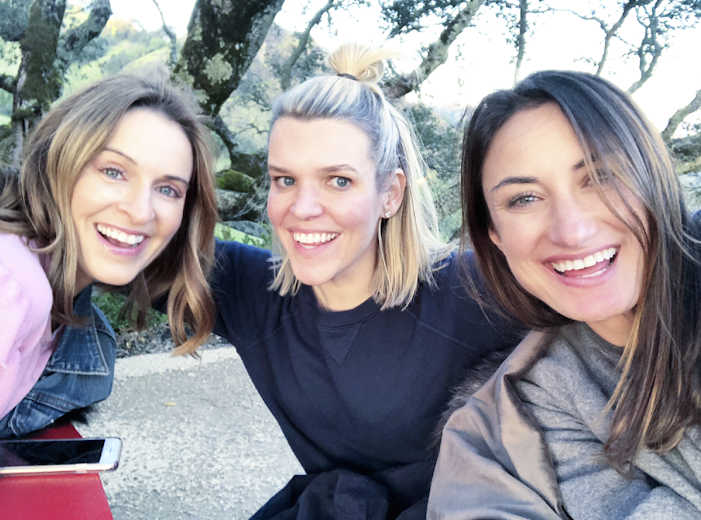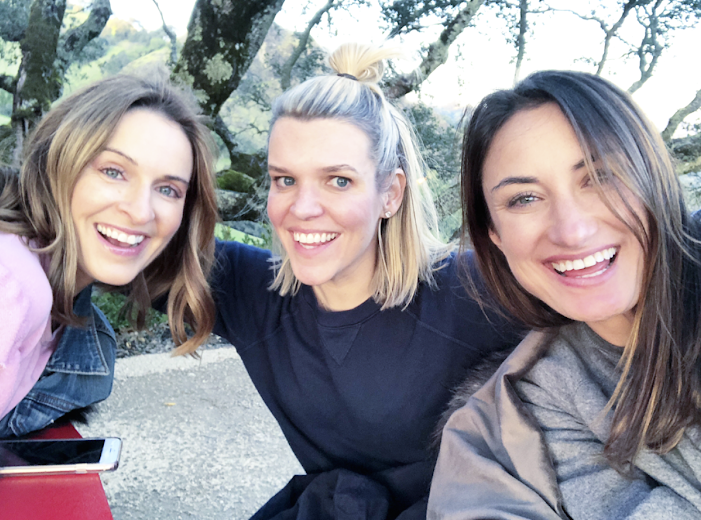 Sunday was another day where I made zero plans. We weren't leaving till late afternoon, but I wanted us all to enjoy the property and our last few hours of freedom and not be running around trying to sightsee. We ate our weight in Bouchon Bakery baked goods and bacon and hit up the hot tub with some white wine spritzers because why not?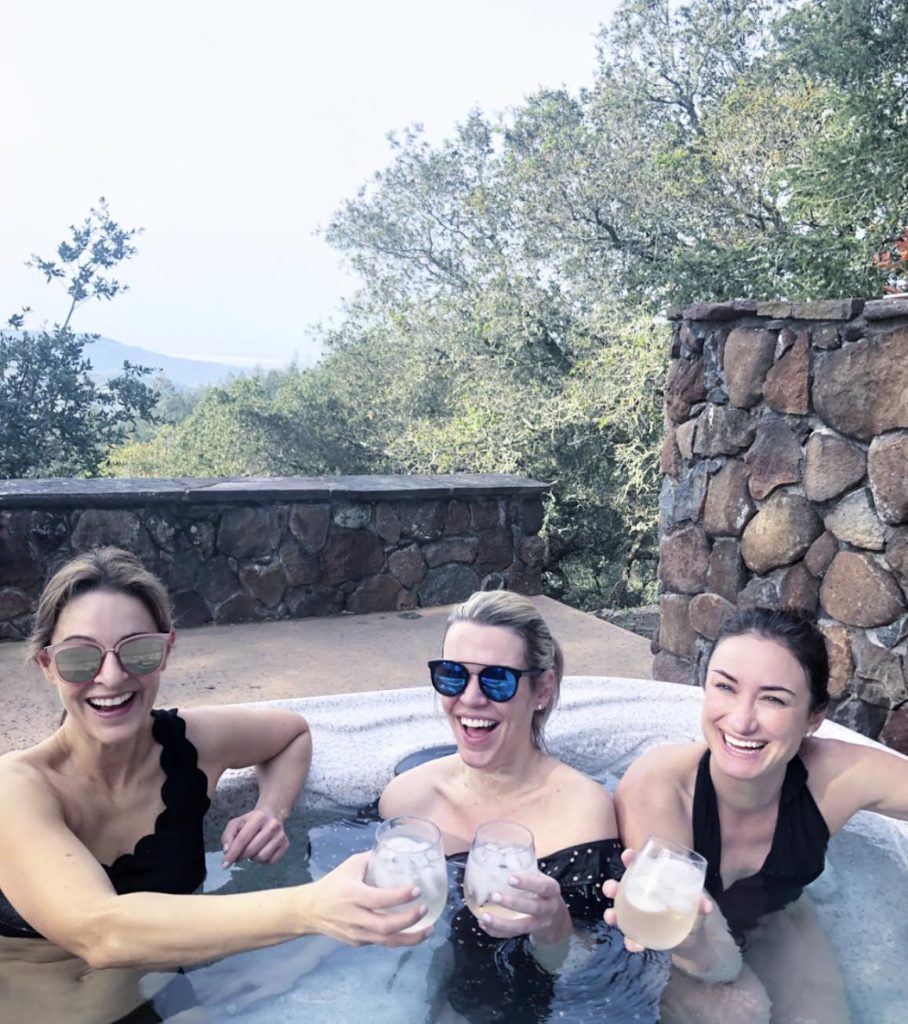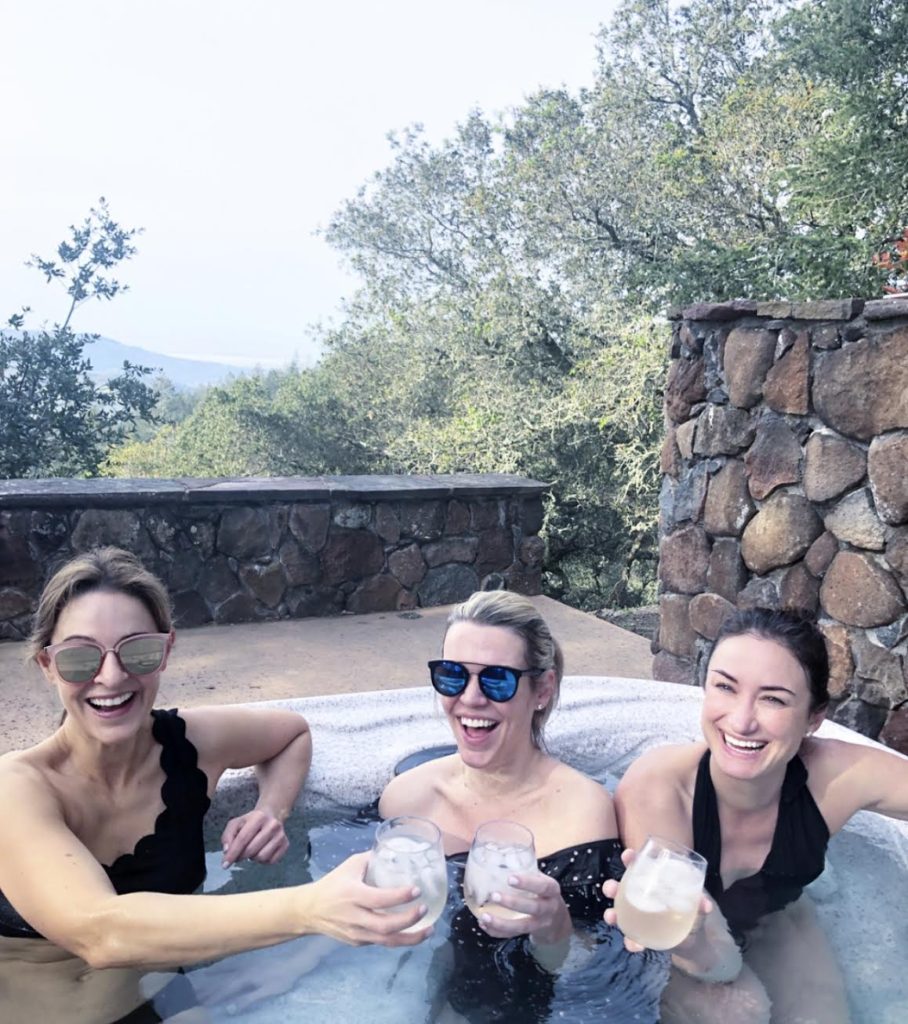 My friend Jaime sent me beautiful flowers for my 40th since she couldn't make the trip.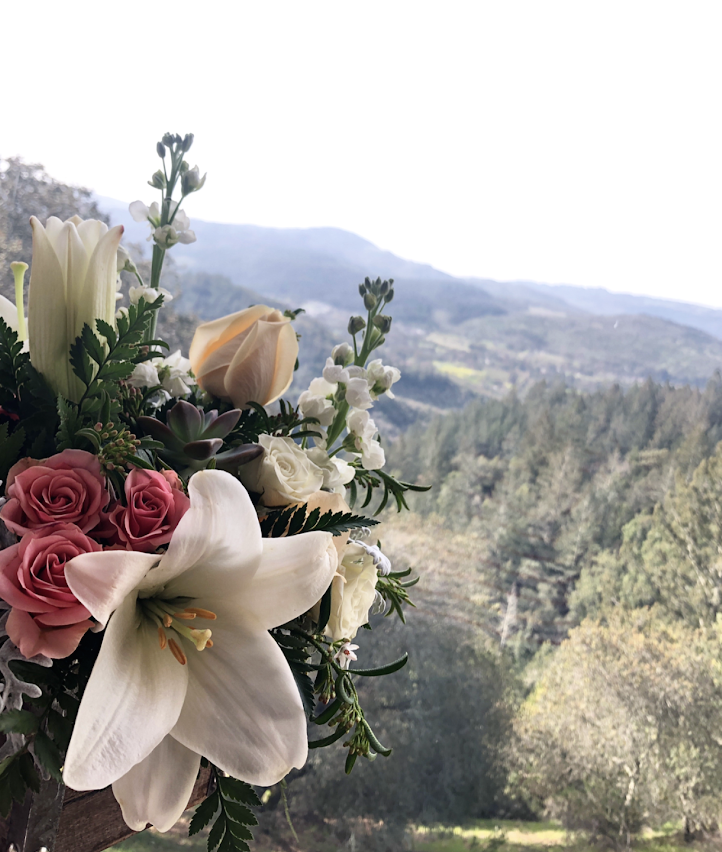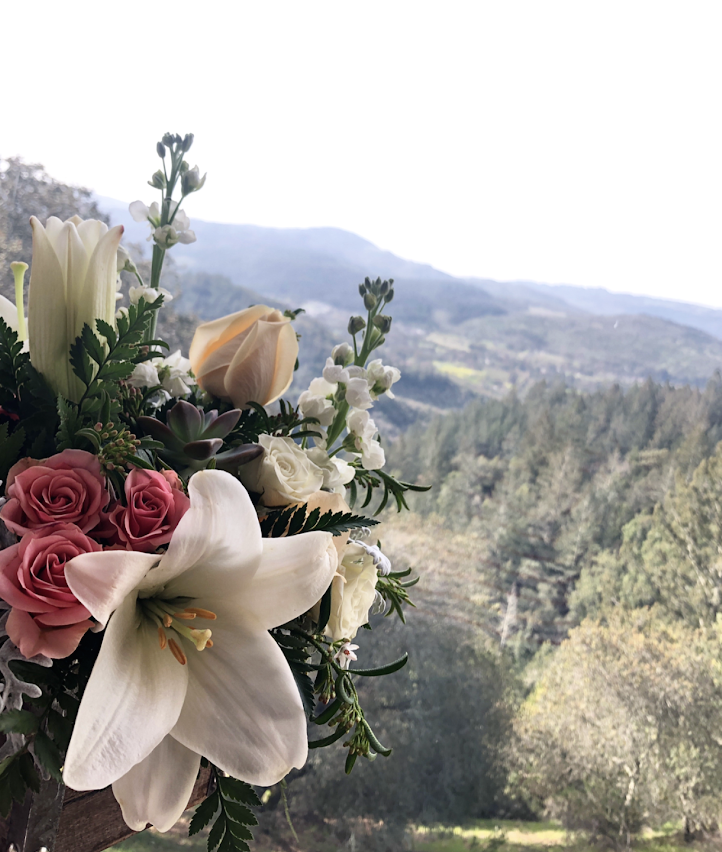 Only some of the pastries. We go big… and then go home.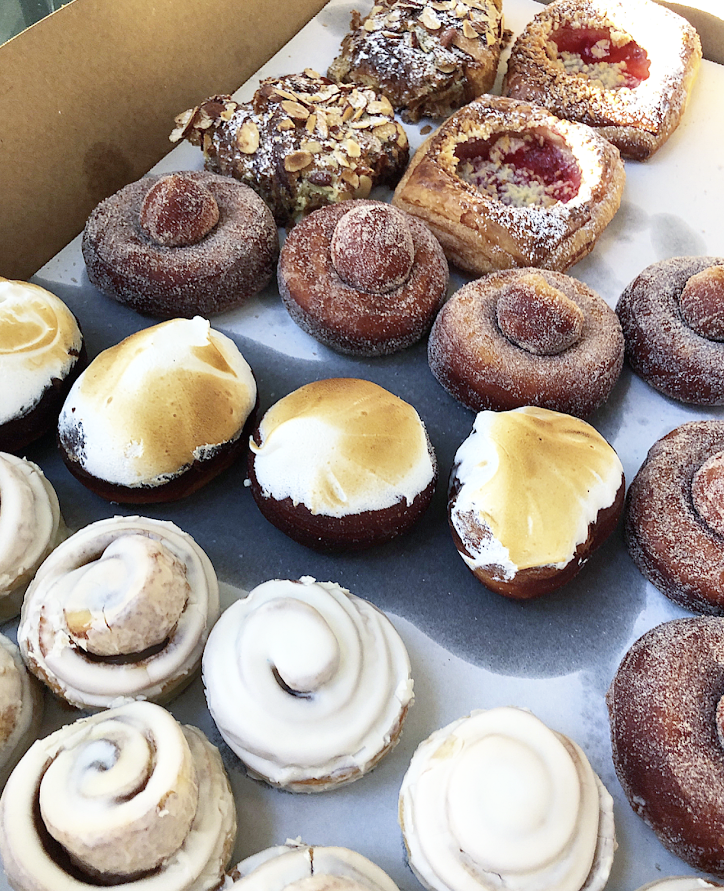 The weekend was the perfect mixture between doing and not doing. Between sleeping well and living loudly, between checking out new places and trying new foods and wines and staying put on the couch and catching up, between learning a little and laughing a lot. I couldn't have conjured it up better if I tried.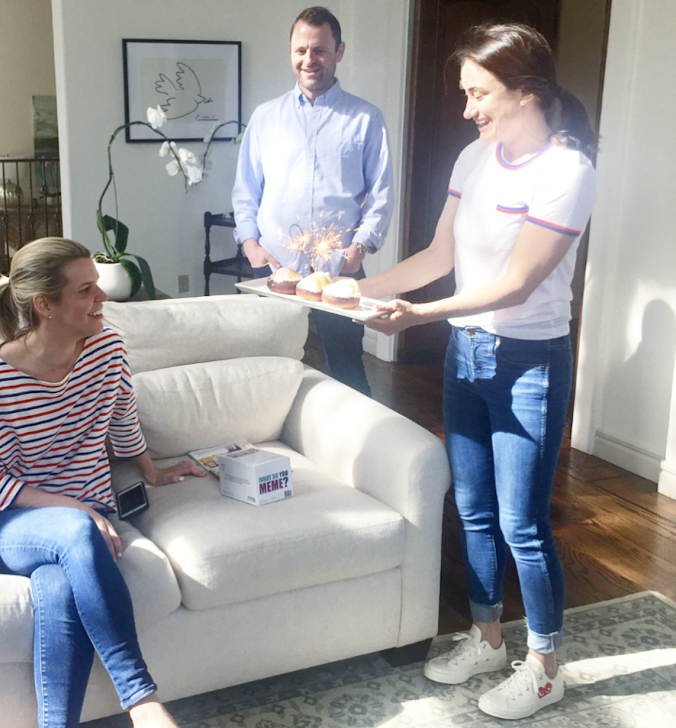 And I'm eternally grateful to this crew for making it so special and memorable. They took time out of their schedules, arranged for childcare, most flew cross-country all to spend the weekend with me- and, let's be honest, have a kid-free vacation in an amazing place- but, still, they could choose to go anywhere with anyone for their free time and I'm honored and so appreciative they chose this weekend and me. It will forever remain a highlight of my life.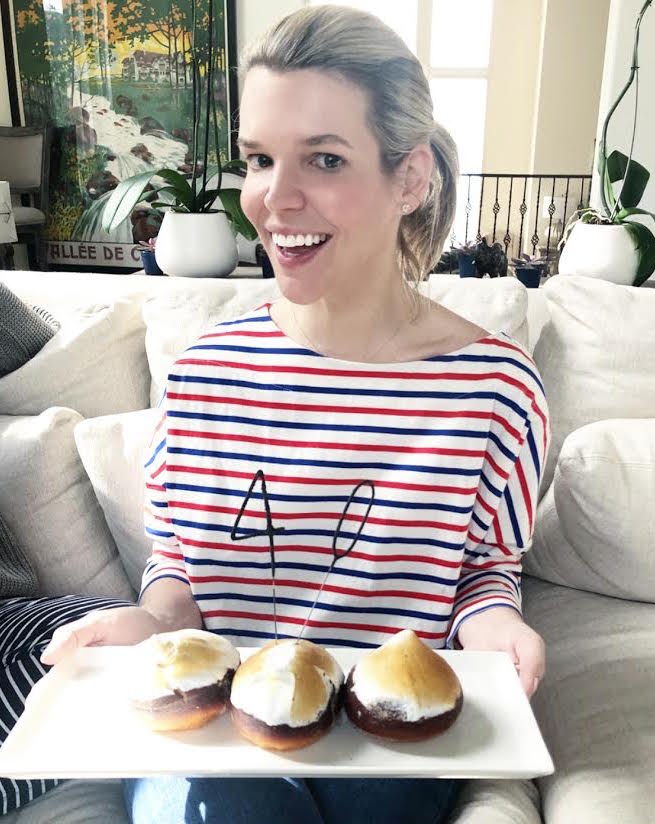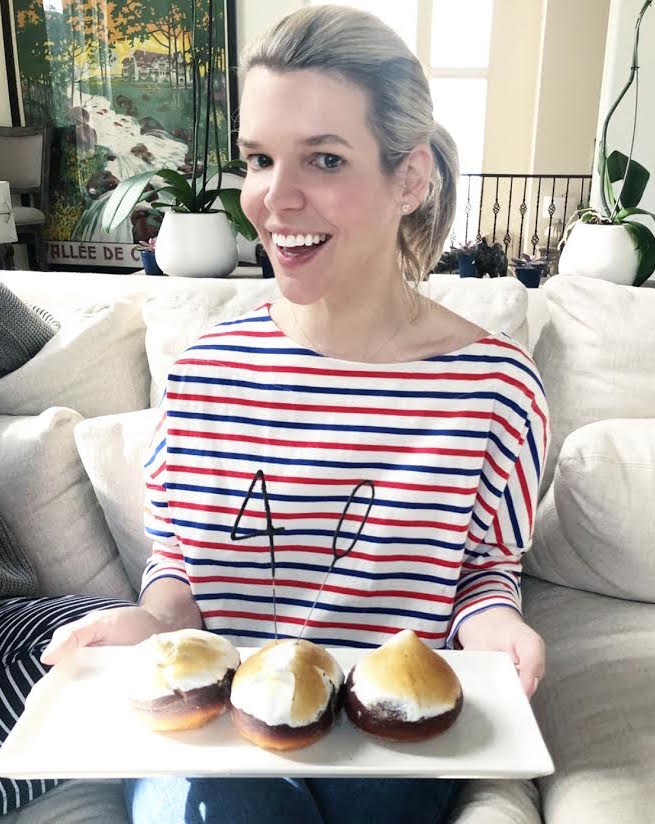 Comments Off

on My 40th Birthday Trip to Napa & Sonoma