March 21, 2018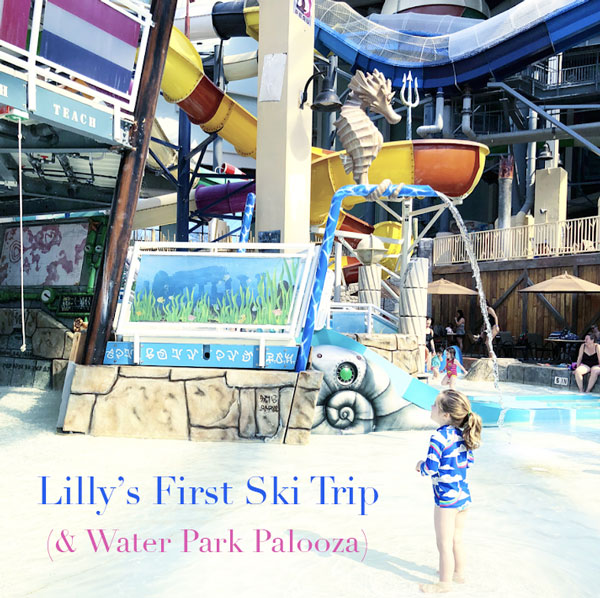 Lilly's First Ski Trip (And Water Park Palooza)
We'd been talking about taking Lilly skiing for the first time for awhile now but never really did anything about it. You know how that goes, all parental plotting, no actual execution. Then Zach left his job of twelve years, has a few weeks off before the next one and we decided it was now or… next year.
So, on a spontaneous streak from our Mexico trip (which we booked only days out- and will be on the blog next week), we decided to take her out of school and go mid-week while Zach had the time and before the spring break rush. Since we were only allotting a few days and have an infant, we wanted to stay close. While we dream of one day doing Vermont, Utah, Wyoming and Colorado with our kids, this was not the time. Plus, Lilly's a wild card, you never know with her. She could've refused to try skiing altogether and then we really would've been regretting that flight or 8-hour drive. For her first time, it made sense to keep it simple. We also knew we wanted there to be more there than just outdoor activities, in case she balked, so the idea of the indoor water park resort became extremely enticing. To her. Zach and I aren't necessarily the biggest fans of said places but we're parents now and it's no longer about us. Unless we're in Mexico, alone, drinking all-day margs and then it's absolutely all about us.
After a little Google search and chatting with some friends and NNA readers, we settled on Camelback Resort.
It's an hour from us, there's a ski school with a few minute shuttle to the mountain from the resort, the water park is included in the price of the hotel and it was a really reasonable rate. Plus, it's not massive like some of the others. We wanted to baby step our way into this whole scene, dip a toe in the proverbial and present water (filtration system).
When I called to book her ski lesson, because it's off-peak right now, they weren't taking reservations, only first come, first serve but I was assured it wouldn't be a problem. So we packed up and hit the Poconos! There by 10am, we went immediately to the mountain to book her noon session, which was sold out. So was the 2pm. Our only option was 4pm, which, after going to bed late and waking early, due to extreme excitement, and then hitting up the water park first, since we had so much time, I knew it would be dicey. An exhausted four-and-a-half-year-old, wearing a million layers, a helmet, goggles, tight boots, leave her parents and put on skis for the first time and partake in a 90-minute lesson? We might as well have called it a loss right then.
But, we persisted. Because that's what we do. Hope for the best, expect Lilly. 😉 Kidding. Kind of.
The good news? Our room was ready. At 10am. Which never happens. I feel like I'm always pleading with and stalking the front desk, asking for updates. I totally used the baby to beg for early entrance. I have no shame.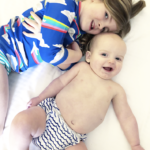 We splurged ($50 extra on a $200 room) to get the bunk room for our girl since we knew that would heighten the experience for her. Four bunks, all to herself. One was for her animals, one for watching her iPad, one for playing with her Care Bears, the other for sleeping. She was in heaven and only fell once (can't say the same for skiing!).
After assigning bunks, we headed straight to the water park, all in swimsuits. It was 30 degrees outside. Not my idea of the best way to spend a day but watching Lilly conquer her fears, shriek with delight and have so much pride in herself was pretty satisfying. And, for the record, it was surprisingly clean. And, since it was off-peak, not at all crowded. It was only 50% full and totally doable, no lines for anything (check-in, slides, ski school… the longest line we saw was for tubing but it moved quickly).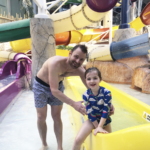 While Zach and Lilly hit up the slides (she was able to do most but still too short for the biggest two), Ollie and I took to the baby pool portion of the oasis. I thought he'd love the little fountains and enjoy splashing as much as he does in the bath but poor little guy only napped for thirty minutes in the car (as opposed to two hours at home), it was loud and bright, kids were all over, running, drops were raining down… He was not a fan.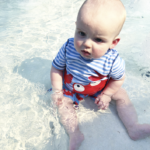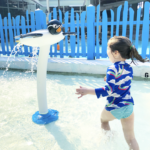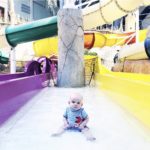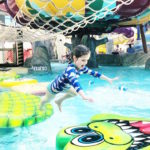 We had to drag Lilly out of the water to eat some lunch and, with the lure of the candy shop, were able to convince her to head back to the room (and not another round of slides) with her custom colored M&M's to rest before her big ski lesson.
Ollie passed out in his travel crib as his sister played some games on her iPad and we set up a Care Bear caravan by iPhone flashlight. Then it was time to get ready for skiing and, not-so-shockingly, someone did not want to go. There was lots of "I'm scared,  I'm tired, cold, hot, hungry…" Fun times.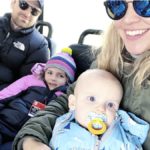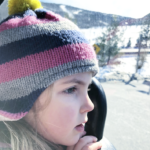 She was further annoyed by the measuring for skis, shoes and helmet, she didn't like that it was black and not colorful, the boots were too tight… She was melting down. Where were those M&M's when we needed them? She reluctantly said goodbye to us and went out the door to ski school. We didn't have high hopes.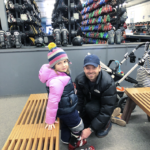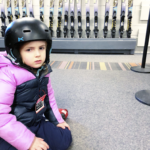 And, then, as I'm discovering one of my favorite parts of parenthood to be, she surprised me. She's capable of so much more than I sometimes give her credit for, that I know, deep-down, she has within her but, often, we get in her way, I get in her way.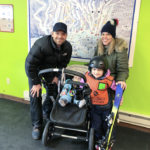 She walked out in ski boots and bib, following her instructor, stood, listened, learned. And fell. Many times. But she got right up, with assistance, and tried again. If it had ended there, I would've been the proudest mama. If you watched my Stories, you know it didn't.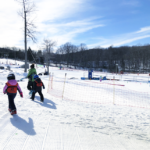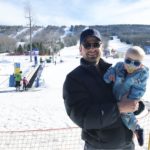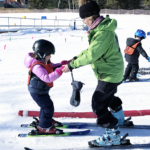 My girl, all three-and-a-half feet of her, who's never been on skis before, who usually wants her mama by her side with all new endeavors, after mere minutes, was skiing down a slope, balancing, turning and stopping, all by herself. Even walking to, stepping on and riding the magic carpet, her favorite part. I could barely believe my eyes. My heart could've burst out of my body I was so happy. Mostly because I knew how proud she'd be of herself.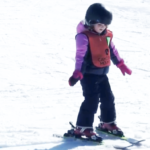 And she was. But, of course, my little perfectionist, first mentioned and focused on falling. When we assured her that everyone did when learning, she brightened up. Having said that, she only lasted 45 of her 90-minute lesson, which we attribute completely to the time of day. Had we gotten into the noon session, I think we would've fared far better but this she was exhausted and I didn't want to force it. I want her to love activities, sports and exercise and to not fear trying new things. I was happy with her efforts and wanted her to maintain a level of excitement about it all.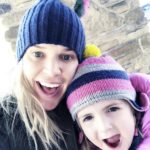 We hit up the lobby and sat by the fire for a few before doing an early dinner at Trail's End, with a fantastic view of the ski slopes, a good wine list and surprisingly good food. The perfect end to an action-packed day.
At least, I thought we were ending it. Lilly had other ideas. So she and her daddy went to the arcade (had we been there longer, we would've partaken in some of the crafts, rock wall, putting green, laser tag, etc.), while Ollie and I headed back to the room. Thankfully, both kids slept great (you never know, especially in a new place!) and we were ready for a buffet breakfast and one more trip to the water park before leaving (Mama wanted to do snow tubing but they didn't open till noon, we were all exhausted and ready for lunch and home- next time!). Several hours of splashing and sliding later and a pit-stop in the arcade, where we won the jackpot and tickets for days, we were hitting the road again. One night, two days, the perfect amount of time to get a taste and head out on a high note.
For families looking to escape the winter and have many different experiences all under one "roof" for a good value (the rooms aren't anything to write home about), I'd definitely recommend a trip to Camelback (not sponsored) but you have to know what you're getting into and keep your expectations attainable. 
Check out Lilly's first time ice skating too!
SaveSave
SaveSave
SaveSave
SaveSave
SaveSave
Comments Off

on Lilly's First Ski Trip (And Water Park Palooza)
March 3, 2020

A Winter Weekend at Woodloch

We're not a skiing family. Zach is from Texas and I grew up in Florida so you can't really blame […]

READ MORE

January 24, 2019

Our 2019 Travel (and a brief reflection on 2018)

Lots of bloggers are doing their year in review and 2019 goal posts. I thought about doing one too. But […]

READ MORE

July 26, 2018

Sea Island Summers

As I write this, we're preparing to head on our next family vacation to Florida. (Editor's note: I didn't get […]

READ MORE