May 15, 2017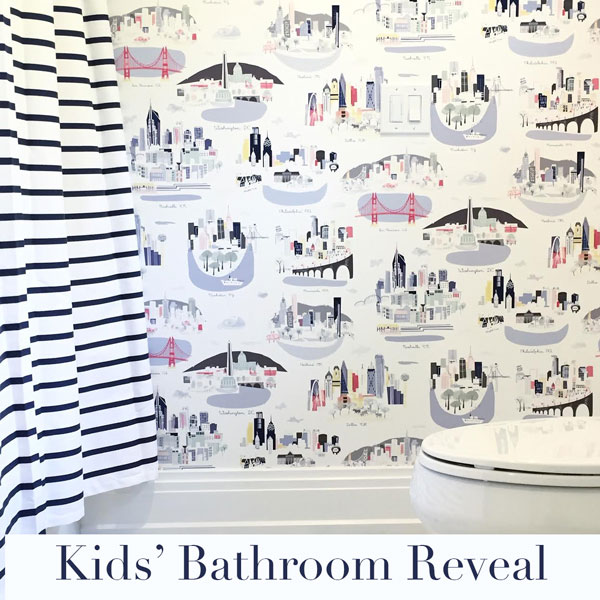 Kids' Bathroom Reveal
We actually had two bathrooms in our apartment so it's not necessarily the number I'm freaking out over but the overall look. Both of our bathrooms in NYC were old and ugly. Tan walls, dingy tile, dark brown cabinets and close quarters. In our new home, everything is so much lighter, brighter and prettier. The bathrooms are no exception. Newly renovated, gorgeous tile and fixtures and plenty of space.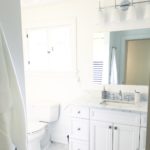 I fell in love with this wallpaper and knew I wanted to put it somewhere. I was running out of space and thought why not an accent wall in the kids' bathroom? Turns out, plenty of people told me why not. "Don't do wallpaper in a bathroom," they said. "What about the steam? I wouldn't if I were you." Well, I've never been one to really do what I'm supposed to or stop because I'm not. And I wasn't about to let this be any different. It made me happy, I knew the kids would love it and, so, I did it. And I'm so glad I did. I love the way it turned out. So does my little girl.
Some of our best conversations are had in the bathroom, while sitting on the potty, contained in the bath. And this cityscape strikes up so much chatter. Plus, I'm a huge fan of travel and want my kids to see the world so this it's good to have it present in their lives and encourage them to dream.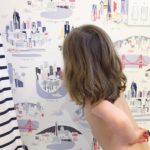 This personalized puzzle stool was a birthday gift two years ago and remains a favorite (other options here, here).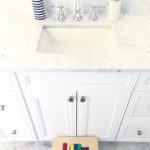 It's ridiculous how happy this $20 soap dispenser and toothbrush holder make me.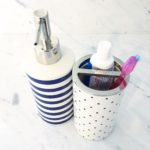 And how CUTE is this splish splash bath mat? It was the first thing I bought for the bathroom.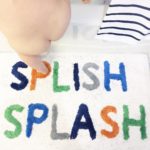 I love the chic striped curtain. I didn't want it to be too baby or kiddy in there and this curtain classes it up a bit, while playing perfectly off the wallpaper. Obviously we have the whale cover that everyone else in America has, along with the rest of the set: bath kneeler and bath rinser and, of course, the dots mat. I also ordered these hooks for the towels but they have yet to arrive.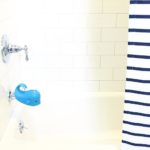 And that's it! Bath time just got a whole lot more fun!
Shop most of the post here:
February 1, 2018

How We're Helping Lilly Through a Tough Time at School

Lilly was a super star baby. Slept through the night at 8 weeks and continued to sleep like a champ, […]

READ MORE

December 21, 2017

Holiday Cocoa & Crafting Party

We try to get together with our Red Fox friends at least every season. There's a lot of us and […]

READ MORE

December 13, 2017

It's Beginning to Look a Lot Like Christmas

It's been so much fun to have a house of our own to decorate for Christmas! While I went with […]

READ MORE