March 2, 2017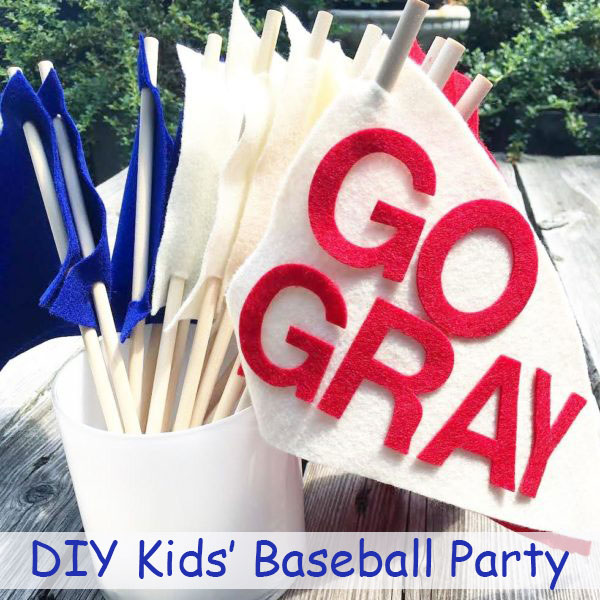 Gray's Baseball Bash
Loyal readers by now definitely know my bestie Brooke. She came with me to Alt Summit, inspired me to make this, throw this and is one of the biggest supporters of NNA not to mention Nat herself (Yes, I just referred to myself in the third person. Time for bed.). Besides Lilly, I think she gets the most coverage on this site- sorry Zach. What can I say? She's over-the-top, a complete nut (the part about her shoes below kills me! We're cut from the same cloth and drive our husbands crazy. At least, we have each other.) and I couldn't love her more. I included her son Gray's second birthday on the blog too because this mama knows how to throw a party. His third was no exception. Below, the baseball bash for her beloved boy. 
After spending our winter break in Florida watching Big Papi and eating peanuts and cracker jacks, Gray and I knew exactly where his birthday party was headed: A baseball-inspired bash! Gray loves baseball (well, not sure if it's really baseball or the act of sitting around in the warm weather with his grandpa, eating endless ice cream out of mini helmets and singing "Take Me Out to the Ballgame" 3,000 times). Oh wait, did I mention the hot dogs?!?  My boy LOVES hot dogs. Either way, we knew it would be a homerun.
It all started with a baseball. Lucky for me, someone was giving away 50 used baseballs on the local parent's board. SCORE! Enter green crinkle cut paper to act as "grass," baseball washi tape, white label, brown box, trusty old sharpie.… Invites, check!
We decided to host the party at our favorite event space (and toy store) in Brooklyn, Norman & Jules. Gray's 2nd birthday party was also here (so was Lilly's third) and was a hit, so we knew it would be a winner the second time around. Going for a more traditional baseball theme, the bright green "grass" that Norman & Jules keeps year round was perfect!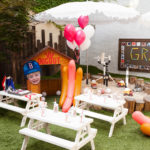 The very first item I purchased, after the baseballs, were my shoes for the party. Not my typical move, but somehow I got in a rabbit hole of all things baseball and came across these perfect shoes. We are a Red Sox family, since my husband and I both spent our childhood watching them spring train in our hometown. And lucky for Gray, the grandparents still live there, so we get to carry on the tradition.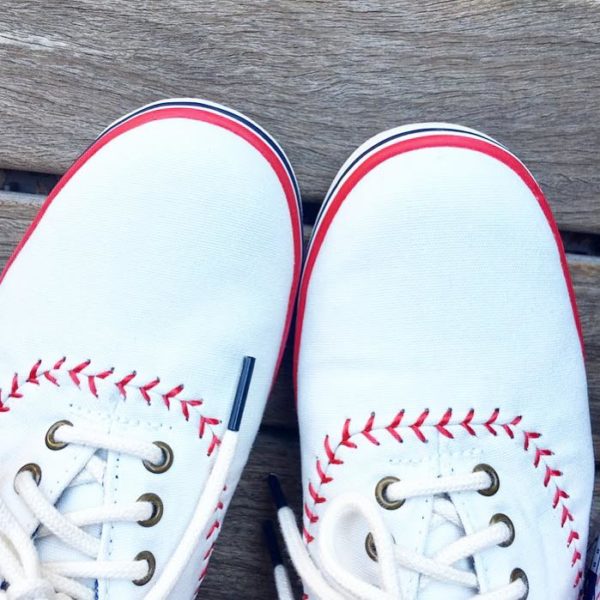 Okay, true confession, my husband strongly encouraged (read: FORCED) me to return these super cute sneakers. He was right, when else was I going to wear these sneaks? Couldn't ship them back without a couple of pics though!
Because we wanted hot dogs to play a leading role, we set up a traditional hot dog stand, red and white awning, hot dog roller (which will now be a regular at our summer parties!), ballpark toppings and a sign that declared "HOT DOGS, HOT DOGS, GET YOUR HOT DOGS HERE!"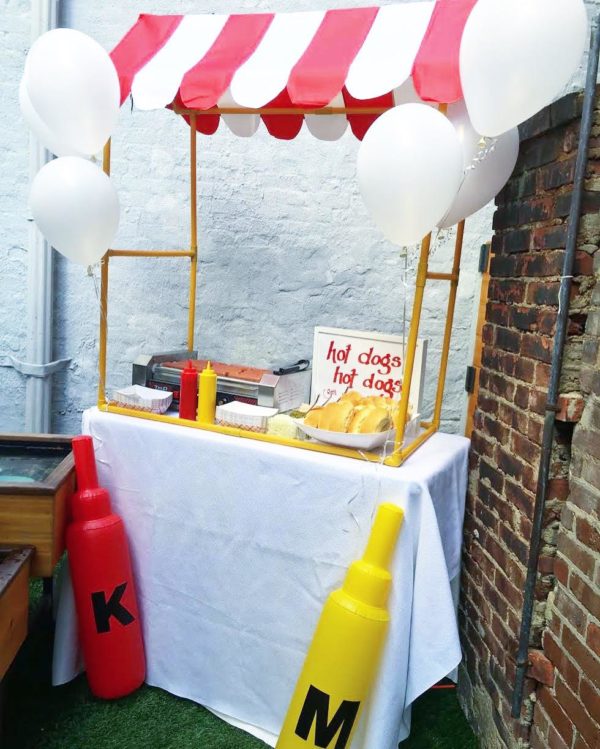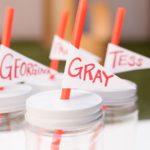 Both parents and kiddos loved the hot dogs- who doesn't?! They were a huge hit all around. And where there are hot dogs, there better be cold beer. We went with a silver galvanized bin full of cold beer for the dads and the perfect summer rose for the moms. I found this canned rosé a few weeks before the party and was so psyched to stumble upon a beverage so perfect for the occasion! BABE rosé with bubbles, for a nod to BABE RUTH. Next to the cans for the "Old Timers" were mini waters and juice boxes for the "Rookies."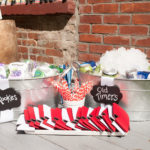 And what better to accentuate the hot dog stand than with these massive hot dog and ketchup/mustard inflatables? These may have been one of my favorite decor moments of the whole party. (Truth be told, they are actually pool floats made for jousting for kiddos, WHAT?!, but they worked perfect for a party prop and photo opp!)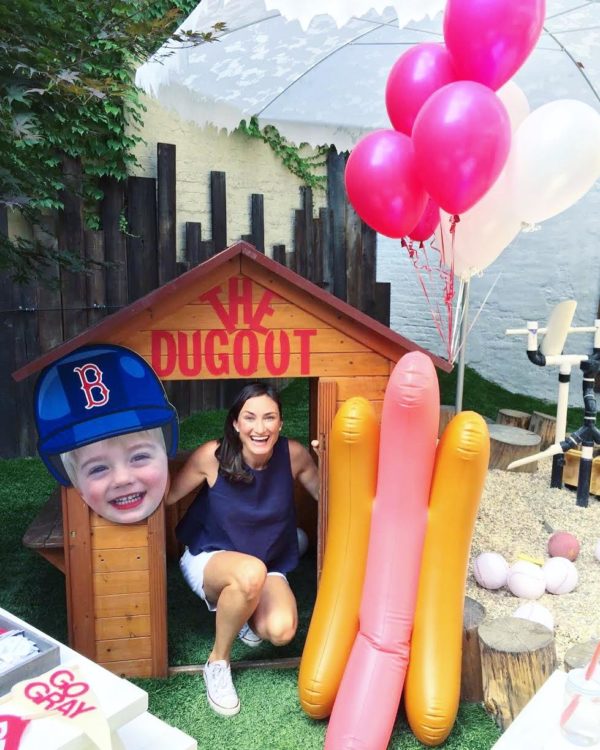 The play house at Norman and Jules converts to just about anything you can imagine. This year we used the house as The Dugout, along with a face cut-out of Gray in a Red Sox hat and red/white balloons.
It's always fun to include a craft at the party for those kids that love to get creative or engage a sibling. This year we set up a DIY pennant station. We cut out felt flags, preassembled them with wooden dowels and bought tons of felt letters and shapes for kids to make their own sports flags!
Norman and Jules loves to showcase their magnetic board with Tegu blocks spelling the guest of honor's name. We framed "GRAY" with our favorite square pics of the birthday boy.
For another decor element, we found really cool Brooklyn Dodger baseball cards (to represent Gray's Brooklyn roots), that we alternated on the shelves of the space with mini trophies that we personalized for all the kids, another playful take-away.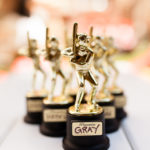 I love to incorporate a "guest book" for each party, something the birthday boy can hang onto forever and can look back and reminisce as each year passes.  This year we found this great baseball Book, Goodnight, Baseball and asked guests to sign.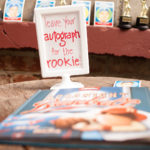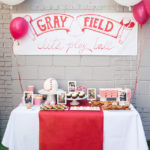 The snack table was so much fun! We hung a hand painted sign behind the table that read "Gray Field, Let's Play Ball!" which became the backdrop for the baseball fare. A white cloth was the underlay and red wrapping paper acted as a center runner and pop of color. Inspired by ballpark favorites, we displayed hard pretzels and three types of popcorn as the centerpiece of the table. The little ones loved these super cute baseball cookies and of course watermelon, is always a summer hit. The cupcakes were decorated with personalized red flags.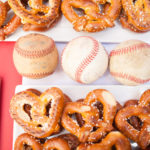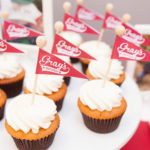 The CAKE! My other favorite element of the party was this cake.  My dear friend and talented baker, Diana of Royal Icing, created this cake, which was the HIT of the party.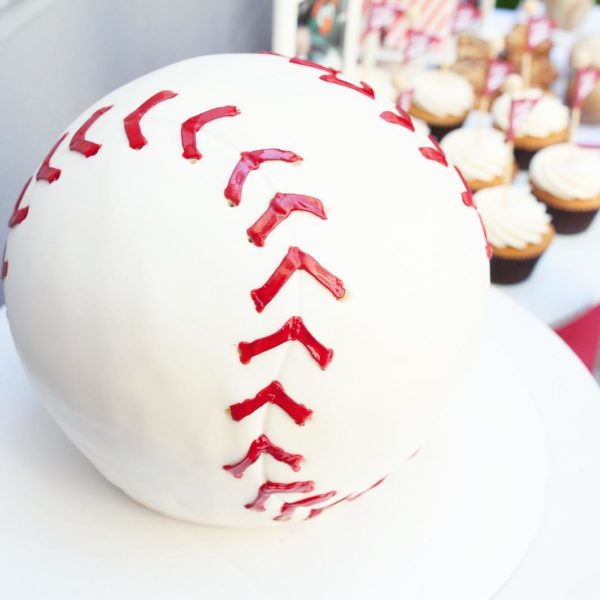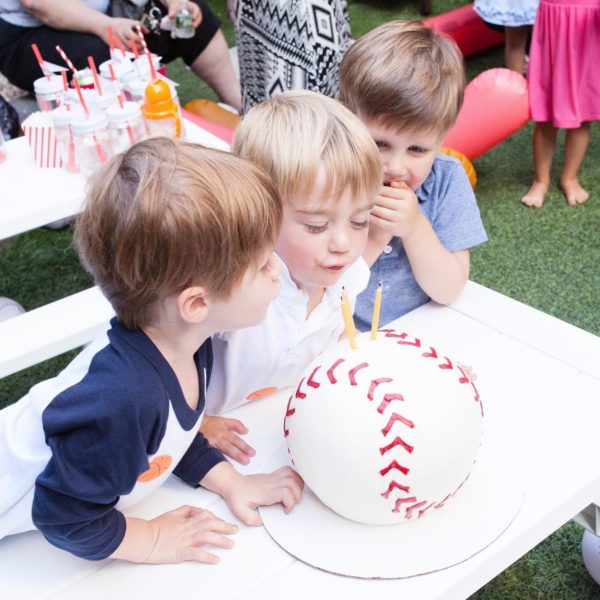 To end the party, my husband, Hap, played the role of vendor as he walked around the party yelling "CRACKER JACKS HERE, GET YOUR BABY RUTH, BIG LEAGUE CHEW FOR YOU." He is always willing to go along with my crazy plans and this time really took it to another level.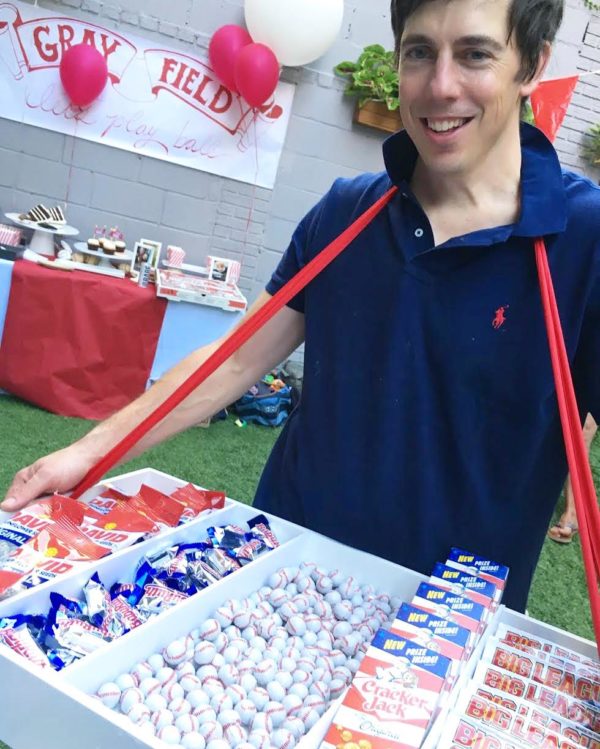 We constructed this tray from an old one I had at home with custom cut foamcore and thick red ribbon (TIP: cut foamcore about 1/4" too long to make it really stick/suspend in the tray). We filled it with old-school favorites for both young and old… Cracker Jacks, Baby Ruth, Chocolate Baseballs, Sunflower Seeds, Big League Chew.  I think the adults may have been more excited than the kids.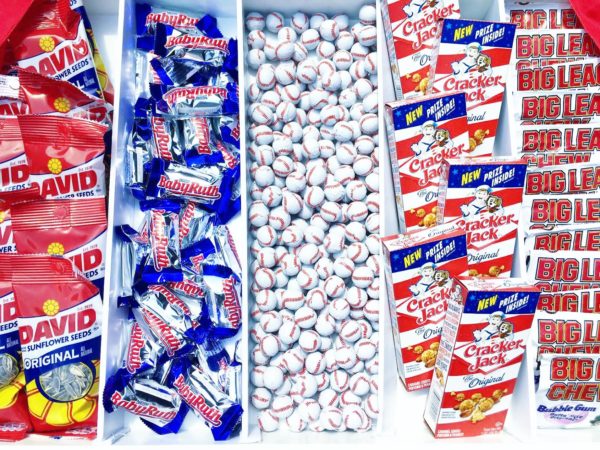 The favors were bags full of nostalgia for the adults and fun for kids: foam baseball, old school cards, baseball sucker, Cracker Jacks, personalized trophy, stickers and chocolate baseballs.
Guests dressed accordingly.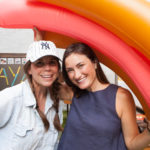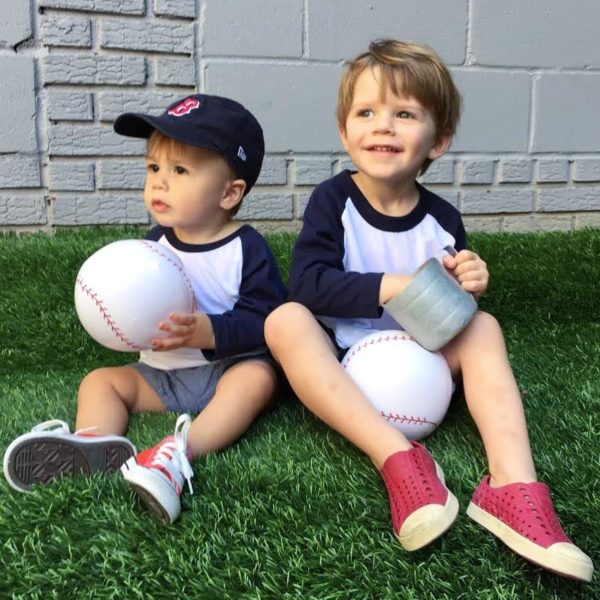 Finally, the thank you notes. I love a good thank you note. To carry the baseball theme until the bitter end, we found these fun cards.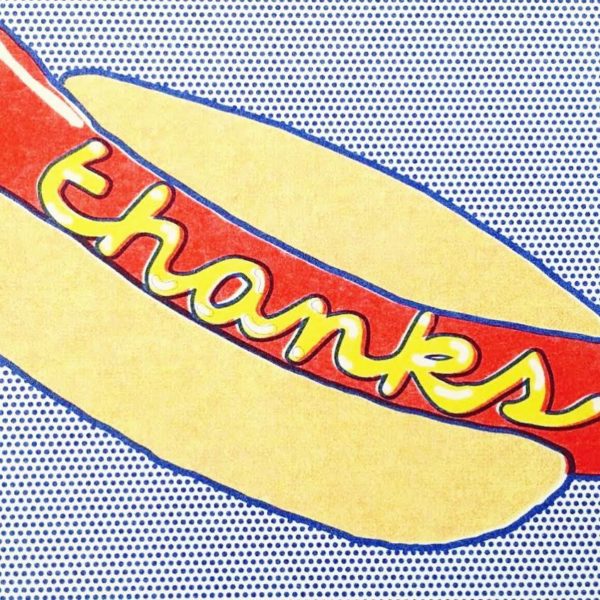 And, of course, I cannot forget that the most thoughtful of guests knew the theme ahead of time and gave Gray this as his birthday gift, which now sits on his bed.
Professional photos taken by Amelie Belanger. Check out Brooke's adorable ponchos for the littles in your life at Poncho + Parker. 
December 21, 2017

Holiday Cocoa & Crafting Party

We try to get together with our Red Fox friends at least every season. There's a lot of us and […]

READ MORE

December 7, 2017

Catering Christmas: One Daughter's Story of How She Lost Her Mother While Becoming One Herself

Life works in interesting ways. Years ago (many more than I'd like to admit), I went to college with a […]

READ MORE

September 25, 2017

How to Plan the Perfect Apple Picking Party for Kids

If you're a loyal NNA reader, you know all about our Red Fox family by now. But, for those that […]

READ MORE