February 8, 2016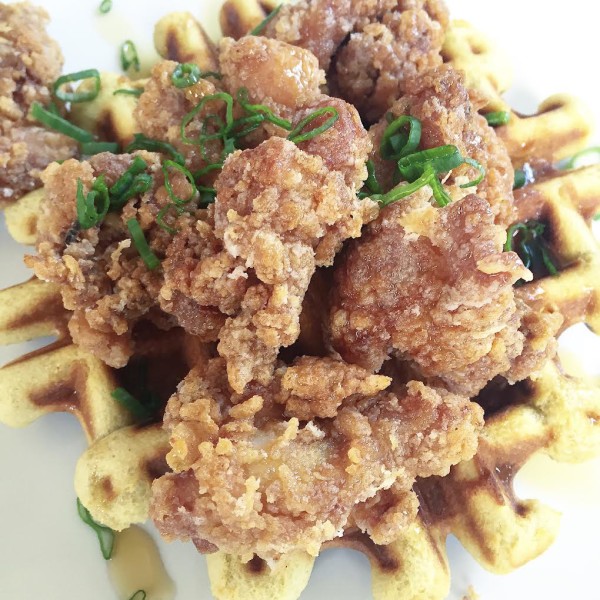 Dean Sheremet's Recipes
Japanese Fried Chicken
4 bone-in, skin-on chicken thighs
1 (2-inch) piece fresh gin- ger, finely grated (about 1 tablespoon)
1 garlic clove, finely grated
3 tablespoon tamari or coconut aminos
1 tablespoon mirin
1 scallion, thinly sliced
1⁄2 teaspoon freshly ground black pepper
2 quarts canola oil
1 cup potato starch
With a sharp paring knife, cut alongside the bones of the chicken thighs until you can remove them. Cut the thighs into 2-inch chunks.
In a large bowl, whisk together the ginger, garlic, tamari, mirin, scallion, and pepper. Add the chicken and toss to coat. Cover tightly with plastic wrap and marinate in the fridge for at least 5 2 hours. Remove the chicken from the fridge 30 minutes prior to cooking.
In a Dutch oven or other large, heavy-bottomed pot, heat the oil over medium-high heat to 360°F.
Set a wire rack over a baking sheet and cover with three layers of paper towels.
Place the potato starch in a large bowl or pie plate. Remove the chicken pieces from the marinade, gently shaking off the excess. Dredge them in the potato starch, shaking off the excess.
Working in batches to avoid overcrowding the pot, fry the chicken for about 7 minutes, or until deep golden brown. With a spider or metal slotted spoon, transfer the chicken to the prepared rack to drain.
Matcha Green Tea Waffles
2 cups gluten-free flour
3 tablespoons granulated sugar
1 and 1⁄2 to 2 tablespoons matcha green tea powder
1 tablespoon baking powder
1 teaspoon salt
2 large eggs, separated
1 cup plain yogurt (not Greek) 6 tablespoons unsalted butter, melted and slightly cooled
Cooking spray
Preheat your waffle iron to medium-high.
In a large bowl, whisk together the flour, sugar, tea powder, baking powder and salt.
In a separate bowl, whisk together the egg yolks and yogurt; set aside.
Using a whisk or electric mixer, whip the egg whites to firm peaks.
Stir the yogurt mixture into the flour mixture. Stir in the butter. With a rubber spatula, gently stir in one-third of the egg whites. Fold in the remaining egg whites just until incorporated, being careful not to over mix.
Spray your waffle iron with cooking spray and spoon about 1⁄2 cup of batter onto it.
Cook until golden brown and slightly crisp, about 3 minutes.
Serve immediately or place in a preheated 200°F oven if making in batches.
Cheater Donuts
Vegetable oil
1∕3 cup almond milk
1 cup confectioners' sugar, sifted
1 tablespoon culinary-grade
lavender buds
2 tubes non-hydrogenated biscuit rolls
Set a wire rack inside a rimmed baking sheet.
Fill a Dutch oven, large cast- iron skillet, or other large, heavy-bottomed skillet with high sides with enough oil to reach 1⁄2 inch up the sides. Heat the oil over medium-high heat until it registers 350°F on a candy or deep-fat thermometer.
Whisk together the almond milk, confectioners' sugar, and laven- der buds in a small saucepan. Bring the mixture to a boil over medium-high heat, whisking constantly. Remove the sauce- pan from the heat and steep the glaze for 10 minutes.
Strain the glaze through a fine- mesh sieve into a large bowl.
Open the biscuit tins and sepa- rate the pieces of dough. Using a 1-inch cutter, punch out the middle of each round of dough. If you don't have a cutter, you can use a plastic bottle cap or an apple corer.
Line a plate with three sheets of paper towels. Working in batches, fry the doughnuts and holes until golden brown on both sides, 2 to 3 minutes per side. Chopsticks are great for turning the doughnuts!
Drain the doughnuts on the paper towels. Dip them in the glaze and set them on the prepared wire rack to drip dry. Serve immediately.