February 27, 2017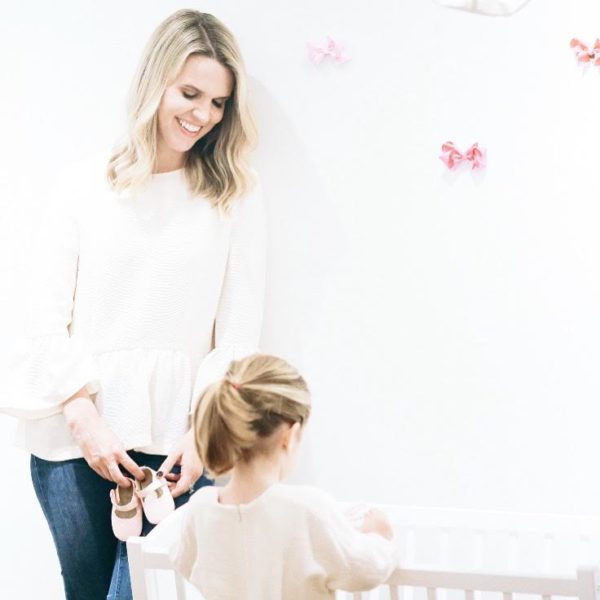 Choosing a Baby Name
You know when things just align in your life? Little signs that you prove you're in the right lane? At least that's the way I choose to look at it. Instead of being bummed or frustrated that another blogger or site I admire has similar stuff, I'm flattered by the fact that I'm on target with some of the best and biggest out there, that my content is quality, my timing is true and, overall, I'm authentic to myself and you. Because I sincerely like the following sites and they speak to my style, which is what I try to reflect here.
Twice this week, I discovered content on other sites that I'd already posted or planned on. First, LaurenConrad.com shared this image on Instagram which was very similar to my office inspo that I posted previously in the week. Second, another site I love, Studio DIY, did a feature on baby names, which I had slated in my editorial calendar for today. Two years ago, when I started this little site, for fear of looking like I was copying, I might've thought twice. But, now, instead of scrapping it because someone else did it, I forged ahead because it is consistent with my content, truly what is happening in my life (hence a lifestyle blog) and I don't have the exact readership that they have. My audience is unique to me, as theirs is to them. The name suggestions they receive are with them in mind. The ones I hope to get from you are with me/us in mind. Plus, I need some serious help!
When I became pregnant the first time, I just knew it was a girl. Still, we tossed around names for both genders but only were able to come up with one boy name we both liked in comparison to a bunch of girl names. Sure enough, it turned out, I was pregnant with a little girl. So it was time to decide between:
Riley
Harper
Finley 
Isla
and…
Lilly
I think, by now, you know which name won. 😉
This time, before we found out, we were still considering the above names but Dylan was in the lead for a little girl's name. I love using a typically traditional boy's name for a girl. I also liked the contrast of Lilly being so girly with Dylan being a little more masculine.
But, it's a boy.
And while I won't give away the one name we liked last time as it's the only one we can still agree on and I truly believe in keeping the name a secret to avoid hearing people's opinions of what your child will likely be called, which is the worst, (No one looks at a precious newborn baby and says, "Ew, I don't like his name". But before he's born, lips are loose and all kinds of comments come out!), I will tell you the few that have been vetoed and by who!
Wyatt (my choice negged by Zach)
Max (Zach's suggestion nixed by me)
Lilly, well, she wants WOODSTOCK. So…
Tell me, which boys names do you love? What do you think sounds and goes best with Friedman (our last name) and/or Lilly, his sister? Help us out!! I'd love to hear your all-time favorite names, what your kids (or dogs! Heck, even your childhood dolls!) are called. I'll take inspiration from anywhere!
June 12, 2019

The Perfect Father's Day Gift Idea

Over the years, I've done a lot of gift guides for the men in our lives. And while I love […]

READ MORE

November 19, 2018

Lilly's Favorite Apps

I intended for this to be up at the beginning of summer. If, at this point, any of you are […]

READ MORE

August 5, 2018

Dean Sheremet's Daddy Files: It's a Boy!

Dean Sheremet and his fiancée, Vanessa Black, announced they were expecting right here on NNA so it's no surprise that they're […]

READ MORE