June 1, 2015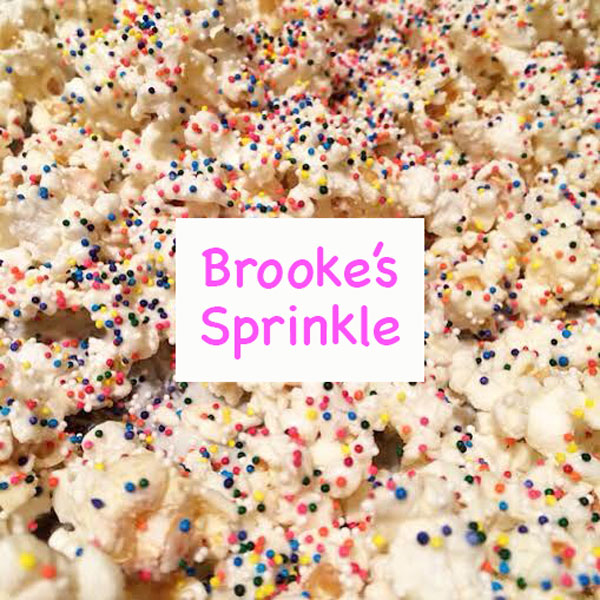 Brooke's Sprinkle
My friend Brooke (mama to Gray, almost two and preggo with number 2) is an event planner by trade, worked at one of the most cutting edge creative companies in the city and has talent for days but that's all I'll say because I've raved about her before on the site- here, here, here, here, here, here and here– and I think her humbleness gets embarrassed. So I'll let her words and work do (the rest of) the talking…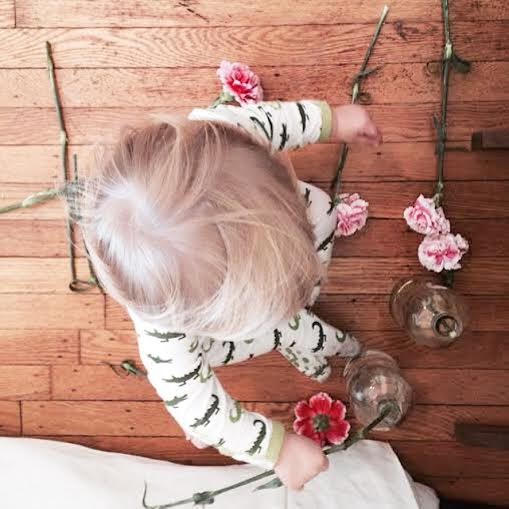 When one of my mom friends told me she was pregnant I knew right away I wanted to plan a sprinkle, especially since she would be planning for bows instead of bow ties this time around. Her son Jack was super excited to learn he was going to have a baby sister, so we really played up the pink and included the kids in the celebration. One way we included the littles was a station where the kids could give Jack a "high five" for being a big brother (not pictured). I taped up a roll of butcher paper along the bottom of one of the walls of the party (using bits of washi tape, my fav) and put out a tin of crayons and (with help) let them trace their hand on the paper and sign their name. At the end of the party it was a fun favor to give to Jack.
Since the guest list was half moms/half toddlers, I really tried to keep the menu friendly for both. It was a collaborative effort on the food, but what kept it from looking like a hodgepodge "potluck" were the similar, simple, white platters that worked together to create a cohesive look. I typically opt for square and rectangular platters when setting a food bar to keep the food and table looking modern and clean.  You can make chips and guac look good in the right vessel.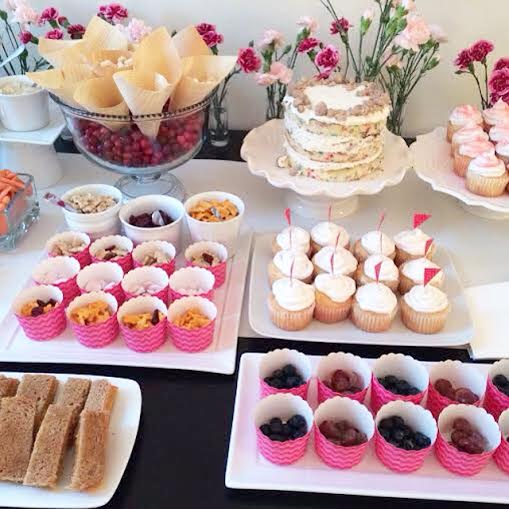 To break up the table I used a "runner" of white butcher paper. Bonus: At the end of the party, crumble it up and throw it away. Flowers lined the back of the food bar to give it a pop of color. I like to use several
tall shot glasses
with a few stems each to make the most impact. Height also plays a role to keep the food bar appealing, so I just turned a couple of glass cubes upside down as well as a few small white bowls to create risers. Simple, clean and you don't have to disguise them.
Bamboo cones
 in a glass bowl filled with cranberries varied the presentation and added a pop. I also wanted to give a shoutout to Baby G, so I made a balloon banner for a fun element. Sharpied each balloon with a letter and taped to the wall with, you guessed it, washi tape. If I were to do this again I would make the letters smaller and centered in the middle of the balloon. Tip: Blow up and tape the balloons first, sharpie second. It is challenging to get the letters even if the steps are reversed.
The snacks were contained in the
cupcake wrappers
, which are perfect for little hands and nice for portion control.
Menu (READ: SUPER SIMPLE):
Mozzarella/Tomato/Basil Skewers
Crudite/Hummus
Tortilla Chips/Salsa/Guacamole
Grilled Cheese Sticks
Annie's Whole Wheat Bunnies/Cheddar Bunnies/Dried Cranberries & Raisins
Cups of Cut Grapes/Blueberries
Cheese/Crackers/Olives
Bamboo Cones of Goldfish/Puffs
Vanilla Cupcakes with Pink Flags/Pink Sprinkles
Cups of Yogurt Dots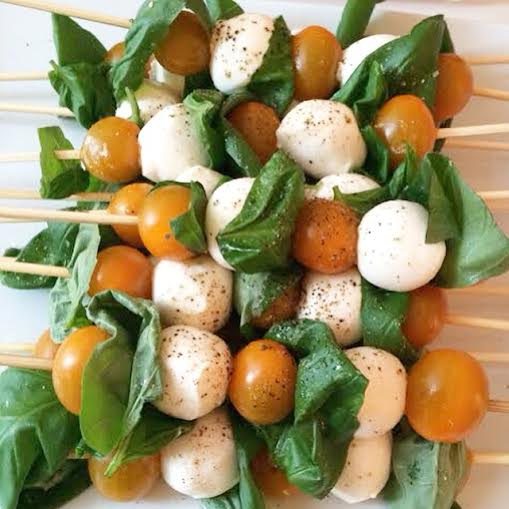 A festive way to keep glasses separate is to label them with
washi tape
and a little sharpie action. The washi tape works on almost any glass and is easy to remove at the end of the party. You can get really creative with the tape, using it horizontal/vertical/diagonal, go crazy. I liked the easy, clean lines of a vertical strip of tape and the names written in black sharpie.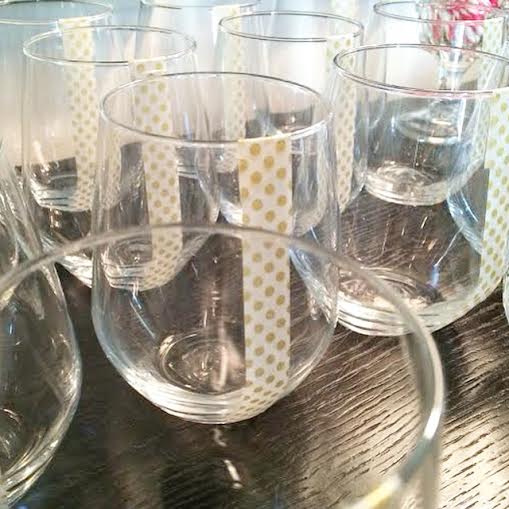 I entertain quite frequently and always keep a couple of extra cases of the IKEA IVRIG glasses in my closet to pull out for parties. They are completely all-purpose and work for everything from cucumber water to cocktails (and even champagne).  And bonus, they are sturdy (perfect for large groups or when kids are around), easy to hold (holding a cocktail and conversation shouldn't be a challenge), dishwasher safe and super affordable. Score!
Since I've had Gray, it's been a whole new world of entertaining, which now includes kids fare. Living among the Brooklyn mom culture and trying to stay mainly organic and healthy, I'm always trying new and fun food for the littles. This particular one was a hit!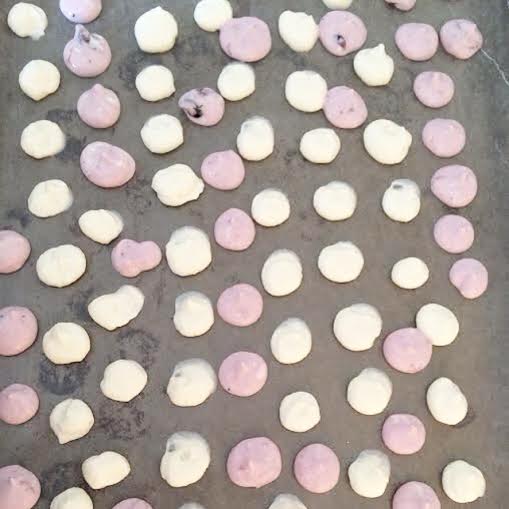 To make the yogurt dots, place your favorite yogurt (I used greek vanilla and greek blueberry) into a makeshift pastry bag (i.e. ziploc bag) and pipe away onto a baking sheet lined with parchment paper.  Pipe the yogurt into nickel sized dots. Place in the freezer for approx. 4-6 hours or until frozen.  Once frozen, you can transfer to a plastic bag in the freezer for storage. The kids loved these and options are endless with all the yogurt flavors out there.  This is now one of Gray's "desserts" after dinner and he loves them.
Going with the whole applepalooza craze last fall [which is when the party occurred], I served
apple ginger sparklers
, with and without alcohol for the mama-to-be. For the alcoholic version, I added
Absolut Brooklyn
, which is limited edition so no longer available but it seems the flavor was a hit so you can now find it under the name
Absolut Orient Apple
.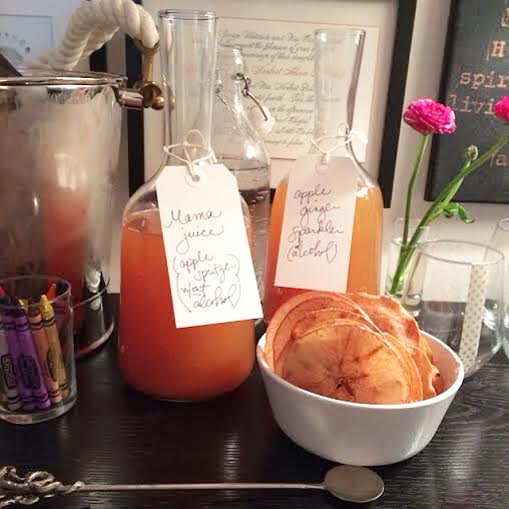 I love a good drink garnish, so I slowly baked these apple crisps to add a little flair to the sparklers.  As an added bonus, they were a great snack for the littles!
Recipe:
 3 apples (any variety)
1 tsp cinnamon
2 tbsp sugar
Preheat oven to 200 degrees and line 2 baking sheets with parchment paper (important step). Using a mandolin (or really sharp knife and steady hand), slice the apples as thin as possible.  Lay them flat on the paper, making sure not to overlap. Sprinkle with cinnamon and sugar (or just leave bare). Bake for 40-50 minutes. Remove from oven and flip over. Return the apples to the oven and bake for another hour.  Turn the oven off, leaving the apples in, and let them crisp up while they cool. They should look very dry and crisp and the bare apples will be golden brown.  These may need shorter or longer depending on the thickness of your apples. Crisps stay good for up to 3 days in a sealed container, but are best eaten the same day. Enjoy as a drink garnish, healthy snack or a nice topping for ice cream or greek yogurt.  The options are endless.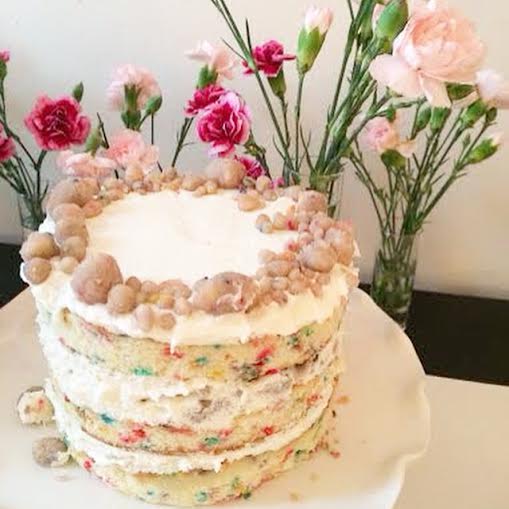 No party is complete without a fun favor!  I went with the preggo "about to pop" direction for this one.  The popcorn was a
white chocolate sprinkled popcorn
mess, and oh so delicious!  I popped Newman's Own organic unsalted popcorn, tossed with melted white chocolate baking chips and finally sprinkled with bright, colorful sprinkles.
These were packed in
kraft boxes
with a window to glance into the "party."  I tied these with
pink raffia
and a tag that said "About to Pop." Since popcorn can be a choking hazard for toddlers and I didn't want to leave them out, I included a cheerio necklace for the littles.  The cheerio necklace was strung with pink and white striped baker's
twine
.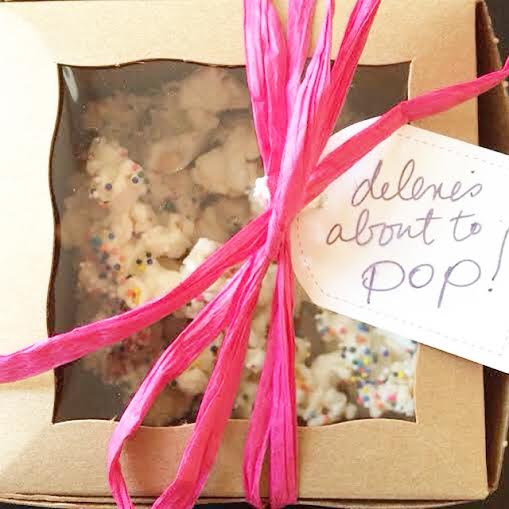 Another favor of Brooke's that I love? These little art packs for kids she did for a similar party: