September 19, 2017
The Best Banana Bread Recipe
Daniel Tiger's mom and I have two things in common. 1) We wear the same outfit every day. Mine usually entails workout gear without actually making it to the gym. 2) We're obsessed with banana bread.
I've loved it my whole life so you think I'd have found a decent recipe by now considering I'm halfway-ish through. That was a depressing thought- must consume more carbs now to eat my feelings. Good thing I've got the bread, which brings me back to the recipe… I've always found most too dry, only ever eating the top two-thirds or half and wasting the bottom bit. None, whether they're store or bakery bought or homemade have wowed me and I've tried a ton (milk, sour cream, applesauce, whole wheat flour, you name it, I've tried it).
Now that I'm a mom and have my own home with a kitchen I actually want to cook in, it's time to get serious. I want Lilly and Oliver to grow up on family recipes and instill a love of baking and cooking from an early age. So this summer, every time we had bad bananas, we were bread bakin'! Lilly and I really got into it (my mom even helped in the pics below)! And along the way, in addition to our fun, I finally perfected my favorite pastry.
I took this basic banana bread recipe and tweaked it a bit. But not even all that much. I'd only ever used 2 bananas. Not sure why. This recipe gave me permission to try 3. Game changer! It also offers the flexibility to adjust the sugar based on your tastes. I have a sweet tooth (and a salty one- ugh!) so I, naturally, went with a full cup. I never said anything about it being healthy! Just damn delicious.
But the real tweak? Undercook it. Yep. You heard me. Like cookies. You know how they get all gooey? Same for the bread. It obviously depends on your oven and your interest but I bake it for 45 minutes instead of 50. And… perfection.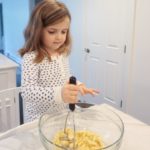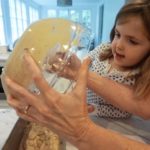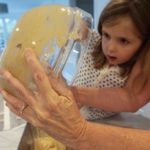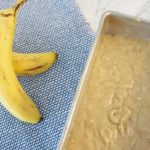 We got so into it, we made loaves for others. Friends that just had a baby, neighbors that gave us housewarming and baby presents and people that recently moved in across the street.
To class it up a bit (instead of the ole tin foil), I purchased plastic bags and tags to wrap them up in. It made a nice touch and they were so well received. So, what are you waiting for? Be like Mama Tiger and me and get yo banana bread on!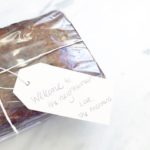 SaveSave
SaveSave
SaveSave
SaveSave
SaveSave
SaveSave
SaveSave
SaveSave
November 14, 2017

Happy 3rd Birthday NNA!

I can hardly believe NNA is three-years-old today. In many ways, it feels like so much longer because I've posted […]

READ MORE

October 25, 2017

Lilly & Oliver's Halloween Costumes

When it comes to Halloween, we usually do the whole family thing. Minus Lilly's first year when she was 5 […]

READ MORE

October 16, 2017

My Push Presents

I actually hate the term "push present". To me, it seems, I don't know, dated. Like we're in the 1800's […]

READ MORE