September 28, 2017
The Best Baby Swing/Seat On the Market
When Lilly was born, I did everything my older sister did (with her kids), bought what she bought, registered for what she registered for, used what she used. I'd been traveling the world, chasing my career, enjoying my marriage… I had zero idea about baby gear. So, since she had a standard  swing, naturally, I did too. And it worked. But the music and the loud rocking back and forth, like the tic toc of an annoying clock drove me nuts. Once Lilly was about three-months-old and I came out of my newborn haze, I started to open my eyes to the world of baby products and immediately regretted not getting the hot new item on the market. To make myself feel better, I told myself it wasn't worth it.
Four years later, I've found out, first hand, it is. The mamaRoo infant seat is a genius piece of equipment. Instead of the jarring back and forth that most swings do, the mamaRoo glides gently and silently, in five different motions, mimicking how parents move while holding a baby. So smart. And the "music" should you choose to use it? Bye bye annoying, stuck-in-your-head baby songs (I can still hear the one from Lilly's swing!), the mamaRoo has four sound machine like options such as "ocean" and "heart beat". I'm such a fan of this element because one, we use a sound machine in Oliver's room for him to sleep so this soothes him in a similar way and two, because I don't have to listen to bad baby music all-day-long.
I love that, with the newborn insert (that is easily removed once they grow), they can be in it from the moment they come home- and he has!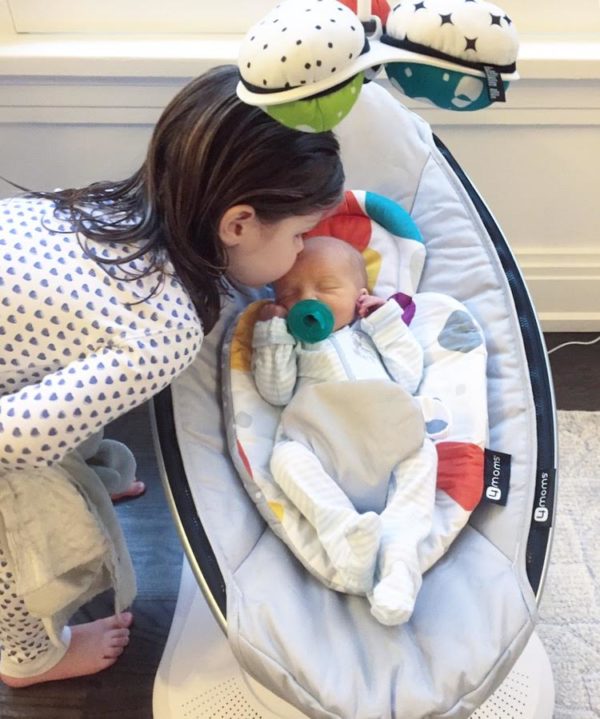 Oliver is obsessed with the overhead mobile too. We just wish it had a motor and moved on it's own but surely that's only a matter of time? I'm looking at you, mamaRoo 5!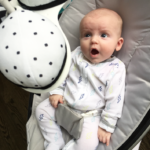 And, it's sleek and streamlined so it fits with the aesthetic of our home. There's a lot of really ugly baby equipment out there. This is not one of them.
It's safe to say, we all love it. And you will too!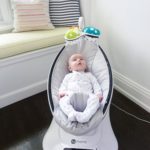 Someone had to get in on the act of photographer…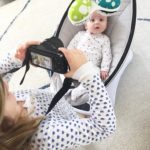 This post is sponsored by 4moms. 
SaveSave
SaveSave
SaveSave
SaveSave
SaveSave
June 12, 2019

The Perfect Father's Day Gift Idea

Over the years, I've done a lot of gift guides for the men in our lives. And while I love […]

READ MORE

March 6, 2019

How We Conquered Oliver's Sleep Regression

We were spoiled with Lilly. And we knew it. She was an easy baby. A dream, really. She ate well, […]

READ MORE

February 19, 2019

My Mission for Better Skin

It's currently 26 degrees where I am. I'm wearing wool socks, a winter hat and about 4 layers. I'm really […]

READ MORE