May 19, 2017
6 Things You're Doing Wrong on Instagram
I grew up participating in lots of different activities: tennis, basketball, cheerleading, volleyball, yearbook, the art and literary publication, teen court, SADD, community service… Then I went to college and this overachiever was burnt out. So I did nothing. For the first year, I didn't join a group or club, didn't play sports or sign up for anything. Sadly, that extended to studying and classes too. And while I had so much fun staying up late, chatting with new friends, sleeping in, attending parties and carb-loading, my grades, unfortunately, reflected my new passive life. So sophomore year, I got my act together and back to the Natalie I knew. I signed up for the college entertainment committee, joined a sorority and got active on campus and my grades tremendously improved. I've always been the person that does better with ten balls in the air than none. I'm a multi-tasker at heart and am much happier, organized, productive and successful with a full slate.
For those of you who don't know, I not only run this blog and write for other places, I consult for some too. I've worked with major TV shows and online networks and am currently consulting for a national (and super cool) photo printing company, amazing fitness brand and beginning blogger. I LOVE helping others and sharing what I've learned the hard way, hopefully helping them avoid those pitfalls. I consult on everything from branding to special events to social media. And it occurred to me when chatting with each of them that simple steps I employ every day are still foreign to others. So I thought I'd share the love with you too- for free, no consultant fee needed!
1. AVOID THE IMPULSE
Insta is no longer insta. We used to post things in the moment. Now it's about editing the perfect photo and curating the most compelling feed. These things take time and thought and planning. So snap away, preferably in good lighting, maybe even with a nicer camera, upload to your phone, edit away, play around with the positioning (Planoly is great for this)… Definitely don't post every dark, blurry, bad photo of your food, kid or cat (because in the moment it feels right).
2. FILTER FAUX PAS
When Instagram first launched, it was all about the filter. The vintage-y, the better. My old photos look just that: OLD. And dark and shadowy. These days, quality is king. The clearer and more untouched a photo, the better. You should use filters sparingly and only to enhance a photo, not mask it. Also, you should try your best to use the same kind of filter or tools (and color story!) on all of your photos so your feed has the same look and feel to it. If some photos have a ton of saturation, others are pale, some are in color, others are black and white, it confuses the eye and, therefore, the person and they're not as likely not to follow you.
Before: A photo I took years ago of my dinner. Granted it was Roscoe's Chicken and Waffles 🙌🏻 but, still, styrofoam, brown beans, chicken and table, bland starches, a border and a filter… not pretty.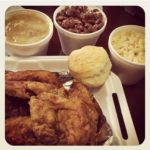 After: My lobster roll in Austin years later. White table, white plate, natural sunlight, bright, vibrant colors, no filter or border… much, much more appealing to the eye.
Before: A darling photo of my baby girl and me but over-filtered, dark, too warm/golden, bordered…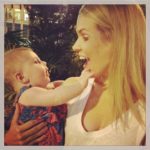 After: Years later, equally adorable photo (if I do say so myself!) but much clearer, brighter and filter-free. And, the color story fits within my feed (I'm obsessed with blue and white, decorated most of my new home in it, the majority of our clothes are in those hues and my eye gravitates to it while out so it's a natural, authentic choice for me and my feed and makes it easier to select and assemble my photos). The hair and makeup and professional photographer don't hurt either!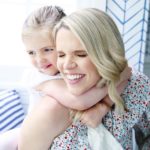 3. HASHTAG HOT MESS
I see this all the time. Tons of hashtags in the caption. It makes it look so cluttered, dilutes your message, humor, emotion, whatever you're trying to convey with words. Don't muck it up. Let your caption be clear (one branded hashtag or two is fine on occasion). Put the rest or all of the hashtags in the comment below and preferably with 5 or so periods, asterisks, something in a vertical line before you start the hashtags so you don't see them in the first line of the comments. You should also try experimenting with different hashtags in your demo, genre, etc. Don't always do the same ones and don't make them so generic like "coffee" so they're never seen with the millions of other "coffee" lovers.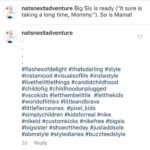 4. EFFED UP FEED
As we discussed above, consistency and color story are important. Try to have as cohesive a feed as possible. But variation is also important. There shouldn't be one tight shot after another nor one back-to-back landscape. Even if you're a food blogger or grammer, snap after snap of the same setup gets tired quick. Do an ingredient shot, then a smoothie in the sunrise, then a dinner spread with a dish towel and spoon or hands, then close up of a stacked dessert. Change it up with an outdoor scene at a restaurant, a snap of you with a personal caption which brings us to… Varying your copy. If it's just a punch line every day or, conversely, a sob story, people will get bored. Try to temper the heavy with the light, keep people on their toes, get them to know all sides of your personality- humorous, deep, sincere, fun…
5. KEEPING UP WITH THE BLOGGER BABES
We've spoken about authenticity. Annnnd we're about to talk about it some more. The number one thing people are doing wrong, in life and on Instagram, is trying to be like others. Stop. You'll never develop the loyal, dedicated, engaged following you're looking for (not to mention, brands, companies and clients are too!) if you're not authentically yourself. They need to get to know and see the real you, flaws and all. If you're not into fashion, don't cover it, if you hate to cook, don't pretend to like it, if you're not a perfect mom (ahem!), don't claim to be. Instead, share what you love, what makes you, you and be honest. Tell them about your non-glamorous day that they can relate while choosing an image that still appeals and fits your feed. Or head to Stories…
6. STORIES VIRGIN
Not everything should be on Insta. No one wants to see a photo of your child's dirty diaper or your bashed up knee after falling while cycling. Instead, you can tell us all about it by micro-blogging (short story) in the caption while using a prettier image. Take a picture of cute, chunky baby legs on a fun, patterned blanket while telling us about your #momprobs or your view of the gorgeous sunset that was happening when you fell. Be selective when it comes to your feed and photos. And, when in doubt, Stories it! Stories is much better for those average moments and snaps. If you don't think it's fit for your feed (it probably isn't), Stories it! People love seeing a behind the scenes of your day, the not-so-perfect moments and getting to know your personality better. This is all easily done know via Stories. So, if you're a newbie, rip off that Band-Aid and get comfortable, it's here to stay and, they say, 5-7 good Stories a day will help you grow.
For more on Insta, like why I'm okay with losing followers and you should be too, click here. For more on blogging, click here. 
If you'd like consulting help, contact me at [email protected]!
November 14, 2017

Happy 3rd Birthday NNA!

I can hardly believe NNA is three-years-old today. In many ways, it feels like so much longer because I've posted […]

READ MORE

September 29, 2017

How Motherhood Has Changed My Outlook on Blogging

I said I'd see you in September and alluded to/hoped I'd be back to blogging full-time but things have changed… […]

READ MORE

September 5, 2017

Nantucket Girls' Trip

If you read my Insta account, you know I've been housebound (and hectic!) all summer so when I put out […]

READ MORE