January 24, 2019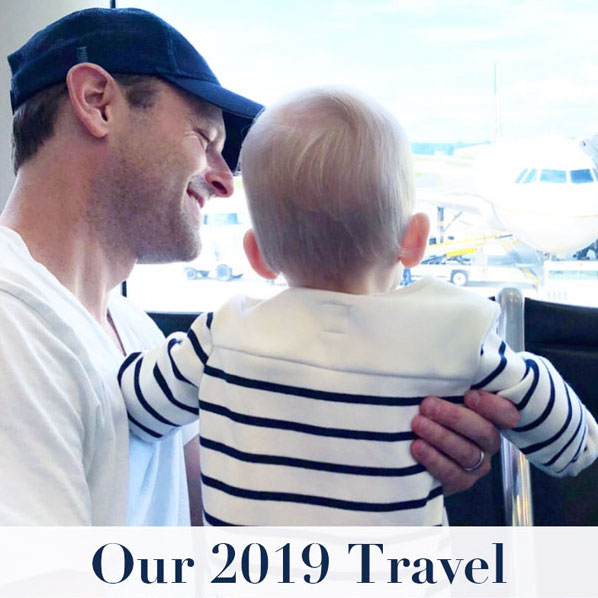 Our 2019 Travel (and a brief reflection on 2018)
Lots of bloggers are doing their year in review and 2019 goal posts. I thought about doing one too. But honestly? I'm not sure I'm capable of that at this moment. On a whole, last year really wasn't my favorite, which bums me out a bit to say, but it's true. And, therefore, I don't want to dwell on it. Sure, there were amazing moments, mostly involving Lilly and Oliver, the community we're creating in our new neighborhood (and the one I'm building online!) and the home we've made ours. I hate, as a mother, especially, overlooking an entire year, when they're so young and cute and I know my future self would be shaking me saying, "These are the days! Wakeup! Don't miss it!" and she's right but that doesn't make it easy in the interim. There were some really painful, challenging times. The year kicked off with Oliver's surgery and a canceled trip for Zach's birthday, we were still knee deep in Lilly's new found battle with anxiety, had a major health scare with a very close family member and other friends and family who faced their own daunting battles, all of whom, thankfully, are now okay. Zach changed jobs, which was overall a great thing and time for him to do so, but that never comes without its own stressors, we had a messy fallout with childcare and we still had a newborn and were acclimating to a new town. To add insult to injury, it seemed the entire country was at war with each other while I was often at war with myself.
Much more on that later, as the year progresses and I'm hopefully able to gain some perspective and have the tools in which to talk about it but, for now, I choose to focus on the future, all the bright things ahead and, for me, that often includes travel. Trips and vacations are my love language. I'm never more alive than when on the road. They give me a chance to further bond with friends and family, learn a thing or two, evolve and often treat myself, something I have a hard time doing at home. They get me out of my head, away from my to-do list and allow me to pause, reflect and slow down a bit. So it's no surprise that a few of my favorite moments last year included Zach and my solo trip to Tulum and a family vacation to Sea Island.
This year, we're looking forward to my 40th (eek!) birthday getaway to Sonoma and Napa with friends in late March, followed by a solo trip tacked on to that one where I'll speak at Alt Summit, in Palm Springs, for the first time- on a topic that you chose!
We're debating heading somewhere closish to the Northeast for Lilly's spring break, which is mid-April but haven't quite decided yet and may just stay local, making a trip to my parents in the Philadelphia area and visiting with them and cousins.
For July 4th, we're going back to Amelia Island, Florida, where we were last year with my family. It also happens to be where I grew up going and where Zach and I got married so it's always super special.
And we're contemplating something for late August for just the four of us. I'm thinking New England so it's a bit on the cooler side. We've been to Cape Cod, Martha's Vineyard and Newport, Rhode Island and would absolutely go back but I'd also love to check out Nantucket or Watch Hill (RI).
Also, we're toying with the idea of Oliver's first trip to Disney (check out Lilly's first and her big sister trip!) to celebrate my dad's 70th birthday and my nephew's 13th in October!
And that's all the further we've gotten. Hopefully, the fall (and 2019!) will bring some fun adventures too!
Comments Off

on Our 2019 Travel (and a brief reflection on 2018)
July 27, 2020

Our Escape to The Outer Banks

I wasn't planing on doing a post on the Outer Banks because most of my travel posts consist of recommendations […]

READ MORE

July 9, 2020

What I Pack for a Road Trip with Kids

"How much longer?" Said parents and children on every road trip ever. We're more of a plane than a road […]

READ MORE

March 3, 2020

A Winter Weekend at Woodloch

We're not a skiing family. Zach is from Texas and I grew up in Florida so you can't really blame […]

READ MORE